Denso Spark Plugs MotoIR Grand Prix
Date posted on November 20, 2012
Share this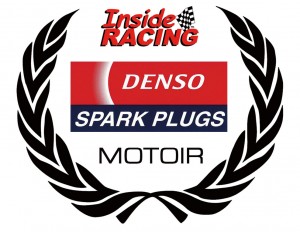 Philippine Auto Components (PAC) is the class title sponsor for the inaugural MotoIR Grand Prix  in the Sixth Annual Motolite Inside RACING Grand Prix (IRGP6) to be held on November 23-25 at the historic Carmona Race Track in Carmona Cavite.
The inaugural Denso Spark Plugs Grand Prix will be the last race of the day and will feature the top riders from top teams that competed in the inaugural 2012 MotoIR Championships. Riders will be using a singular MotoIR spec bike based on a modern 150cc EFI sports bike with a race kit that mimics prototype GP race bikes. This class sets a new level of standard in local racing by emphasizing professionalism and skills.


The "Motolite InsideRACING Grand Prix" is the biggest annual year-end tradition for the country's motorcycle road racing fans as it aims to provide a "GP" style race event to the local racers and teams. It is a prestigious annual event where top local racing teams and riders participate. It is sanctioned by the Underbone and Scooter Racing association (USRA).
A little history: Fifty million years ago, an asteroid composed almost entirely of the precious metal iridium (Ir-77) stuck the earth. The extreme strength of this metal inhibited its large-scale usage in spark plugs. However, through continuous technological advances, Denso was able to harness the power of iridium. Their patented alloy is composed of iridium and complemented by rhodium (an even stronger metal) which is added to increase oxidation and wear resistance. Denso was able to make this durable alloy workable by pioneering and patenting a laser-welding process. Little wonder why Denso is trusted by experts not only in the country but all over the world.

Provisional Entry List

	Bike #	MotoIR 			Team
1	7	Bryan Ortile		Spark Racing / Race Ace
2	9	Gerald Cruz		DSF
3	11	Jeff Chan 		Gulf Racing
4	16	Herbert Lopez		Spec V
5	17	Masato Fernando	        Spec V
6	27	Rizaldy Canare 		Replica Pro
7	52	Anthony Roman		Castrol / Dudshop
8	56	Michael Altamira	KSR Perf. / RK Racing Sprockets
9	100	Benjo Mendoza		Petronas-Speed Effex
10	109	Juver Mirasol		JM Mirasol
11	189	Marvin Mangulabnan	HGM Performance