Doblada Doubles again as Indonesian rider Norhuda shines in Legendary IRGP8
Date posted on November 27, 2014
Share this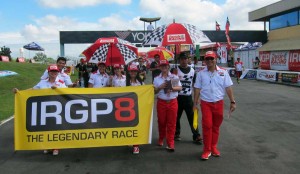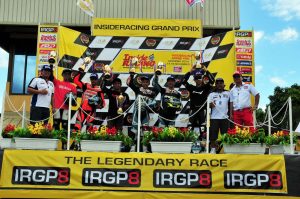 The 8th Annual InsideRACING Grand Prix held last November 16 at Carmona Race Track in Cavite was indeed legendary with the overwhelming support of riders, teams, race fans and major players in the country's local motorcycle racing industry. Another reason the prestigious race was special was because InsideRACING, the premier two-wheel magazine in the country, is celebrating its milestone 10th year anniversary this year.
IRGP8 received great support not just from its loyal followers but also from the local government of Carmona which contributed to its huge success. IRGP has always been a great boost to the tourism industry of Carmona as yearly, the event is well-attended by spectators not just from Manila but also from nearby towns and provinces as well.
Seven thrilling races were witnessed by a great crowd that went to the 1.9-kilometer Carmona Race Track in Cavite on November 16 to enjoy clashes of riding skills for that coveted glory IRGP gives to our riders and teams. IRGP8 had a total of 130 entries and 80 riders. Honda Philippines and Yamaha Philippines were the manufacturers that joined the event.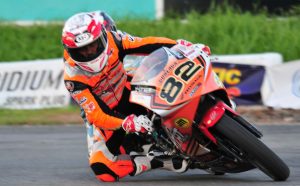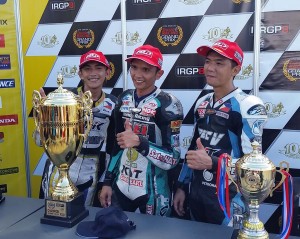 Yamaha-Motor Ace-MTRT-Team Takeshi's Paul Mark Doblada was the biggest winner in IRGP8, winning two race classes making him the first rider to attain 6 IRGP championship titles. Veteran Doblada proved he is still sharp in the racetrack and clinched the much anticipated DENSO Spark Plugs MotoIR GP and Shell Advance Automatic GP classes wherein the best of the best of our local riders diced it out.
Likewise remarkable was 14-year-old Koko Tadachi of Honda Philippines. The young rider also took double wins, topping the Top 1 Synthetic Juniors Trophy and the MotoIR2 class of the DENSO Spark Plugs MotoIR GP.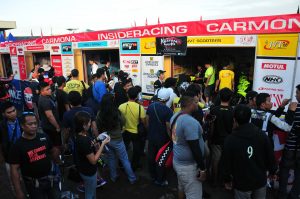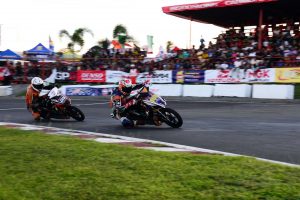 Adding to the reason why IRGP8 is history in the making is the victory of Indonesian Owi Nurhuda in the Gulf Pride 4T Plus Masters Trophy. It was the first time that a foreign rider won in an IRGP event. Nurhuda was sponsored by Replica Pro, Petron and Race Ace.
Castrol-Dudshop's Anthony Roman regained his winning form in the Castrol Power 1 Underbone GP much to the delight of his team and fans.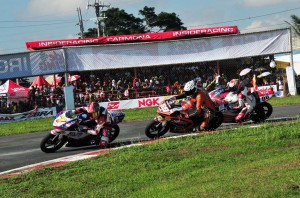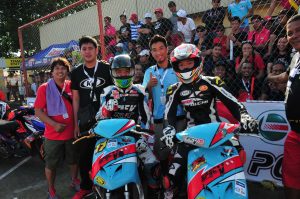 Petron-Race Ace-Spark Racing's Bryan Ortile was victorious in the Phoenix Cyclomax Underbone Trophy while Cassey Ng of Yamaha-Motor Ace-MTRT-Team Takeshi was able to defend his title in the NGK Spark Plugs Automatic Trophy.
Ortile, Roman, Tadachi, Ng and Doblada were already IRGP champions and these riders taking titles again in IRGP8 just showed that they're among the best riders we have in the country today.
The 8th Annual InsideRACING Grand Prix was presented by InsideRACING, FDR, Castrol Power 1, DENSO Spark Plugs, Top 1 Synthetic Motor Oil, Phoenix Cyclomax, NGK Spark Plugs, Shell Advance, Gulf Pride 4T Plus, Zebra Helmets, JVT, Motoworld and MDAP. Sponsors of the event were Triumph JT Marketing Corp., VS1 Mototek, Spyder, LS2 Helmets, Racing Boy, Koso, Motoactive, Okimura and Sum Racing while IRGP8 partners were Motorsiklo Xklusibo, Stoplight TV, MCP, The Racing Line, Unified Sports and Racing Association for Motorcycles, Inc. (USRA), Pinoy Speed, InsideRACING TV and Statmed.
Results:
Top 1 Synthetic Juniors Trophy
1. Koko Tadachi – Honda Philippines
2. Michael Cortez – Yezaroo
3. Gian Carlo Mauricio – Koso-Vee Rubber
Gulf Pride 4T Plus Masters Trophy
1. Owi Nurhuda (Indonesia)  – Replica Pro-Petron Race Ace
2. John Emerson Inguito – JVT
3. Masato Fernando – Spec V
Phoenix Cyclomax Underbone Trophy
1. Bryan Ortile – Petron-Race Ace-Spark Racing Team
2. Lorenzo Rellosa – Phoenix-MBF-YRS
3. Romer Corbe – Liquimoly-YY Pang
NGK Spark Plugs Automatic Trophy
1. Cassey Ng – Yamaha-Motor Ace-MTRT-Team Takeshi
2. Vrei-ar Suba – Koso-Vee Rubber
3. Dustin Esguerra – MLW-Zebra-MTRT-Rider 55
Shell Advance Automatic GP
1. Paul Mark Doblada – Yamaha-Motor Ace-MTRT-Team Takeshi
2. Cassey Ng – Yamaha-Motor Ace-MTRT-Team Takeshi
3. Dustin Esguerra – MLW-Zebra-MTRT-Rider 55
Castrol Power 1 Underbone GP
1. Anthony Roman – Castrol-Dudshop
2. Aljon Valencia – Spec V
3. Michael Altamira – Koso-RK-Vee Rubber
DENSO Spark Plugs MotoIR GP                                                                                                      
MotoIR
1. Paul Mark Doblada – Honda Philippines
2. Masato Fernando – Spec V
3. Herbert Lopez – Sum Racing
MotoIR2
1. Koko Tadachi – Honda Philippines
2. Robert Matthew Ramos – Honda-Motor World-MTRT-Team Takeshi
3. McKinley Kyle Paz – Honda Philippines