Honda Champions Ride the RC213V-S at Goodwood Festival of Speed
Date posted on July 7, 2015
Share this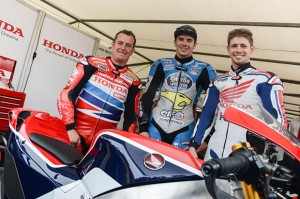 Honda riders and drivers past and present came together to take part in the Goodwood Festival of Speed last weekend, taking a number of iconic cars and bikes on a parade up the estate's famous 1.16-mile hill climb in front of over 150,000 fans. To mark the appearance of the ground-breaking RC213V-S – the street legal version of Honda's championship-winning RCV213V MotoGP machine – current Superbike world champion Sylvain Guintoli, 23-time Isle of Man TT winner John McGuinness, and the youngest motorcycle GP winner ever, Scott Redding, all climbed aboard to demonstrate Honda's "MotoGP-for-the-road" to the public.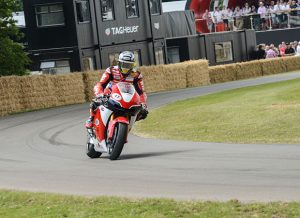 They were joined by 1983 and 1985 world champion Freddie Spencer, who rode his iconic 1984 NSR500, and championship winning NSR500, double MotoGP champion Casey Stoner aboard the Repsol Honda RCV213V, and 2009 Formula 1 world champion Jenson Button, who had the chance to show off Ayrton Senna's Honda powered McLaren MP4/6.
John McGuinness
"It was such a privilege to be asked to ride the RC213V-S at Goodwood, I had never ridden a MotoGP bike before, but it was exactly what I'd imagined one to be like. The power delivery is great, it's really smooth. I haven't spent much time riding V4s, so it was a bit different to the in-line fours I'm used to. We only had one run up the hill on Friday morning, which was a shame, as I would have loved another run on it! I spoke with Casey (Stoner) and he said it was so similar to the actual GP bike. It's exactly what I expected from Honda, it's slick and everything runs like clockwork. It's like a Swiss watch!"
Sylvain Guintoli
"Before I saw the new RC213V-S in the flesh I wasn't really sure what to expect. I mean, was this really going to be a MotoGP bike? Having seen it now and ridden it at Goodwood, I can tell you now that this is a MotoGP machine with lights on it. It's just awesome! There have been absolutely no compromises, other than leaving off the carbon brakes, but they would be useless on the road anyway. The engine character, the soft throttle response, everything is just like it would be on the race bike because that's what this is: a proper race bike."
Scott Redding
"I really enjoyed it. Riding the RCV street bike was just like the bike I rode last year – it really felt like a race bike. Goodwood is great. I enjoyed seeing all the fans and feeling the support you have, especially being able to spend some time with them when you're not at the race track."
Staged every summer since 1993, the Goodwood Festival of Speed is the world's largest automotive garden party; set against the spectacular backdrop of Goodwood House in West Sussex, UK. Over 600 cars and motorcycles spanning the phenomenal history of motoring and motor sport take part with some of the most legendary figures from the sport, as well as international celebrities, regularly attending.
credit: Honda