insideracing.com.ph – New Ducati Monster 1200S now in Manila
Date posted on August 22, 2014
Share this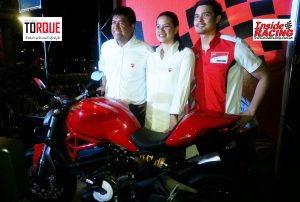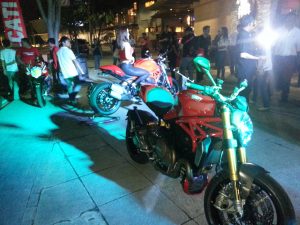 The latest iteration of the iconic Ducati Monster was officially launched  in Manila during the Ducati Cup 2014 Awarding  and Bike Night last  August 20 at the Tipsy Pig Gastropub, in Capitol Commons, Pasig City.
The event was graced by the local motoring media and  celebrity Ducati racers Ding Dong Dantes, Richard Gutirerez and Ronald Singson as well as representatives from the premier big bike clubs like  Ducati Desmo Owners Club of the Philippines, ATAT, Club 200, EuroMonkeys, MCR Philippines and more.
Ducati Cup sponsors Bacchus and Pirelli were also present to award and giveaways raffle items.
Monster instinct
More than two decades on from the Monster's first unveiling, Ducati now introduce the iconic model's latest generation with the 2014 Monster 1200 and 1200 S powered by the formidable, Superbike-derived 1198 Testastretta 11° DS engine. The brand new flagship of the family presents an entirely new chassis and muscular styling designed with premium components fully integrated with Ducati's latest technologies.
Evoking the exciting memories of past models such as the powerhouse S4R and S4RS, the 2014 Monster 1200 also boasts an exclusive S model with 145hp and a ride-enhancing 92ft-lb of high-accelerating torque, wrapped beautifully in a spec-impressive chassis that tips the scales at 182kg (401lb) dry weight.
High-spec brakes, suspension, single-sided swingarm and lightweight wheels combine with Ducati's best-yet ergonomics to offer the Italian manufacturer's most attractive Monster ever. Super comfortable and introducing an innovative adjustable seat height, the model also combines 8-level traction control, 3-level ABS and 3-level Ride-by-Wire into Ducati's user-friendly, press-button Riding Modes.
The 2014 Monster 1200 and Monster 1200 S use next generation technologies to create an enhanced rider/motorcycle relationship, delivering a high-adrenaline experience while constantly reassuring with the feeling of complete control and ergonomic integration.
While the Monster 1200 is presented in Ducati red with red frame and black wheels, the Monster 1200 S offers Ducati red with red frame and glossy black wheels in addition to the striking scheme of white with bronze-coloured frame and glossy black wheels.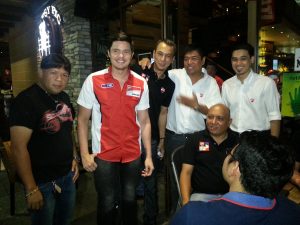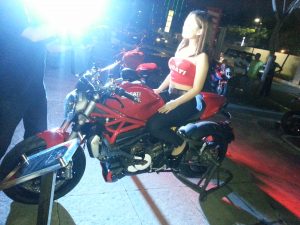 See also

Notice: Undefined variable: tag_arr in /home/iruser/web/insideracing.com.ph/public_html/wp-content/themes/insideracing-v16/library/bones.php on line 239