IR Update: Ramos and Buncio top MotoIR Qualifying
Date posted on June 14, 2016
Share this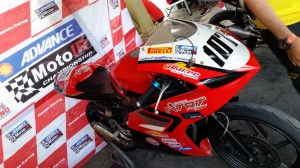 Rosario, Batangas – MTRT rider Robert Matthew Ramos (MotoIR1) and lady rider Jacq Buncio of Top 1 Oil-MBF-YRS (MotoIR2) finished fastest in their respective fields in the qualifying session for Round 2 of the Shell Advance MotoIR Championships presented by Honda at the Batangas Racing Circuit on June 12.
Ramos set a time of 1 minute 58 secs besting Dustin Esguerra of Zebra-Pertua, defending champion Paul Mark Doblada of Phoenix Cyclomax- 4S1M  and 2013 champion Herbert Lopez of 4S1M- Sum Racing.
Buncio submitted a fastest time of 2 min 07 secs n MotoIR2 ahead of Spec V's RR Espiritu, Carlo Calderon fof MotoTan-Sec and MBF-Motorace rider Rafael Ortiz.