IR Update: Team Pilipinas still in Top 10 despite tough competition
Date posted on June 5, 2016
Share this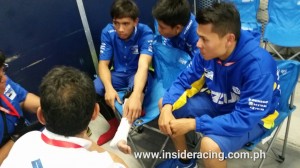 Suzuka, Japan – After a euphoric day on Saturday, Team Suzuki Pilipinas ended the 5 lap Race 2 of the Suzuki Asian Challenge (SAC) on less ecstatic note but still  managed to get two Top 10 finishes. Pole Position winner April King Mascardo of Mindanao got the holeshot and led for the first two laps hotly pursued by the Indonesian team mates who seemed to have a strategy on how to keep him at bay. Mascardo eventually succomed to a contact at the end of Lap 3 while on the outside of the fast corner before the chicane and he crashed heavily into the barrier. He failed to finish and thankfully  suffered only a sprained ankle.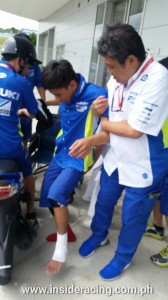 Earlier on Lap 1, Borbon of Visayas got also involved with another rider while holding a top 5 position. He was forced wide and dropped down to last place. He then steadily moved back up again to finish 10th.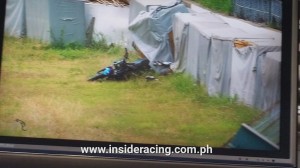 After the exit of Mascardo, it was yesterday's winner Eane Jay Sobretodo of Luzon who took over the fight for the lead against a big pack. He managed to stay in the top 3 despite nearly running wide a few times. He actually managed to lead fir a moment just before the last lap. Unfortunately, he was engulfed by the big pack, lost the draft list positions. He would eventually recover to 9th place.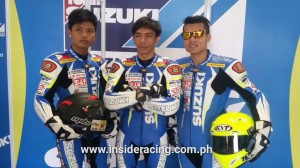 Indonesian riders Muhammed Safril and Rizal Feriyadi finished 1st and 2nd with Japanese Shinnosuke Sato in 3rd place. The next Suzuki Asian Challenge race will be held in August in Indonesia.