SAMYC WINNERS TROY ALBERTO AND EJ SOBRETODO CONQUER 2016 SHELL ADVANCE ASIA TALENT CUP SELECTION
Date posted on October 21, 2015
Share this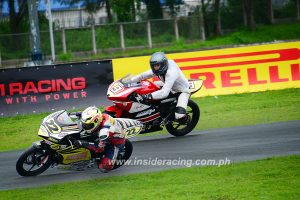 InsideRACING Update: The Shell Advance Asia Talent Cup 2016 Selection Event is in full swing on October 21, 2015 at the Sepang Circuit in Malaysia. 18 Filipinos are participating in the selection and two of them are Troy Alberto and EJ Sobretodo, the top two riders in the 2015 Shell Advance MotoIR Youth Cup (SAMYC).
The SAMYC was held during rounds one to six of the 2015 Shell Advance MotoIR Championship Presented by Honda and sanctioned by USRA. Troy Alberto of Team Access Plus won the SAMYC five times, unable to get the victory in the first round only and got a total of 145 points.
Sobretodo of the Maico Buncio Foundation reaped 81 points and clinched the second and last spot to represent the country in the selection. The SAMYC was open to MotoIR2 riders aged 14-20 years.
Other Filipino riders who are taking part in the Selection Event are TJ Alberto, Mario Borbon Jr., Jacq Buncio, Niel Jan Centeno, John Louis Chan, Rhowell Mangosong, Ellijah Olayvar, Ephraim Onahon, Rafael Lance Ortiz, Lyle Parica, Niel Perino, Mcdon Dave Sande, Ivan Richard Santiago, Simon Spencer Solon, Clarissa Torio and Lorenz Villanueva.
126 riders aged 13-20 years are competing in the Shell Advance Asia Talent Cup 2016 Selection Event. 500 hopefuls from different countries (Australia, Bangladesh, China, India, Indonesia, Malaysia, Maldives, Japan, Nepal, New Zealand, Pakistan, Philippines, Qatar, Rep. of Korea, Singapore, Sri Lanka, Taiwan, Thailand, Turkey and Vietnam) have applied and 126 were chosen by a selection committee directed by Alberto Puig. The selected candidates will showcase their riding skills on board Honda machines at a one-day test event in Sepang which will happen prior to the 2015 Shell Advance Malaysian Grand Prix. The selection committee will then select the 22 riders who will participate in the 2016 Shell Advance Asia Talent Cup organized by Dorna. Riders in the series will compete on board Honda NSF250R bikes.