Shell Advance Asia Talent Cup 2015 Candidates Shortlisted for Selection Event includes 16 Filipinos
Date posted on September 25, 2014
Share this


A total of 174 candidates including 16 Filipinos have been invited to the Shell Advance Asia Talent Cup 2015 Selection Event to be held at the Sepang Circuit, on 27th and 28th October.
The 174 young hopefuls aged between 13 and 20, from various Asian countries, in addition to Australia and New Zealand, have been invited to take part in the selection process for next year's second staging of the Cup.
During the enrollment period in recent weeks more than 700 applications were received from aspiring young riders from Afghanistan, Brunei, China, India, Indonesia, Japan, Malaysia, Nepal, Pakistan, Philippines, Singapore, Taiwan, Thailand and Vietnam, plus Australia and New Zealand.
Having carefully analysed the applications, the selection committee directed by Alberto Puig have chosen 174 candidates – who will be asked to demonstrate their riding skills on Honda machinery over two days of testing at the Sepang circuit at the end of October, just after the 2014 Shell Advance Malaysian Motorcycle Grand Prix – in a first step towards turning potential into performance.
Among them are 16 Filipinos led by the two Shell Advance MotoIR Youth Cup winners Robert Matthew Ramos and Gian Carlo Mauricio as well as April King Mascardo and Garry Caneda Jr who also won the Visayas and Mindao Shell Youth Cup Competitions organized by the Racing Line. The four earned an all expense paid trip to the Malaysia Selection event including the opportunity to watch the MotoGP race live.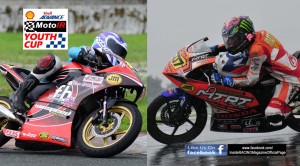 Following the Selection Event, the committee will meet again to finalise the list of the 22 riders who will take part in the 2015 edition of the Shell Advance Talent Asia Cup.
The complete list of 16 successful Filipinos riders who are invited are the following:
1. Robert Matthew Ramos PHILIPPINES – MotoIR Youth Cup Winner
2. Gian Carlo Mauricio PHILIPPINES – MotoIR Youth Cup Winner
3. April King Mascardo PHILIPPINES – Visayas Shell Youth Cup Winner
4. Garry Jr. Caneda PHILIPPINES – Mindanao Shell Youth Cup Winner
5. Loren Mar Villanueva PHILIPPINES
6. Ray Lindley Jereza PHILIPPINES
7. Van Harold Ruedas PHILIPPINES
8. Koko Masaharu Tadachi PHILIPPINES
9. Jacquelyn Buncio PHILIPPINES
10. Vrei-ar Suba PHILIPPINES
11. James Aldrin Mendez PHILIPPINES
12. Mckinley Kyle Paz PHILIPPINES
13. Axl Teves PHILIPPINES
14. Enzo Nicolai Teves PHILIPPINES
15. Timothy Joseph "TJ" Alberto PHILIPPINES
16. Simon Spencer Solon PHILIPPINES
See also