Toba wins Shell Advance Asia Talent Cup Championships. Torres finishes the season.
Date posted on October 26, 2014
Share this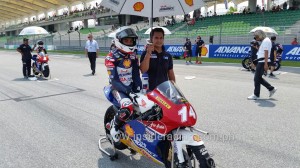 Another Japanese rider, Takuma Kunimine won the final Shell Advance Asia Talent Cup race in Sepang Malaysia. Championship contender Date crashed out on lap 1 assuring  Toba, who finished third, of the overall inaugural Shell ATC crown.
Meanwhile,  Filipino Torres discovered  that his his bike was also suffering from transmission problems in QTT and Race 1 aside from the suspension mis-setup leading to his poor pace. The team managed to fix his bike before the race today and he was able to show his speed that was on par with his qualifying time.

Yesterday he faded from his 18th spot to 20th and lost 19th position to Japanese Yoshida on the last corner. Today he was able to finish in 18th place again after a battle with the Japanese.