Yamaha Moves Forward To A New Chapter
Date posted on January 7, 2021
Share this
Yamaha Motor Philippines, Inc. started off the year with a bang with the introduction of the 2020 racing team that will compete in the Asia Road Racing Championship. It was also slated to launch its latest innovations that would be highlighted in different motor shows and industry activities throughout the season. Even when the world was introduced to a new normal, Yamaha persevered and showcased its ability to be a dynamic company and shifted its processes accordingly.
Digital platforms were no longer a new avenue as it became the optimal solution to showcase products and continue service. Yamaha launched its new motorcycles – the XSR155, New NMAX, and WR155R on Facebook live and was followed by multiple online activities throughout the rest of 2020. The races continued with the Yamaha Racing Arena digital tournament featuring Yamaha's top racers who switched handlebars with game controllers. Playing for a cause alongside special guests such as Ella Cruz, Motodeck, and Kaisaya. Campuses were closed but students had access to Yamaha's Beyond Campus program which focused on helping them to cope with the new way of learning and asses their own situation in dealing with uncertainty. They were also treated with the inclusion of Alodia Gosiengfiao and TJ Monterde.  The Yamaha Safe Riding program substituted hands on training with digital conferences where instructors continued educating riders from a various private company, media personalities, and others who registered online.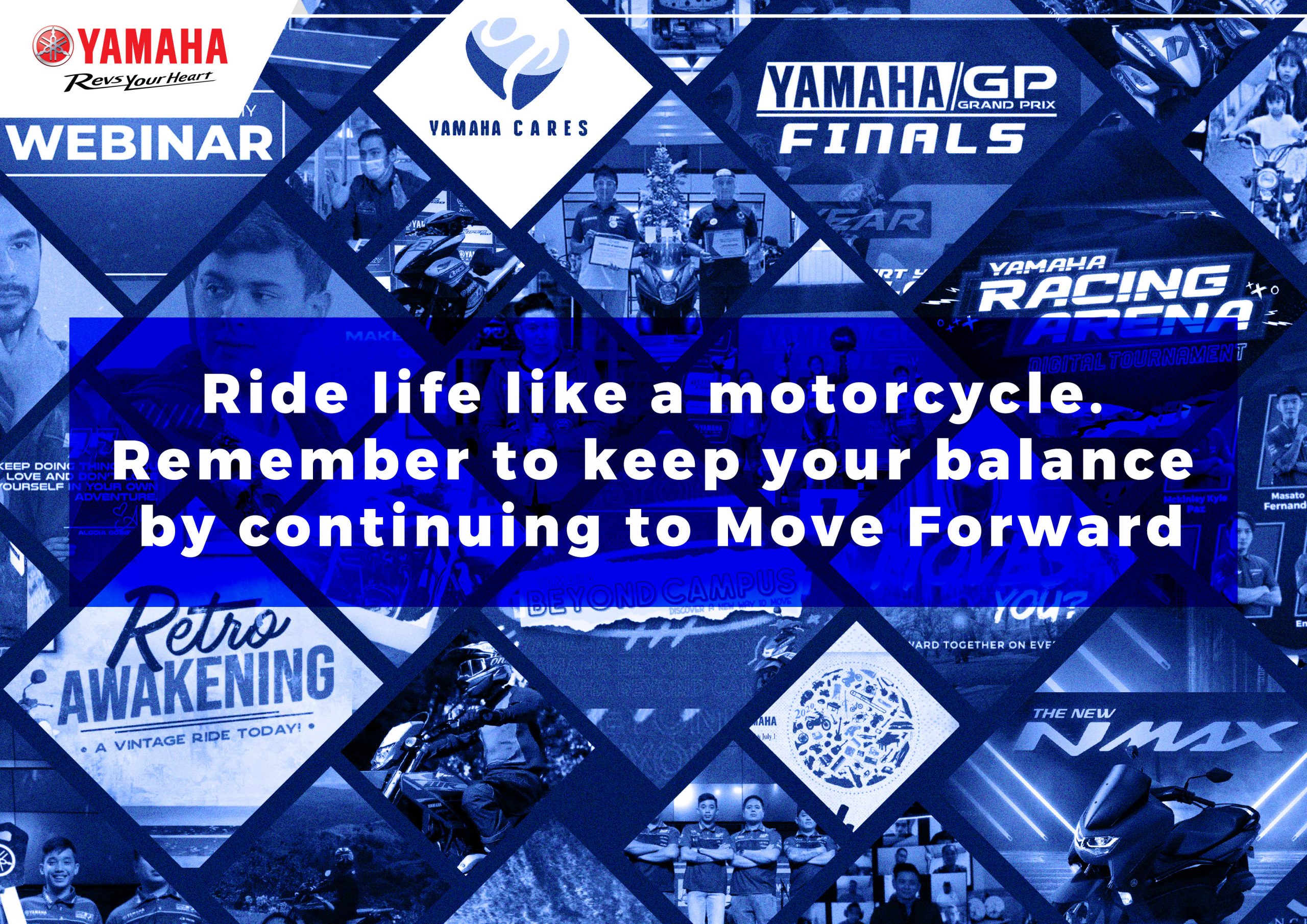 The company also heightened its safety protocols for both their staff and customers. Offices and shops alike adhered to the strict safety protocols to ensure proper and excellent could be provided and safety would be experienced. And the availability of Rev Buddy app allowed customers to have access to products and services with just a tap of button.
With all the challenges that was brought about by this year, Yamaha continued with its goal of enriching lives. Their CSR program: Yamaha Cares supported Filipino citizens in need who were affected by the typhoons. Upgrading facilities to provide the healthiest environment possible, and continuing innovation to provide a better ride. Yamaha will keep moving forward this 2021 and will do everything to keep revving hearts.
"Ride life like a motorcycle. Remember to keep your balance by continuing to move forward"
Words and photo by Yamaha Motor Philippines