IR Update: Torres, Centeno & Fernando FDR PSR Round 2 Winners last June 12 in Batangas
Date posted on June 14, 2016
Share this
The second round of the FDR Philippine Scooter Racing Championships was held at the Batangas Racing Circuit last June 12.
Yamaha-Spec V rider Amber Torres was the victor in the 130cc PSR class. Joining him in the podium were second placer Evander Soliveres and lady rider Justinne Bethany Tolentino of Phoenix-Yamaha-KOSO who secured the third place.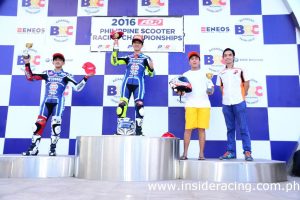 Phoenix-Yamaha-KOSO reaped another trophy in the 160 PSR class with their rider Niel Jan Centeno winning the race. John Edward Godoy of Rider55 finished second. Third place went to another Phoenix-Yamaha-KOSO rider McKinley Kyle Paz.

Masato Fernando and John Emerson Inguito delivered a 1-2 finish for Yamaha-Spec V in the 180cc PSR class. JVT's Cassey Ng took the third place continuing his renewed BRC form.

The Unified Sports and Racing Association for Motorcycles, Inc. (USRA) and FETAP sanctions the PSR.