2008 KYMCO Super8 125 Bike Review: A Class Act
Date posted on July 8, 2021
Share this
It's a reasonably priced sport scooter that offers good value, style and performance. The European styling, excellent brakes and sporty handling will make the Super8 popular among local enthusiasts.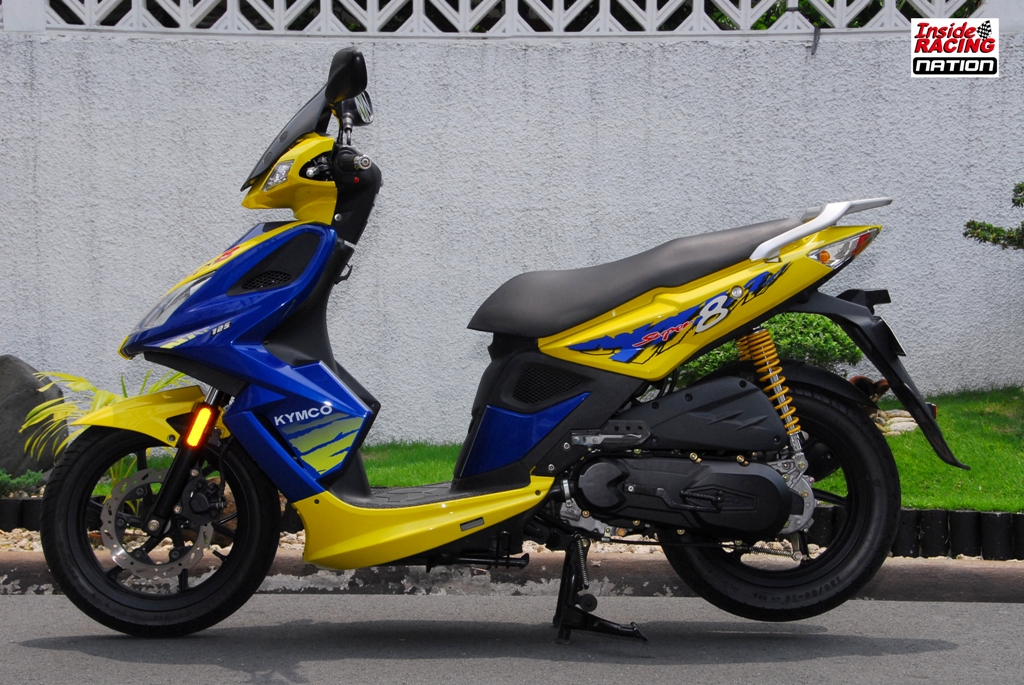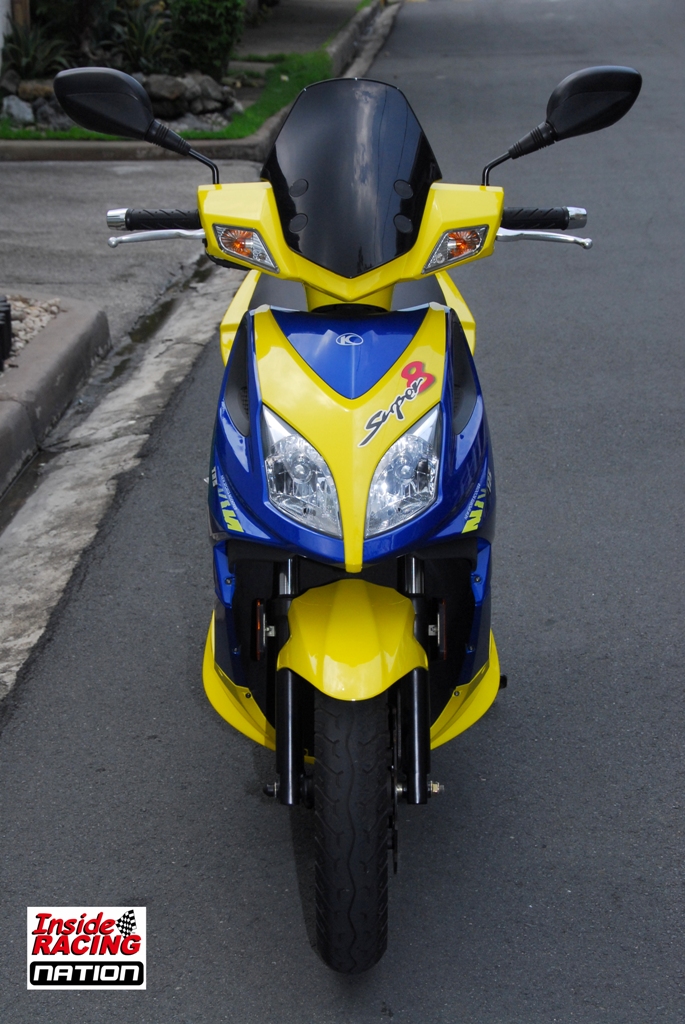 When the new subsidiary, KYMCO Philippines, Inc. told us that they have a great plan to bring new and exciting models into the local market that will appeal to local consumers and enthusiasts, they were not kidding.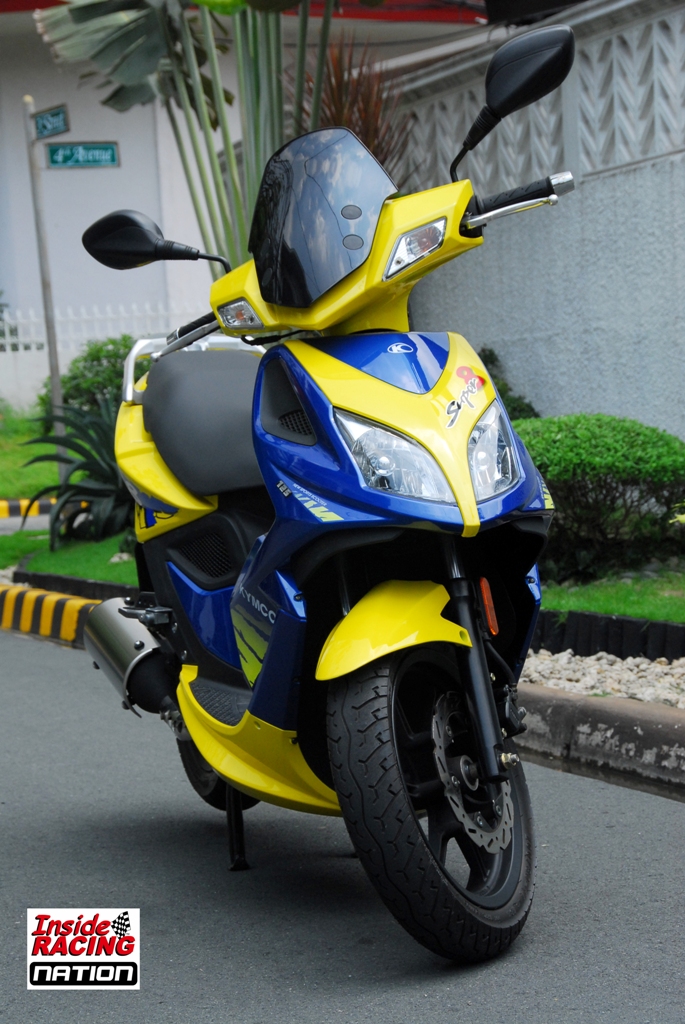 The 2008 KYMCO Super8 125 is just plain fantastic!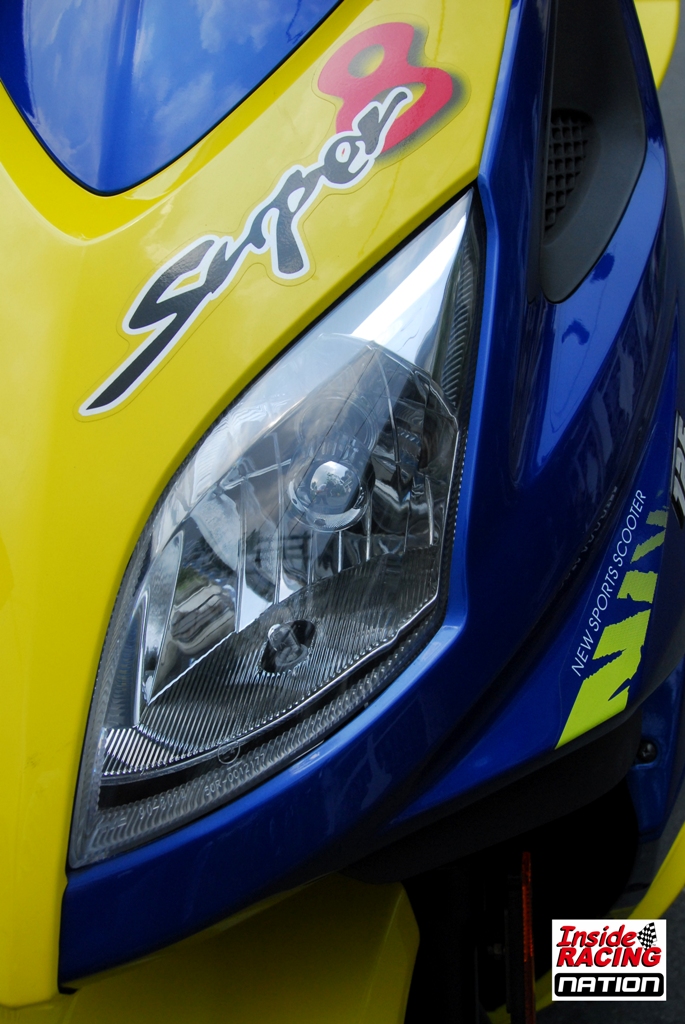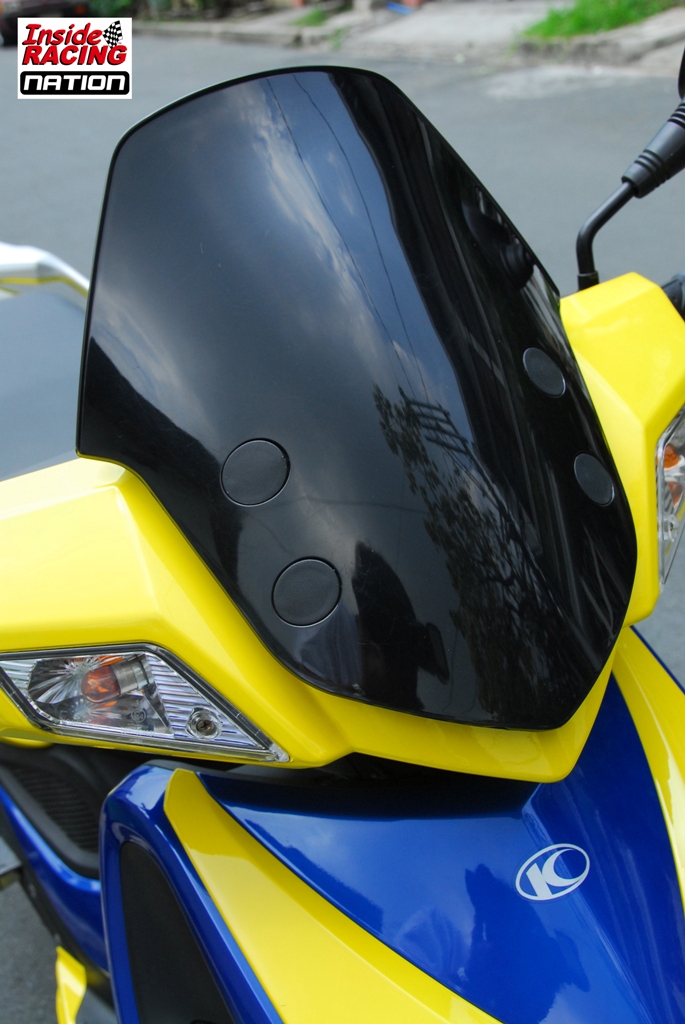 It has smart and chic looks, is easy to ride around city traffic, fun to corner curve on weekends, and comfortable and efficient for long epic touring rides. This is truly more than what you normally expect from an ordinary 125cc Taiwanese scooter at this price level.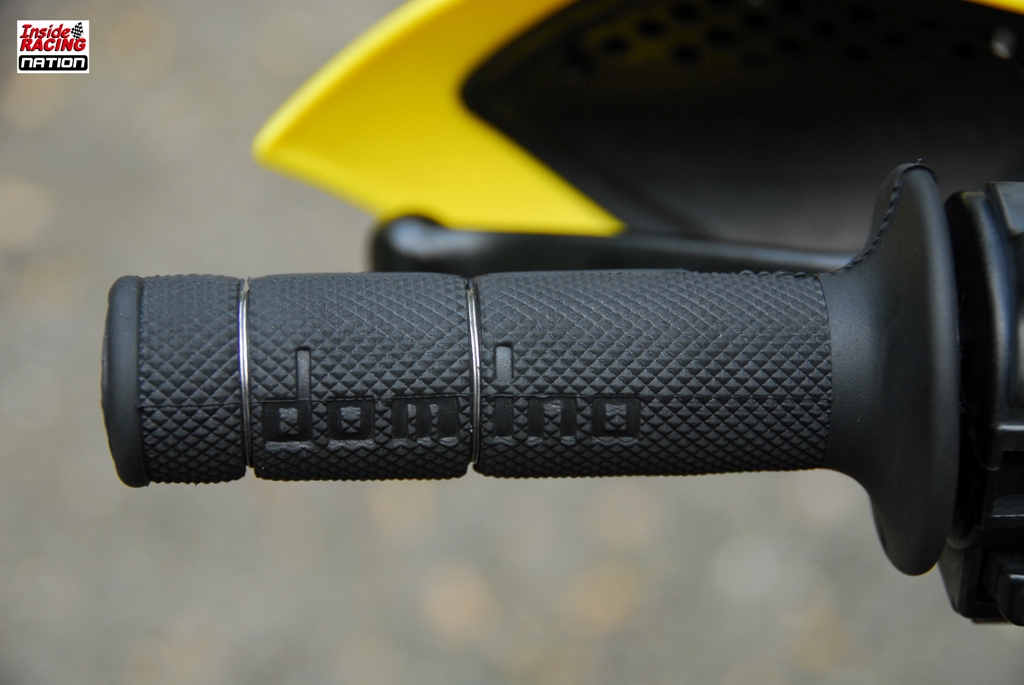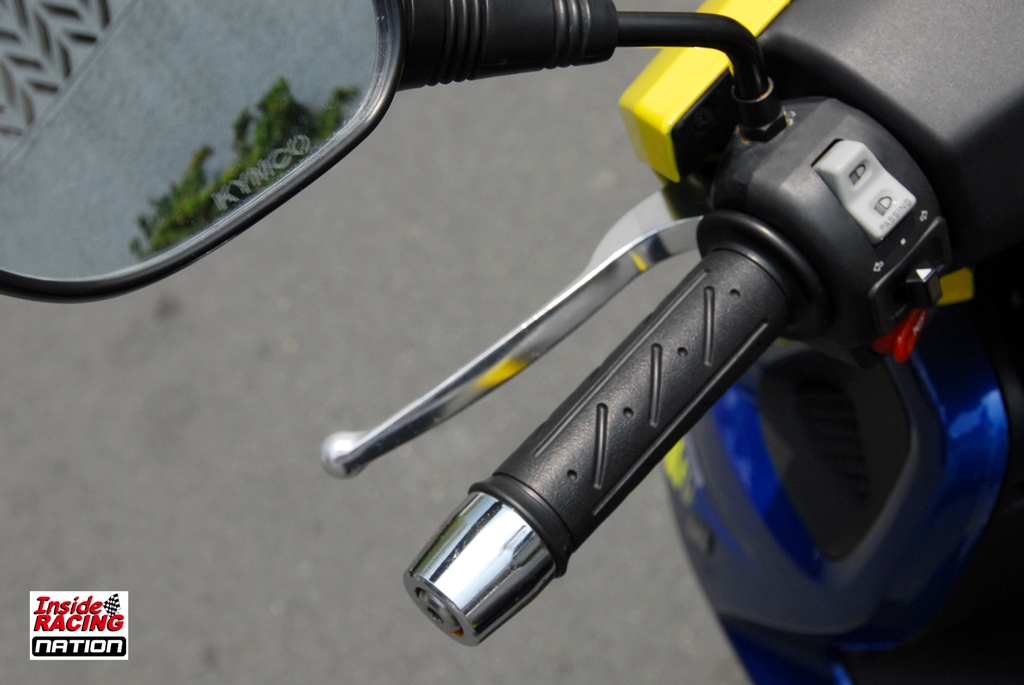 The build quality is good and the overall feel of the bike is tight and solid. Its overall presence on the road is strong and impressive. KYMCO's quality has been proven around the world and it shows on this scooter. They are the leading scooter manufacturer in Taiwan and their experience in the past decades has been put to good use. The 125cc sport scooter has been one of the most popular scooter market segments in Europe, Japan and America for young commuters, replacing 50cc two-stroke bestsellers. The Super8 was designed to be competitive in the segment going head to head with Europeans, Japanese and other Taiwanese brands. It was released worldwide in 2007 and has gathered impressive reviews.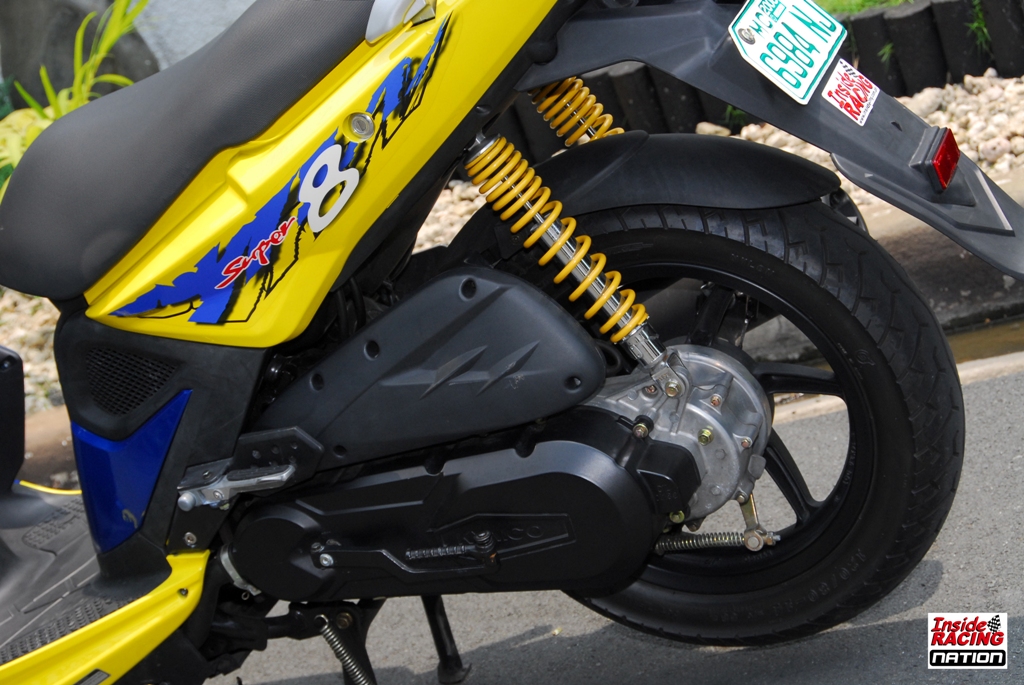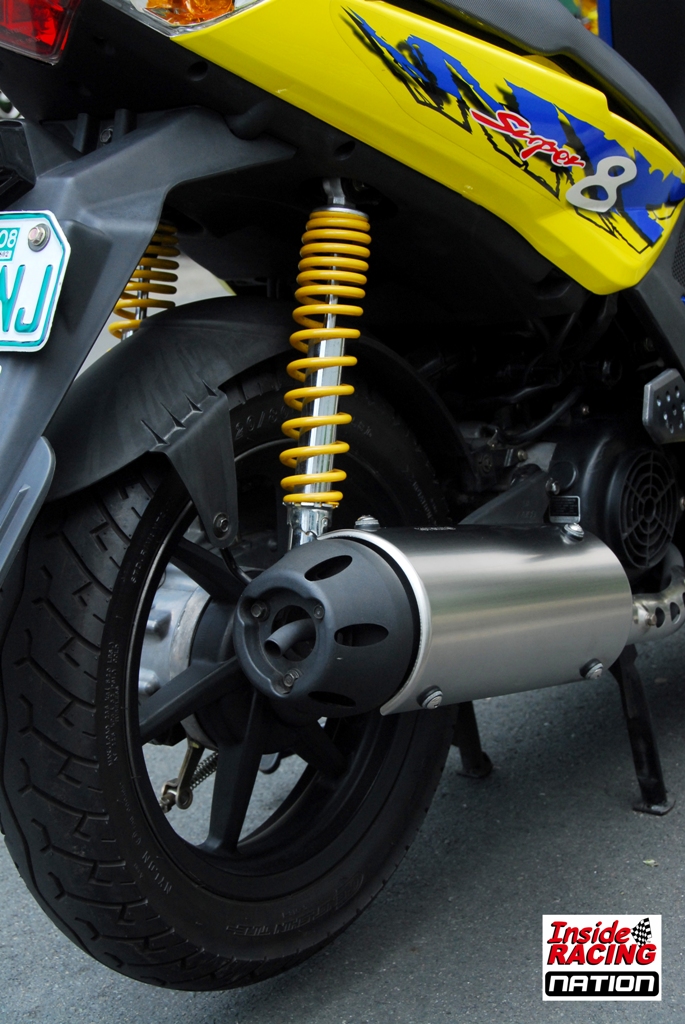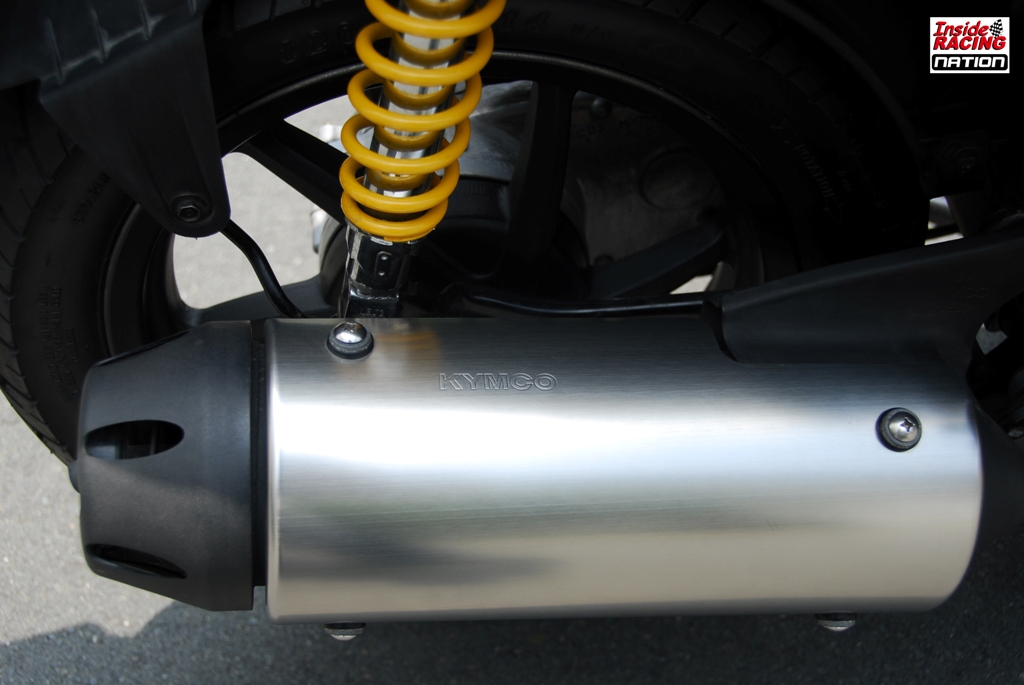 Its styling is already impressive. The aggressive and sleek wedged shape with mostly angular body lines is wrapped in bright two-tone paint combination. It has modern body-mounted twin halogen headlamps and handlebar-mounted signal lamps. At the back, there is a sharply shaped crystal type tail lamp. Styling accents include sporty mesh grills on the front upper body and below the seat, sharp-looking leg shields and even aero fins under the flat floorboard. It also has a functional mini windshield and a nice metal grab. The large volume exhaust muffler has a brushed aluminum finish heat shield. The sporty front fender is coupled with a very functional rear fender/splash guard combination.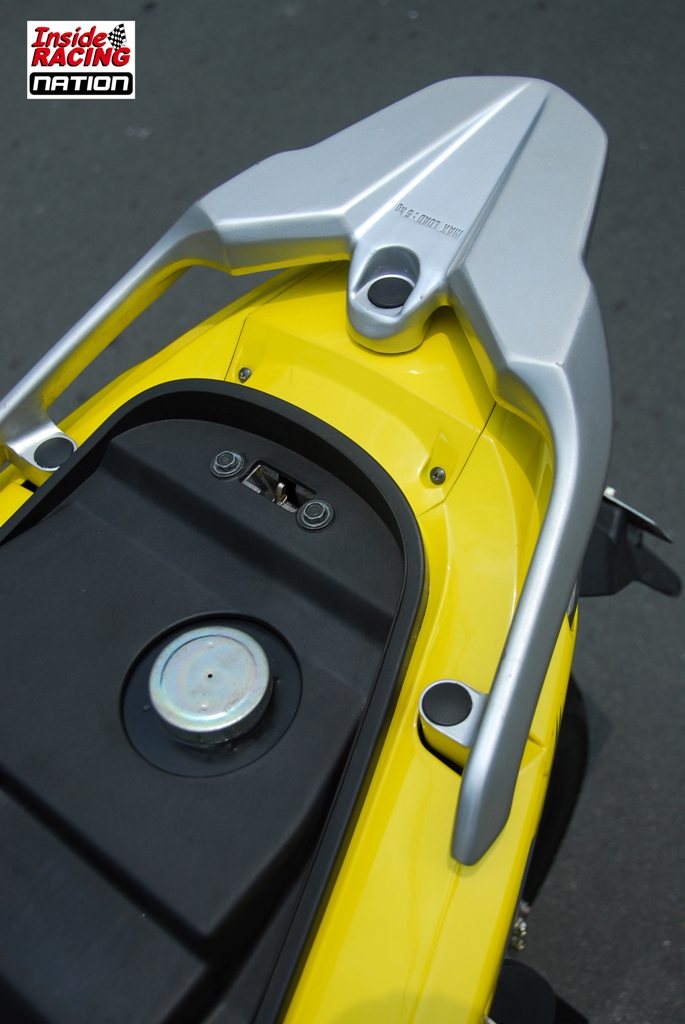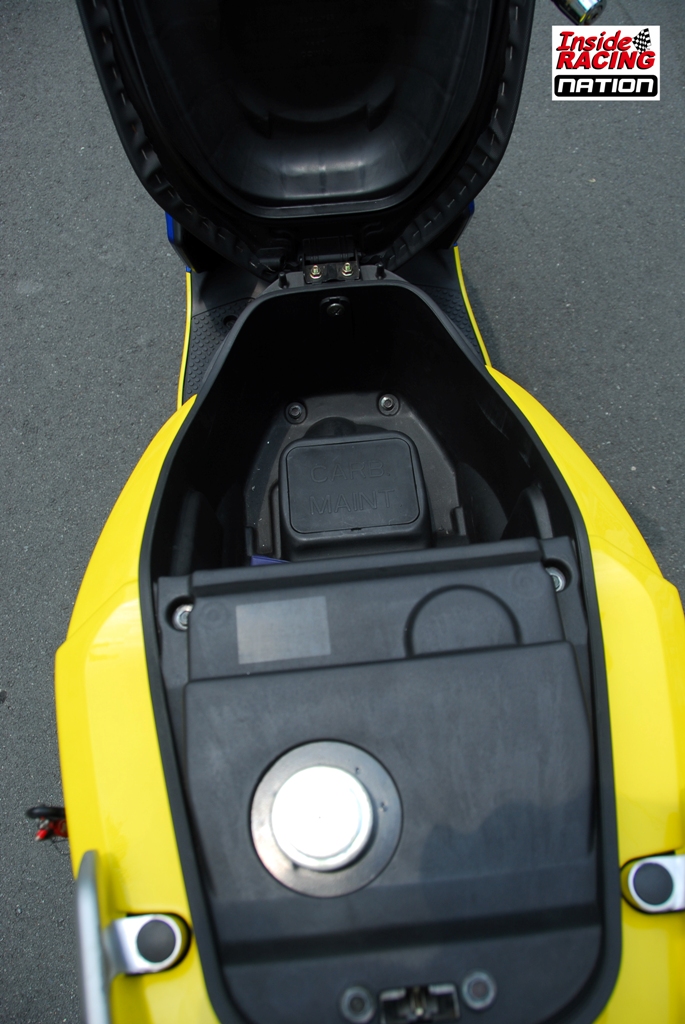 The instrument panel is dominated by an easy-to-read speedometer flanked by a fuel gauge with a highly visible digital clock. While the multicolor background panel is not that attractive, the digital clock is very useful and a nice touch for daily commuting.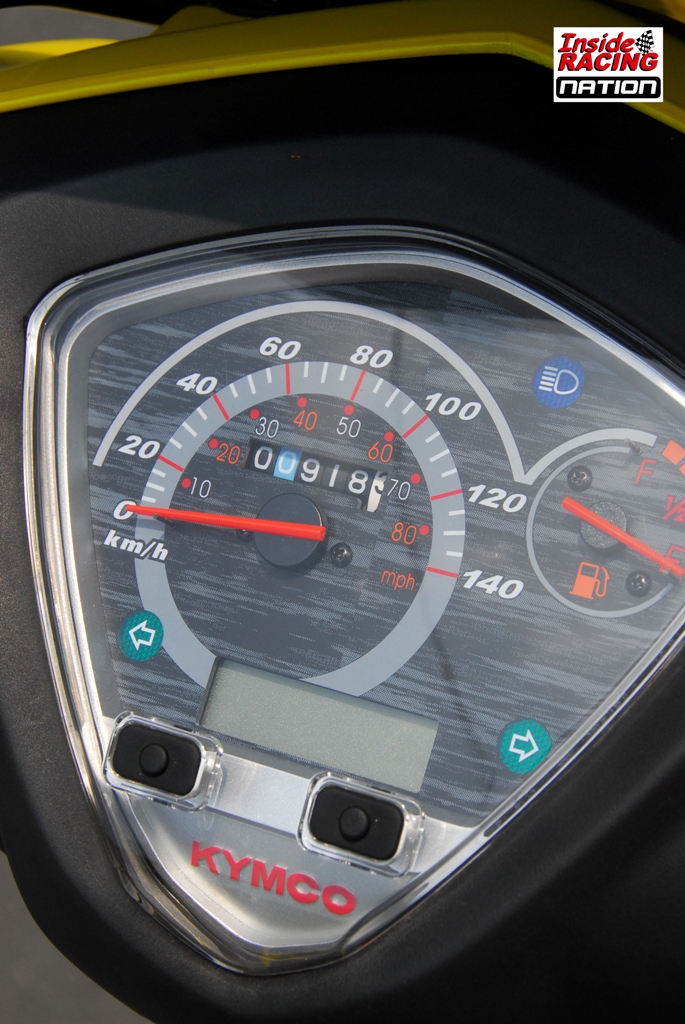 The Super8 retains the classic "flat floor" frame as opposed to the "step over" configuration adopted by other scooters and hybrids. This feature will endear the Super8 to traditional scooter users who use the flat floor as cargo area. The floor is covered with hard and durable plastic with non slip pattern.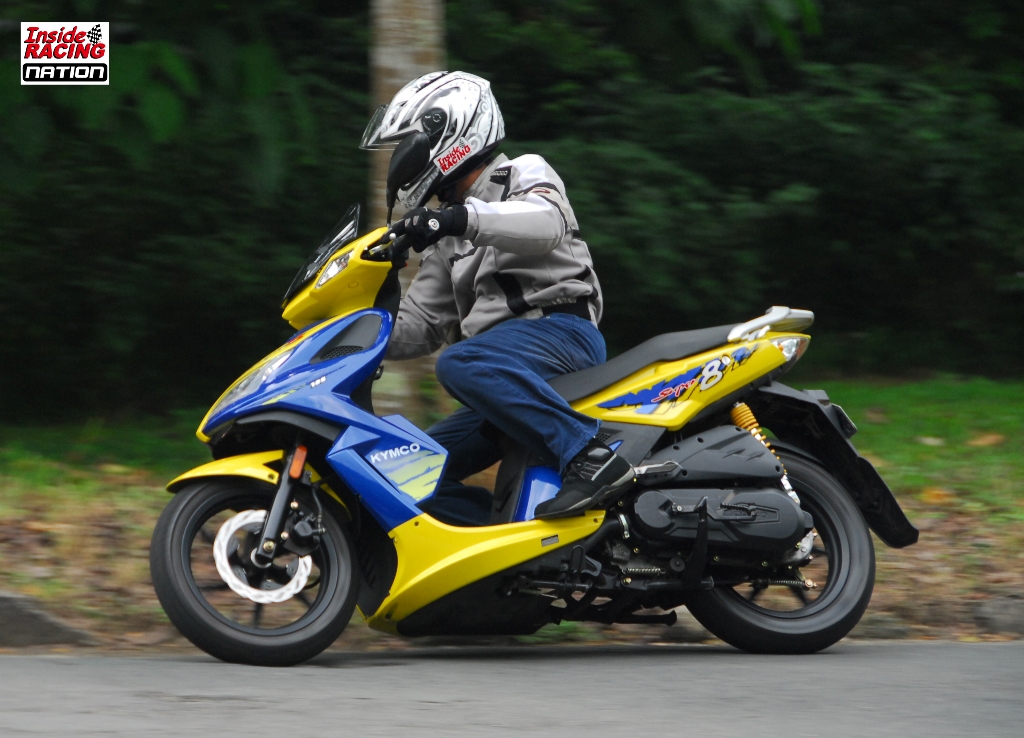 Other body features include a wide and non-slippery seat, large underseat storage box, large 5.0 liter fuel tank and aluminum rear passenger pegs that snap into position. It has easy to operate side and center stands.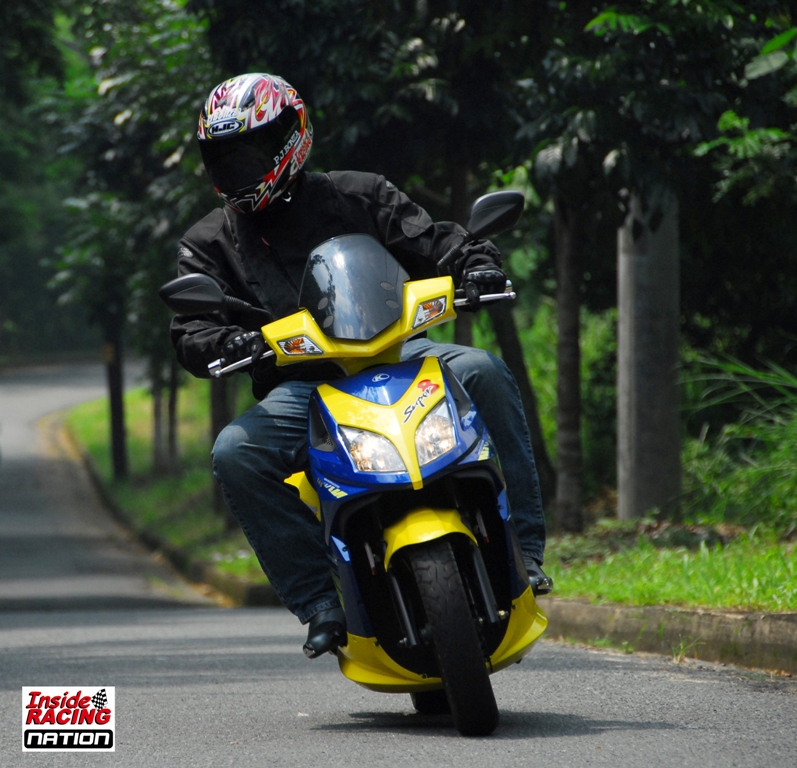 Although the bike is heavy, it's very easy to maneuver around very tight parking spaces.
It is equipped with relatively fat and tall tires (measuring 100/80 at the front and 120/80 at the rear) mounted on attractive six-spoke 14-inch mag wheels. This wheel and tire combination gives it a stable and comfortable ride on uneven roads while still maintaining the agile ride characteristic of the traditional scooter.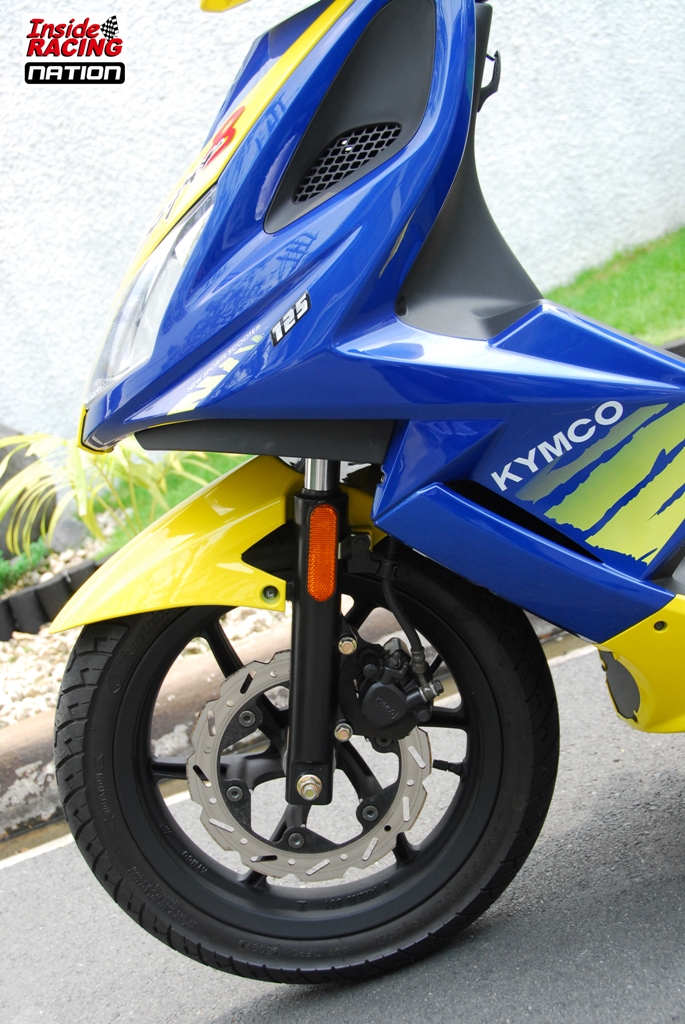 Its fully automatic CVT transmission is mated to a 125cc 4-stroke single cylinder air-cooled engine that meets Euro 3 emission standard. It has advanced engine features like an Automatic Fuel Cut-off valve and Throttle Positioning Sensor and Automatic by-starter system. The lively engine is rated for 6.5 kw max power at 7,500 rpm while maximum torque is 9.1 N-m at 6,500 rpm. Also, despite its advanced features, it's basically a reliable, easy to service engine that local mechanics and shops are already familiar with.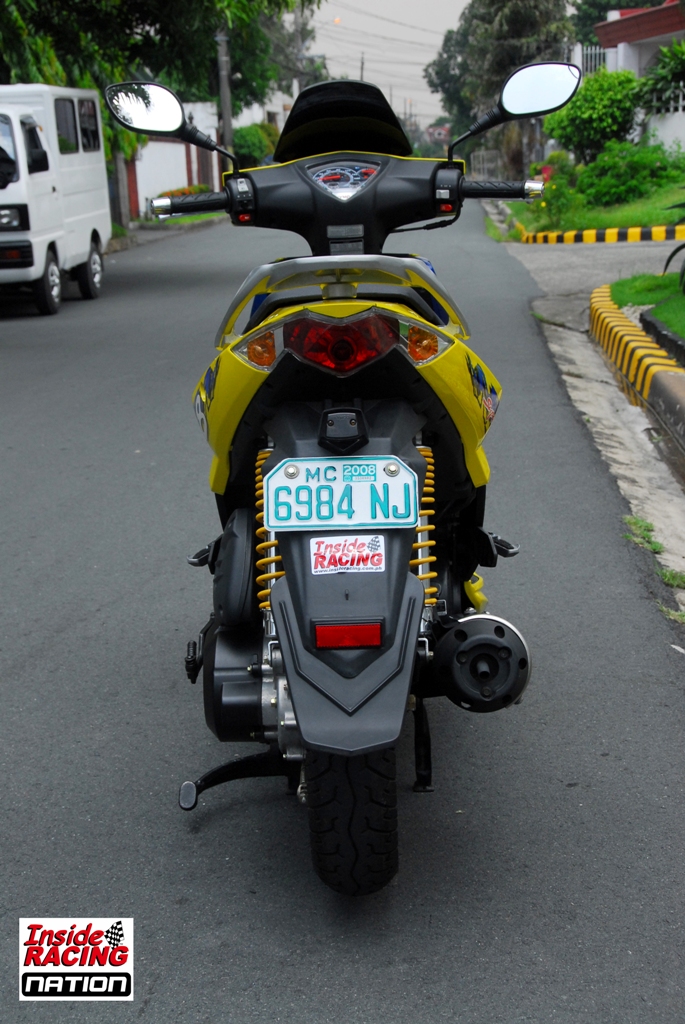 Its operation is smooth and feels powerful for a 125. The impression "from the seat of your pants" that you get is one of a solid and sporty performance. Despite its size and weight (it's heavier by more than 10 kilos) compared to other 125cc scooters, it can accelerate just as quick if not quicker.
The front petal-type disk brake is not only very strong; it also complements the sporty body styling. When used together with the rear drum brake, the Super8's stopping performance is astonishing.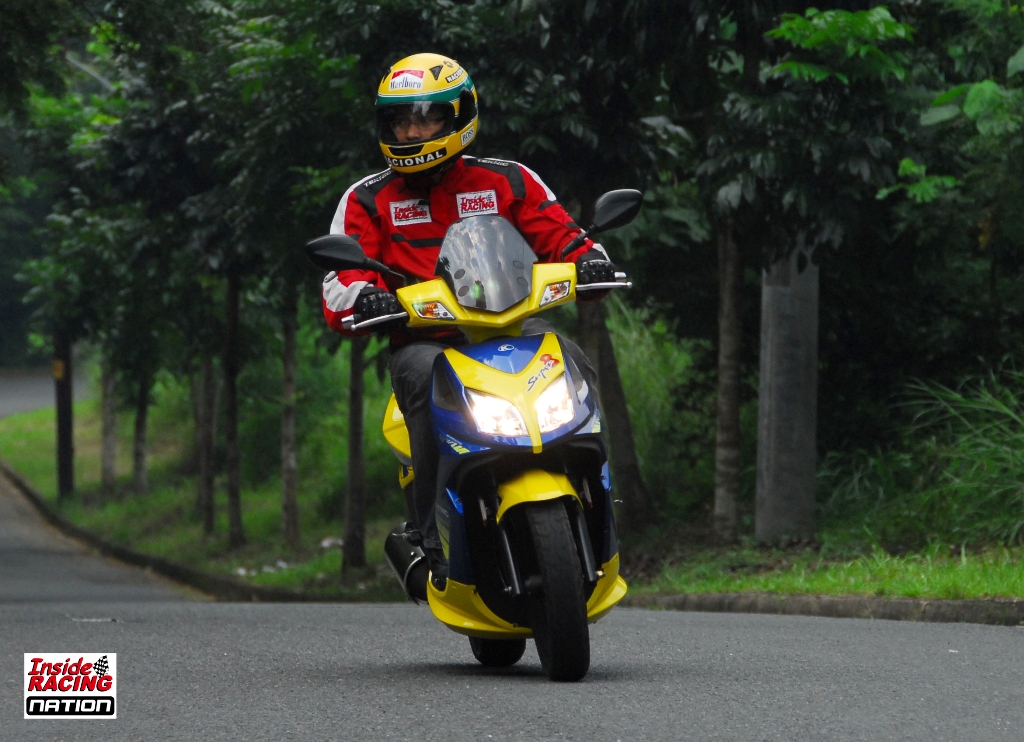 The high braking performance is matched by a relatively taut telescopic front and dual rear suspension which are adjustable. They seemed a bit hard on rough roads at cruising speeds but the tall tires' sidewalls compensate to give an overall comfortable ride. However, during aggressive corner to corner riding, the Super8's brakes, suspension and handling work very well together.
There is none of the usual "top heavy" handling associated with scooters. All of us concluded: the Super8's handling is well-balanced especially the rear. We believe that the smooth engine power delivery and the bigger tires were factors for its stability.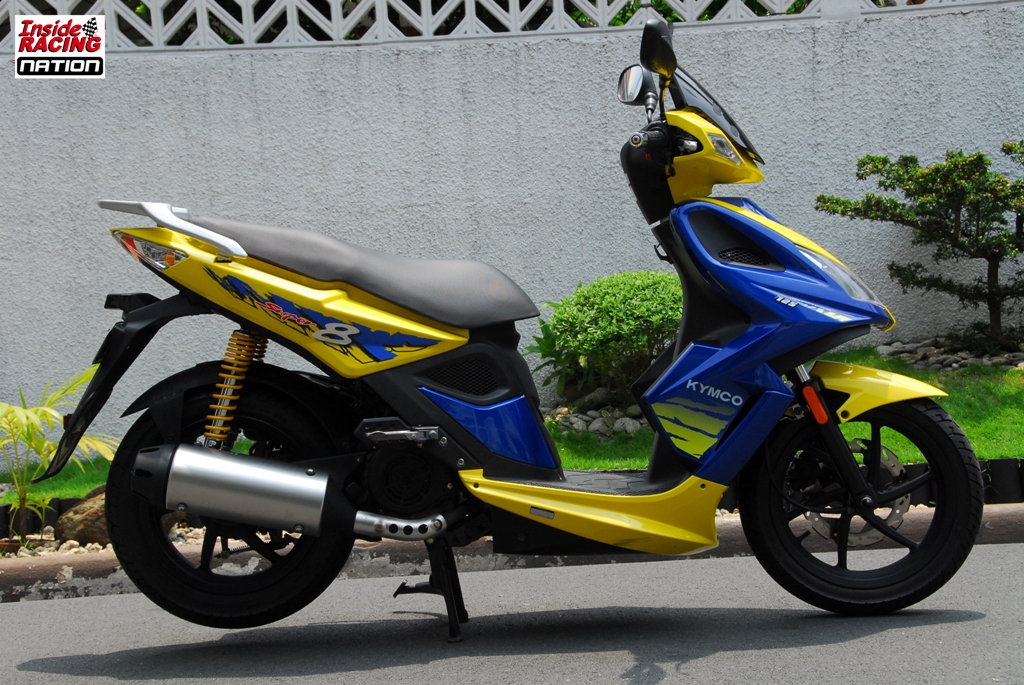 In terms of presence, its body size and tires are much bigger than other automatics in the market which make it suitable for bigger riders. The strong brakes and taut suspension also make it a better carrier of heavy riders.
Riding the scooter for the first time reinforced our perception. Based on enthusiasts' reaction when the Super8 was launched and from international reviews, we can say that for its price, the scooter has a lot to offer in terms of sporty performance and styling. Even in its stock specifications, it impresses both the posers and the riders. We would not be surprised if this model will generate a "cult" following in a year or two.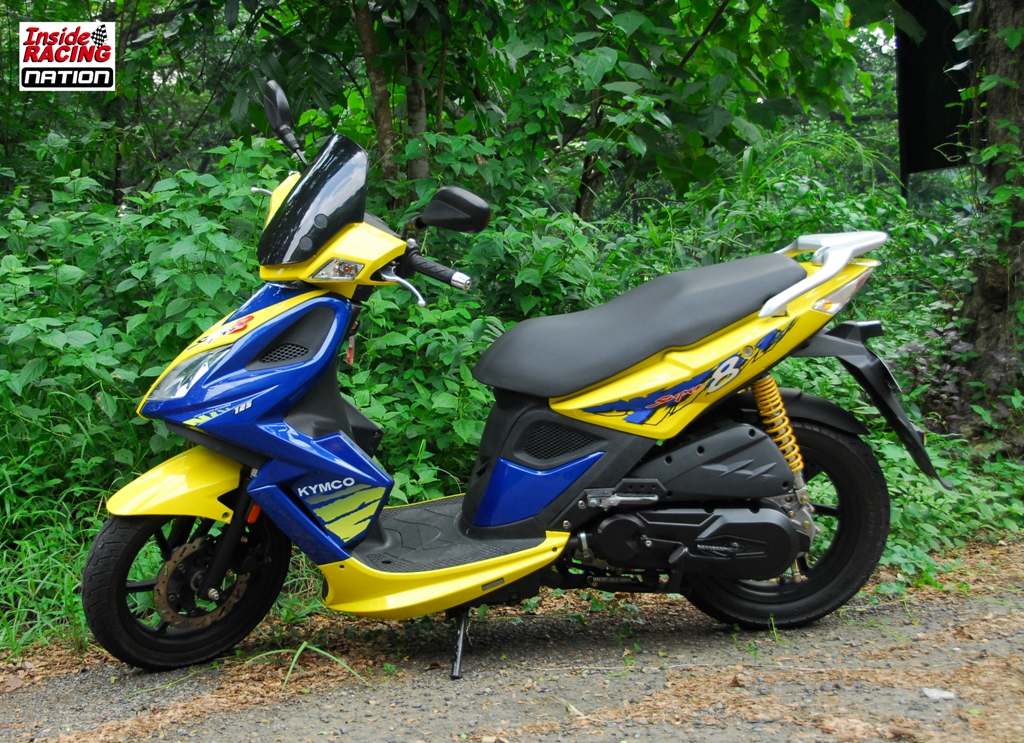 Definitely the outstanding features are its braking power and handling. The Super8 can be light on its toes when used in daily city riding, can be precise and quick for fast sporty riding and can be stable and comfortable for long rides. The handling was so impressive that one of our road testers scrapped the center stand when he went around the corner. It was an indication of how much riding confidence the scooter can give. Some might find the suspension slightly hard on bumpy roads, but we feel that it's a fair trade-off for you need the tauter suspension to take advantage of its amazing stopping performance.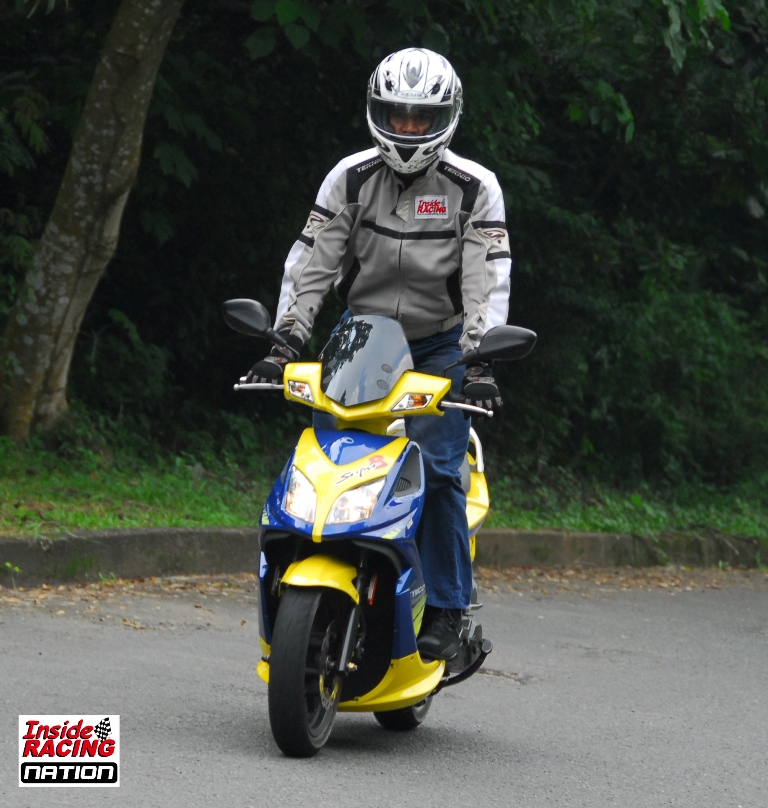 Aside from maybe not having enough units to satisfy enthusiasts' initial demand, the only other issue we can think of here is the availability of aftermarket tires with the correct sizes.
Priced at P65,000, clearly, the new KYMCO subsidiary had done something  very right about the overall package and price of the Super8. They are on the right track establishing KYMCO's image as a global leader with products that excite the market. Truly, a class act that is tough to follow.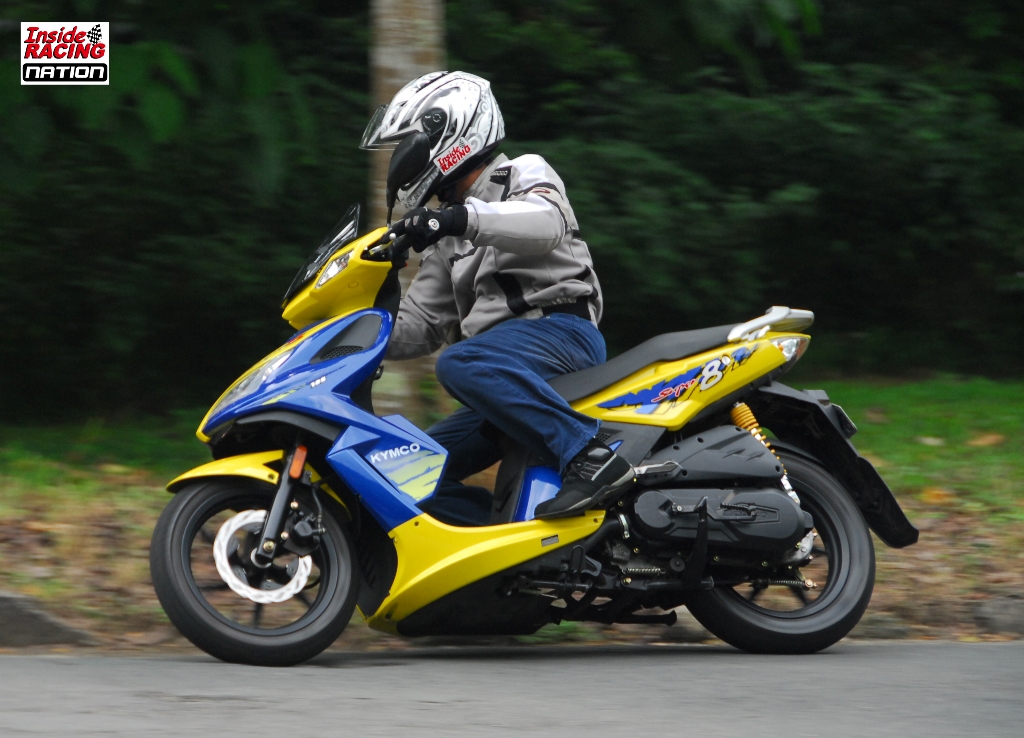 Ricci Abrina (height: 5'8" weight: 152 lbs.)
"The brakes are good and the handling is superb but I can feel that it is heavy. The sporty shock absorbers and tires contribute to its sporty handling. The tires are big for scooters. I like the style – very European – and the dashboard. I think it will look bigger in solid colors. The engine is very smooth, there's no vibration. And for me, I like the flat floorboard since it is where I usually put may camera bag. I like it so much that I am about to buy one."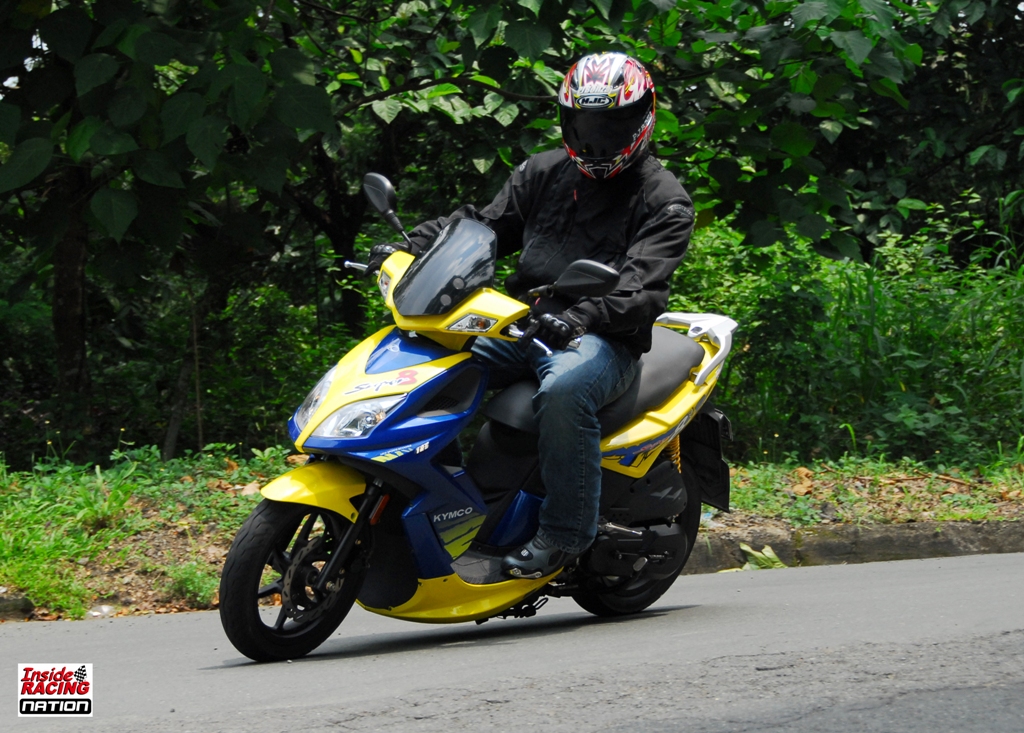 Philip Bonza (height: 5'11" weight: 180 lbs.)
"I like the handling. For me, this is the best scooter that I have tested in terms of handling. And front brake sobrang ok, malakas! Ang front suspension ok siya during braking, pero pag may bumps na, medyo matigas. Ang rear suspension I think mas ok pag may passenger, pero pag single lang, sa bumps matigas din. Pag pinagsabay ang front at saka rear brakes talagang pumapako! Ang upuan medyo matigas kasi mababa yung foam, pero tama lang para sa position. Sa size ko, ok lang naman yung position ng manibela at saka ng upuan at saka taas ng platform sa paa. And yung control, ok! I like the style, shape and colors."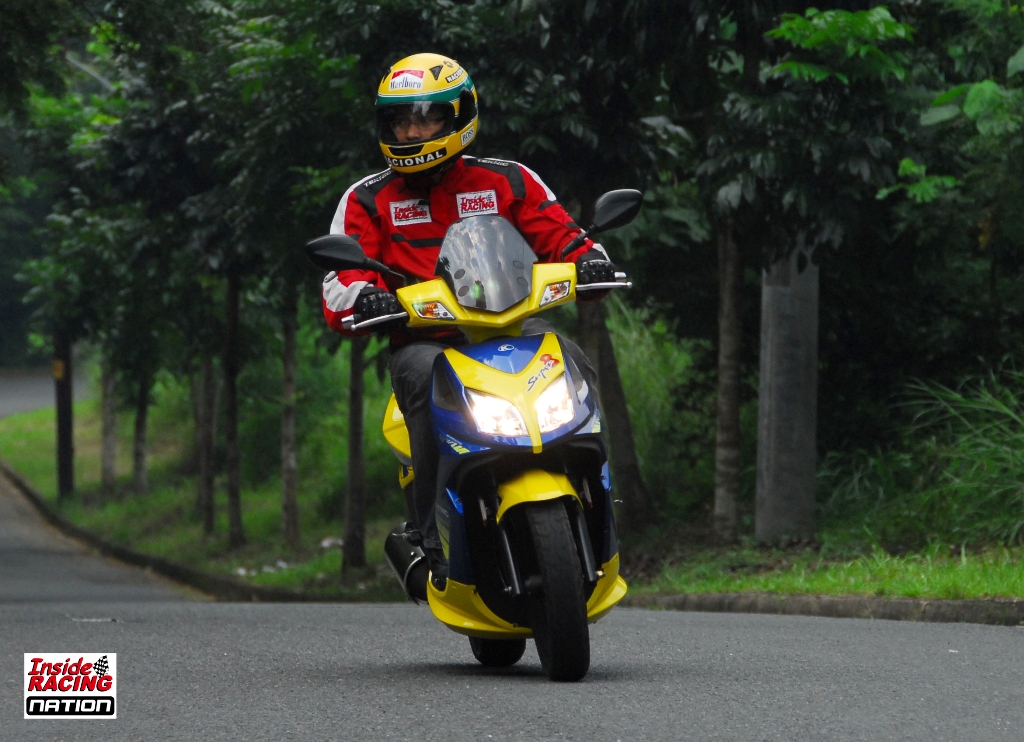 Al Camba (height: 5'7" weight: 160 lbs.)
"The handling is sporty yet stable. The brakes are impressive and the suspension is on the sporty side. I like its European styling and bigger size. The feel of the front brakes is so good you could actually trail bike. The power is good for a 125. The bigger tires actually helped in absorbing bumps. I like the "solidly built" feeling and its bigger presence on the streets when you are riding. Also, I never felt it to be top-heavy. The two-tone colors look great, but for me personally, the Super8 will also look good and more elegant in solid colors like metallic silver or bright red sans the crazy graphics."
This was published in the 2008 InsideRACING Magazine Volume 6 Number 8 issue