2015 Shell Advance MotoIR Championships Presented by Honda Launched at SMX Aura Premier
Date posted on April 25, 2015
Share this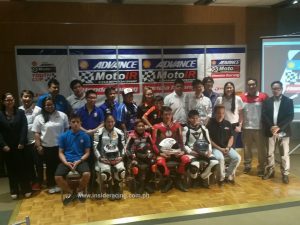 Taguig City, Philippines – The fourth season of the Shell Advance MotoIR Championships Presented by Honda hled their annual Riders and Teams Media Presentation at the SMX Aura Premiere in Taguig City on Thursday. The first race Championhip sanctioned by the Unified Sports and Racing Association for Motorcycles, or (USRA) will start this Sunday April 26 at the Batangas Racing Circuit.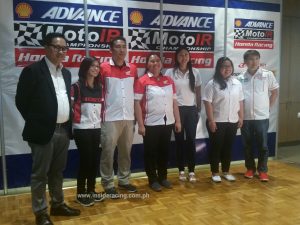 The night was graced by Shell Advance Brand Manager Ms. Recca Menchavez , Honda Philippines Racing Head Mr. Lloyd Garces, Bridgestone's Mr. Joel Manibo , Pirelli's Mr. Philip Ang, USRA Vice President Mr. Edwin Go and MotoIR Chairman Mr. Al Camba.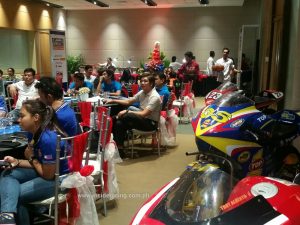 Aside from the riders and various team sponsors, special attendees included media friends from Stoplight TV, Motorsiklo Xklusibo, C! Magazine, Motorcyclephilippines.com, PinoySpeed, and HubNub.TV.
Launched 3 years ago in 2012 with only five riders, the MotoIR Championship was the first and one of a kind race series in the Philippines where top riders of the nation compete using identical bikes – MotoIR Spec machines based on the Honda CBR150FI motorcycle equipped with identical GP-style body kits with limited modifications for safety, moderate performance tuning and aesthetic enhancements to mimic the colorful MotoGP bikes.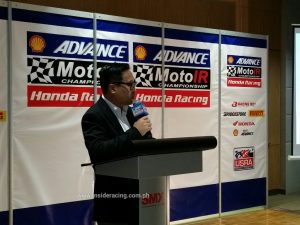 MotoIR  was  developed by InsideRACING magazine publisher Mr. Al Camba with the ultimate goal to become a highly professional race series with team, bike and rider professionalism high on the priority. It is similar to the junior championships being held in Europe and around Asia. The Championship runs with the national championship events at Clark International Speedway, Batangas Racing Circuit and at the IR Cup Series races in Carmona.    Most of the top teams and riders in the underbone and scooter racing fraternity have participated in the Championships and gave credibility to MotoIR.  The combination of top talents and equal machinery produced very exciting races. From just 5 riders in the very first MotoIR race, the championship has grown with 14 riders lining up for the final event in 2013 to as much as 22 riders last year in 2014.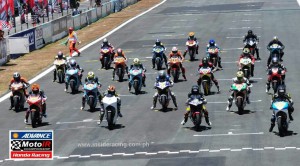 MotoIR  is now one of the most popular local racing class and being a MotoIR rider is now a much coveted distinction. It also gave local fans the chance to experience a GP-style race event.
After just three seasons, MotoIR established itself as one of the premier road race classes for top riders and top teams from the underbone and scooter scene to aspire for in local competition.  It has also created an affordable racing class to elevate the riders' skills and team professionalism as well as an excellent entry level to full size motorcycle racing.
The series also proved to be a viable stepping stone to the much faster world of superbike racing as the MotoIR riders' skills of racing a normal motorcycle with a tank are enhanced as the season progresses.   Most of the previous MotoIR riders have competed in the national level Philippine superbike racing like double MotoIR Champion Rizaldy Canare, Tracy Soyangco, BMW SBK rider Marvin Mangulabnan, and KTM SBK riders Anthony Roman. Even defending superbike champion Kawasaki's Dashi Watanabe competed in a few MotoIR races.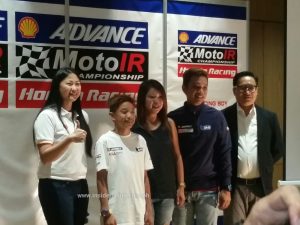 The series is also proud that 2014 Shell Asia Talent Cup rider Ralph Kenneth Torres competed and was able to use the MotoIR races last year as an effective practice before riding the Moto3 bikes in international road races. Also the current 2015 Shell Advance Talent Cup rider McKinley Kyle Paz, as well as both 2015 Honda Asia Dream Cup riders Koko Tadachi and Robert Matthew Ramos, are all MotoIR racers in 2014.  Their presence on the grid gave value and recognition to our series.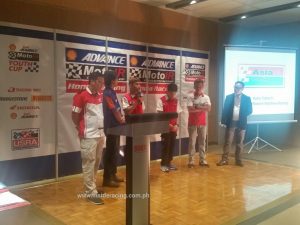 The 2014 season again introduced additional controlled fine-tuning to make the bikes faster and to continue the learning curve of not only the riders but also the local tuners. MotoIR bikes were allowed to have a top level programmable race ECU supplied by ARACER similar to those used in international GP's. This not only made the bikes faster but also created a new formula for a race winning effort as the electronic engine tuners are now a vital part of a race winning team.
Meanwhile in the Tire Championships, after losing to FDR in 2013, Bridgestone tires managed to win it back in 2014. This year in 2015, Bridgestone will have a new adversary as Pirelli Tires have joined the championship.
In 2014 Herbert Lopez from Taytay emerged as the overall champion in MotoIR with 4 wins out of 9 races, defeating two time defending MotoIR champion Rizaldy Canare from Bataan, who also won 3 races. Third in the championship was Paul Mark Doblada who won a race. Doblada also took his second consecutive MotoIRGP win in IRGP8 held and the end of 2014.
In MotoIR2, Gio Adriano dominated the class with 8 wins and a second. The only other winner Robert Mathew Ramos came in second overall followed by defending champion Juver Mirasol. Meanwhile, Koko Tadachi defended his MotoIR2 crown in IRGP8.
Last year we also launched the inaugural Shell Advance Youth Cup for 18 years old and below to qualify for the Shell ATC Shoot our in Sepang Malaysia last October. Ramos and Gian Carlo Mauricio were the winners and was able to attend the Sepang shootout courtesy of Shell and InsideRACING.
As of now in 2015, 11 entrants have been confirmed  of which most  were at the launch event. These include  Troy Alberto of Team Access Pus, Jacq Buncio of Team YRS-Top 1( She will be the first and only female MotoIR rider in history), Kyle McKinley Paz of Moto Tan, Edmar Quiambao or Replica Pro, Josh Shepley of JVT, Romer Corbe of Gulf racing, Josh Rueben Tan of MotoTan and Paul Mark Doblada of MTRT-KYT.  More are expected to join by the second round in May.
The 9 –race long season, the longest local roadracing series currently running,  starts this weekend on April 26 at the Batangas Racing Circuit.
The Calendar:
Round   Date                      Circuit                                             Event
LEG 1     Apr 26        Batangas Racing Circuit            Phil. Superbike,Ubone & Scooter
LEG 2     May 24       Batangas Racing Circuit            Phil. Superbike,Ubone & Scooter
LEG 3     June 21       Carmona Race Track                   IR Cup Series
LEG 4     July 5       Clark Int'l Speedway                  Phil. Superbike,Ubone & Scooter
LEG 5     Jul 26         Carmona Race Track                   IR Cup Series
LEG 6     Aug 2           Clark Int'l Speedway                  Phil. Superbike,Ubone & Scooter
LEG 7     Sep 6            Batangas Racing Circuit            Phil. Superbike,Ubone & Scooter
LEG 8     Oct 4            Clark Int'l Speedway                  Phil. Superbike,Ubone & Scooter
LEG 9     Oct 18         Carmona Race Track                   IR Cup Series Finals by Shell
The championship will also mark the second year of partnerships with SHELL ADVANCE MOTORCYCLE OILS and HONDA PHILIPPINES.
The Championship will also again include the Shell Advance MotoIR YOUTH CUP that will enable two (2) deserving young riders aged form 14-20 years old to qualify for the Shell Advance ASIA TALENT CUP in October in Sepang, Malaysia, but this time the maximum age is now 20. If successfully chosen by Dorna, the riders will race Honda Moto3 race bikes in 2015 all over the Asian region.