2020 Suzuki Raider J Crossover First Ride Review: 21 Reasons to Buy Suzuki's New "Gravel Bike"
Date posted on March 4, 2020
Share this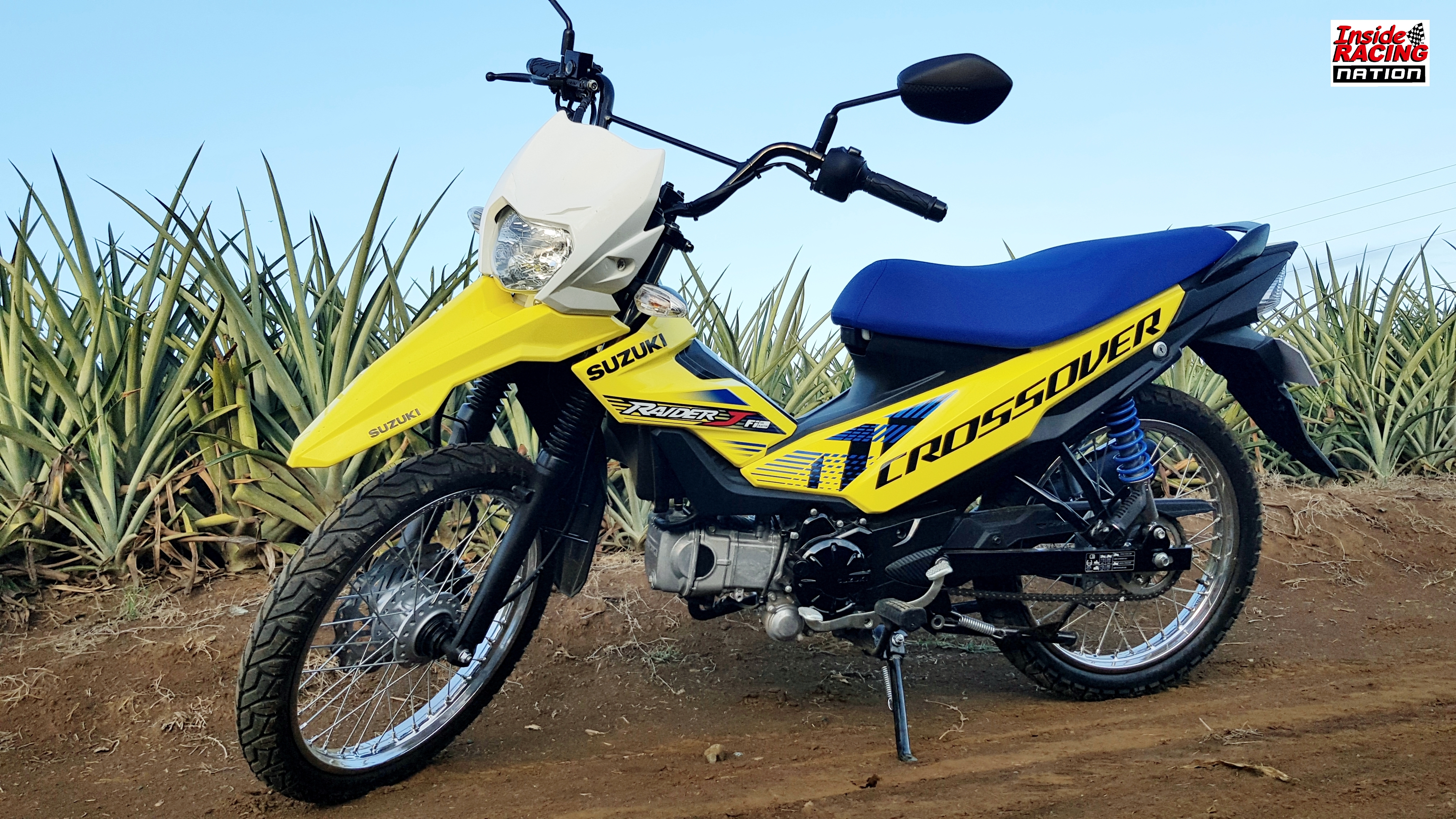 The refreshingly cool Raider J Crossover is expected to expand the underbone market segment.

In the bicycling world, there were 2 product revolutions that helped rejuvenate the declining cycling industry almost 5 years ago.


One was electrification or "e-bikes", and the other is the "gravel bike".
E-bikes allowed the ageing and less fit riders to continue on or re-enter the sport of cycling while the gravel bike was an answer for a practical need by the cyclists.

Gravel bikes with their relaxed geometries and soft road capable tires allowed road cyclists to venture and explore away from paved roads to dirt and gravel paths. It dramatically increased the places where they can ride their bicycles and added a sense of adventure every ride. Unlike the aggressive, complicated and heavy mountain bikes, with their full knobby tires and long travel suspensions which are inefficient for a daily regular road rides, gravel bikes were simpler and more versatile. Fast on the paved roads yet capable to traverse gravel, dirt and light trails.

Gravel bicycles are now the hottest thing in cycling because it is a much more useful and versatile bike.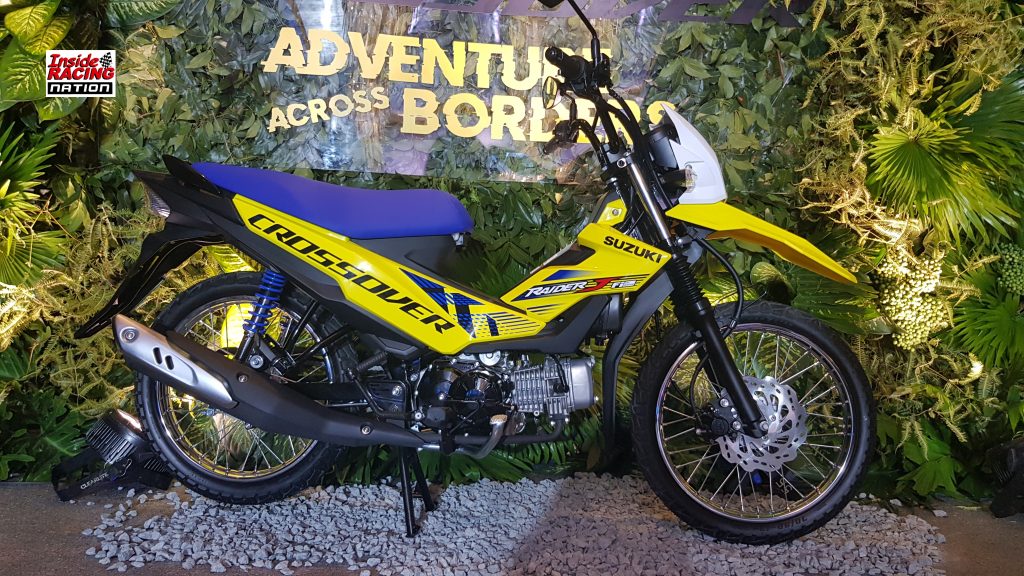 Suzuki's new Raider J Crossover is like the new "Gravel Bike" for the small bike users. While not pretending to be an all out off-road motorcycle, it is well equipped to handle off-road obstacles found on dirt paths and gravel roads, which the Philippines has a lot! It was designed primarily with the Filipino rider in mind.

This type of motorcycle is not new and not unique. This story will not be complete without mentioning the Honda XRM. Like the Raider J Crossover, the XRM was also designed and produced exclusively for the Philippines. The biggest Japanese brand has been at it since 2001 and it helped expand not only the underbone segment, but the whole solo riding lifestyle. In fact, there was a time when almost 50% of the total motorcycle industry sales were XRMs. It is still the preferred motorcycle by sensible riders in the Vis-Min areas where gravel and dirt roads are part of their daily commute.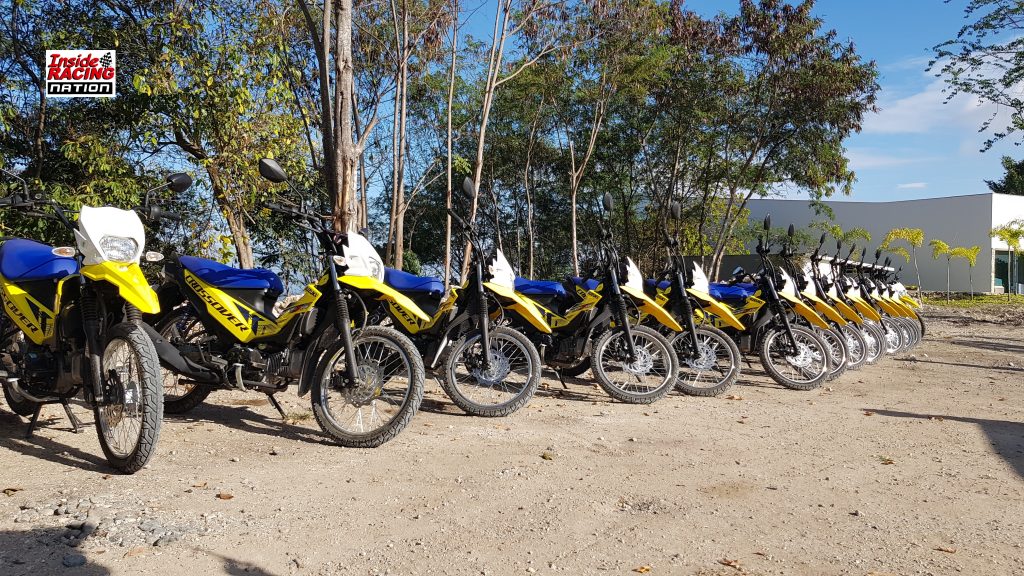 For almost two decades now, the XRM has been unchallenged as it continue to be a bestseller despite the efforts of two Taiwanese brands and a few Chinese brands that offered similarly designed bikes. The Suzuki Raider J Crossover is the first Japanese brand to challenge the XRM.

Suzuki is not here to really topple the XRM from its leadership but to provide an alternative and to expand the declining trend in underbone sales. This decline, we believe was mainly because of the massive campaigns of the major players for the industry to shift to automatics or scooters, and not because the underbone motorcycle is inferior or less capable.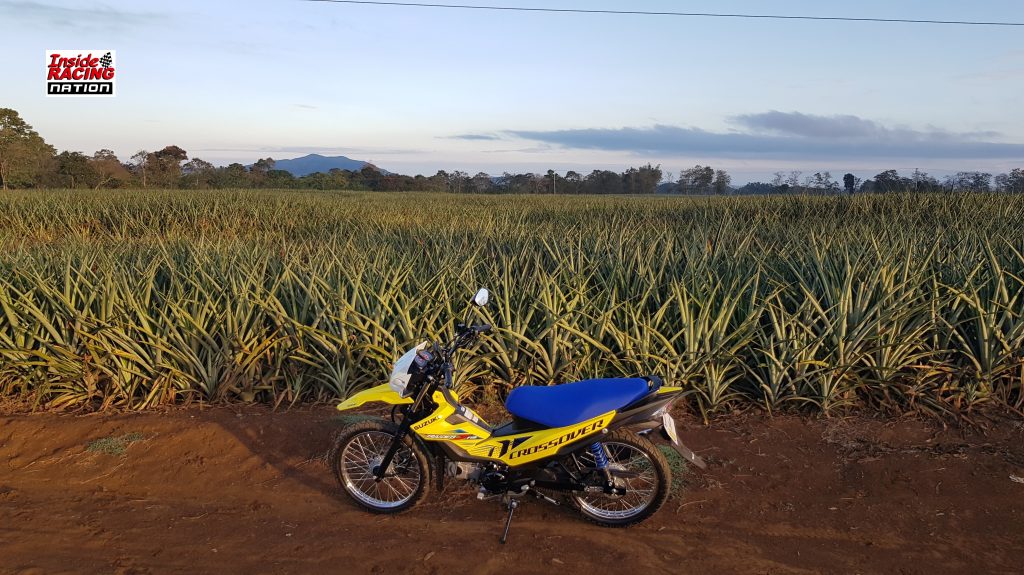 Like a gravel bike, the Raider J Crossover is really meant for the paved road and performs well off-road. It is not pretending or claiming to be an enduro or a motocross bike like the RM or DRZ. But it is not an Adventure bike pretender because it is designed to be capable of riding over rutted streets, dirt paths, gravel roads, jungle trails and, with the right tires, even sandy beaches. It is also not a sports bike like the Raider R or GSX-R, but it can handle fast twisties no problem. It is comfortable, efficient and fun to ride on daily commute. The handling is light and easy enough for newbie riders to build confidence in his riding.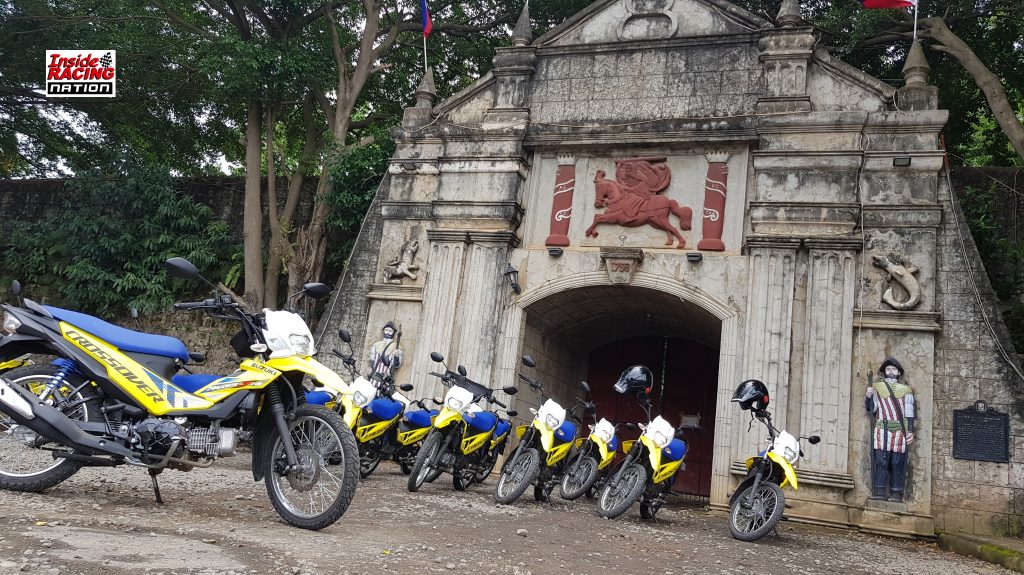 We believe it will rejuvenate the underbone segment and, together with XRM, will remind the market how good and fun this type of motorcycle is and why it is actually THE bike to own of you want to ride around the Philippines and can only do it with one small bike.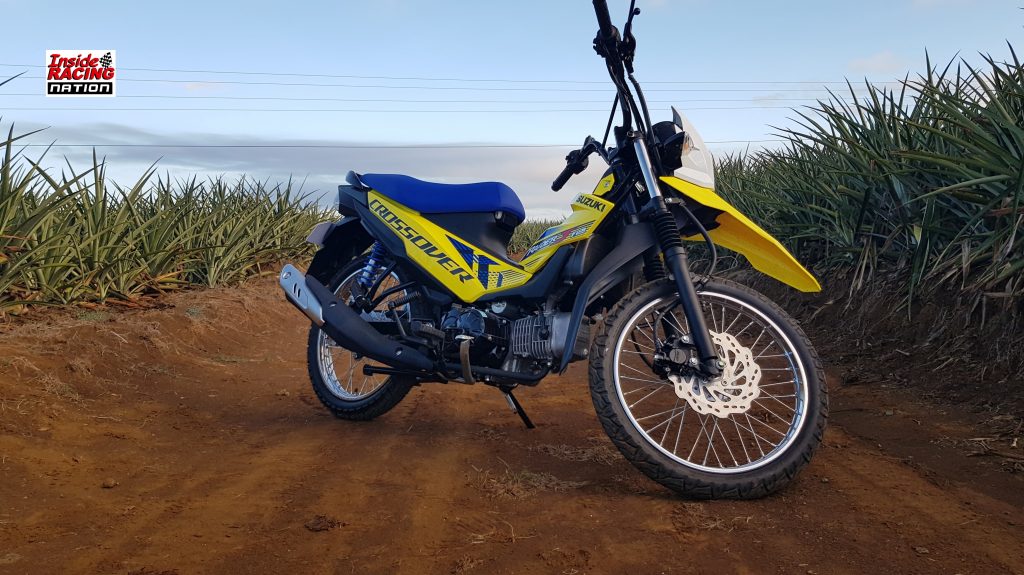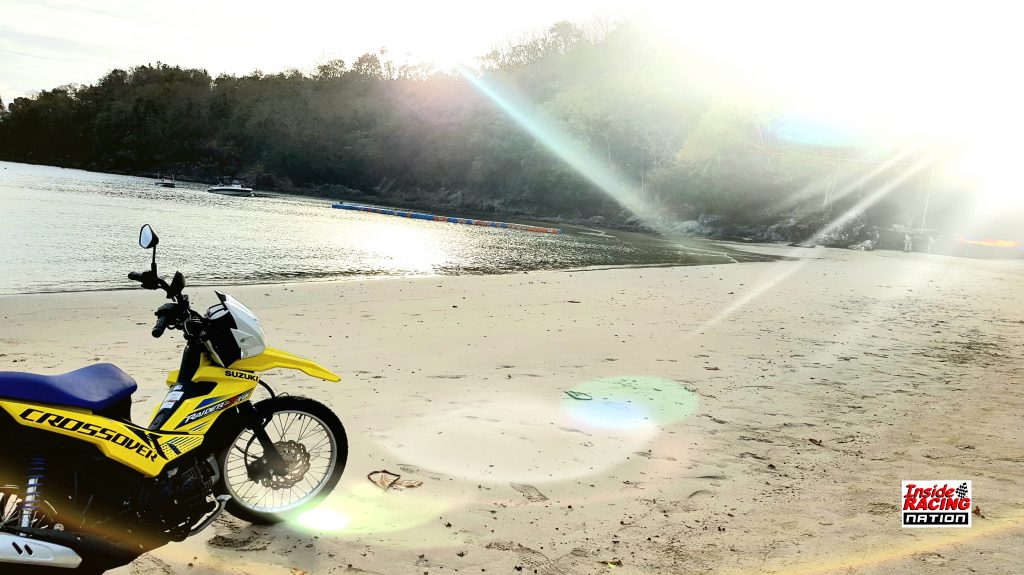 After riding almost 600kms in two days all over Mindanao during the Suzuki's "Adventure Across Borders" event on every possible type of road and paths (yes, including dirt and gravel) here are the 21 reasons we found why you should buy the new Raider J Crossover.

1. Refreshingly Cool Package

Those who only glance at it will immediately say it is a direct copy or imitation of the XRM. However, it's like saying the RS150 is a copy of the Raider R, or the Agressor is a copy of the Sniper, or the Skydrive is a copy of the Mio. To the keen eye, you will see that it is not the case. The lines and features are different. The smaller, efficient fuel-injected engine is different. The complete package looks fresh and, in the Champion Yellow color, actually looks very cool!

2. Fun to Ride

It is a fun bike to ride because it lets you ride on any surface. It expands your riding possibilities and will ignite a sense of adventure within you with every ride. You might find yourself planning rides that are not necessarily confined to paved roads.

Also, the handling, lightness , flexible power, ground clearance and engine response doesn't tax your body or senses very much. It's so much fun to wring out every last bit of performance out of the small bike without getting into trouble.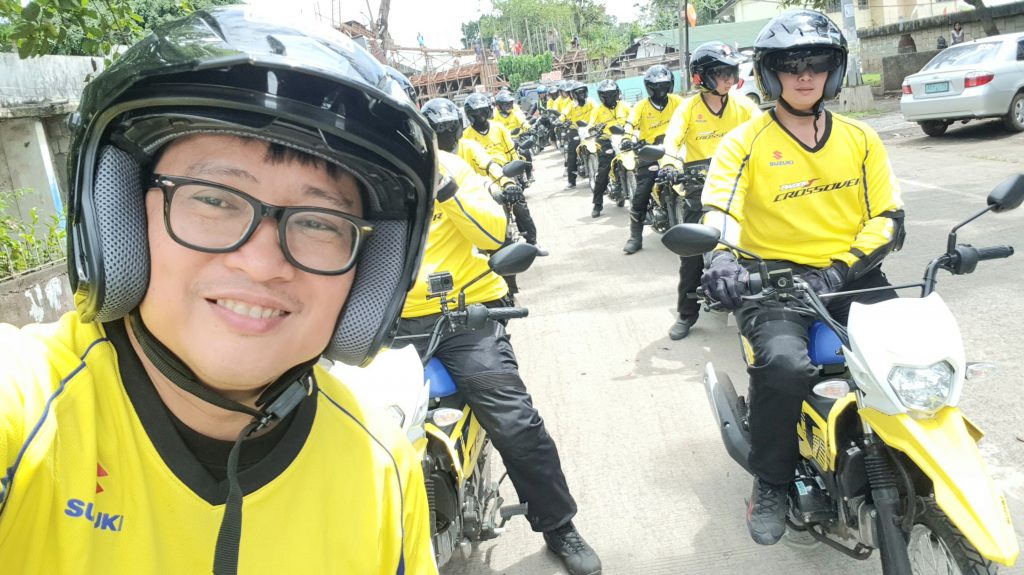 3. Fuel-efficient EFI engine

The 113 cc SOHC 2-valve engine is Electronically Fuel-injected (EFI) . Actual fuel consumption from our ride was more than 60 kms to a liter. This include almost 80% of the time at full throttle and includes steeps climbs on dirt and gravel roads. EFI also ensures smooth and simple starting and EFI automatically adapts fuel supply to the air and engine conditions. No more manual choke to operate or idle screw to adjust.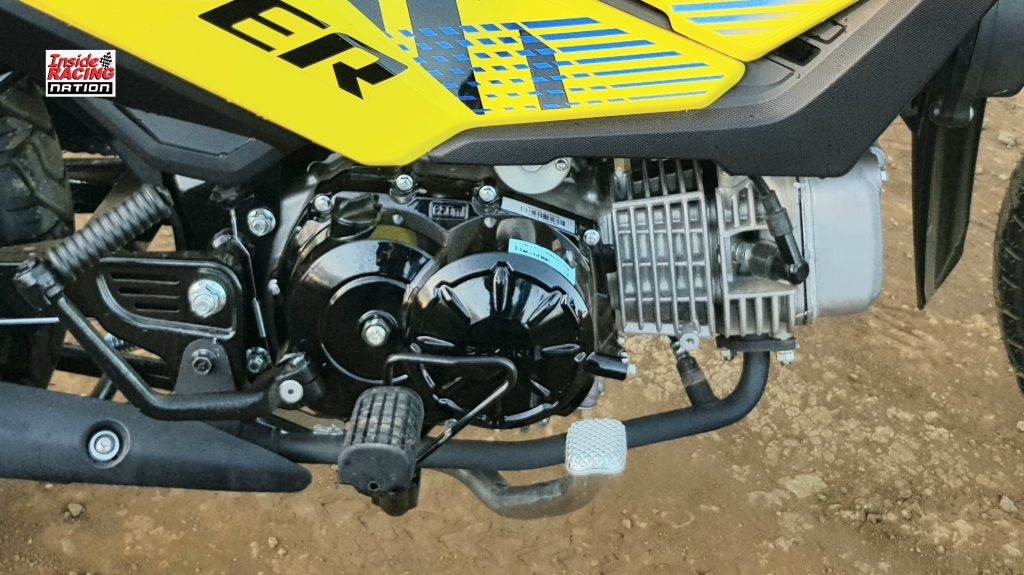 4. Easy to Ride – Wide Handlebars

In mountain biking, the trend many years ago was to go for a wider handlebar for increased control and stability and therefore more safety and performance. The added leverage resulted in agile handling and the fact that the rider's chest was opened up for better comfort and breathing.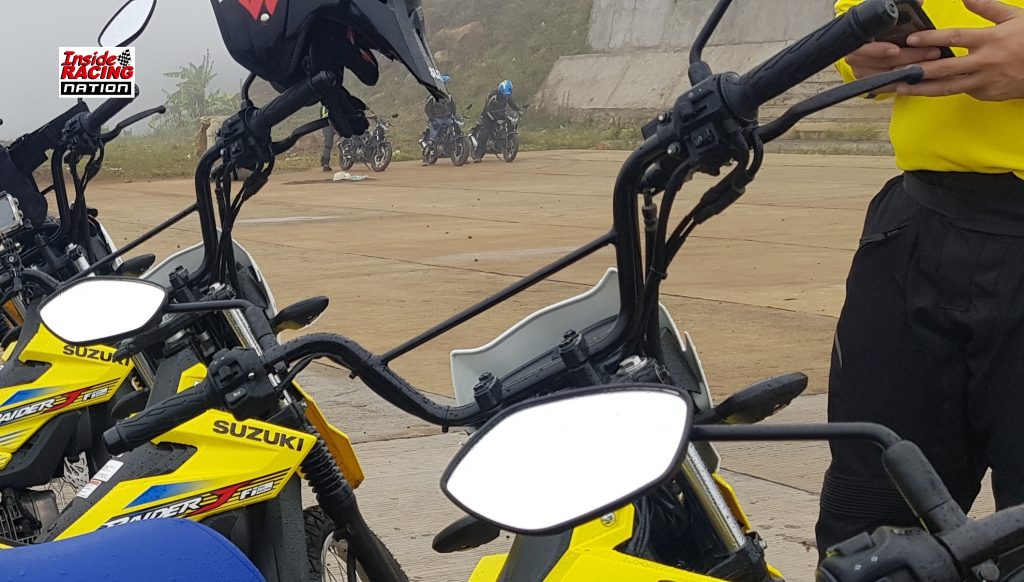 Same effect here, the Raider J Crossover's handlebar is wider than regular underbones so it feels more stable and less twitchy than ordinary underbones. This helps in making riders feel more confident which is good thing for newbies.
5. Easy to Ride – Autoclutch Transmission
The 4-Speed rotary transmission is equipped with an automatic clutch. Like most underbones, you don't need to disengage the clutch with your left hand to shift gears.

The ability to choose the right gear when riding in on loose surfaces or heavy loads give you peace of mind and lets you use your bike's power band optimally. But the burden of operating the clutch is not appealing to some. That is why big adventure bikes nowadays have developed DCTs to allow them to shift clutchless. This feature, although in a simpler and less refined way, is already available in the Raider J Crossover (and in most underbones actually!).

Those who are too lazy to shift during daily traffic commute can engage 3rd gear and ride all day because the engine is flexible enough to move you from a standstill to up to more than 40kph. It is like commuting with an automatic.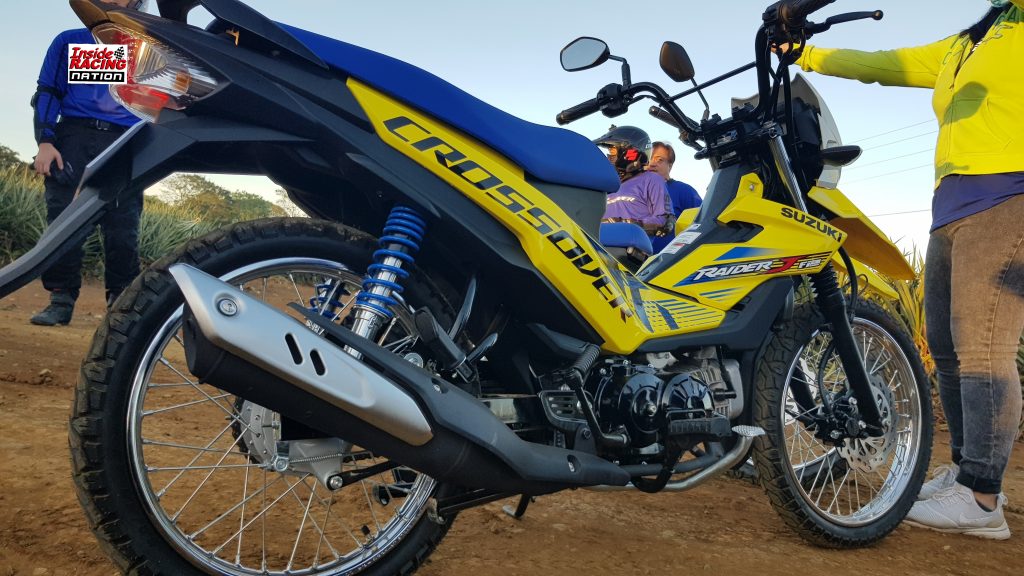 6. Easy to Ride – Gear Position Indicator

The NEUTRAL and TOP gear indicator is a big help during a ride. The top gear indicator is helpful because the engine feels strong enough that you might think there is another gear while the neutral indicator saves you time when parking or when you want to push the bike with the motor off.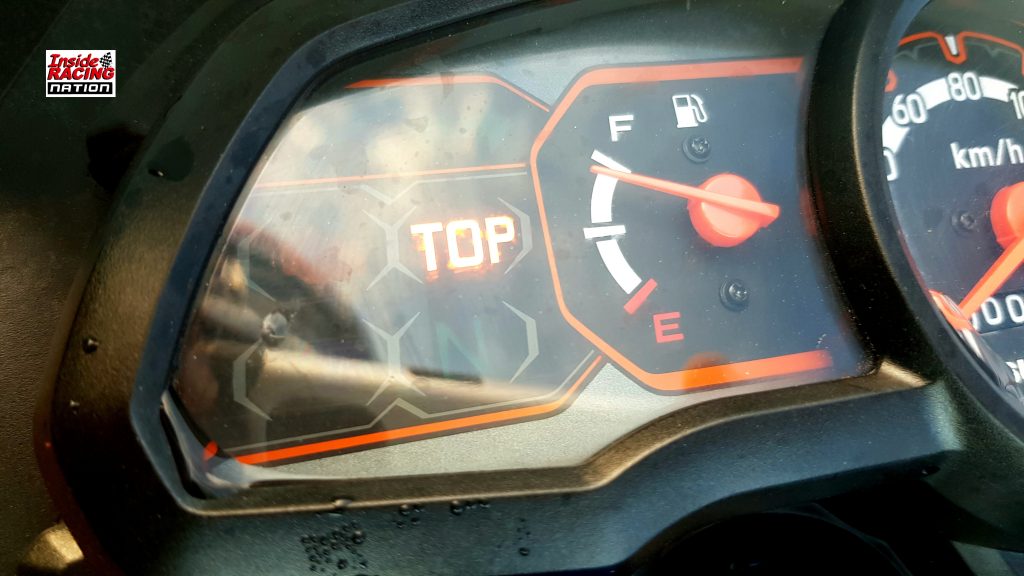 7. Easy to Ride – Torquey, flexible engine

The engine is based on the Raider J sport underbone tuned for more low-end torque. This make it forgiving to ride which is good for newbies and those who are learning how to shift gears because the engine will not easily bog down and die.

Tuners and pipe makers no doubt can make this engine produce more power at the top end but we think the stock tune is already perfect for the Crossover application. Those who want power should go for the Raider R.

8. Easy to Ride – Low center of gravity

The design template of the classic underbone, with its single horizontal engine hung below the chassis and its fuel tank under the seat near the center of gravity, has been unchanged since the 1960's. It is because, dynamically, it is one of the most stable.

The center of gravity is low and centrally located (not at the rear like a scooter) and the change in fuel tank load does not affect the handling of the bike. That is why MotoGP bikes moved their tanks below the seat and place their engines as low as possible in the chassis.

With its low and centrally located center of gravity, the Crossover is stable and easy to ride. Again, giving more confidence to the rider.

9. Easy to Ride – Riding position

The upright riding position resulting from the wide handlebars and low feet position gives the rider a more commanding view and better control of the motorcycle. This gives the rider more confidence through unpaved loose surfaces. The seating position feels natural and less cramped, giving the rider the feeling that the Crossover is a tame motorcycle.

10. Multi Surface Capability – Tires

The Suzuki Raider J is equipped with chunky tires with deep grooves. They are not full on off-road tires with knobbies but all-surface tires with slightly deeper and wider grooves. Similar to the tires mounted on modern production "scrambler bikes".

With the right tire pressures, they allow the Raider J Crossover to ride at a good pace on paved roads just like it was wearing regular on-road only tires and at the same time provide enough grip on loose surfaces like dirt and gravel.

Specialists can change tires of course but regular road tires will limit its versatility while knobbed off-road tires will slow it down on the pavement. We believe the stock tires are a perfect choice for the Crossover. If you are going to replace it with other brands or sizes, we suggest to go to the same type of tread pattern.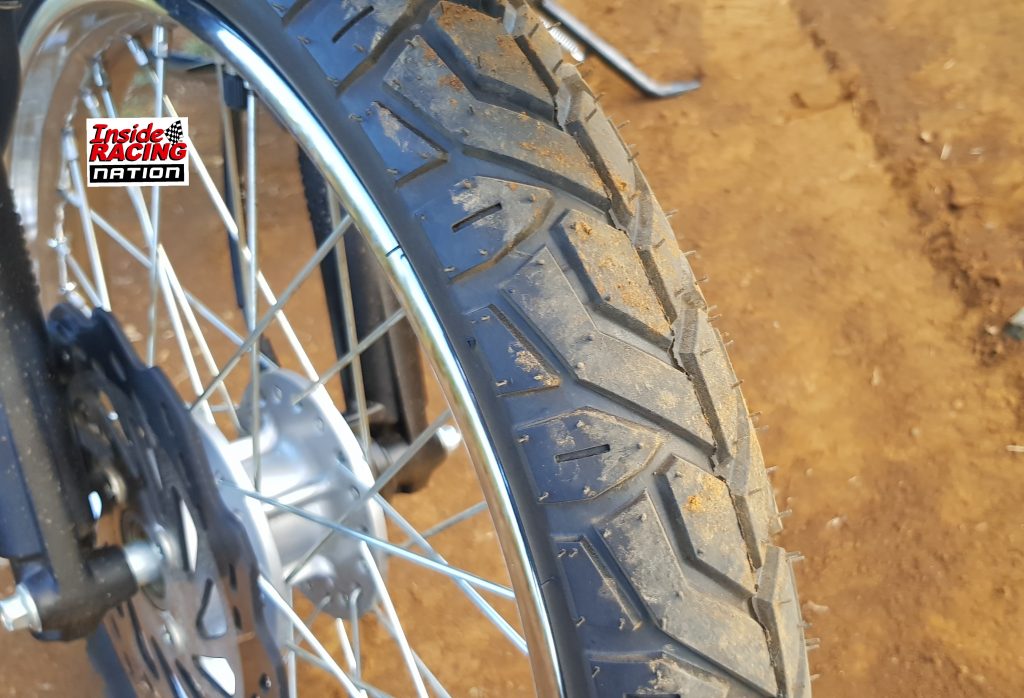 11. Multi Surface Capability – Adequate Ground Clearance

Adequate is the keyword. Ground clearance is not big compared to dual- sport bikes, Bu it is tall enough to clear small rocks and obstacles. In fact, we were able to ride down tall sidewalk berms during one of our many group photo shoots during the ride. It was also able to cross a small river easily.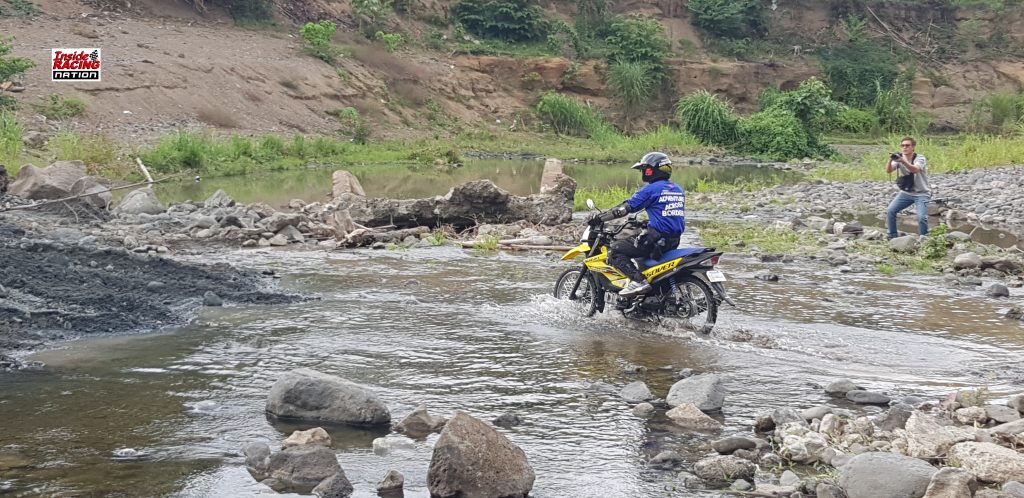 12. Multi Surface Capability – Engine Sensor protection

The exhaust gas sensor is mountained in a way that it is not the first one to be hit in case you run over big obstacles. In fact, an engine guard is not really necessary, although it will definitely add to the bike's aesthetic appeal.
13. Multi Surface Capability – Fork Boots

The fork boot is a nice stock item because it not only protects the fork tubes againsts dust, sand and flying pebbles, it also adds to its visual appeal.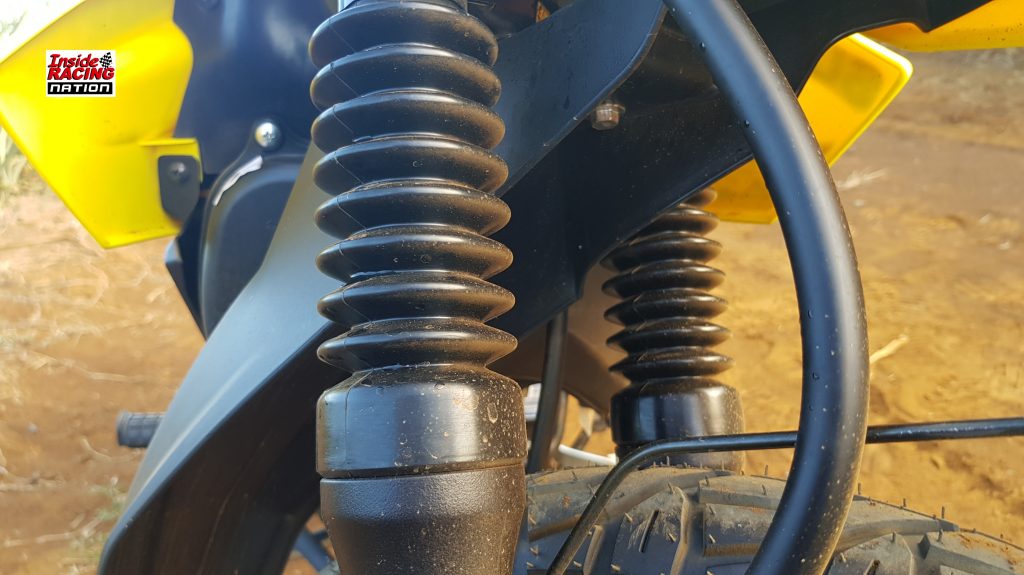 14. Design – Petal type brake rotor

The front brake of the Raider J Crossover comes stock already with petal type rotor disc. While theoretically it enhances disc cooling and pad bite, we think its biggest impact is on the aesthetics. At least, it comes as stock!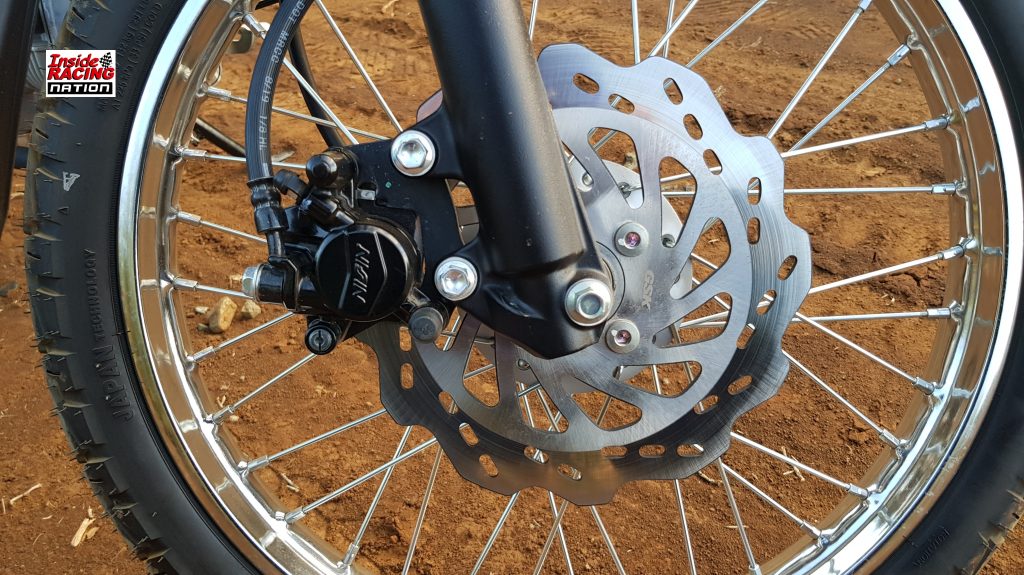 15. Design – Fuel tank over spill drain

Another minor detail but it is nice to have.
Again looks good!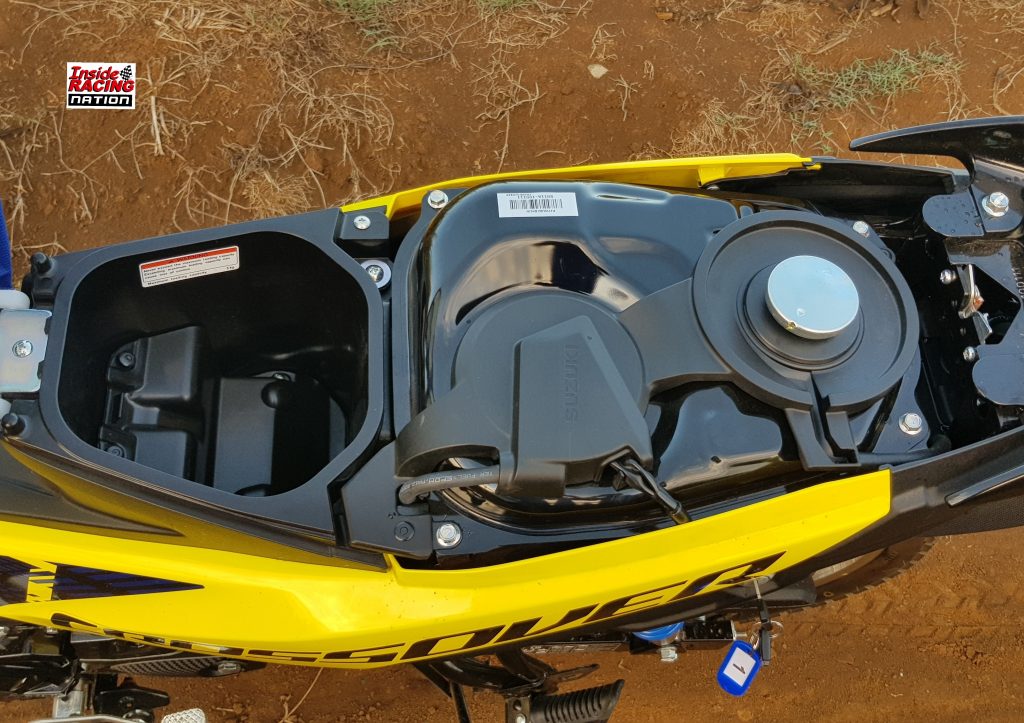 16. Design – Color coordinated seat options

Suzuki Philippines could have just signed off production with all black seats for every unit for production efficiency and lower cost. But instead, they made sure that every color has its corresponding seat color that increases the Crossover's visual impact regardless the plastic color you choose.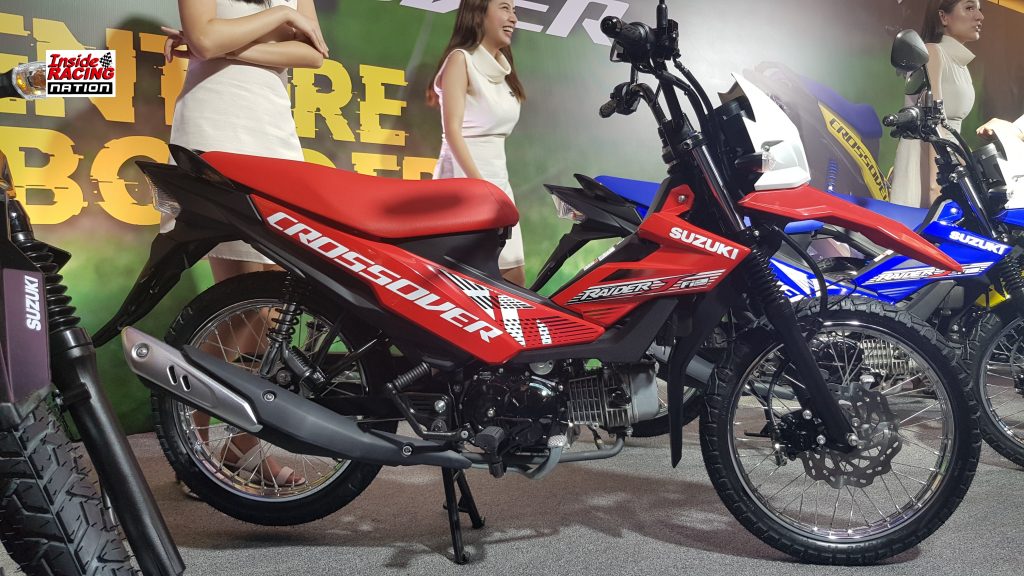 17. Design – Sleek and well coordinated plastic parts

If you closely examine the body plastic parts, you will realize that the design lines are well integrated, even the front mud fender meets the plastic side cover nicely when in steering lock position. From the front, the Crossover looks like a cool motocross bike.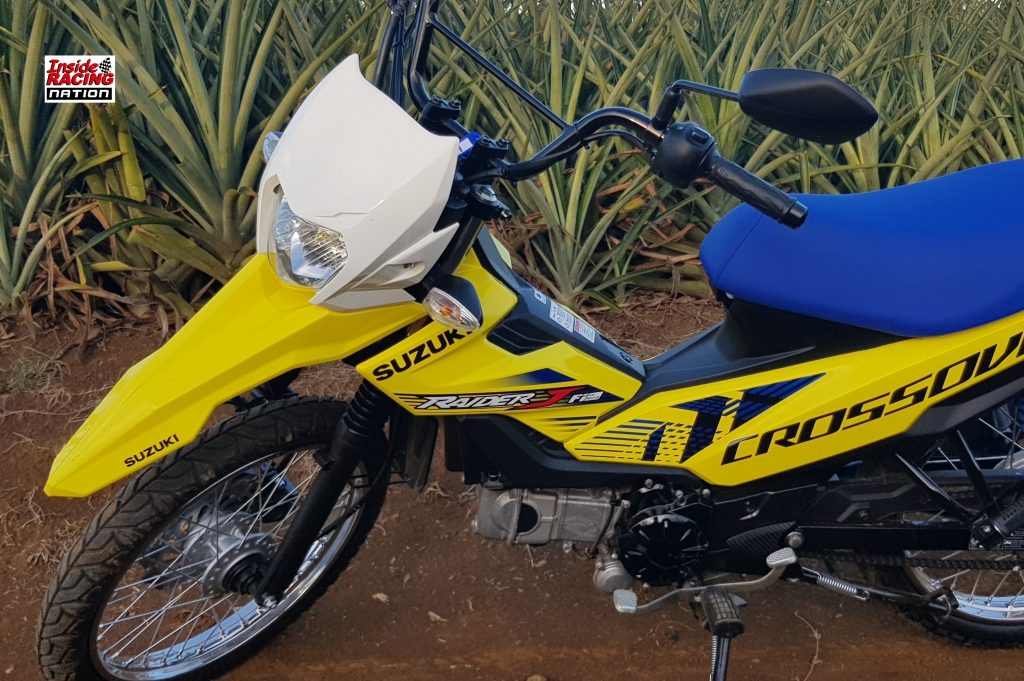 18. Design – 4 color options

Again, Suzuki could have made a maximum of two colors for production efficiency and inventory optimization. But instead they made four colors available including our favorite Champion Yellow. They would like to ensure that every customer preferences are met.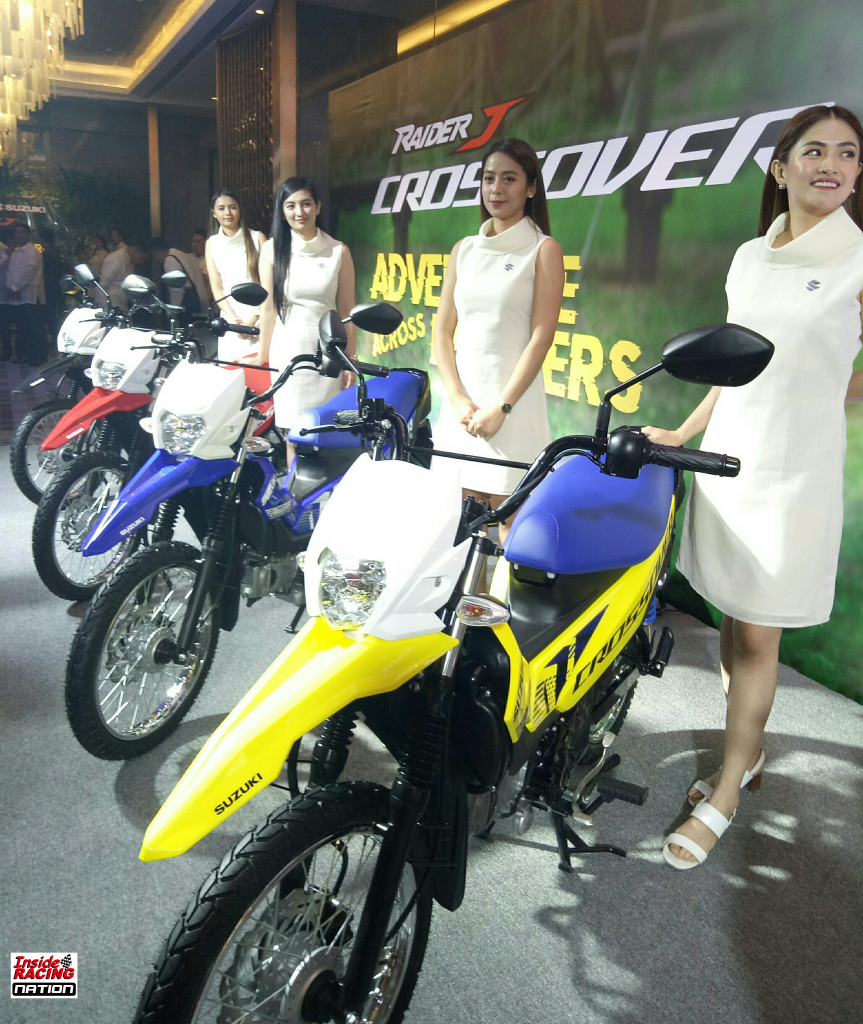 19. Value for Money – Price

At an SRP of P63,900, the Raider J Crossover is good value if not a bargain. In the bicycle world, gravel bikes are usually more expensive than regular road bikes, but lucky for us, the Raider J Crossover is cheaper than most models on the market today, whether compared to a similar underbone or any scooter.

20. Japanese engineering with Filipino rider's need in mind

It was engineered by Suzuki Japan for three years with inputs from Filipino product planners focusing on what the average Filipino rider needs. It took a while but it is finally here!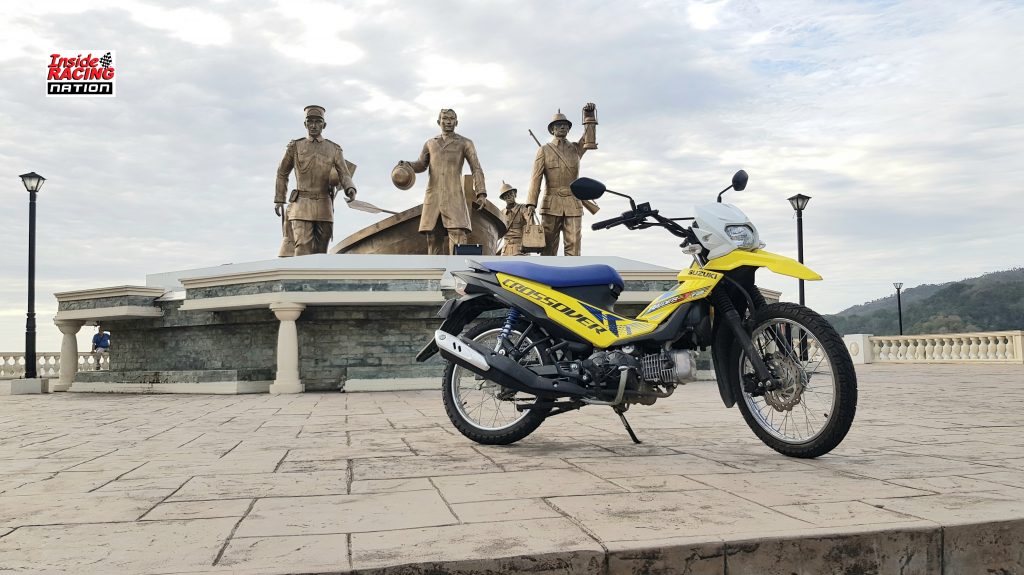 21. Proudly produced in the Philippines

The Suzuki Raider J Crossover is exclusively produced here in the Philippines by Pinoy workers. In fact, they have expanded their plant in Laguna just for the Crossover production.

Many other countries, within Asia , South America and even Africa, have expressed interest in the product.
If the product delivers and the sales targets here are met, there is a big chance that Suzuki will export this model and provide more jobs to Filipinos.

With that said, to make the bike even better, we at IR NATION have the following aftermarket IR Wish List:
1. LED headlamps for better visibilty at night

2. Handguards – for aesthetics and also for protection

3. Rear rack – so we can go on adventures and camping or for delivery duties.
4. Center rack – for easy access storage
5. Engine guard – for aesthetics and also protection from gravel rocks.