50 Years of Mobility & Comfort with Honda Philippines, Inc.
Date posted on June 1, 2023
Share this
Honda Philippines, Inc. (HPI), the No.1 motorcycle manufacturer in the country, marks a once-in-a-lifetime milestone as it celebrates its 50th year of providing high-quality, innovative, and reliable motorcycles to bring the joy of mobility and comfort to every Filipino.


To kick off the anniversary celebration, HPI introduced its newly-appointed and first female president, Ms. Sayaka Arai, to guests and stakeholders at an event in HPI Plant located in Tanauan City, Batangas. Arai san also led the production line roll-off ceremony of HPI's commemorative model. special models. "As we celebrate this milestone, we remain committed to realizing Honda's global vision to serve people worldwide with the joy of expanding their life's potential. This achievement is a testament to HPI's goal of ensuring continuous response to customers' ever-changing mobility needs," said Arai san.
Five decades of mobility & comfort to Filipinos Established as Mariwasa-Honda in 1973 in the Philippines, the company started producing motorbikes with an annual production of 4,700 units. In 1976, the company created the TM110 model for the tricycle market, followed by the underbone motorcycle Honda C70 and on and off-road motorbikes XL125 models in 1977. HPI then released the powerful TM125 in 1979, the TM110S model in 1980, and the first TMX155 for heavy-duty tricycle use in 1981pioneering the four-stroke aircooled engine in the country. In 1983, Honda Motor Co. Ltd took majority ownership which gave birth to Honda Philippines, Inc. The company then launched the XL125SR model to the Philippine market.  

From there, HPI continued the tradition of bringing new motorcycles to deliver mobility and comfort to Filipinos. Among the products introduced were the C70DD Econopower in 1984 and the trendy PF50 in 1989. Honda then unveiled the C100 Dream model in 1996 which were well-appreciated by many Filipino motorists including the Wave110 motorcycle in 2000. In 2002, the company released the ANF125, NF100, and XRM Dual Sports, a uniquely designed model for Filipino customers that leads HPI to the No. 1 position in the motorcycle industry. In 2003, the company celebrated its 30th anniversary. To mark its 30 years of progressive partnership with the Filipino people, HPI launched the TMX125 and the limited edition XRM110. This was followed by the Wave 125S, XRM110, and XR200 motorbikes in 2004. In February 2005, HPI produced its 1 millionth motorcycle units and held a groundbreaking ceremony in its new Batangas plant, a factory that would then become the country's largest motorcycle manufacturing plant. A year later, HPI made the big move from Parañaque to the new and more advanced manufacturing facility in Batangas. In 2007, the XRM125 was introduced. By 2008, the company produced a total of 2 million motorcycles and successfully released the XRM RS125 model. This was followed by Honda BeAT and Wave Dash 110 in 2009 and the CB110 in 2010. In 2011, the company unveiled the CBR150R and Scoopy models and achieved an accumulated production of 3 million motorcycles. HPI then introduced the TMX Supremo motorcycle the following year. To mark its 40th anniversary in 2013, the company achieved a total production of 4 million units, later growing to 5 million in 2016.
By the year 2020, the company had its first successful localized automatic (AT) production of Honda BeAT, followed by the release of the new line up of the Airblade150.
In 2021, HPI unveiled the improved version of TMX125 Alpha, XRM125, along with the new PCX160, DIO and the latest 500cc series line up -the CBR500R and CB500X.
HPI reached an accumulated production of 7 million motorcycles in 2022. The New model CB150X was launched along with the introduction of other 160cc series such as the automatic (AT) Click160, Airblade160 and ADV160. The latest version of the Click125 "The Ultimate Game Changer" model made its second successful localized automatic (AT) production.
"HPI has reached these milestones with the help of everyone involved in the company and, more importantly, with the unwavering support of the Filipino public. It is an honor for us to provide Filipinos with mobility, comfort, and even more job opportunities through our motorcycles. Rest assured that we will aim to continue improving our customers' daily lives by enabling them to experience Honda's innovations found in our every product and service that exceed their expectations," added Arai san.
Key milestones of Honda's motorcycle business in the Philippines:  
May 1973                    Mariwasa Honda, Inc. established, motorcycle production commenced
May 1983                    10th Anniversary of HPI Motorcycle Production
December 1983          Honda Philippines, Inc. established
May 1993                    20th Anniversary of HPI Motorcycle Production
May 2003                    30th Anniversary of HPI Motorcycle Production
February 2005              Cumulative production reached 1 million units
April 2006                    Transferred to a new factory in Batangas
April 2008                    Cumulative production reached 2 million units
February 2011             Cumulative production reached 3 million units
May 2013                    40th Anniversary of HPI Motorcycle Production
January 2014              Cumulative production reached 4 million units
September 2016         Cumulative production reached 5 million units
January 2019              Cumulative production reached 6 million units
August 2022                Cumulative production reached 7 million units
May 2023                    50th Anniversary of HPI Motorcycle Production  
Profile of Honda Philippines, Inc.:
Establishment:            May 24, 1973
Location:                     Batangas Province
Representative:           Sayaka Arai, President
Capital:                        US$ 76.74 million
Capitalization Ratio:    99.62% Honda group companies
Business:                     Production, sales, services of motorcycles
Production Capacity:  640,000 units per year
Model Line-Up:
AUTOMATIC: CLICK125i, BeAT STD/ISS,DIO, CLICK160, AirBlade160, PCX160 CBS/ABS, ADV160
CUB:XRM125 Series, Wave RSX, RS125, Supra GTR150
LMC (BUSINESS): TMX125α, TMX Supremo
LMC (SPORTS-ON):  CB150X, CBR150R
LMC (SPORTS-OFF):  XR150L, CRF150L,CRF300L, CRF300 Rally
OFF SPORTS (NON-STREET LEGAL):  CRF125R, CRF150R, CRF250R, , CRF450R, CRF250RX,
BIG BIKE (ADVENTURE): CB500X,XL750Transalp, X-ADV, CRF1100L Africa Twin, CRF1100L Africa Twin Adventure Sports
BIG BIKE (SPORTS): CB500F, CB650R, CB1000R
BIG BIKE (SUPER SPORTS): CBR500R, CBR650R, CBR1000RR-R FIREBLADE SP
BIG BIKE (TOURER): Rebel500, Rebel1100, CL500, Gold Wing
For more details about HPI, visit its website at www.hondaph.com. Stay updated on Honda's newest products and promos by following Honda Philippines, Inc. on Facebook and Instagram (@hondaph_mc), or contact (02)-8581-6700 to 6799and 0917-884-6632.
credit: Honda Philippines
Thank you for visiting insideracing.com.ph. While you are here, kindly don't forget to click on our advertiser ads above, visit their site and consider them for your motorcycling needs. It will help us a lot.
You can also order a copy of our monthly print magazine for more riding contents to read and enjoy at your leisure anytime by clicking here.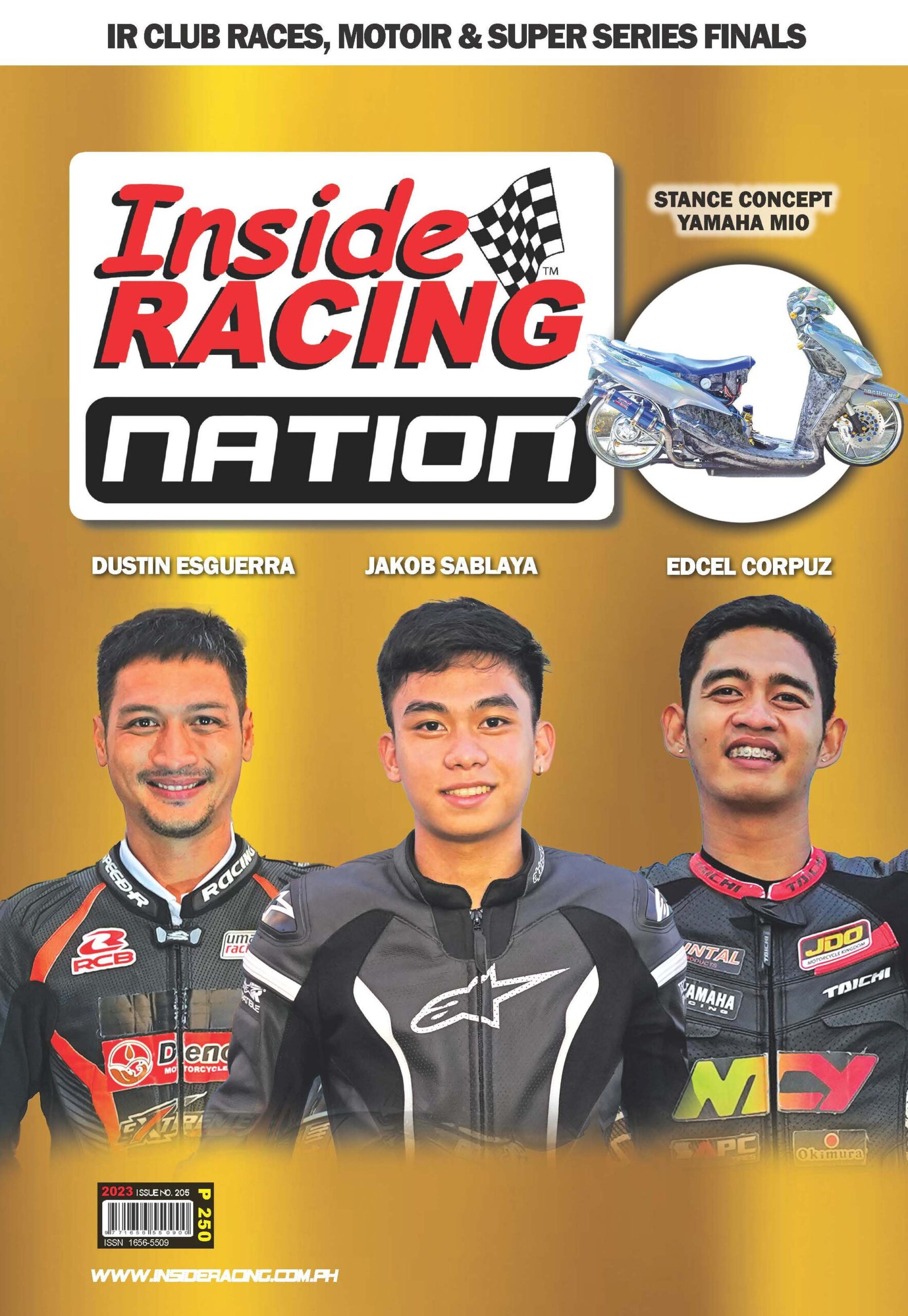 You may also express your thought below through the comment section. You may also follow us on Facebook, on Instagram @Insideracingnation or subscribe to our YouTube channel.