7th Season of MotoIR Championship Starts at the Batangas Racing Circuit
Date posted on April 14, 2018
Share this
New rules and classes make the 2018 season of the Shell Advance MotoIR Championship in partnership with KOBY PH definitely something to look forward to by racers and race fans.
Time passed by so fast indeed as the MotoIR Championship, a brainchild of InsideRACING's Mr. Al Camba, is now on its 7th season. Established in 2012, the MotoIR Championship's goal is to be a step up series from underbone and scooter racing and enhance the level of professionalism of riders and teams through a GP-style competition. The MotoIR through the years has provided race fans with many memorable and thrilling races featuring prominent racers in the country. MotoIR riders are well-known racers and some of them have leveled up to superbike racing and became champions.



The MotoIR has grown so much since its maiden season back in 2012 wherein five riders namely Rizaldy Canare, Marvin Mangulabnan, Anthony Roman, Michael Altamira and Jeff Chan were the first MotoIR participants. Canare bagged the MotoIR title in 2012 and 2013. Herbert Lopez was the champion in 2014 while Paul Mark Doblada took the crown in 2015 and 2016. Masato Fernando was the overall champ in 2017. Mangulabnan, meanwhile, bagged the Philippine superbike title in 2016 and  2017.
In 2013, the MotoIR2 class was established. Juver Mirasol was the inaugural MotoIR2 champion. Gio Adriano took the title in 2014 while Troy Alberto reigned in 2015. In 2016 and 2017, Robert Ryan Espiritu ruled in the MotoIR2.
Honda CBR150R race bikes were used in the MotoIR Championship from 2012-2016. Yamaha YZF-R15 motorcycles were utilized in the series in 2017. The MotoIR races have been held at the Batangas Racing Circuit, Clark International Speedway and Carmona Race Track together with the Philippine Motorcycle Championships and IR Cup Series.
On its 7th season this 2018, all Honda CBR150R, Yamaha YZF-R15 and Suzuki GSX-R150 bikes can now be used in the MotoIR Championship. 2012-2017 MotoIR bikes are also allowed. There will also be another class, the MotoIR3, which will be competed by Novice and Beginner riders. The MotoIR1 class is still for Expert riders only and the MotoIR2 will still be battled by Intermediate riders. Riders competing on three different sportbike brands and the new class definitely amplify the excitement in the MotoIR Championship.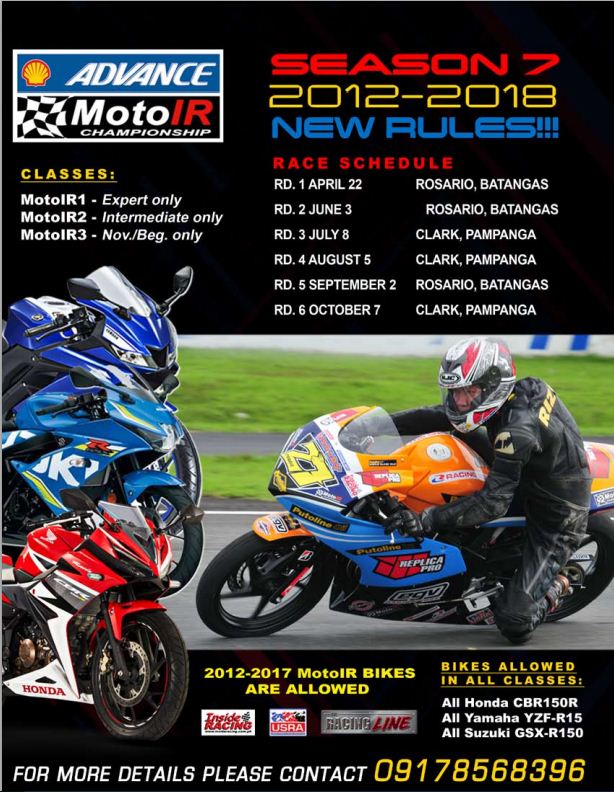 Masato Fernando, Herbert Lopez and McKinley Kyle Paz will again battle in the MotoIR1 and joining them are Suzuki riders April King Mascardo and EJ Sobretodo. These five are some of the MotoIR1 riders this 2018 season. Robert Ryan Espiritu and Justinne Bethany Tolentino will compete in the MotoIR2 again together with other Intermediate racers. For the MotoIR3, Suzuki racers Dan Alvarado and Mark Djereck Ondillo will participate as well as other beginner and novice riders.
Organized by InsideRACING and sanctioned by the Unified Sports and Racing Association for Motorcycles, Inc. (USRA), the 2018 MotoIR Championship is still supported by Shell Advance which has been supporting the series for years now. This year, KOBY PH is also giving its support to the MotoIR Championship.
Here is the schedule of the 2018 MotoIR Championship:
Round 1 – April 22 (Batangas Racing Circuit)
Round 2 – June 3 (Batangas Racing Circuit)
Round 3 – July 8 (Clark International Speedway)
Round 4 – August 5 (Clark International Speedway)
Round 5 – September 2 (Batangas Racing Circuit)
Round 6 – October 7 (Clark International Speedway)
For more details, please contact 09178568396. You may also check out www.insideracing.com.ph and www.facebook.com/InsideRACINGMagazineOfficialPage and download the IR Nation app for updates.
The 2018 Shell Advance MotoIR Championship in partnership with KOBY PH starts this April 22 at the Batangas Racing Circuit and for sure it will be a must-see clash between high caliber riders on different race bikes. Don't miss the action of the MotoIR! See you riders and race fans!