2015 Yamaha R3 Review: A Serious Contender
Date posted on October 17, 2020
Share this
There has been a surge of small displacement sportbikes in our market – entry-level sportbikes such as the KTM RC 200, RC 390 and the Kawasaki Ninja 300. By entry-level we mean small displacement that is also performance-based. Obviously, this is a great opportunity for those upgrading from underbones or even for new riders to be able to have choices for an entry-level sportbike and there couldn't have been a better time for Yamaha to join the competition with the Yamaha YZF-R3. Yamaha has mentioned that the short story behind the development of this motorcycle is to create a supersport machine that you could ride every day.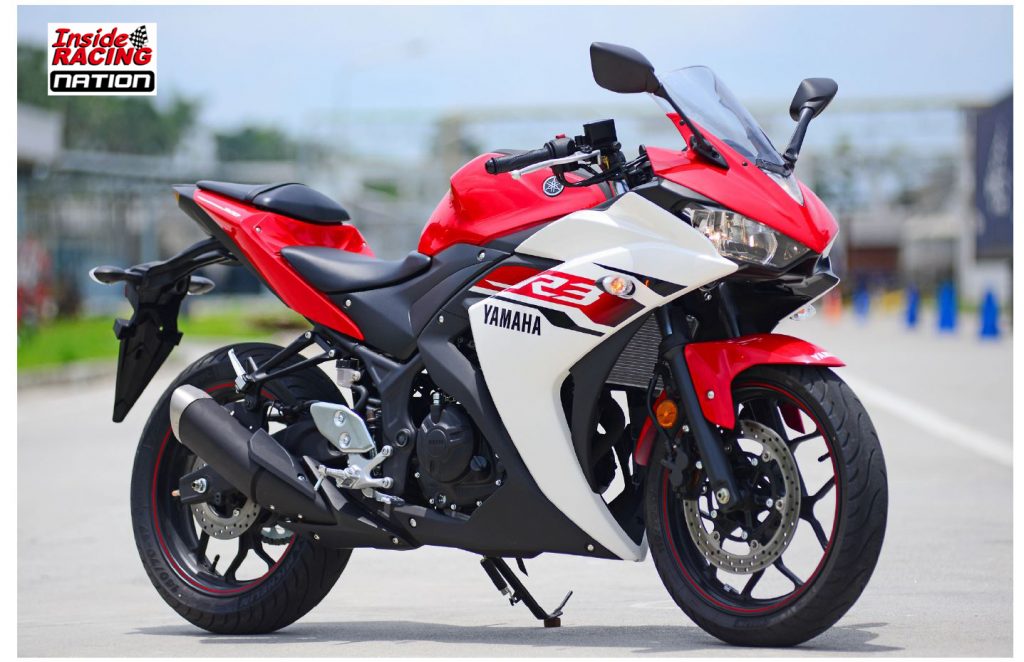 Initially, that combination seemed to be far-fetched but upon testing the Yamaha YZF-R3, that claim definitely could be achievable. Powered by a large 321cc twin cylinder engine, this new player offers outstanding performance whether as your regular commuter bike or on a closed track. Neatly tucked behind the fairing on a diamond typed steel frame is this powerhouse engine that is equipped with a 4-valve DOHC that is supplied by a closed-loop fuel injection.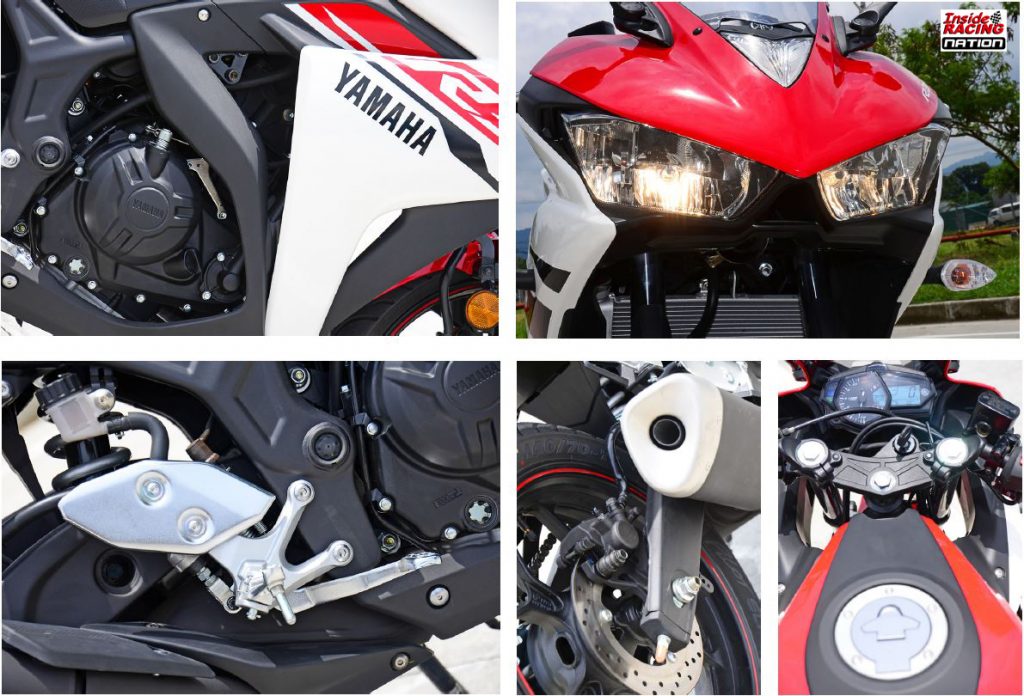 Having a rated 41 horsepower at 10,750 rpm and a 29.6 Nm at 9,000 rpm that is transmitted through a 6-speed manual transmission make this bike a strong contender in the rapidly growing sub-400cc sportbike segment. Power delivery is very refined and responsive; thanks in part to the closed-loop Mikuni fuel injection system with its 32mm throttle bodies and 12-hole injectors. Influenced by the R1's offset cylinder design, this helps the engine reduce mechanical loss as well as friction to increase the power output.
This bike is aggressively-looking and rightfully so. The dual cat-eye headlights enhance the YZF-R3's sporty look. It is pretty obvious that there is a lot of influence coming from the bigger R6 although there is also some from the much bigger R1, which also has forged pistons. The whirring sound of the 2 into 1 exhaust of the YZF-R3 twin cylinder impressed all of us. This bike also enjoys mid to high revving, and with our experience it should be in the upwards of the 5,000 rpm range for you to get the most enjoyment. It is very quick for it to reach speeds exceeding 100 kph which we should say is quite impressive considering it is only a 321cc engine. Also, the shift light installed is definitely a welcome addition to this bike's features. The bike's low gear performance is pretty good when it comes to getting the much needed grumble when exiting corners. Although the bike obviously enjoyed being in the high rpms, we assure you that the power will be there even at the lower ones.

Providing all the data for the riding experience is its dashboard. The digital speedometer is prominent alongside an analog tachometer which for us is a beautiful combination. There are two trip meters, odometer, average fuel efficiency readings, fuel gauge and a water temperature gauge. The built-in gear indicator and over-rev light are a welcome addition to the technology this bike possesses. Yamaha claims a 50-50 weight distribution on the YZF-R3 and that truly contributes not just to the fun factor but to the overall riding experience. This also reflects to the riding position of the bike because even though the YZF-R3 is a full-fledged sportbike, the riding position is a cross between the aggressive riding position of the bigger R1 and the much more comfortable R15. The sporty handlebar though adds a sportier feel when on board this steed. The sportbike's windshield only adds to the riding pleasure, protecting the rider most especially at high speeds. Same as the 41mm front forks, the linkless rear suspension does not offer any damping settings, just a 7-step pre-load adjuster. With its seat's flat design, even riders of smaller stature would find it easy to have both of their feet touch the ground. And this is why we think that this is a perfect bike for the Philippines; it could be either your small race bike or your daily commuter.
Complementing the YZF-R3's stability and handling are its 110/70 x 17 and 140/70 x 17 front and rear tires which delivered good grip. Providing the bike's stopping power are hydraulic single disc brakes on both front and back. We would have wanted for the brakes to have a bit more bite, especially when there was no adjustment to the front lever. It would have been very useful for those who intend to have this bike as their regular commuter. Again, we must all remember that the 2015 Yamaha YZF-R3 is an entry-level sportbike with a very reasonable price tag. It is quite a steal, really. With a not so aggressive riding position, you could both use this performance bike both on the racetrack and on the streets, and still feel comfortable after a long, hard day of riding. Whether you are a beginner or an experienced track rider, there are multiple ways for you to either enhance your riding skills or enjoy this bike…or maybe even both. The supersport-inspired design with full fairing is fit for both new and experienced riders. Although the YZF-R3 is related to its bigger siblings – the YZF-R6 and the YZF-R1, make no mistake as it has its own character. Aesthetically and performance-wise, this thing is a beauty.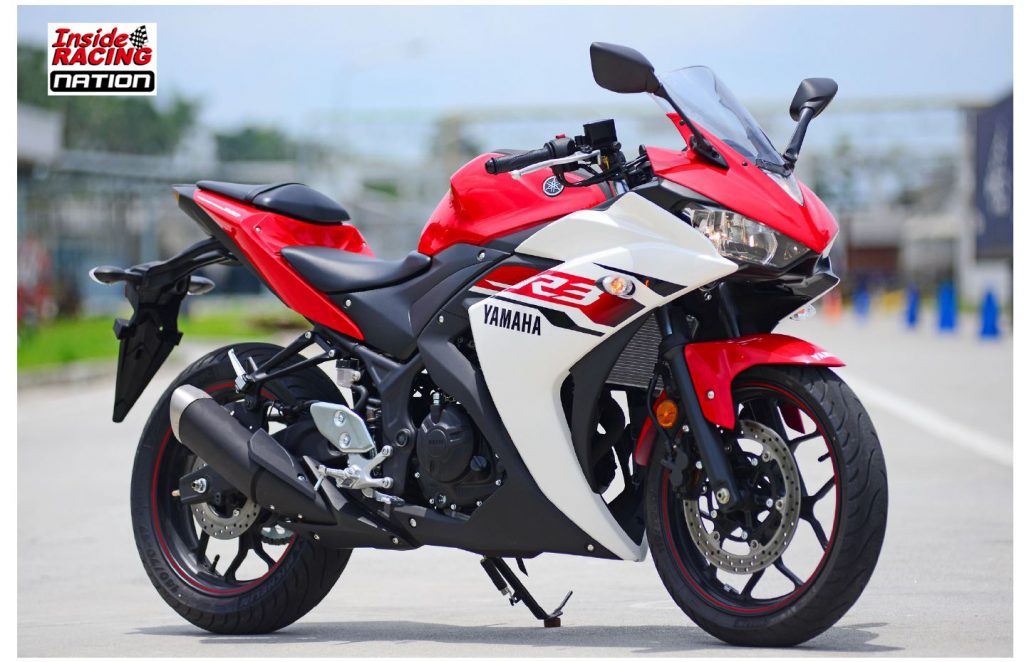 Although it's not the first in its class here locally, it still came in strong as a serious contender. Thankfully, Yamaha has brought us a sportbike that looks and performs more expensive than what it is.
This was published in Maximum TORQUE's 2015 Issue Number 7
Thank you for visiting insideracing.com.ph. You may express your thought below through the comment section. You may also follow us on Facebook, on Instagram @Insideracingnation or on our YouTube channel.