A very busy Friday at Zhuhai!
Date posted on August 9, 2019
Share this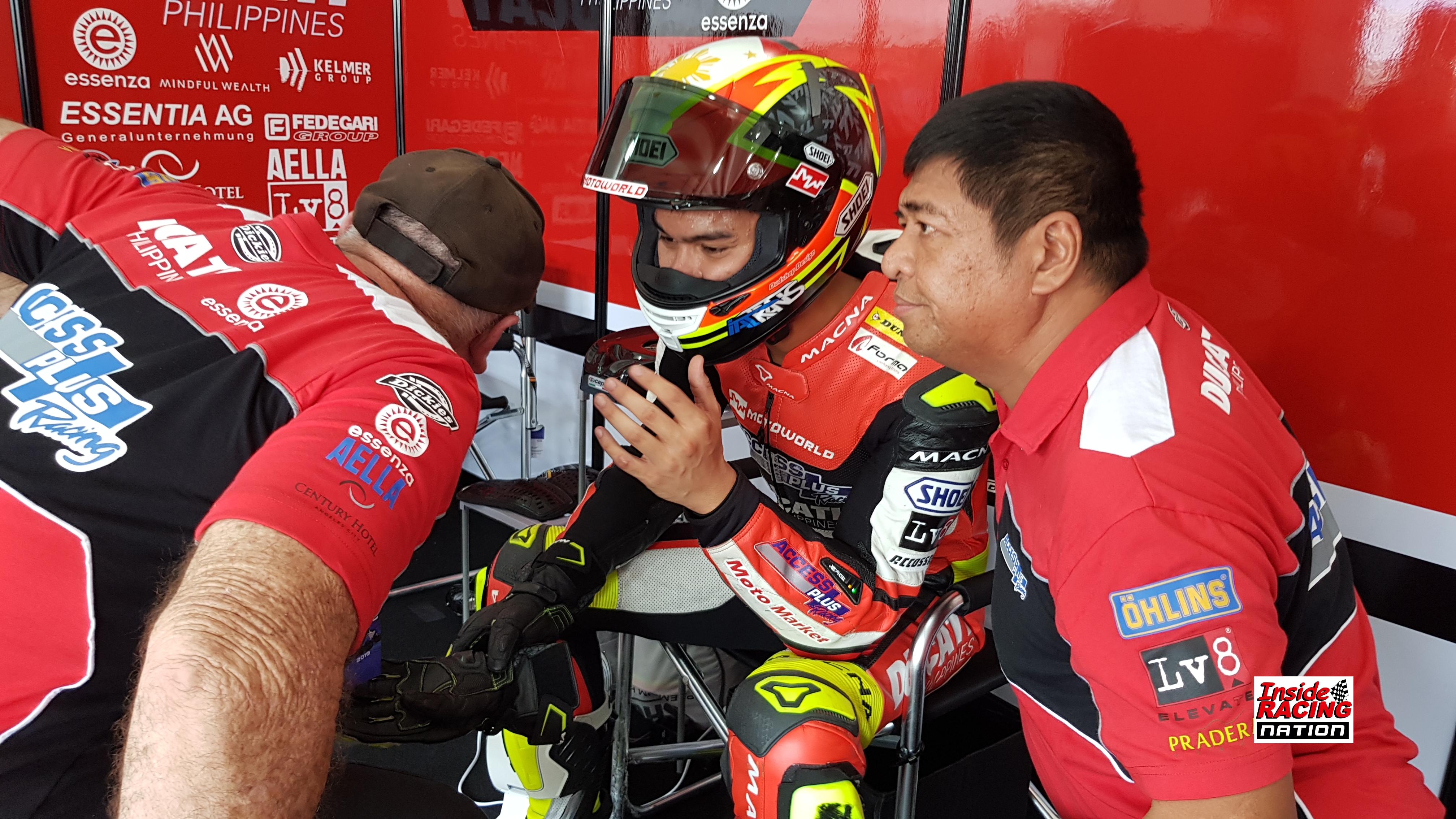 The Access Plus Racing-Ducati Philippines-Essenza team worked non-stop today Friday, here at the Zhuhai International Racing Circuit in China, in Round 5 of the Asia Road Racing Championship.
Both of their ASB1000 riders competing on  Ducati Panigale V4R superbikes each suffered big mechanical problems during the day that affected all their free practice sessions.
This round is especially challenging for it is a new track for the team, for its two riders TJ Alberto and Jonathan Serrapica, as well as for the Panigale V4R. This weekend was made a little bit more difficult since the team had limited spare parts supply after both riders crashed during the last race in Japan. There was also a big 6-rider wild card contingent from the local China superbike series. This round will have the biggest Asian superbike grid so far with 20 riders.
The extreme heat and humidity conditions in Zhuhai today was literally torturing everybody physically, but being the true racers that the team is, they just ignored it and focused on the task at hand.
In the morning FP1, things went wrong immediately for Serrapica as he overshot a turn due to braking issues during his first flying lap and dropped the V4R in the sand trap.
What first appeared to be just a broken handlebar and cosmetic scratches turned out to be more serious as his radiator was punctured. With the team not having a spare radiator with them for this race, it took a while to repair his bike and get it going again. He would miss FP1 and FP2 entirely.
Meanwhile, Alberto managed to do a good FP1 session, holding a top 8 position early in the session before ending in 13th place. He said he felt good on the bike but the brakes need to be improved.
In FP2 , Alberto also developed a serious mechanical issue as his brakes siezed, and he crashed. It was a very good thing that he was not injured but this caused him to lose valuable track time and a long walk back to the paddock. Still, he managed to lap well and retain P13 fastest on the session.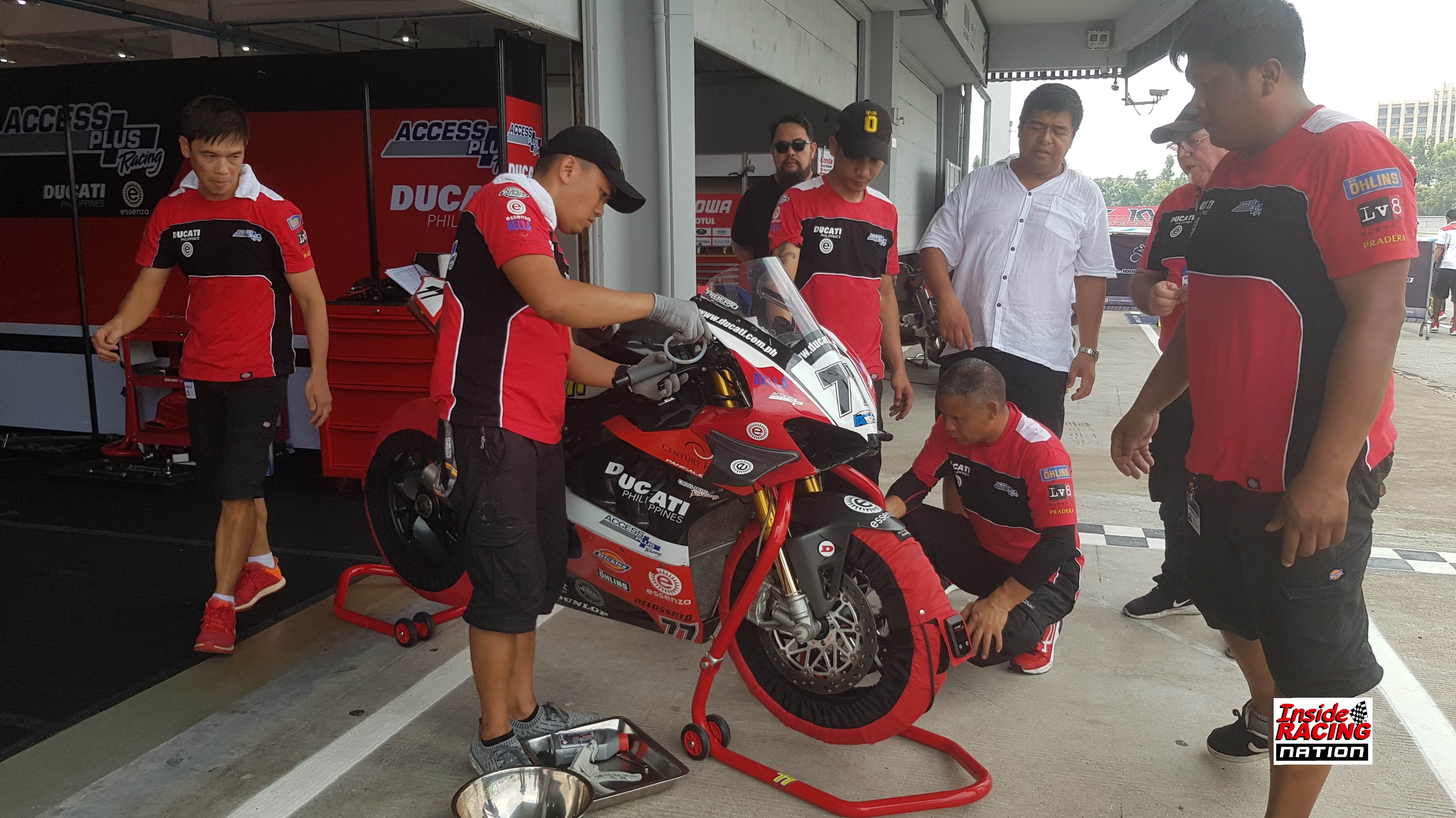 The Access Plus Racing Team mechanics worked non-stop to get both bikes ready for the last FP3 of the day. The situation was not helped when, aside from the brake issue, Alberto's transmission developed a problem resulting from the crash and had to be replaced.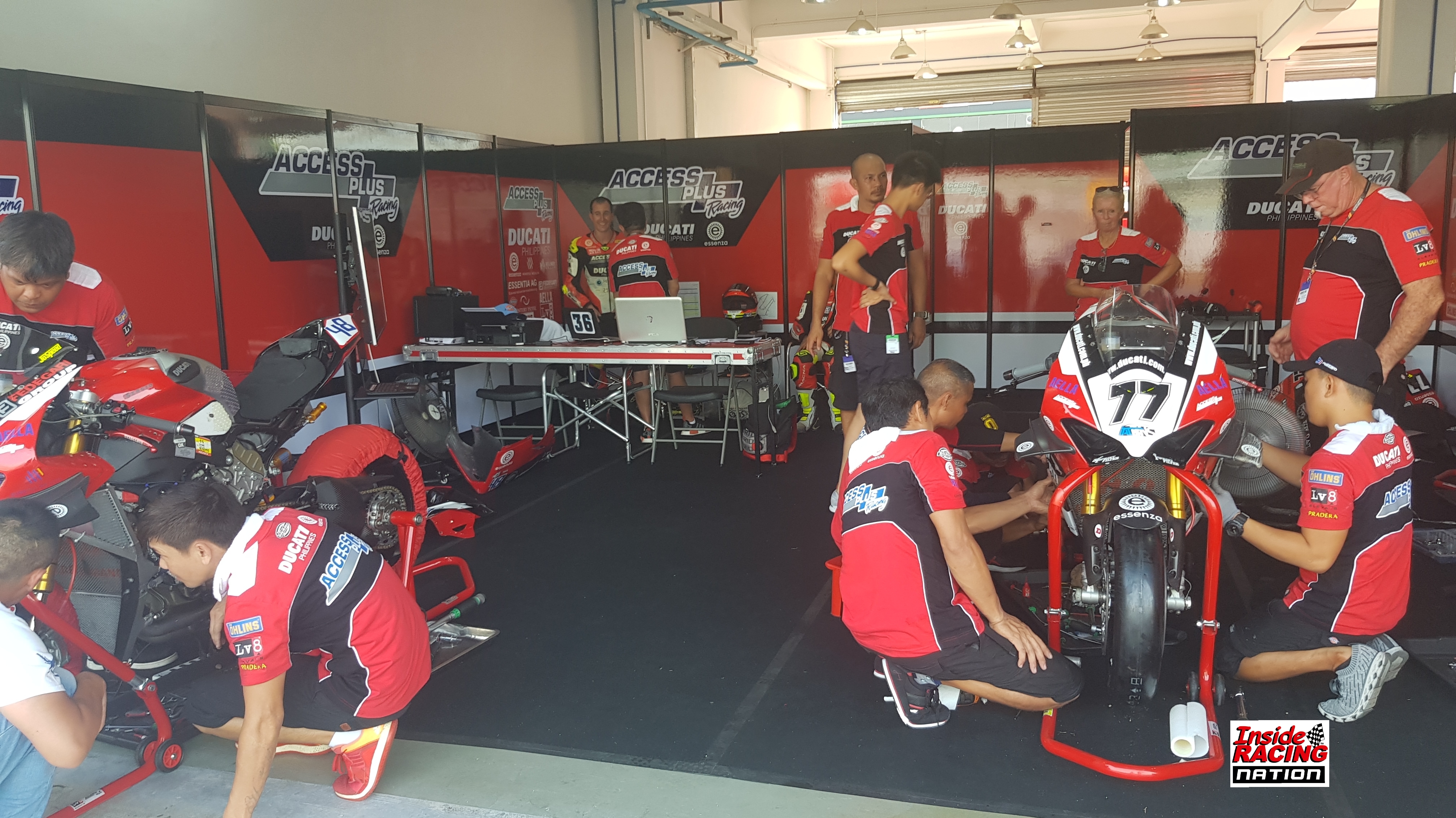 The 4:30 p.m. start of FP3 went by with both Ducati V4Rs still in the garage, naked with mechanics squirming around them. Both riders were eager to get out on track, especially Serrapica, who had not yet completed a full lap and still need to learn the circuit.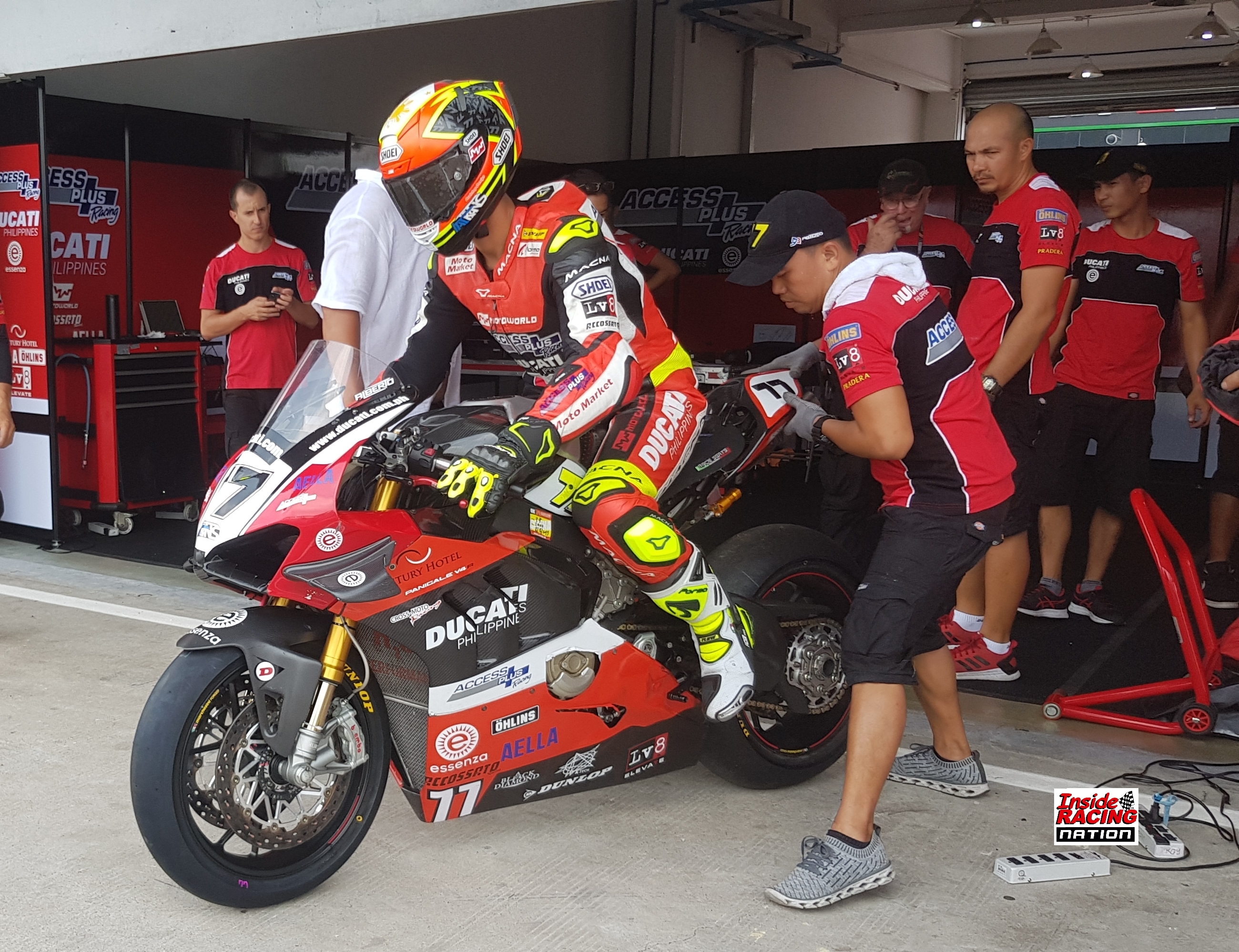 Miraculously, the heroic mechanics were able to pull it off! With Serrapica's mended radiator and sorted brakes and Alberto's rebuilt brakes and new transmission, both riders were still able to go out with more than 10 minutes left in the session.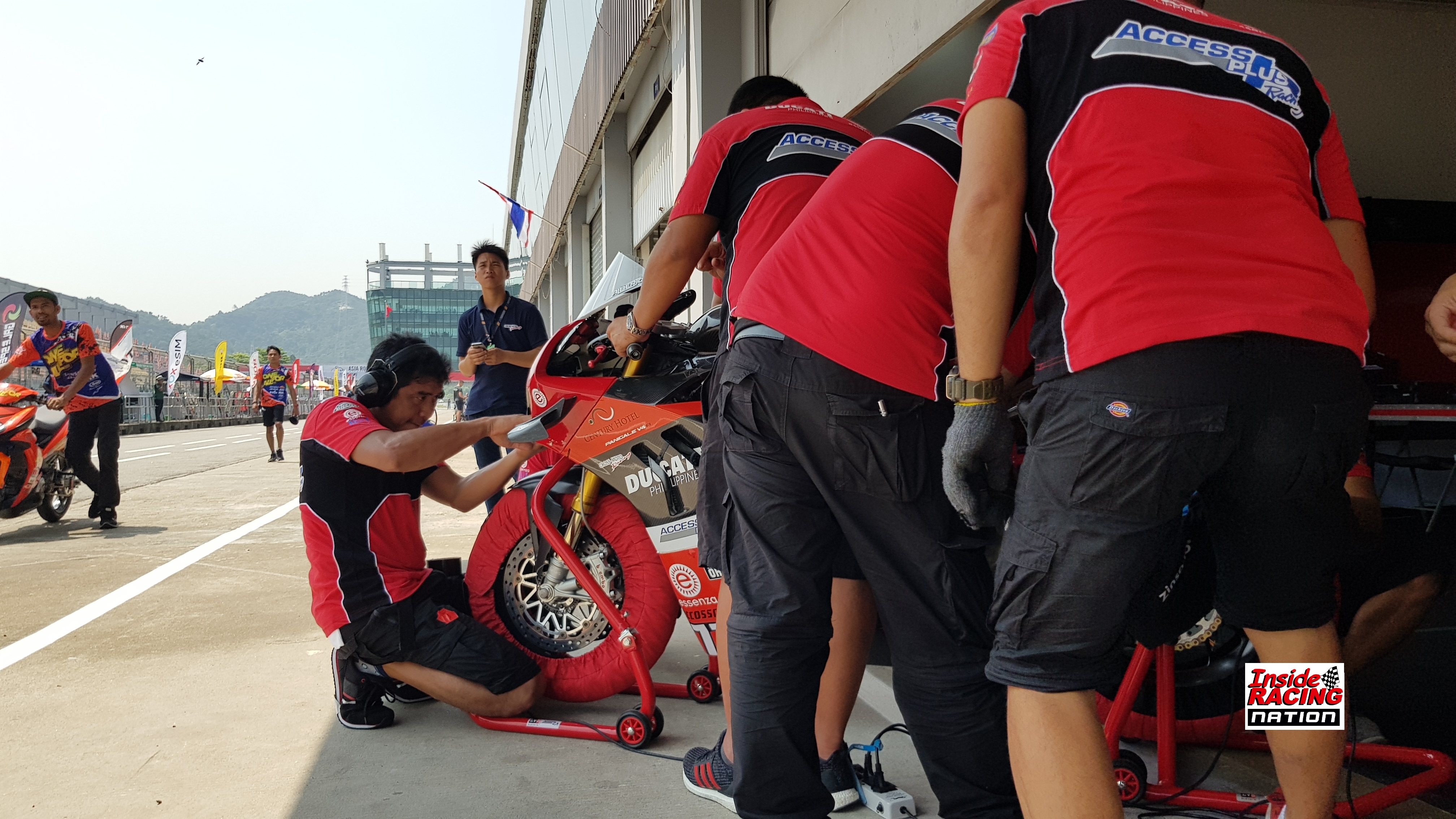 Serrapica was able to do more than a handful of laps with his radiator holding up to the Zhuhai heat. Meanwhile, Alberto's bike performed well enough to be within 0.02 seconds of his fastest lap of the day.
Team owner Toti Alberto was very tensed the whole time as well as Ms. Joy Alberto who said that everybody needs a very good dinner tonight!
Hopefully, tomorrow will more trouble-free!
Catch more updates here and in our FB page.