Access Plus Racing-Ducati Philippines-Essenza Continues ASB1000 Mission in Suzuka
Date posted on June 28, 2019
Share this
Access Plus Racing-Ducati Philippines-Essenza is now at the Suzuka Circuit for the Asia Road Racing Championship's (ARRC) fourth round scheduled on June 28 to 30. The team's riders, Filipino TJ Alberto and Italian-Swiss Jonathan Serrapica, are eager to race the Panigale V4R at Suzuka for the ASB1000 class.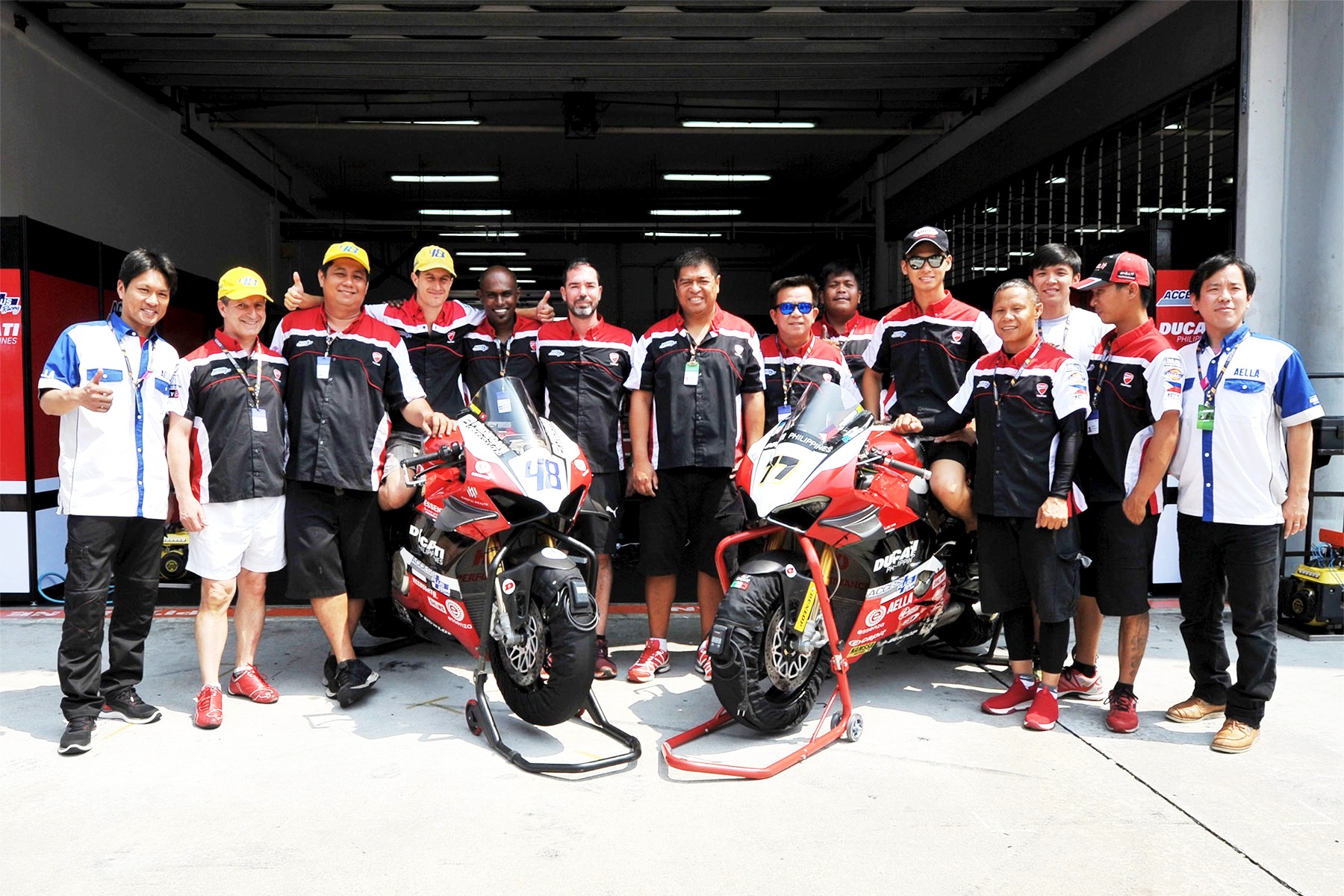 This marks the 2019 ARRC season's halfway point and Suzuka's 5.807-km circuit well-known for being a 'temple of speed' with its undulating corners, tight hairpin, and the flat out 130R is a welcome challenge to both Alberto and Serrapica who are ready to bring the fight to the front-runners on board their Ducati Panigale V4Rs.
Currently in a strong 10th position in the championship, Alberto has shown a lot of progress on his first year in the ARRC  and he is able to steadily improve his pace at every race so far this season as he gains confidence riding the new Italian superbike. TJ  is going to race at the iconic Suzuka Circuit in Japan for the very first time in his career. TJ was able to consistently finish in the top 10 with a best 6th place during the opening round in Malaysia back in March.
Serrapica, on the other hand, encountered teething issues early in the year as he adjusted his riding style to the Panigale V4R. He put in a lot of work and effort to learn how to effectively ride the new superbike at its full potential and the Italian-Swiss rider was able to consistently take his #48 machine to point-scoring finishes in Australia and Thailand to hold onto 12th spot in the standings.
The Asia Road Racing Championship's fourth round at Suzuka Circuit features Qualifying and Race 1 on Saturday (June 29) followed by Race 2 on Sunday (June 30).
TJ Alberto, #77 Ducati: "It's a privilege to race on such a legendary circuit as Suzuka. We've never competed here before so it's going to be quite a memorable experience to take it at speed especially on a Ducati Panigale V4R. The layout is also said to be quite taxing on both the bike and rider, which should keep us on our toes during the races."
Johnathan Serrapica #48 Ducati: "I'm finally enjoying the Panigale V4R so I'm definitely looking forward to jumpstart my season in Japan. Our goal is to be on pace right away and close the gap with the other riders. Suzuka is a very iconic track that will surely push us to our limits, but I'm prepared for the challenge ahead."
Toti Alberto, Team Principal: "Hard to believe that we're now almost halfway through the season in the ARRC. We've had an incredible journey so far from the season opener at Sepang, The Bend in Australia, and Buriram last month. Happy that we've learned and grown a lot as a team and we're just hoping to bring back good results and memories from Suzuka this coming race weekend with TJ and Jonathan."
Team Access Plus Racing-Ducati Philippines-Essenza is sponsored by Access Plus Group, Ducati Philippines, Essenza, AELLA, Dickies Philippines, Öhlins Philippines, Century Hotel Angeles City, LV8, and Pradera Verde.
For more info and the latest updates about the team, follow www.facebook.com/AccessPlusRacingPH/ on Facebook and riders www.facebook.com/TjAlberto7/ and www.facebook.com/J0Speed/.
credit: Access Plus Racing-Ducati Philippines-Essenza