2011 AEON Elite 350i Ride Review: A Different Kind of Rush!
Date posted on October 24, 2019
Share this
In 2010, AEON became the third Taiwanese brand to enter the Philippine market, and it did so with the 350 fuel-injected Elite maxi-scooter. It was the cheapest fuel injected full sized maxi-scooter in the market.
The automatic or scooter segment in the local market has been expanding in the last five years. It has grown steadily; in fact, the segment now is composed of a wide spectrum of different products from various manufacturers. At one end of the spectrum are the small, affordable, entry-level and fuel efficient scooters while at the other end are the maxi-scooters with their big engines and sleek but boat-like bodies. They appeal to a different set of riders. For people who are used to traveling comfortably and fast and are switching over from automatic cars to scooters but have little or no motorcycle experience are likely to go for maxi-scooters.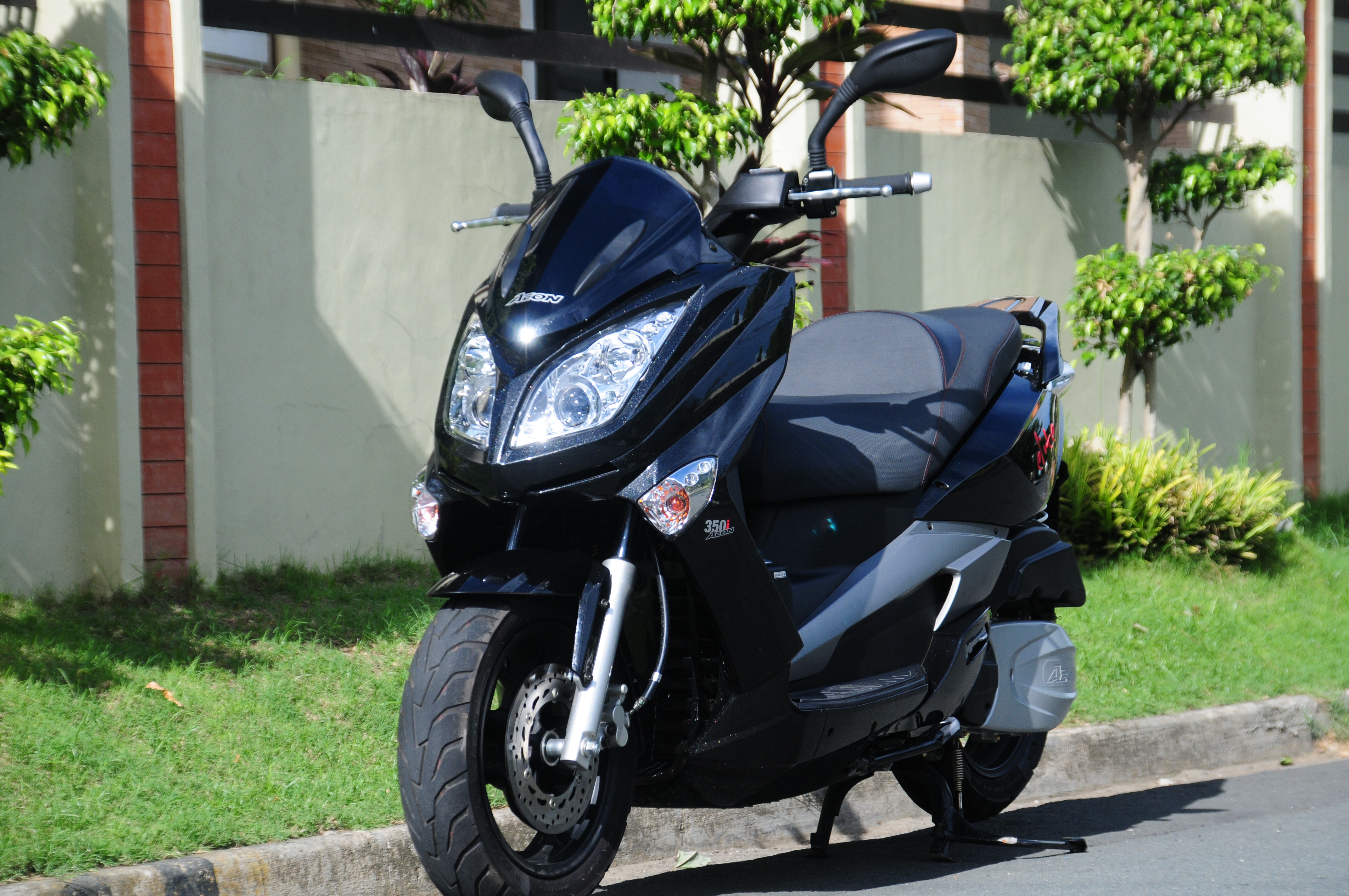 Eastworld Motor Industrial Sales, the official distributor of Taiwanese made AEON scooters, inaugurated their first showroom in December 2010 in Caloocan City, and their first offering was the latest entry in the maxi-scooter category. Priced at only Php180,000, the AEON Elite 350i was the cheapest fuel-injected scooter in its segment.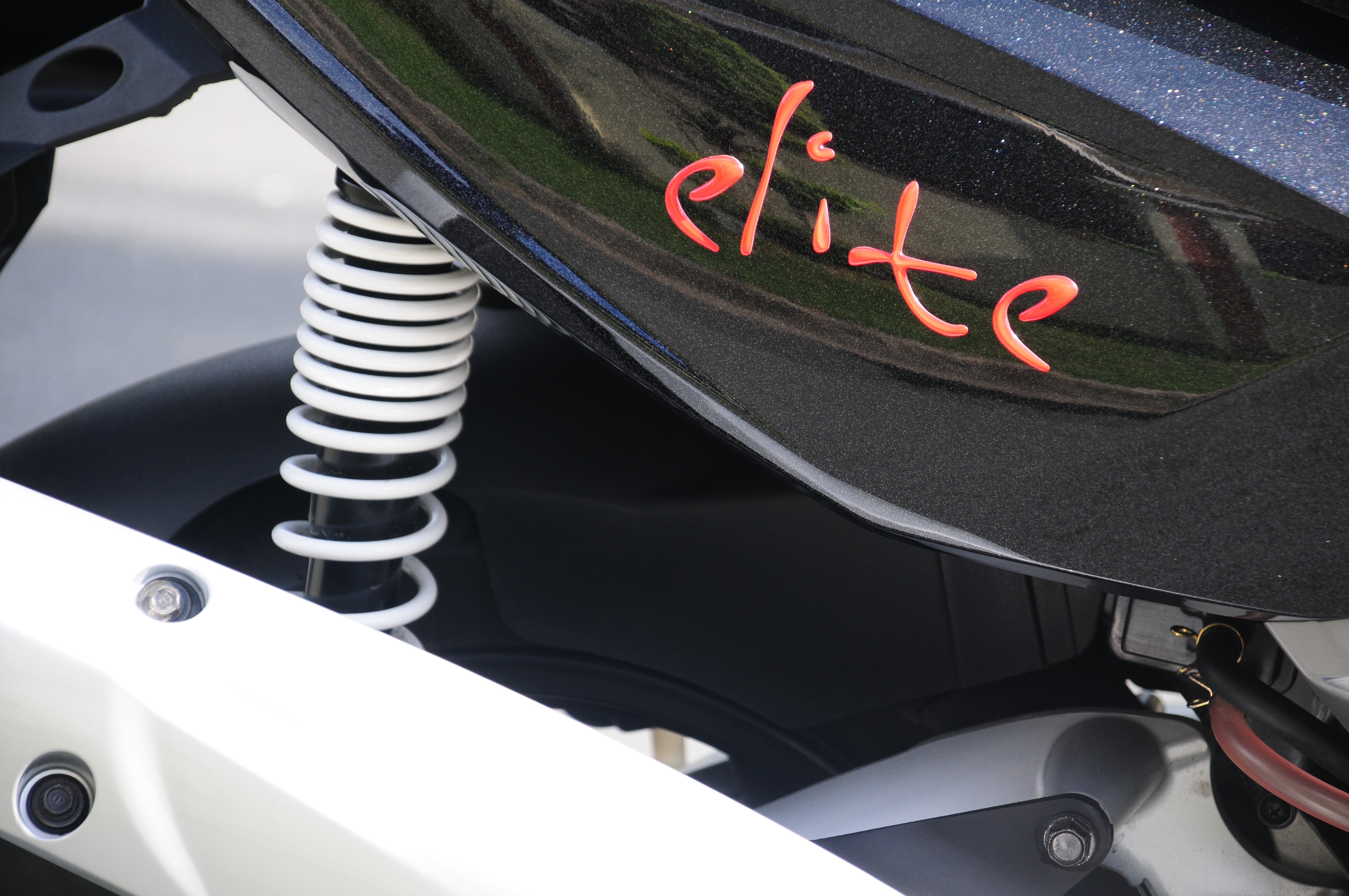 The Elite's styling is unique and different from other maxi-scooters in the market as it follows the Japanese sporty cruiser scooter styling language (a very low body, wide wheels, sporty wheels, and of course, the attractive dual projector headlights and a short smoked windshield). The handlebar-mounted side mirrors were very useful and you can safely see everything behind you. The rear LED tail lights and digital speedometer add a touch of modernity. AEON made a good decision of not adorning the Elite with multi-colored body striping as the mono-chromatic colors best present its voluptuous and curvaceous body. However, we think they could have done better with the actual "Elite" name marking as a more elegant metal logo would have been appropriate than the vinyl lettering which easily peels off. Some of the plastics when compared to other Taiwanese scooters seem to be a little rougher in feel and fit, but then again, AEON doesn't charge you much for the Elite considering what it offers.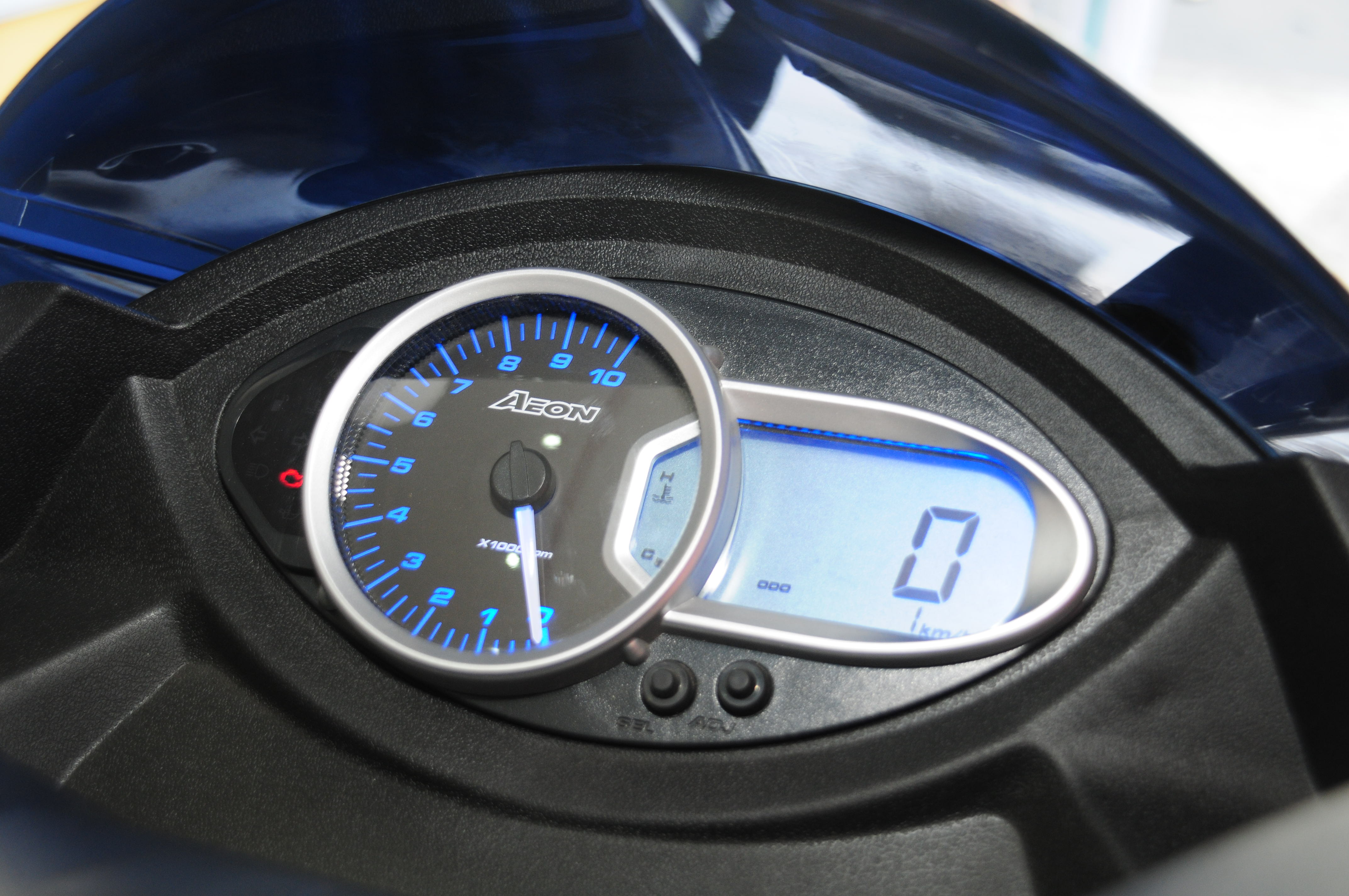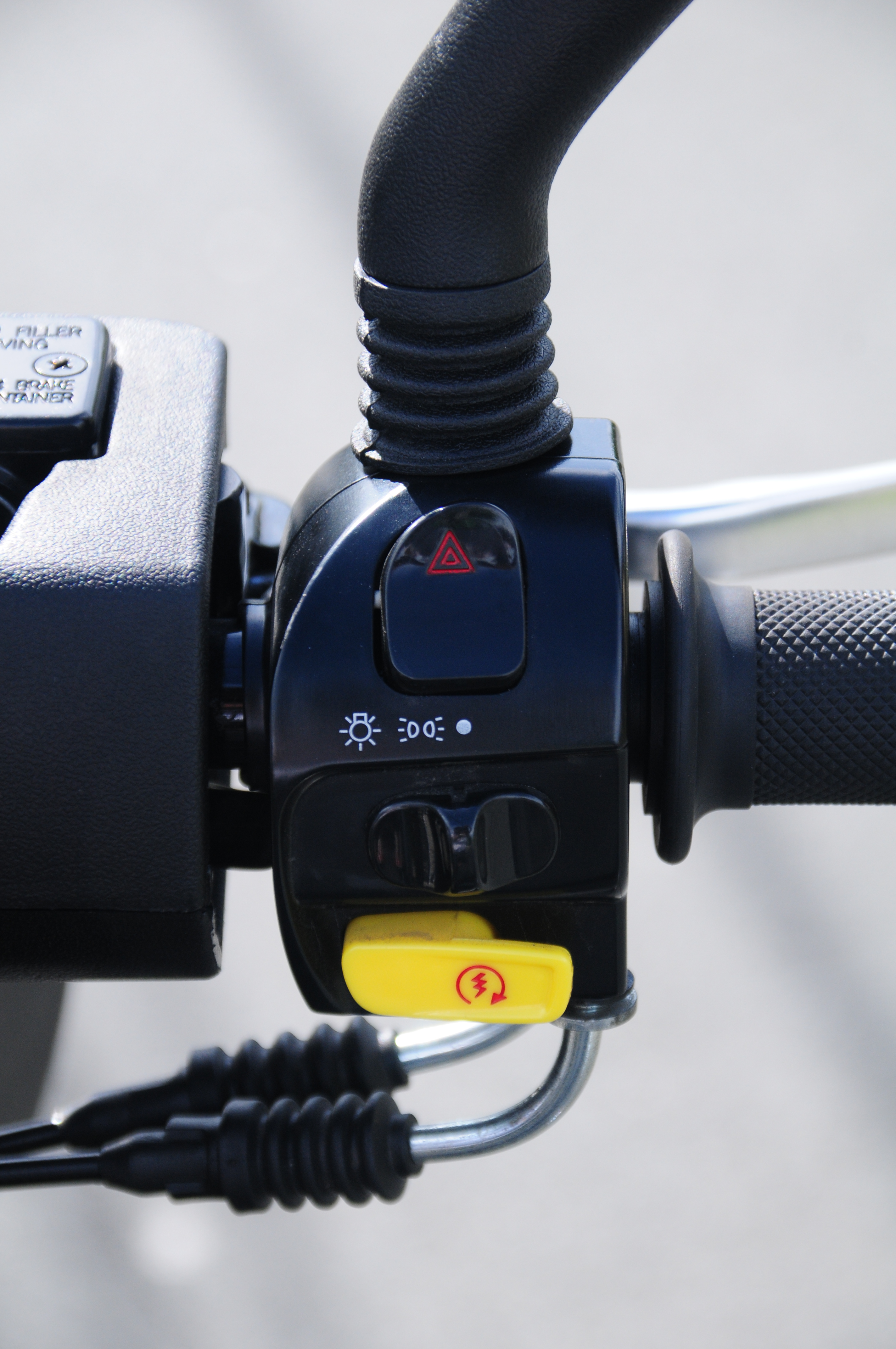 The underseat compartment is quite large. It can fit one full face helmet or one laptop bag. Executives can actually use this as a commuter without carrying anything on your body while riding. Other conveniences include automatic rear steps, electric start and the ability to refuel without getting off your seat since the big 13.5-liter fuel tank is located in the center tunnel and can be opened using the ignition key.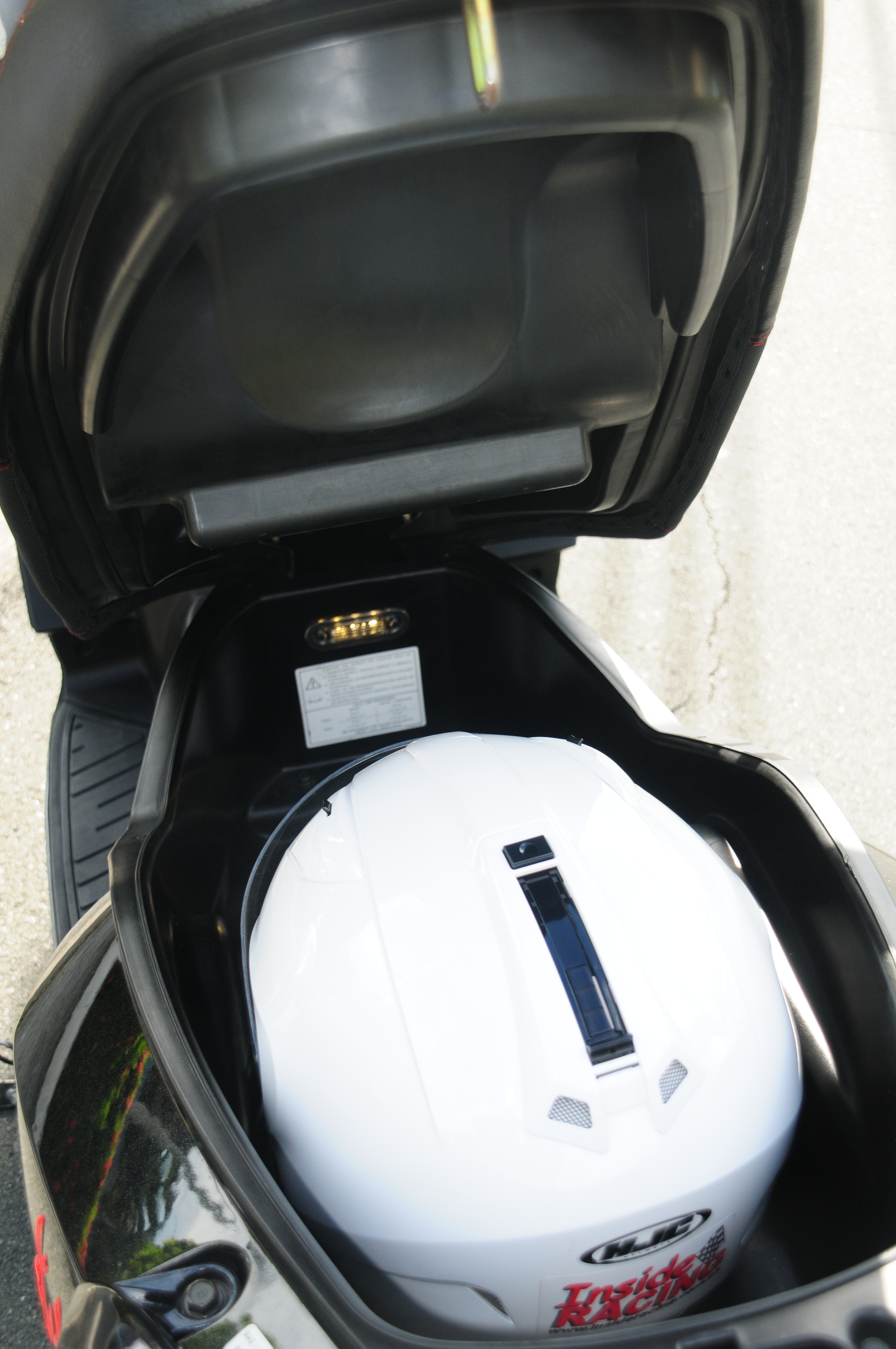 It is equipped with oversized and ventilated 256mm front and rear disk brakes so braking is expected to be very good, although the front only has a single disk. They stop this very big scooter quite well. The suspension is adjustable at the rear and it seems to have a provision for an alternative mounting to make the scooter even lower. The 14-inch Duro tires were okay; they are not that noisy and they grip well. The front tire measured 120/80 while the rear was 140/70, which are quite wide for a scooter and give the Elite its big presence.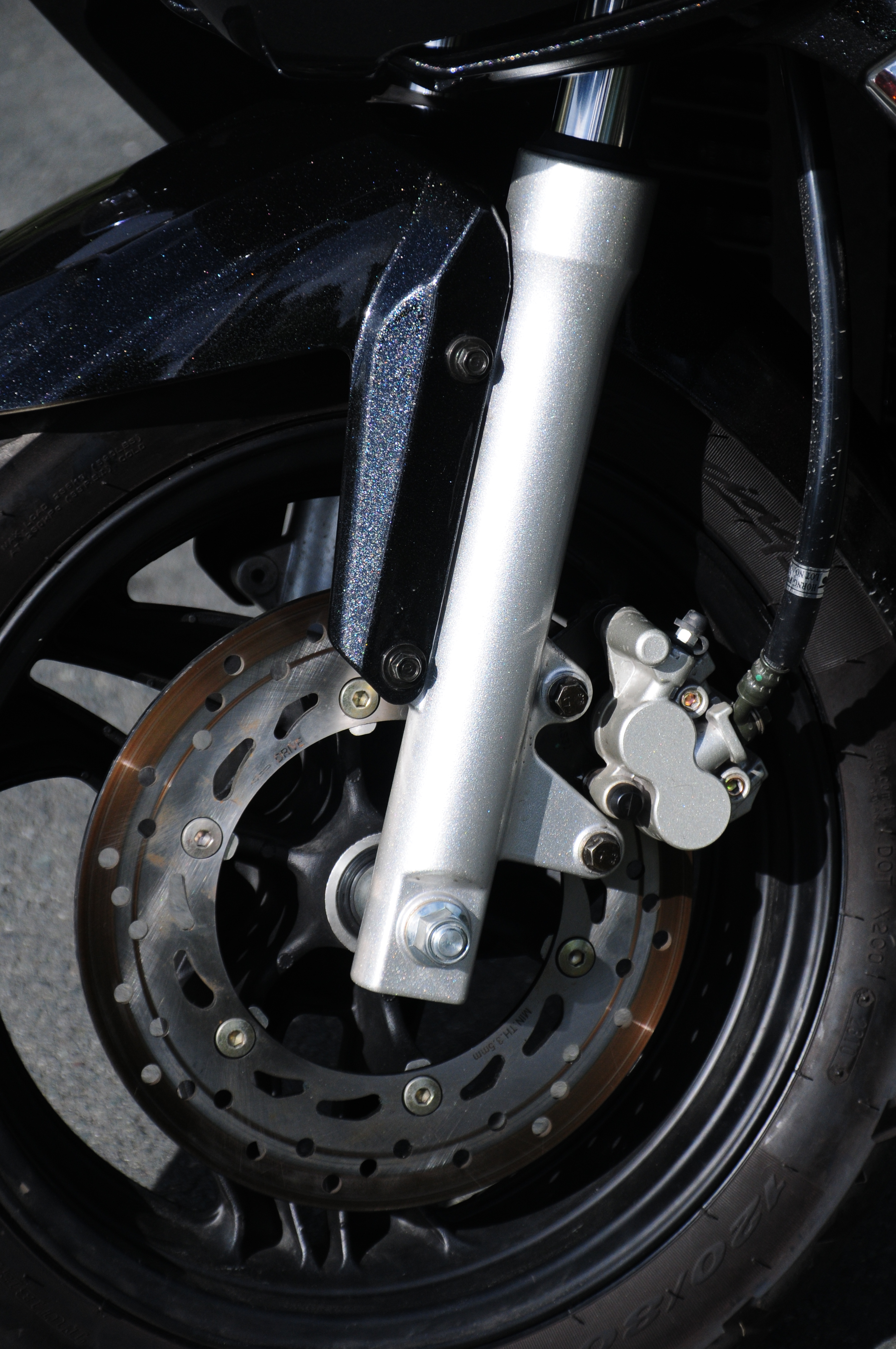 The fuel-injected engine is water-cooled, Euro 3 compliant and actually displaces 313cc. It might not seem big but its power delivery while accelerating was very impressive. Our test unit was a little bit rough for starters, idles sluggishly and a bit lazy when we got it. But after a few days of use, the engine seemed to become "faster" as acceleration noticeably picked up to an addicting level! If you want to accelerate at a comparable pace to most big bikes from 0 to 80kph in traffic, then the Elite will not disappoint you. Of course, we wish that it starts and idles at a more poised and refined manner (smoother!) but you will easily forget that issue once you feel the rush when you open the throttle. People who are used to the acceleration of a big bike would appreciate the additional acceleration power compared to other scooters. For big bikers who are looking out for a more comfortable ride yet do not want to give up that big bike power when accelerating or passing at other vehicles on road, AEON Elite will surely deliver.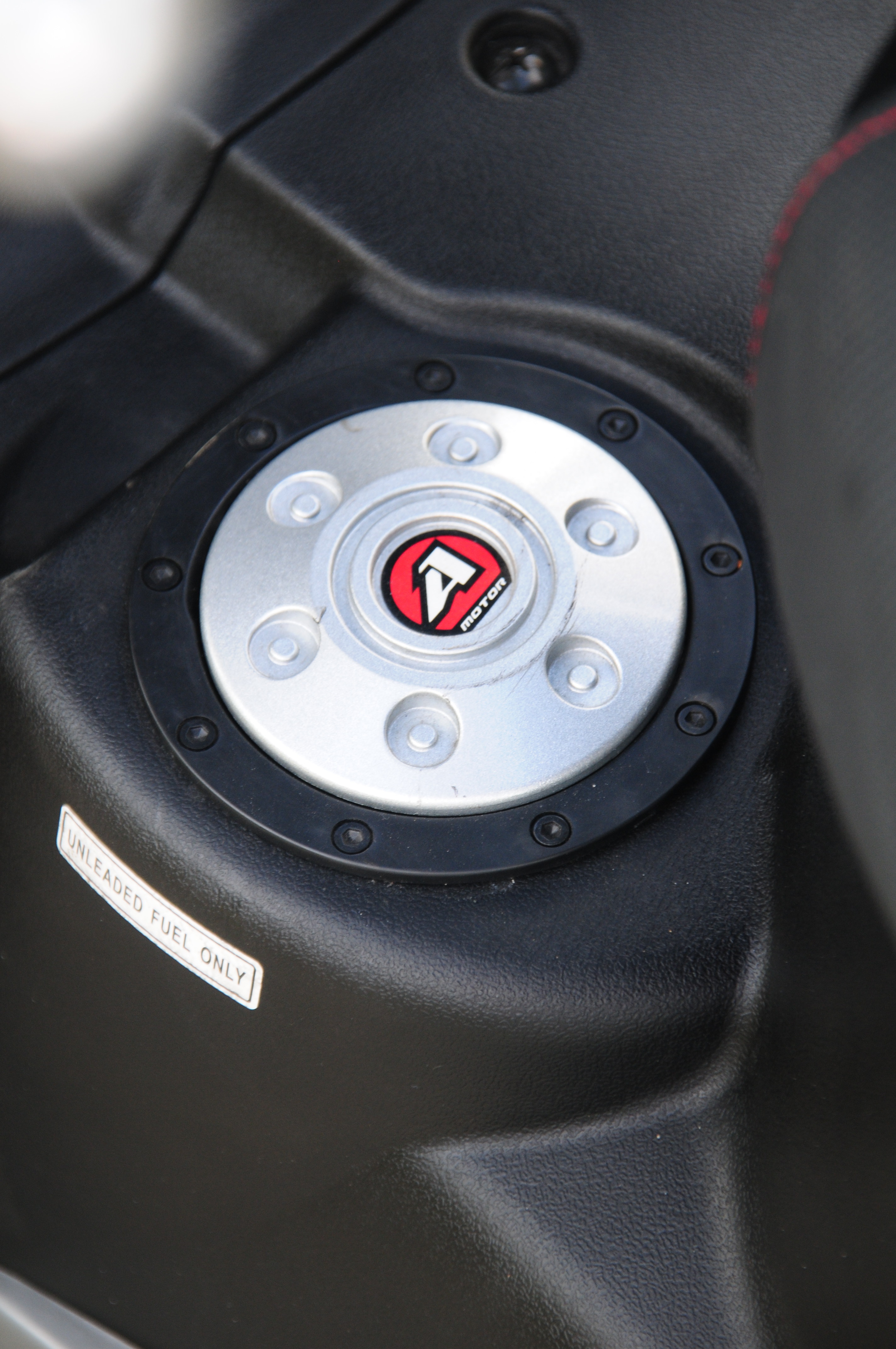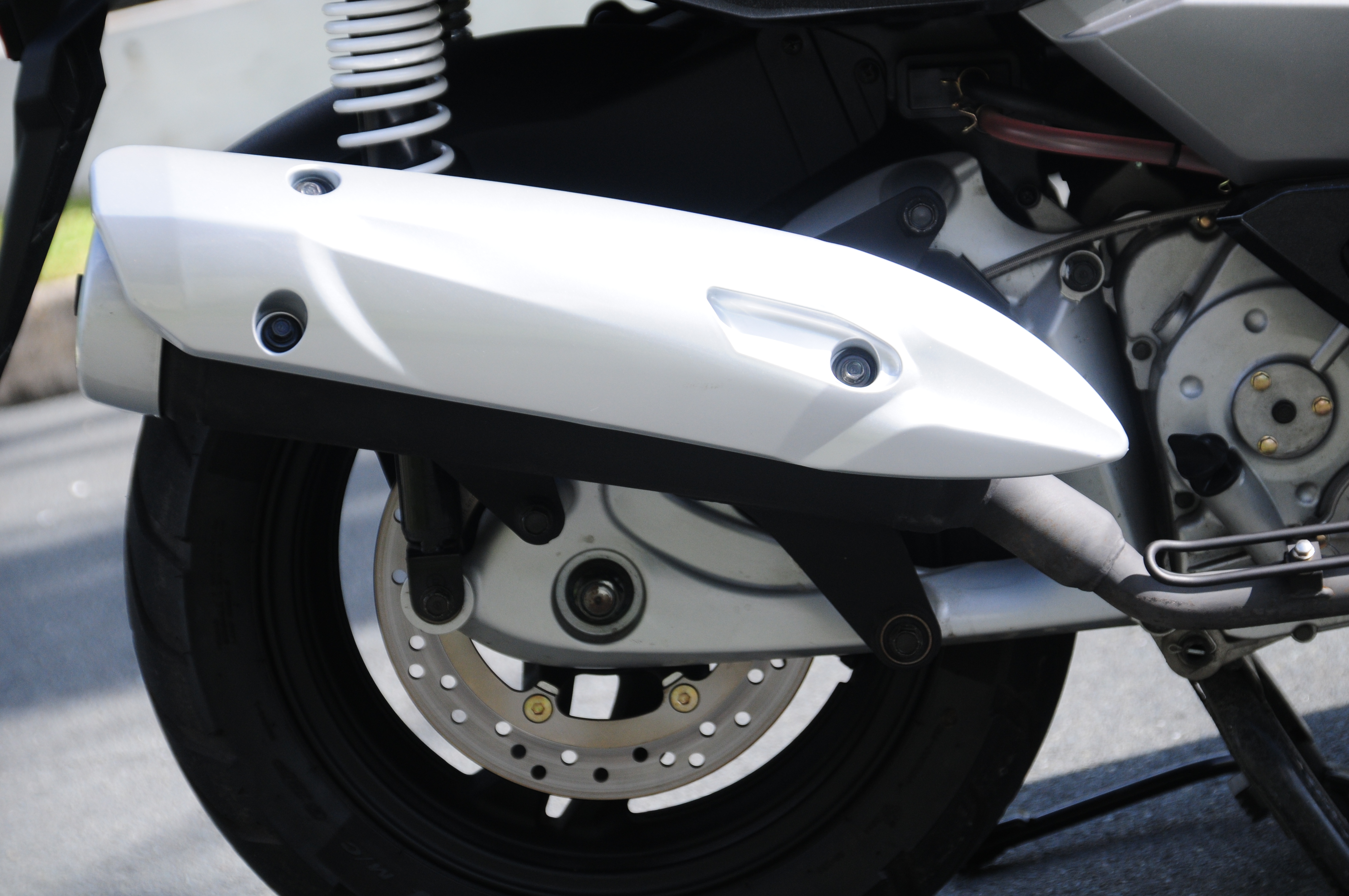 The cruiser-like riding position with its low seat and high handlebar makes the Elite a very relaxing bike to ride on extended journeys. The wide and well padded seats with integrated backrests are also a bonus. Not once did the heavy 170-kilogram weight of the AEON impede its ability to handle as the Elite can easily be ridden at low speeds in tight corners easily. In fact its weight contributed to its stability over small bumps and at high speeds where wind blasts can easily destabilize lighter scooters.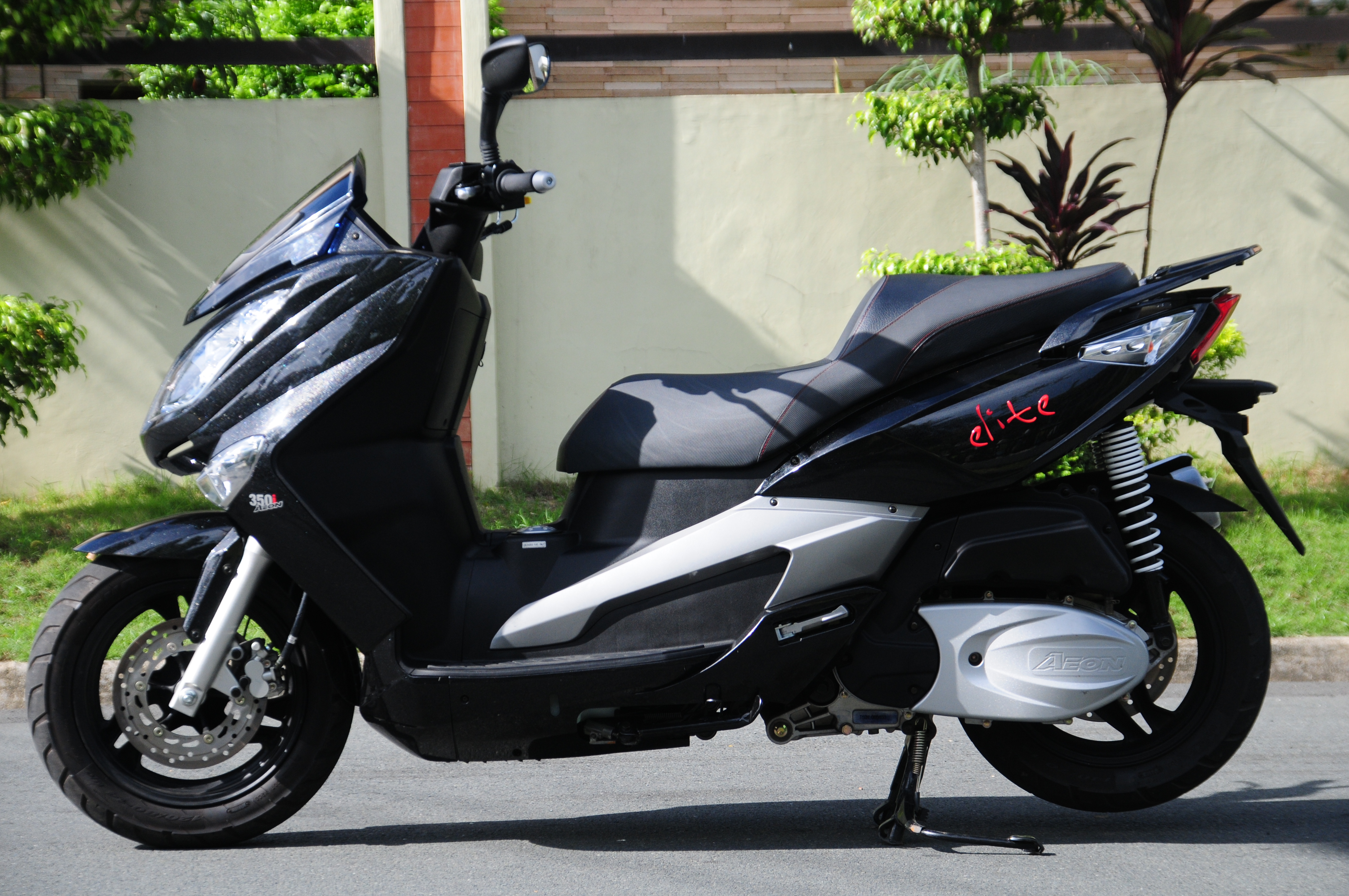 So it handles well, was relaxed on long rides, reasonably priced, beautiful and quick, then what else can we ask for? We'll maybe a taller windshield and top box as accessories for the touring crowd which will also make the Elite more versatile. Too bad it's only a "350" as its stability at high speeds and quickness will allow it to be safely ridden inside the expressways.
Some will point out that the quality level of the Elite is different from other Taiwanese brands, but again, you have to consider also that it is positioned at a different price level. With the presence and the performance it gives to the riders, it is a good buy! So, if you would like to feel the power of a maxi-scooter but do not want to shell out more than Php 200,000, or if you are a big bike rider who just wants to have big bike power on short and comfortable trips, then the Elite will fill that role just fine.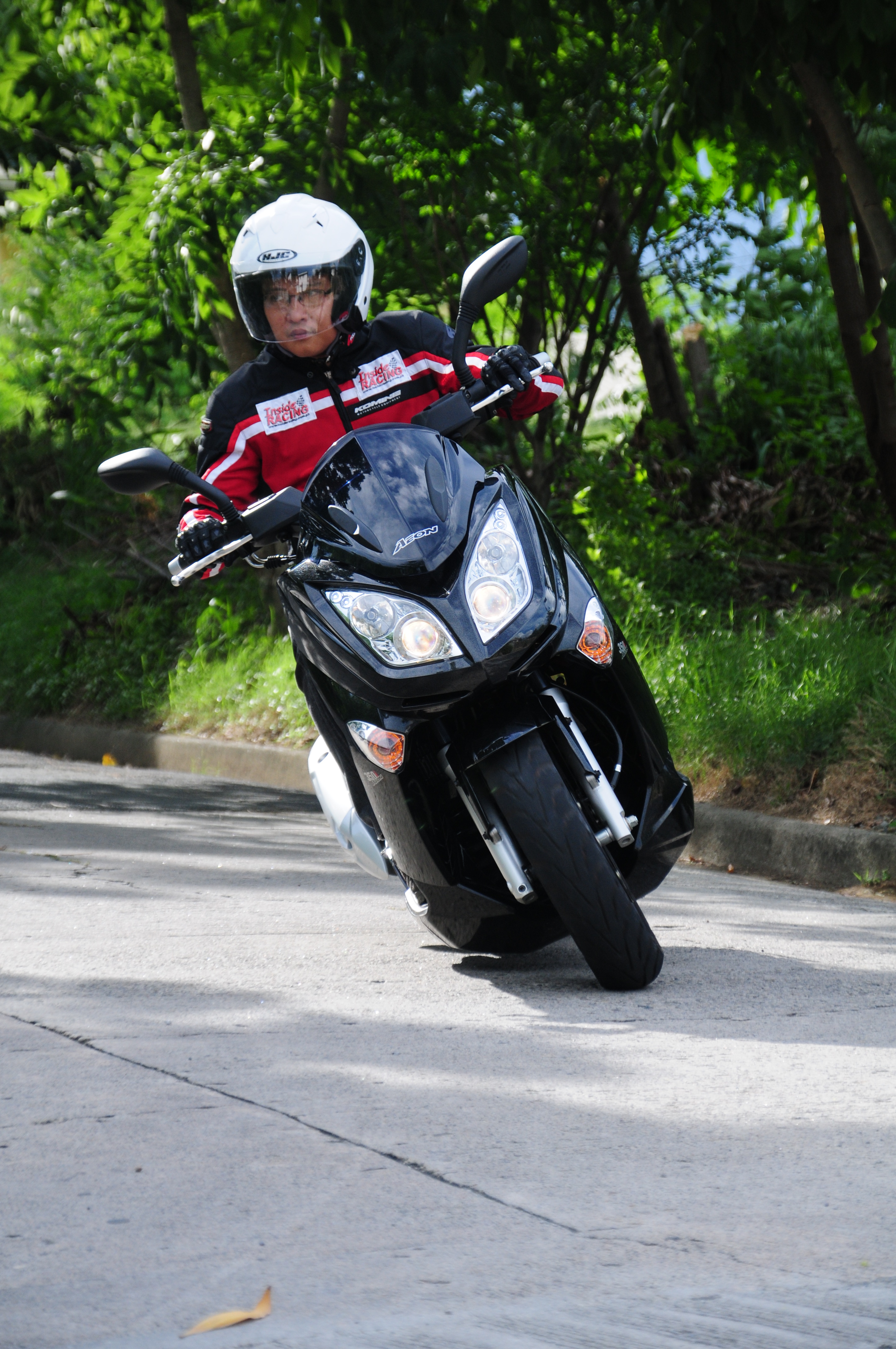 Al Camba:
When you look at its size, it is very big and also a bit on the heavy side, but like any Taiwanese maxi-scooter, once you get it moving it handles quite nicely and in fact this Elite is very relaxing to ride.
The riding position is comfortable; if you close your eyes while riding you might think you are on one of those cruisers or choppers. Your feet are wide apart because of the wide center tunnel (which is actually the fuel tank) and the handle bars are quite high and wide, and the seat is wide and very low, so the position is very "cruiser-like." For me, it's quite good, especially with the pronounced back rest for the rider, perfect for very long rides. Handling-wise, it is very stable and turns around corners easily. The heavy weight of the scooter actually helps in the stability over small bumps. The Elite 350i is not easily rattled going over small bumps because of its weight. Just like a car, the heavier it is, the more comfortable it rides over small bumps.
It is long, wide and very spacious; a proper maxi-scooter. Unlike other maxi-scooters that focus on touring, this is more of a sports maxi-scooter. It is hunkered down and very low to the ground. It is equipped with very wide tires both front and rear. And there is no tall windshield, so the styling is more of custom type scooters more popular in the Japanese market.
The engine is quite good, although our test unit was quite rough when idling, which I think is something that can be fine-tuned easily. The exhaust sound of the Elite is very sporty and you want to open the throttle all the time just to hear it roar (which is one of the sweetest things you can do on a good motorcycle or a scooter!) Actually it's quite loud but it's a sporty type maxi-scooter, so I guess it's okay.
More importantly, the AEON Elite's power is very addicting! The moderately big engine has enough power to easily accelerate to 100 kph, and it's one of the quickest scooters that I had ridden. The throttle control is quite stiff and the opening is quite long, so when you pin it, you're going to be in a racing position because your right arm will be twisted downwards to get full throttle opening! But you won't look like a fool since you shall be traveling at an impressive burst of speed anyway! Considering the asking price for its power, style and comfort, the AEON Elite is definitely a steal!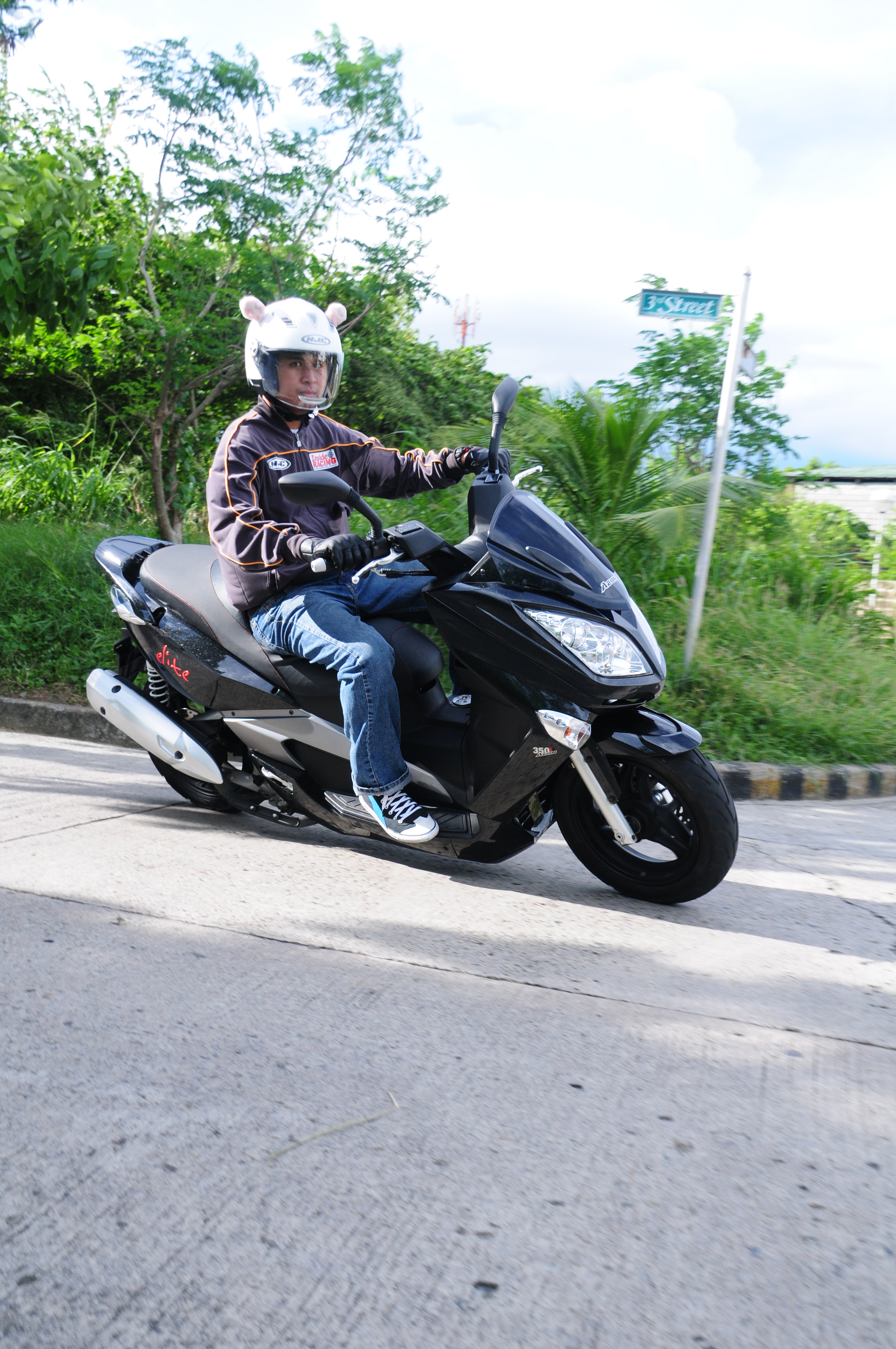 Philip Bonza:
I like the black metallic color of the body, however, I think the quality and appearance of the actual "Elite" logo is not suitable for this level or type of scooter. Engine power is impressive. I like the tires. In traffic it is very easy to ride around and maneuver despite the size of the tires. The brakes are impressive for moderate braking duties, both for front and rear due to its large disk brake rotors. The suspension is quite disappointing as they are too stiff both the front and rear. There is also too much vibration on the handlebars especially when riding at high speed. I feel the vibration up to my face inside my helmet. But overall for the style, power and price, this bike is a good value and one of the best buys around. I give this bike 3.5 stars rating.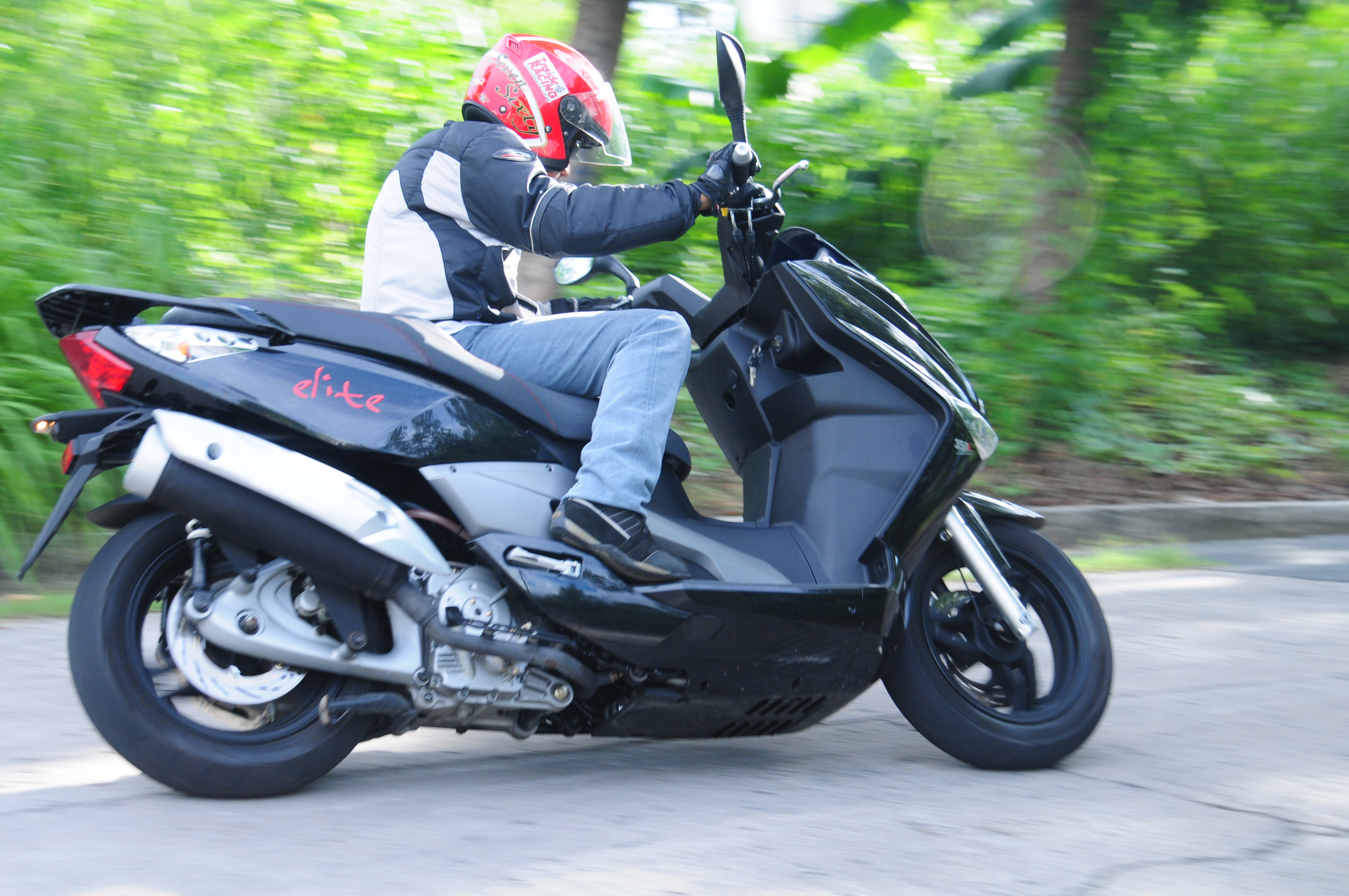 Ricci Abrina:
What can I say, this is a maxi-scooter, and it is a truly big scooter. However, it seems like it's not very big when you ride it because it's easy to maneuver. The only thing I don't like about the riding position were the handlebars. They are too high and too parallel to the street. In my opinion, I think if the handlebars were bent slightly downwards I guess it will be more comfortable. The suspension is stiff for the ride but the overall ride is comfortable because of the well padded seats. Now the brakes; you have to grab a hold of the levers with full force to get this big scooter to stop and sometimes it can have a spongy feel because the scooter is very heavy. In terms of acceleration, I think the mid-range is very good, you can travel from 20 kph to 100kph, in just a short period of time. The engine is powerful in that speed range, although I haven't tried at the higher speeds. And for its price, I think AEON has done their job well because the scooter was actually worth the price and I think a few tweaking to get their scooters in tip-top shape before selling it in the market will be a good way to drive the sales up.
*This article was published in InsideRACING's  Volume 9 Number 7  2011 issue.