All is Set For the Pampanga GP of the Shell Advance Super Series and the First Round of the IR Cup and MotoIR!
Date posted on May 18, 2016
Share this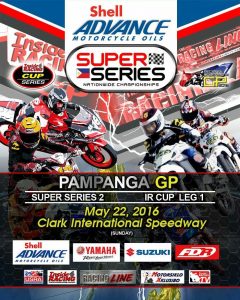 The historic initial round of the Shell Advance IR Cup Series in Davao last May 7 featured high caliber riders in different parts of the country. The Yamaha Spec V team from Luzon traveled all the way down south to face the best racers and teams in the Vis-Min region including the Phoenix VMan Racing Team and Yamaha MW 323.
Two weeks after, these riders will once again face each other for racing glory and supremacy at the Clark International Speedway. This May 22 will be the Pampanga GP of the Luzon Divisional of the Super Series and the much anticipated first round of the IR Cup.  Race fans are looking forward if Aljon Valencia and the rest of the Yamaha Spec V racing team and Dan Carlos and the other riders of the Yamaha MW 323 can defend their wins in their respective classes of the Super Series. Another reason to be excited is because May 22 will also be the opening leg of the 2016 Shell Advance MotoIR Championship featuring two manufacturers.

It is going to be an exciting race day as the Super Series, MotoIR and the IR Cup will once again gather prominent riders and race teams  from all over the country. The race will be sanctioned by the Unified Sports and Racing Association for Motorcycles, Inc. (USRA).