Asia Road Race Round 5: Battleof Three World-Class Riders
Date posted on September 11, 2013
Share this
Race 2 in the SuperSports 600cc at the Autopolis International Circuit was once again a battle royale against three world class riders. Former World Superbike and World Supersport riders Shinichi Nakatomi and Katsuaki Fujiwara went wheel-to-wheel against Azlan Shah Kamaruzaman who will be heading for the world championships immediately after the Autopolis round.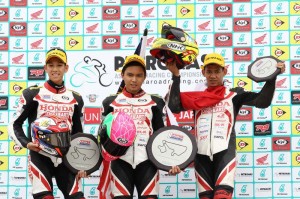 Track temperature increased by six degrees in Race 2, which slowed the race pace but did not lessen the intensity. The three riders were consistently on attacking mode throughout the 12-lap race. The clash reached its height on Lap 6 when Azlan attempted to overtake at Turn 1 but ran wide allowing Fujiwara and Nakatomi through. Azlan fought back and managed to hold Nakatomi in third place until Lap 8 before tyre wear forced the Malaysian rider to opt for the safer strategy of picking up points.
Meanwhile, much to Nakatomi's dismay, Fujiwara proved too strong on the Kawasaki track and brought home a second win with a total race time of 22:56.852s. "My tyres were completely gone by the last lap and I had to exert all my skill to control the race pace and keep the lead. After such a tough season, this double win comes as a welcome motivational factor for the final joust in Qatar this November," said Fujiwara.
With the score now evened at two wins a piece for both Nakatomi and
Fujiwara, the wildcard rider who finished second with a time of 22:57.256s could only regret his decision to leave his final overtaking attempt until the last minute. "I wanted to overtake Fujiwara at the final hairpin. But I was unable to carry that plan through because there was a yellow flag directly at that corner," said a frustrated Nakatomi.
Behind the two Japanese riders, Azlan Shah Kamaruzaman finished third with a time of 22:57.671s.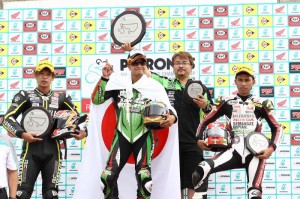 There are no major changes in the championship table after Round 5. With an unprecedented ten consecutive podium finishes in the pocket, Azlan leads with 178 points. Fujiwara is second overall with 158.5 points and Zamri Baba third with 120.5 points.
Makoto Tamada is expected to return to the championship for the Qatar round in November, in time to defend his fourth overall position against the upcoming Yuki Ito who is now fifth with 87 points.
SuperSports 600cc Race 2 Results:
1. Katsuaki Fujiwara (JPN), 22:56.852;
2. Shinichi Nakatomi (JPN), 22:57.256;
3. Azlan Shah Kamaruzaman (MAS), 22:57.671;
4. Mohd Zamri Baba (MAS), 22:59.836;
5. Yuki Ito (JPN), 22:01.431
SuperSports 600cc Rider Rankings After Round 5:
1. Azlan Shah Kamaruzaman (MAS), 178 pts;
2. Katsuaki Fujiwara (JPN), 158.5 pts;
3. Mohd Zamri Baba (MAS), 120.5 pts;
4. Makoto Tamada (JPN), 88.5 pts;
5. Yuki Ito (JPN), 87 pts
SuperSports 600cc Team Rankings After Round 5:
1. MUSASHi Boon Siew Honda (MAS – Honda), 185.5 pts;
2. BEET Kawasaki (JPN – Kawasaki), 158.5 pts;
3. PETRONAS Hong Leong Yamaha Malaysia (MAS – Yamaha), 137.5 pts
HADI RECLAIMS AUTOPOLIS; MASAKI THRILLS HOME CROWD WITH PODIUM FINISH
Underbone 115cc defending champion Hadi Wijaya bounced back from a
disappointing Race 1 and reclaimed the Autopolis International Race Course with a hard-earned victory in Race 2.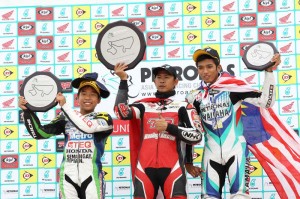 Aware of Kazuki Masaki's intention to attempt a break away from the main group, Hadi, together with the rest of the experienced Underbone riders managed to reel in the young Japanese rider and kept him engaged in the group battle for the entire duration of the 11-lap race. The wily Indonesian rider won by a hairsbreadth at the photo finish, registering 16:54.596 against Masaki's time of 16:54.601s.
"It was a tough race for me. After an easy time in practice and qualifying, we faced a spot of bike troubles in Race 1. It was rather disappointing but luckily were able to sort things out in time for the second race," said Hadi. The Indonesian rider has netted 179 points after Round 5, and leads the title chase with a comfortable 30-point margin in hand.
Meanwhile, Malaysian rider Ahmad Afif Amran keeps his title hopes alive with a third placed finish in Race 2, coming home with 16:54.621s. Though Hadi seems to have his third title sewn up, Afif can still glimpse a glimmer of a chance, ranking second overall with 149 points.
As the championship heads to its final round in Qatar at the end of the year, Harlan Fadhillah, will have his hands full defending his third overall position (119 points) against the combined charge of a trio of SCK riders – Norizman Ismail fourth with 112 points and both Md Affendi Rosli and Kazuki Masaki who tie fifth overall with 100 points each.
Underbone 115cc Race 2 Results:
1. Hadi Wijaya (INA), 16:54.596;
2. Kazuki Masaki (JPN), 16:54.601;
3. Ahmad Afif Amran (MAS), 16:54.621;
4. Vorapong Malahuan (THA), 16:54.693;
5. Md Hafieenaz Md Ali (MAS), 16:54.774
Underbone 115cc Rider Standings after Round 5:
1. Hadi Wijaya (INA), 179 pts;
2. Ahmad Afif Amran (MAS), 149 pts;
3. Harlan Fadhillah (INA), 119 pts;
4. Norizman Ismail (MAS), 112 pts;
5. Md Affendi Rosli (MAS), 100 pts
Underbone 115cc Team Standings after Round 5:
1. Harian Metro Y-TEQ SCK Honda (MAS – Honda), 194 pts;
2. R9 Racing Team (INA – Yamaha), 180 pts;
3. PETRONAS Hong Leong Yamaha (MAS – Yamaha), 149 pts
NICE GUY NO MORE;
'BAD BOY' FITRI TAKES NEW ATTITUDE TO THE TOP OF THE PODIUM
Taking Shinya Nakano's advice to heart, Malaysian rider Mohd Fitri Ashraf Razali brought a whole new attitude to his racing strategy and swaggered his way to the top of the podium in Race 2 of the Autopolis round.
Starting from pole position, Fitri was able to keep the holeshot in the sprint towards Turn 1 with all seventeen riders bearing down on him. The 11-lap race unfolded as expected. With the top twelve in a single solid group, it was a nail-biting, close-fighting, and lead-swapping 16:33.374 minutes before Fitri sprinted to victory with a 0.034s margin.
"I employed the wrong strategy for Race 1 (Saturday). I tried to lead the race right from the beginning and lost out because I ended up towing everyone along with me. Learning from that experience, I waited until the last two laps before I went flat out. By the last two laps, the race was so intense that I could no longer tell who were racing shoulder-to-shoulder with me. Photo finish is nothing new in the Asia Dream Cup. All I knew was that I had to get my front wheel across the finish line first," said Fitri. This is the Malaysian rider's second career Asia Dream Cup win and the first for the 2013 season. Fitri's last victory was registered in the final
round of the 2012 championship in Qatar.
Hiroki Ono confirmed himself as the 2013 Asia Dream Cup Champion when he crossed the finish line in second place with 16:33.408. According to Ono, this result was a relief for him. "I have been having problems all weekend. I suffered a crash in Suzuka and this affected the handling of my bike. Because of that, I could not be as fast as I wanted and lost not only pole position, but also the podium in Race 1. Finishing second in Race 2 was good enough for me to win the title and I'm really satisfied," he said.
Mohd Dwi Satria completed the winning triangle in third place with
16:33.450s followed by compatriot Gerry Salim fourth and Taiwanese rider Chuang An-Yu in fifth place.
With that, Ono bags the 2013 Asia Dream Cup title with one round to spare. Holding 228 points at the top of the championship table, Ono has marked out a 73-point margin ahead of second ranked Gerry Salim who now has 155 points to his name. Gerry will have to defend his position against the upcoming Fitri who has closed in on the chance to improve his position. Fitri's latest win puts him four points behind Gerry in third overall.
Asia Dream Cup Race 2 Results:
1. Mohd Fitri Ashraf Razali (MAS), 16:33.374;
2. Hiroki Ono (JPN), 16:33.408;
3. Mohd Dwi Satria (INA), 16:33.450;
4. Gerry Salim (INA), 16:33.690;
5. Chuang An-Yu (CHN-TPE), 16:33.690
Asia Dream Cup Standings After Round 5:
1. Hiroki Ono (JPN), 228;
2. Gerry Salim (INA), 155;
3. Mohd Fitri Ashraf Razali (MAS), 151;
4. Khairul Idham Pawi (MAS), 112;
5. Kanatat Jaiman (THA), 87
2013 ADC CHAMP ONO TO WILDCARD IN MOTEGI
Closing in to the Asian tour of the World Championship tour which will start in Sepang, Malaysia this October 11 to 13 and carry on to Philip Island and Motegi, the announcements of wildcard riders from ARRC proteges are coming in thick and fast.
Barely a week after news of Azlan Shah Kamaruzaman joining Honda Team Asia as a full-fledged GP rider, Honda Japan released the confirmation that 2013 Asia Dream Cup champion Hiroki Ono will wildcard in the Moto3 class of the Japanese GP at the end of October.
Having raced in the Moto3 class in the first four rounds of the 2011
season, Ono's upcoming wildcard would be more in the nature of a comeback. "We have arranged for testing at the Twin Ring Motegi to prepare for the wildcard. I am very happy to have this opportunity and I thank Honda Japan for their faith and belief in me," said Ono.
See also