Bajaj RE: Your New Life Partner
Date posted on June 26, 2020
Share this
COVID-19 has immensely affected the Filipino peoplerecently, yet this does not seal our ability to withstand adversity and move forward to become stronger, more practical,and smarter individuals.

Like what Linda Rottenberg said, CEO and Co-founder of Endeavor, a non-profit organization that encourages the power of entrepreneurship, "When economies turn down, entrepreneurs turn up."This means emergence of new opportunities despite the pandemic crisis and Bajaj RE three-wheeler is glad to bring you the good news.
BAJAJ RE – NEW NORM OF PRACTICALTRANSPORTATION

According to the Land Transportation Office (LTO) in 2012, approximately 658,675 tricycles and motorcycles were operating for-hire in the Philippines. Tricycles accounted for nearly 67.9% of all the for-hire vehicles nationwide and is often used as the first and last ride of the workday. With the new accepted standards of doing things or the "new norms," wemust discover our NEW NORMS OF PRACTICAL TRANSPORTATION to survive the next coming years or so. Bajaj RE has been part of the tricycle community since 2015 with nearly fifty-one percent of the growing 40,000 RE's in the country belonging to it.Trimotors Technology Corporation, exclusive distributor of Bajaj RE nationwide, introduced this April its version of "Social Distancing Film" or SDF. SDF can be installed in Bajaj RE units as protection films forthe driver and its two passengers that is more than the approved passenger limit for traditional tricycle in this new norm (one passenger and driver only). Trimotors and its dealers continue toactively take part in acquiring permission for additional passenger for RE's with SDF from the local government units (LGU) and the feedbacks were greatly positive. This could help easeprofit recovery of RE drivers. Bajaj RE, with all its innovative features on safety, comfort, durability, and power has proven itself effective once again in this pandemic time.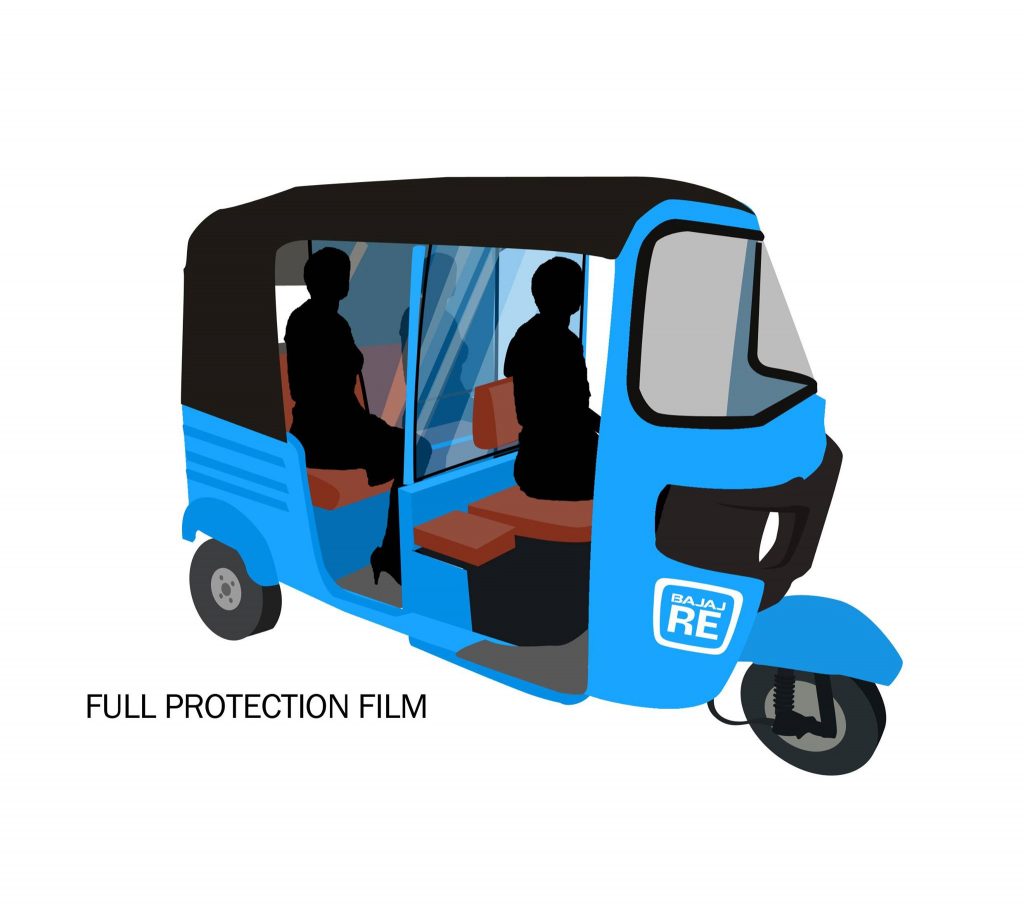 BAGONG BUHAY, BAGONG KABUHAYAN SA BAJAJ RE

With the co-existence of danger and opportunity during this trying time, every moment we wake up is a blessing. Trimotors and Bajaj RE is one with you in this "BAGONG BUHAY, BAGONG KABUHAYAN" for Filipinos who seek for new income opportunities this year.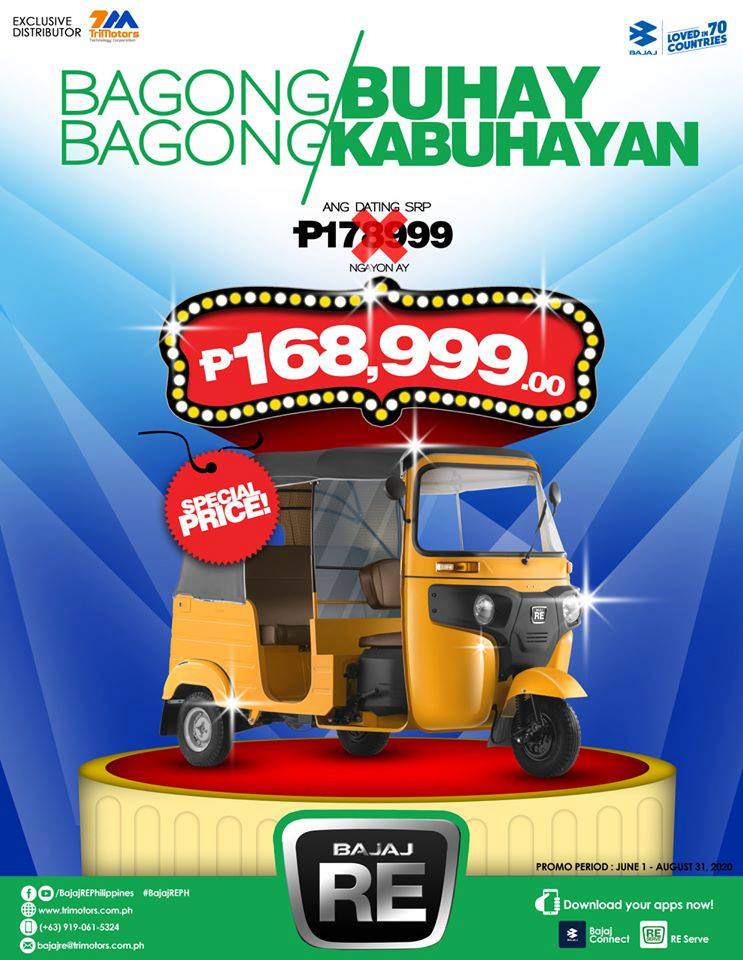 We realized the infinite potential businesses that Bajaj RE can emerge with Filipino entrepreneursas forty-nine percent of RE's were recorded for private and business use since 2015. Bajaj RE has proven that it can also partake in the macro-logistics enterprises with all its road-worthy and affordability features. Speaking of affordability, Bajaj RE is now only P168,999 from its original Suggested Retail Price (SRP) of P178,999. Yes, a difference of P10,000.00 from the original price which can mean more investment too!With the new SRP, installment terms were made more flexible too by our over 700 authorized dealer shops nationwide.

With Bajaj RE three-wheeler's economic innovative style coupled by a little bit of play in its customization, your new business partner is born!Evident on the roads is the valuable patronage from Lazada Philippines in their Alternative Vehicle Program with Bajaj RE for delivery of goods. Bajaj RE has also not escaped the eyes for food delivery opportunities like market on wheels, roving carinderia, or mini-food-truck.In one of the features of journalist Jay Taruc in RidePh, a construction worker turned farmer from Mindanao island invested in Bajaj RE and resulted worthy of his investment. In AsensoPinoyTV-show hosted by Francis Cardona, Bajaj RE was also featured as a trusted transport service for students.

Playing in its customization, local innovators such as side car fabricators and upholsterers have reportedly gained customers and business opportunities from Bajaj RE's. It has become a new icon in motorcycle shows and contests for best designed three-wheelers in some parts of the country. Some travel vloggers like Wild Tuktuk Philippines has also taken interest in Bajaj RE for vlogging and events. Yes, it's Bajaj RE all over in all sorts of industry possible for three-wheelers for these smart entrepreneurs and maybe more as new businesses have emerged successful during this pandemic.

Meet your new partner in Bagong Buhay, Bagong Kabuhayan soon! Bajaj RE, a roadworthy three-wheeler made more affordable. Catch this limited special price offer until August 31, 2020 packed with free maintenance service, two liters engine oil, and one oil filter too. For more updates, find us in our official facebook page, Bajaj RE Philippines or contact 0919-061-5324.
credit: Trimotors
Thank you for visiting insideracing.com.ph. You may express your thought below through the comment section. You may also follow us on Facebook, on Instagram @Insideracingnation or on our YouTube channel.