BHOGA: The Turbo Intercooler Yamaha Sniper Show Bike
Date posted on October 22, 2020
Share this
This bike won numerous awards such as 2nd Best Underbone, 4th Overall Best in Show, 2nd Best Bike in South/Eastern Luzon, 3rd Best in Paint and 3rd Best in Presentation at the Thirteenth IR Bike Fest Custom Bike Show Competition.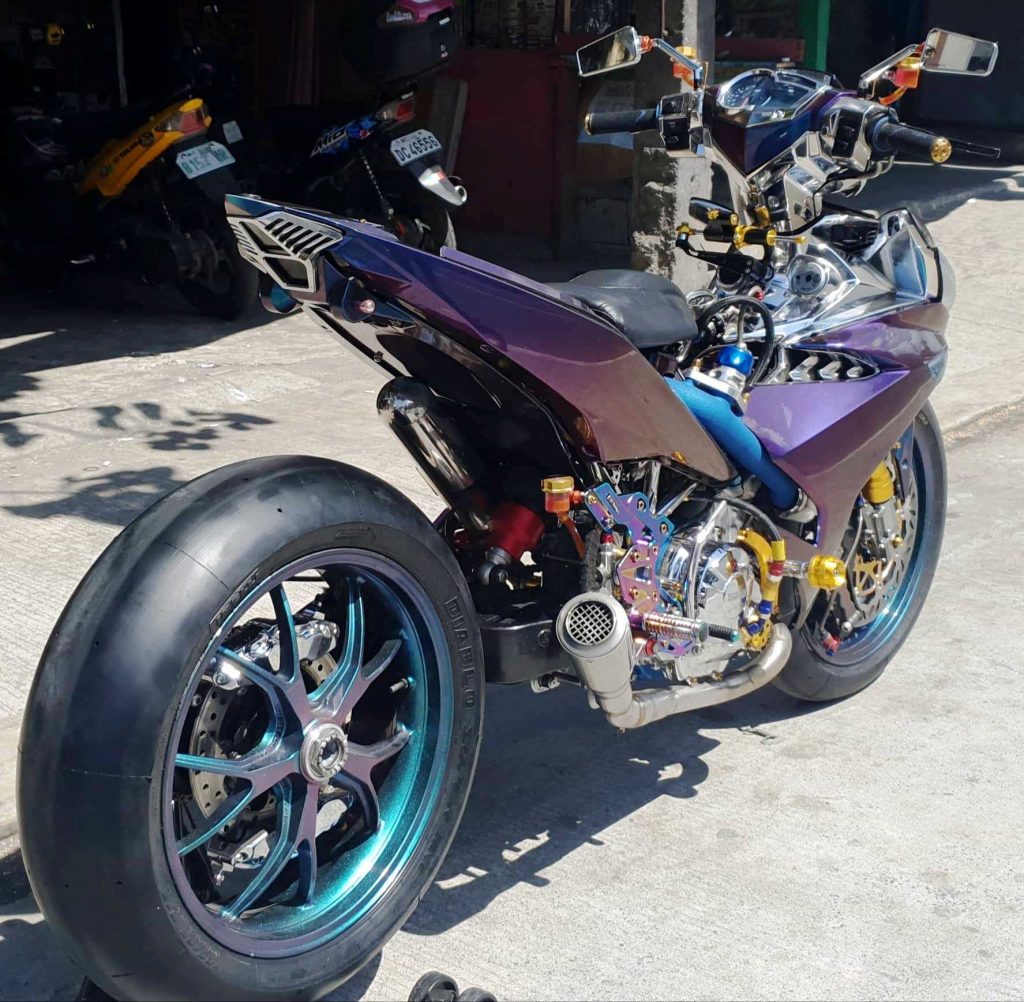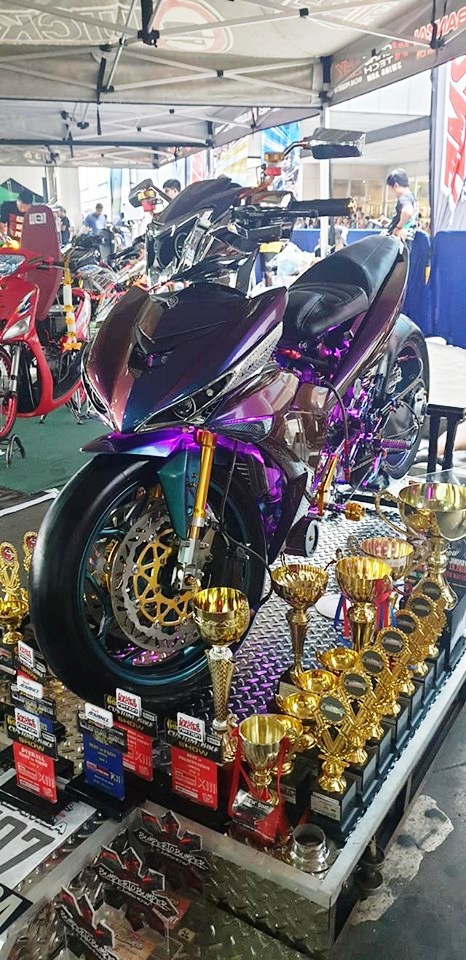 The bike was built aroundthe Yamaha Sniper 150 platform. The overall concept is sportbike- inspired and the team behind it went to great lengths just to produce this truly awesome ride. The bike is owned by Blessiejane Lumbres Lopiga, a businesswoman based in Tanauan City, Batangas. "BHOGA" is a very special bike. It was built with love and passion and this is the story behind this mind-blowing show bike and the dedicated team behind it.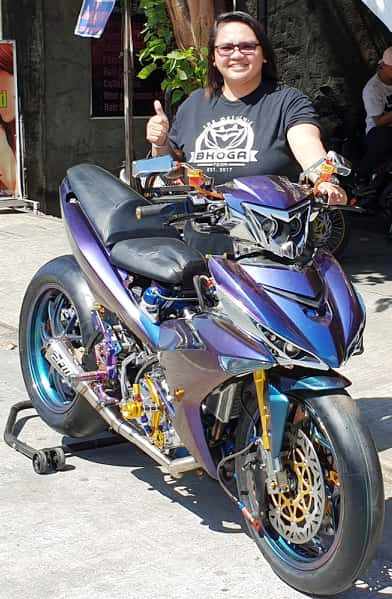 "I started watching bike shows since 2015. I was amazed at the fact that the people who joined the show really spend a lot of time, effort and money to create their show bikes. Ever since then, I started to have an idea of having my own kind of show bike, a highly modified yet functional bike. I am also a motorcycle enthusiast, since 13 years old or half of my life I have been riding a motorcycle, I am also actively joining motorcycle and charity rides. I really love motorcycles. I really enjoy the show life. This is me and this is how I wanted to be, I wanted to inspire other ladies with the beauty of motorcycle shows. It is not just a hobby; it is my kind of life. I am very proud of BHOGA's turbo intercooler, it is the most unique part of my motorcycle, only a few have this kind of modification and I am really, really proud that our highest modification was first seen and recognized at the largest and biggest show in the country, the InsideRACING Custom Bike Show Competition. I really thought we would not make it to the InsideRACING Custom Bike Show Competition because the night before the event, BHOGA was still in Bulacan finishing the latest upgrade. To think that we are from Batangas, but due to our dedication and will to finish and join the biggest motor show in the country, we successfully made it. We did not even recognize the difficulty that we have encountered, what's important is, we made it," Blessie narrated during our interview.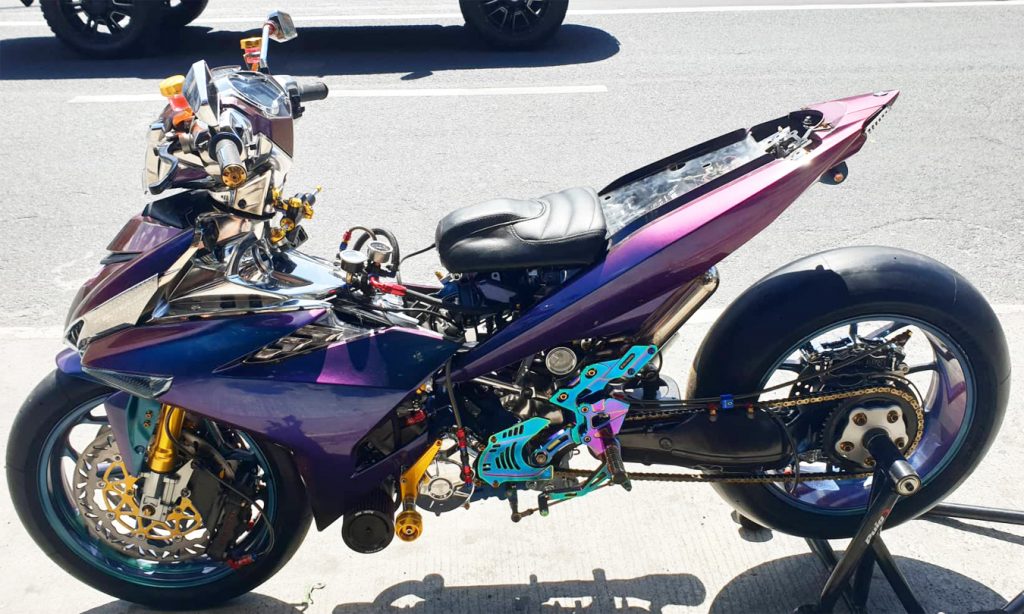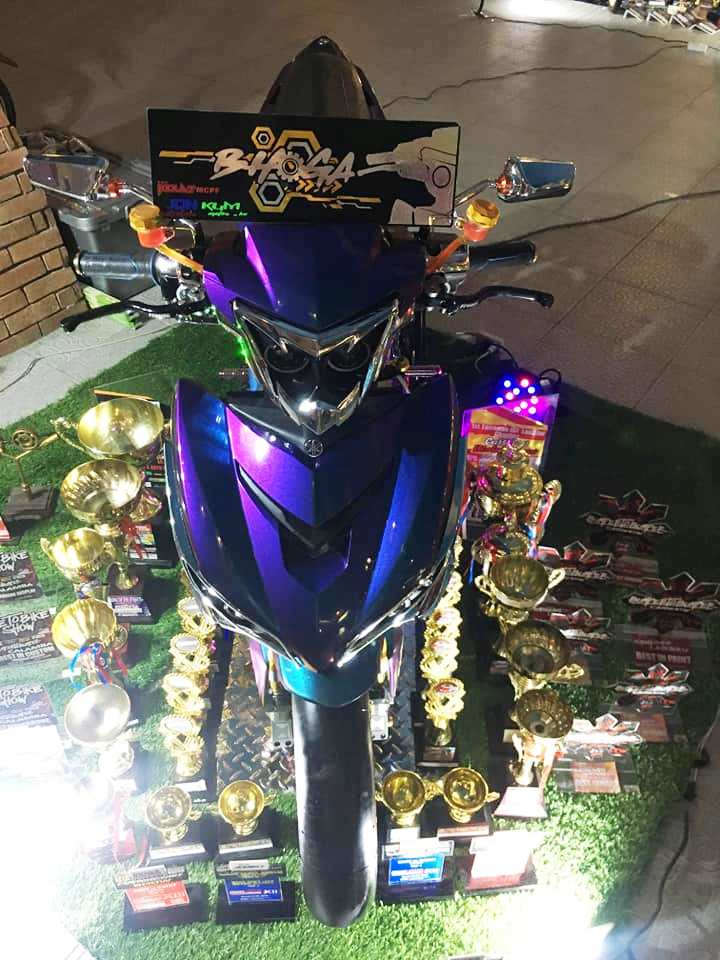 The bike sports USD front shocks and custom air suspension at the rear. It also uses Ducati Hypermotard pro arm swing arm which was custom-machined to integrate seamlessly to the Yamaha Sniper chassis. The bike also sports super wide Asio mag wheels wrapped in Pirelli Diablo superbike tires. The engine is equipped with a custom-made intercooler turbo system with Turbo Smart BOV (Blow Off Valve). The bike has AFM racing exhaust system giving it an even more aggressive and distinct exhaust note. The whole body was custom-painted with chameleon paint which is really striking especially in sunlight. The bike is the product of the collaboration of the following individuals: Bryan Ubaldo for custom air suspension and Paul Agustin dela Cruz and Jayr Cambaog of then Yamaha-Spec V Racing Team who installed the turbo intercooler system. The bike was built at JDN motorcycle parts and accessories shop by the one and only Elson Deogracia "The Mechanic".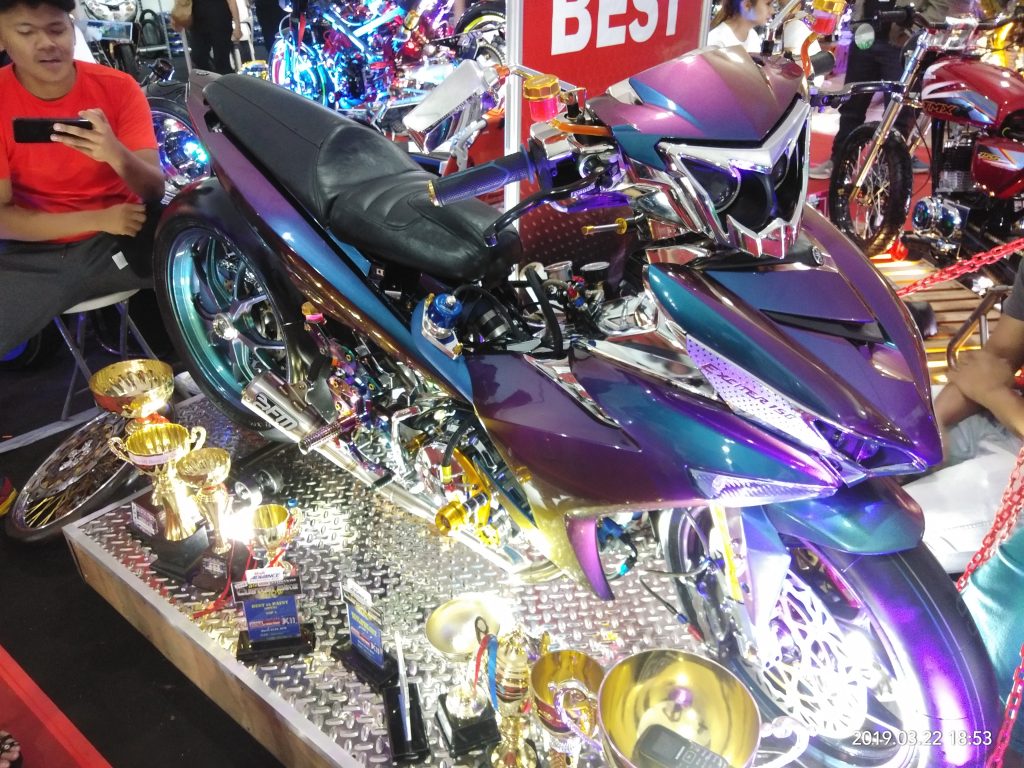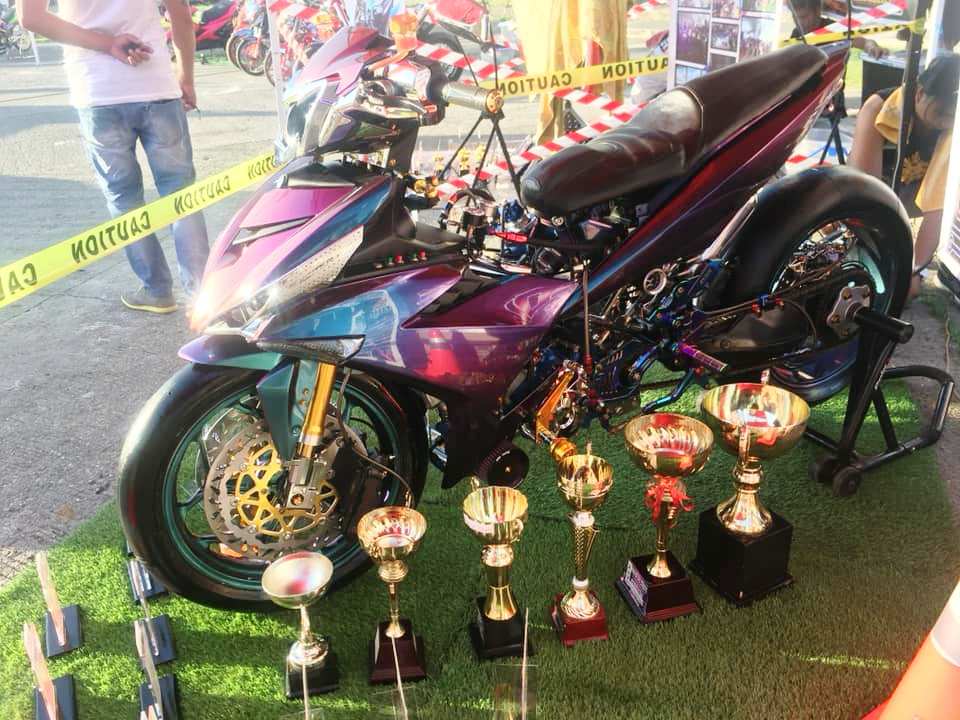 "I would like to thank my whole family especially my mother who always supports financially and my father for the physical and moral support, my brother Reyson who's always by my side since I started joining bike shows, my grandmother who despite her age, doesn't mind the noise of the loud sounds and pipes during the shows and Ms. Dyanne Javier, the regular model of Bhoga. Big thanks to Mr. Elson Deogracia for all the effort and brainstorming that we have done for Bhoga. Thank you to Ate Joan, the owner of JDN motorcycle parts and accessories, Sir Bryan Ubaldo for installing the air suspension, Sir Paul Agustin dela Cruz and Sir Jayr Cambaog of Yamaha-Spec V Racing Team for installing the turbo intercooler, the whole team BHOGA and lastly, thank you so much to InsideRACING Magazine for featuring my bike," Blessie expressed.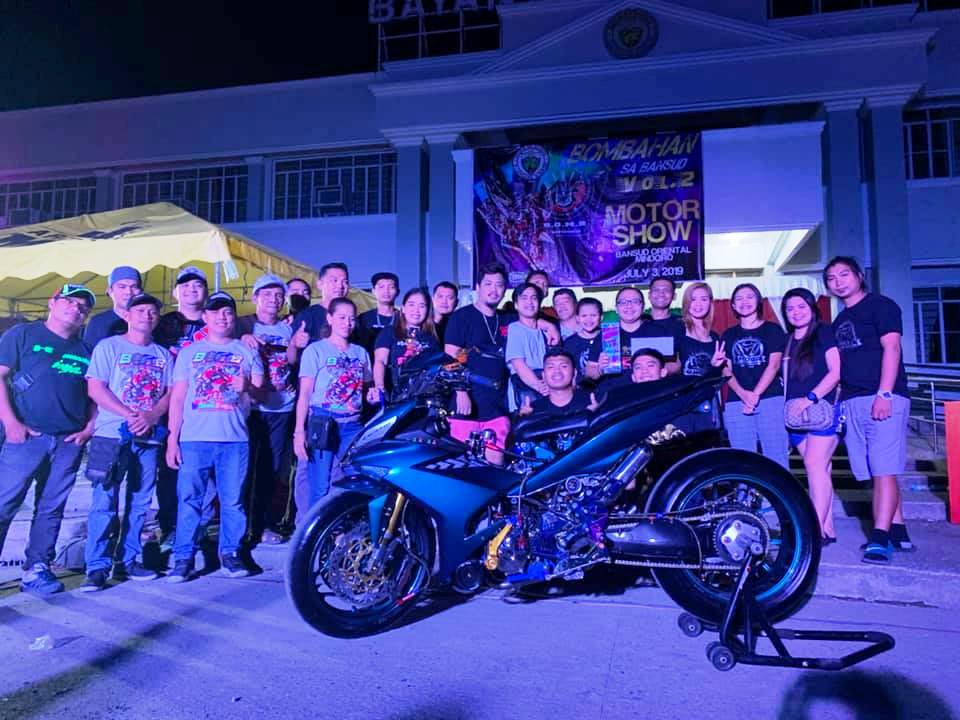 This was published in InsideRACING Magazine's 2019 Volume 17 Number 7 issue

Thank you for visiting insideracing.com.ph. You may express your thought below through the comment section. You may also follow us on Facebook, on Instagram @Insideracingnation or on our YouTube channel.