BIG GRID FOR MTRT RACE AT CLARK
Date posted on July 18, 2015
Share this
Aside from the national superbike, underbone and scooter races and the MotoIR race, the third round of the Philippine Motorsports Championships last July 5 also featured the MTRT Club Race which got tremendous support from riders as 44 riders registered for the race class.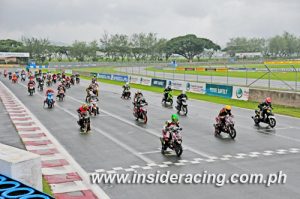 It was a sight to behold seeing the grid of the MTRT race at the Clark International Speedway. Mr. Henson Hu of MTRT as well as well known endurance rider Mr. Glenn Bellido and Mr. Juno Villanueva of Motor Ace joined in the fun and also participated in the race.

5 winners were awarded in the Master class and 10 victors were recognized in the club race. All of them received trophies and other freebies from MTRT.