"Blossom" Yamaha Fino Triumphs in Bacolod IR Bike Show
Date posted on April 16, 2020
Share this
Overall Best in Show, Best Thai Concept and Best in Paint awards at the 3rd InsideRACING Visayas Bikefest Custom Bike Show competition were won by one entry – the Yamaha Fino of Angelo de Borja which was named Blossom.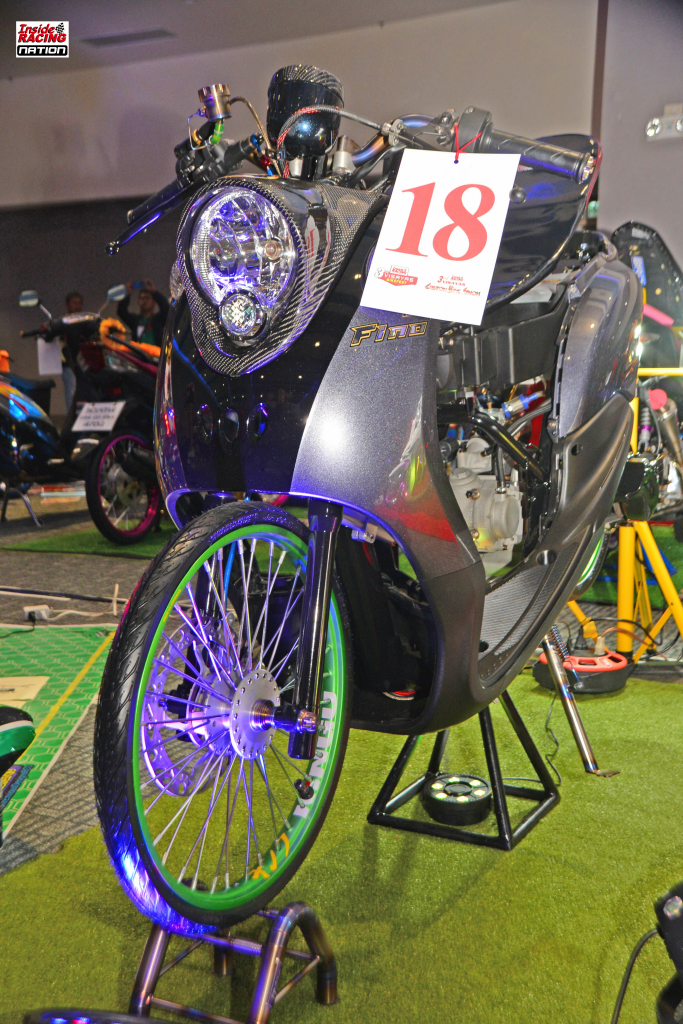 Angelo de Borja from Bulacan got into bike modification in 2014. He now has a motorcycle shop named Xanderella Customized in Bacolod. He has entered Blossom into different bike show competitions in Bulacan, Iloilo and Cebu and at the 3rd InsideRACING Visayas Bike Fest held at SMX Convention Center Bacolod on July 13 and 14. Angelo is a member of bike modification group THDM Elites.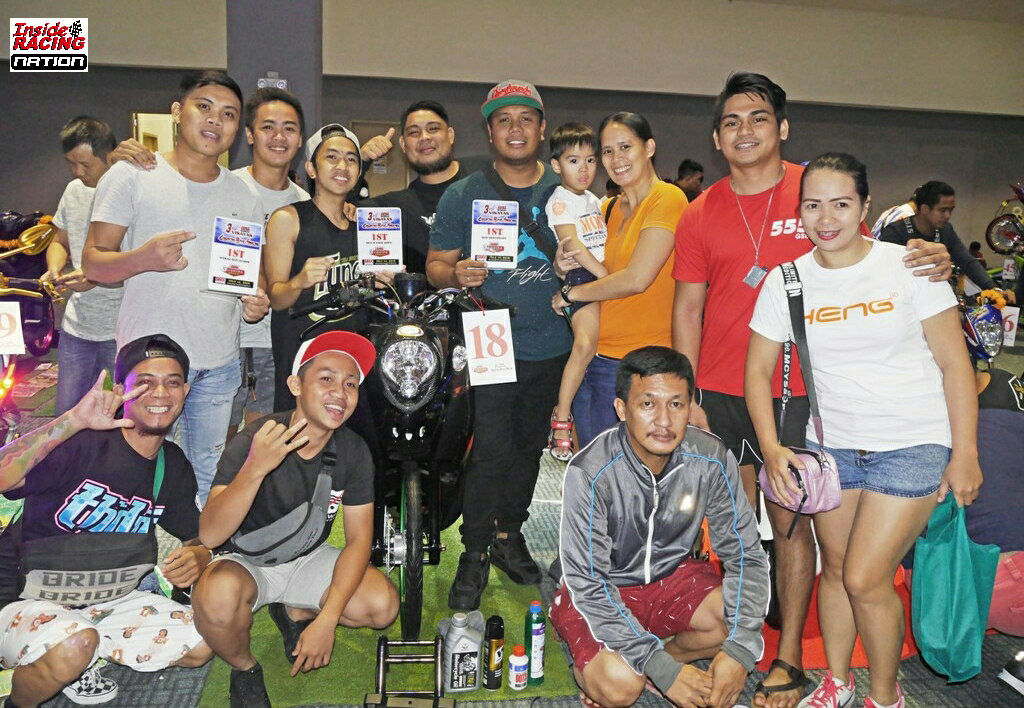 One of the challenges for Angelo in building Blossom was logistics. He has to travel to Manila and other places to upgrade the engine. But this was all worth it as he gets enjoyment, happiness, experience and self discipline in his participation in motor shows. He also enjoys travelling.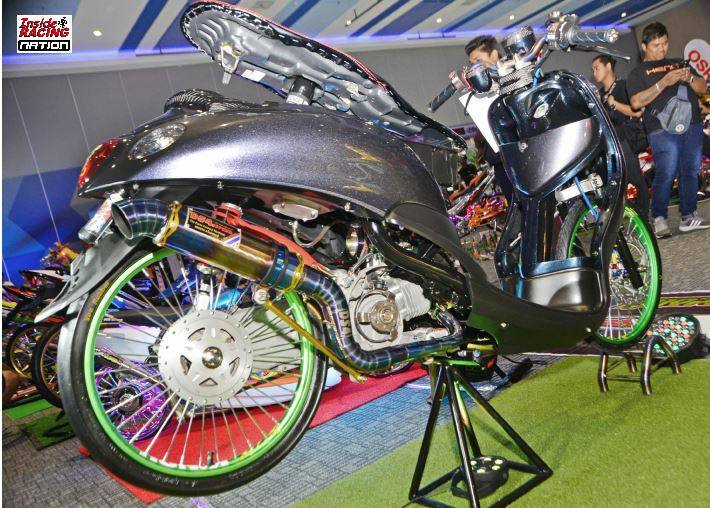 Blossom is indeed a well thought out, intact and detailed bike and the attention to detail and smooth paint finish made the keen-eyed judges at the 3rd InsideRACING Bikefest Custom Bike Show unanimously agree that this is the overall winner. Some parts in the bike are imported from Thailand. Angelo did not just pour out money in modifying Blossom, he and the team behind this bike carefully thought out and planned every detail to achieve his desired outcome. At first look, you might think that Blossom is just a simple bike but once you touch it and see the details, you will be amazed.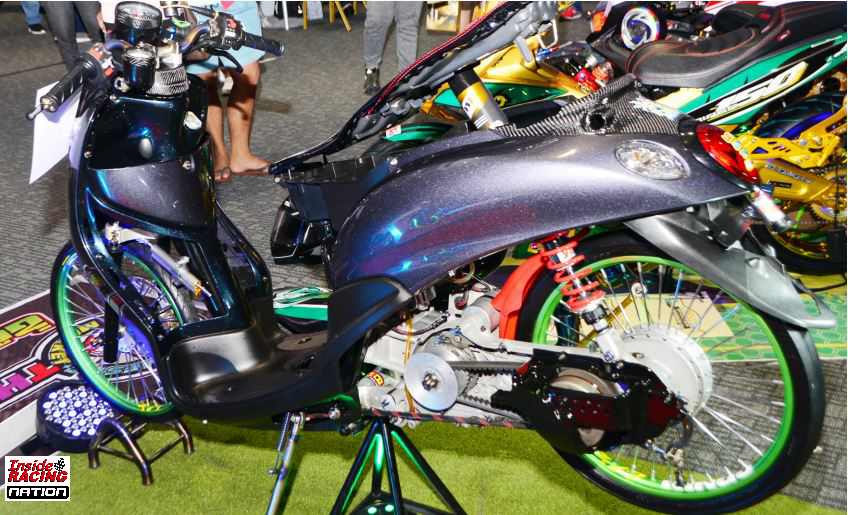 "Gusto kong pasalamatan ang asawa ko sa walang sawang pagsuporta sa akin, ang pamilya nya, ang mga anaki ko na sila Xander, Xandrienne and Ate Love at ang mga kaibigan na andyan at sumusuporta sa bawat show. Special thanks to Paul Agustin dela Cruz, Jerick delos Santos, Daniel Lualhati, Gravador (Dempol Works), Jemabang Works, Jhobalistick, Khimpoy, Brian Philip, Egay, Veljim, Brent, Riel and Elmer. For the parts, I would like to thank Japhet Alfonso, Jayson Ibay, Felix Go, Japz Guamasing, Nathan Sy, Renz Mateo, Slow Cruz, Dongski Maldito, Alphon Thailand and Jose Lucas. Thanks to THDM Elites, our President Niño Ferdie Galang (Prime Time), King G-Ar Garcia and PJ Herrera (Boy Satanas)," shared Angelo.

For his fellow builders, Angelo urges them to never give up and never lose hope. He also started from zero and lost hope but he rose and fought and eventually succeeded.
Parts and Accessories Used:
Fairing from Thailand by Jonathan Baldorado
Original mini GP caliper
Original Daengsai 4 big tip
Original Ohlins stabilizer
IT Salaya handle clamp
IT Salaya lever bolts
IT Salaya clamp bolts
IT Salaya throttle bolts
IT Salaya handlebar
IT Salaya lever clamp
IT Salaya fluid cap
IT Salaya bar end
IT Salaya banjo bolts
IT Salaya caliper bolts
IT Salaya front axle nut
IT Salaya disk bolts
IT Salaya tire cap
IT Salaya wire clamp
IT Salaya head nut
IT Salaya pipe nut
IT Salaya 99% engine bolts
IT Salaya rear nut bolts
IT Salaya oil nut
IT Salaya gear oil nut
IT Salaya break arm
IT Salaya pulley nut
IT Salaya tire cap
IT Salaya hub and mile
IT side stand
Heng bolts and bolts on
Yayamanin body bolts
Original carbon gauge
Original carbon headlights
Original JRP seat
Original JRP alloy tank
Original Earl's hose
Original Daytona switch
Original Domino throttle
Resized hub with original Kingu big logo green
Vee Rubber street bike/drag tire
Alloy swing arm
Alloy SPS t-post
Original YSS OZ street bike/ngo
5VV engine sand blasted coat
5VV pulley
5VV drive face
5VV lighten magneto
5VV coil
5VV crankcase
5VV crank shell
5VV crankshaft
5VV magneto
5VV head
5VV bell
Engine specs: by Paulpaintracing from Sta. Maria Bulacan and Meck of Jayrcambaog
Revalve 24/28
5VV block resleeve 59
Rod 12
Pin 5
Gasket 25mm
Stock cam regrind
This was published in InsideRACING Magazine's Volume 17 Number 7 issue