BMW Motorrad's Mangulabnan Grabs Double Wins in PSBK Round 4
Date posted on August 10, 2016
Share this
Marvin Mangulabnan had a stunning performance at the Clark International Speedway last August 7, winning the Prefinal and Final races of the Pirelli Philippine Superbike Championship's fourth round. Mangulabnan who hails from Bulacan brilliantly worked his way to get the checkered flag in both races sanctioned by the Superbike Racing Association.


In Race 1 Mangulabnan almost had a high side crash as the track was slippery but he managed to control his bike and fought his way in front after falling to fourth place at one point of the race. The BMW Motorrad rider took his competitors Dashi Watanabe and Raniel Resuello and pressured race leader Troy Alberto. Mangulabnan successfully took the lead after some laps and won the race and the Expert class. Runner-ups were Raniel Resuello of the RGutz-Wheeltek Racing Team Fueled by Clean Fuel Powered by Kawasaki and Dashi Watanabe of Kawasaki-Motorad-WRD-Gulf. Troy Alberto of Ducati-Bachhus was the winner in the Intermediate and Novice classes while Jay Carrion of ATAT Racing Team took the victory in the Master category.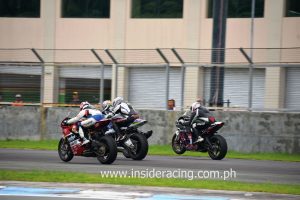 Race 2 saw Mangulabnan's aggressiveness once again as he overtook Troy Alberto for the second place and then took the lead from polesitter TJ Alberto of Ducati Bacchus. After getting the lead, Mangulabnan started to pull away for a comfortable win. Dashi Watanabe managed to get the better of Raniel Resuello and finished second to Mangulabnan in the Expert class. Resuello placed third. Troy Alberto once again topped the Intermediate and Novice classes. John Defensor of Ducati was the winner in the Master class while Race 1 victor Jay Carrion placed second.

Heading into Round 5, Mangulabnan now leads the standings in the Rider of the Year and Expert class with 157 points. TJ Alberto was second in the Expert class with 153 while Dashi Watanabe is third with 149 points. TJ is still the leader in the Intermediate category with 162 points while his brother Troy is on top of the Novice rankings with 163. Jay Carrion ranks first in the Master class with 127 points.
Full report on InsideRACING's Volume 14 Number 9 issue.
The 5th round of the Pirelli PSBK is on September 3-4 at the Batangas Racing Circuit.