British "Mod" Culture –inspired Honda Scopy from Kinasang-an Pardo, Cebu
Date posted on July 11, 2018
Share this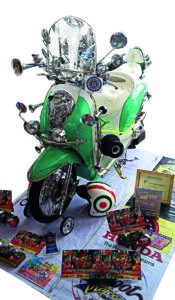 Honda Scoopy inspired by the British "Mod" culture which flourished during the 60's.
Mod" is a subculture that began in the United Kingdom in the 1960's and spread, in varying degrees, to other countries and continues today on a smaller scale. Focused on music and fashion, the subculture has its roots in a small group of London-based stylish young men in the late 1950swho were termed modernists because they listened to modern jazz, although the subculture expanded to include women also.
One of the significant elements of the mod subculture was their scooters (usually Lambrettaor Vespa). "Mods" treated scooters as a fashion accessory. Italian scooters were preferred due to their clean-lined, curving shapes and gleaming chrome. For young mods, Italian scooters were the "embodiment of continental style and a way to escape the working-class row houses of their upbringing". Mods customized their scooters by painting them in "two-tone and candy flake and over accessorized [them] with luggage racks, crash bars, and scores of mirrors and fog lights". Some mods added four, ten, or as many as 30 mirrors to their scooters. They often put their names on the small windscreen. They sometimes took their engine side panels and front bumpers to electroplating shops to get them covered in highly reflective chrome.
The scoot is owned by Joseph Navarro of Kinasang-anPardo, Cebu. He is a buy and sell businessman. He started modifying his Honda Scoopy since 2014. The scoot has underwentseveral modifications throughout the years until it reached its current state.
Joseph wanted to enhance the classic-inspired base of the Honda Scoopy, so he tried to stay true to the "Mod" culture starting of with the Mint Green with white 2-tone paint job which was done by JCan Paint Works. From there he had Chrome crash bars installed as well as 4 fog lamps and 6 side mirrors, aside from that he installed 6 squeeze bulb horn trumpets to complete that "Mod"Culture look. All chromed components were done by Chrome Dazzler. To achieve that classic look, he replaced the stock scoopymags with chrome rims, spokes and hubs. He also had a custom white leather seat specially made for the scooter. Then he had a windshield installed which really enhanced the classic look of the bike. For the exhaust he had a custom-made exhaust pipe specifically made for his scoot. He also had a chrome carrier rack installed which comes with a backrest for the passenger.
Joseph is one of many who are part of this reemergence of the classic bike/scooter culture which is making a roaring comeback. They are in a way passing the torch to the next generation and opening their world to this fascination towards classic scooters as more and more young individuals are joining these classic bike/scooter clubs. He is also a steady fixture in the local bike show scene wherein he shares his passion towards classic-styled scooters.
"I would like to thank Cebu Scoopy Club, DanBulayer, BlakeleysMotorcare, Felicity Scoot, JCan Paint Works, Vismotor and InsideRacingMagazine for this opportunity to be featured in your prestigious magazine,"Joseph expressed his message of thanks to close our interview.
MODIFICATIONS
HONDA SCOOPY
Parts and Accessories Used:
• Scoopy aftermarket windshield
• Custom-made leather seat
• Scoopy headlight cover
• Custom-made chrome body frame crash bars
• Custom-made chrome fog lamp carrier crash bar
• Classic side mirrors
• Squeeze bulb horn trumpets
• Carrier rack with backrest
• Custom-made exhaust pipe
• Classic-style fog Lamps
• NUI racing parts and stainless bolts
• DTD chrome hubs
• Stainless steel chrome mags
• Chromed alloy rims