Capcom Mega Man Zero-Inspired Honda XRM 125 from Talisay City
Date posted on January 10, 2019
Share this
This modified Honda XRM 125 inspired by one of the iconic characters from Capcom's, Mega Man Zero certainly brings fun memories during your teenage years playing in the arcade or favorite gaming center in the city.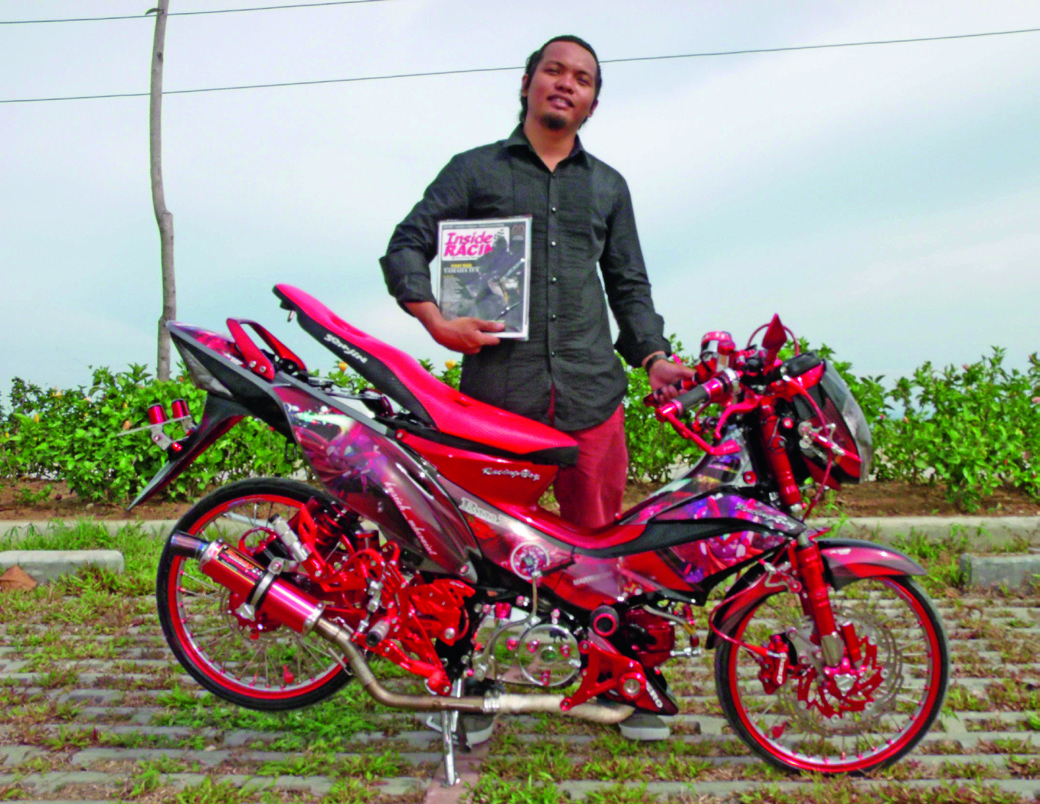 Mega Man Zero is actually known as "Rockman Zero" in Japan. It is a series succeeding the Mega Man X storyline and a series in Capcom's Mega Man video game franchise. The bike is owned by Isaac C. Saranillo, an Assistant Design Architect from Talisay City, Cebu. "I choose the theme Mega Man Zero or Black Magma Zero because the character "Zero" has a black version. He can emulate the powers of magma which when it comes to my bike, it is like heat attraction to people. Hence, I dubbed my bike as "BMZ". I really like this game especially its character "Zero". I really enjoyed playing it when I was a kid. Besides that, I am addicted to this stuff, I also looked at the features of this character that may match to my  accident which proved to be painful and a big setback to his project bike.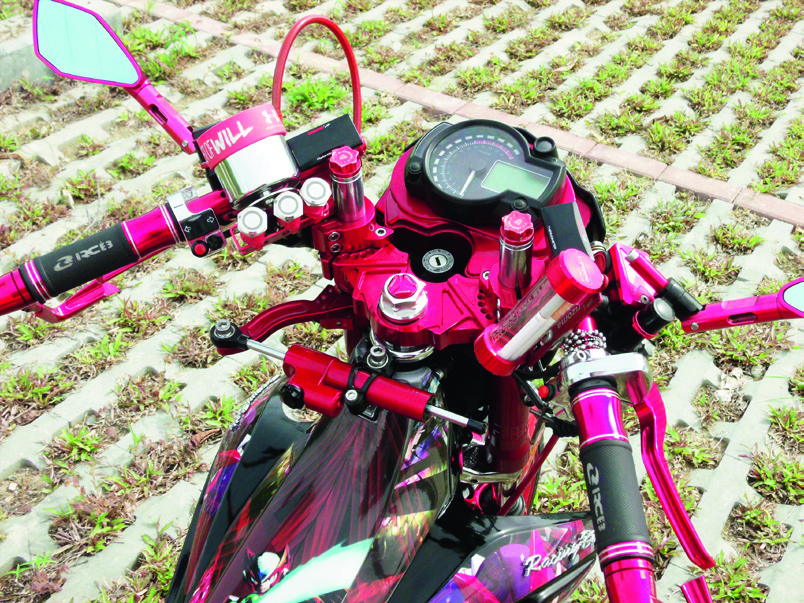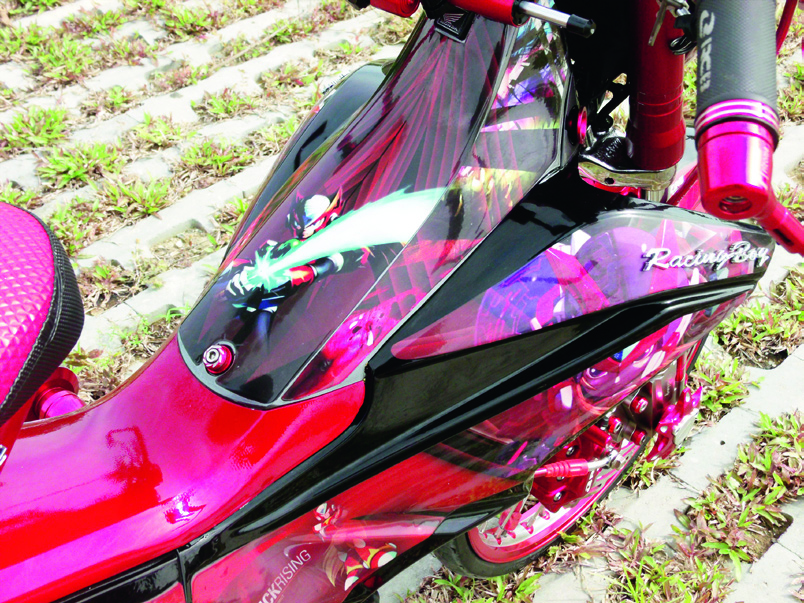 The modifications he had accumulated were greatly damaged not to mention that Isaac was also admitted in a hospital to recover from his injuries. He was right on the brink of giving up but his love and passion for motorcycles really put him on course to continue to pursue building his dream bike. Unlike other bike builders out there who have the advantage of manpower resources, work on this bike was only done of a 2-man team comprised of Isaac himself and his cousin Michael Joseph V. Duran who has been there since day 1. They both have a goal of participating in the biggest show bike competitions in the region. The bike is daily driven so there is always a risk of an accident but slowly but surely the tag team of Isaac and Michael were able to complete the project. Now the bike is actively participating in bike show competitions in the region and is steadily racking up trophies, a testament to the hard work and dedication they have invested in the bike.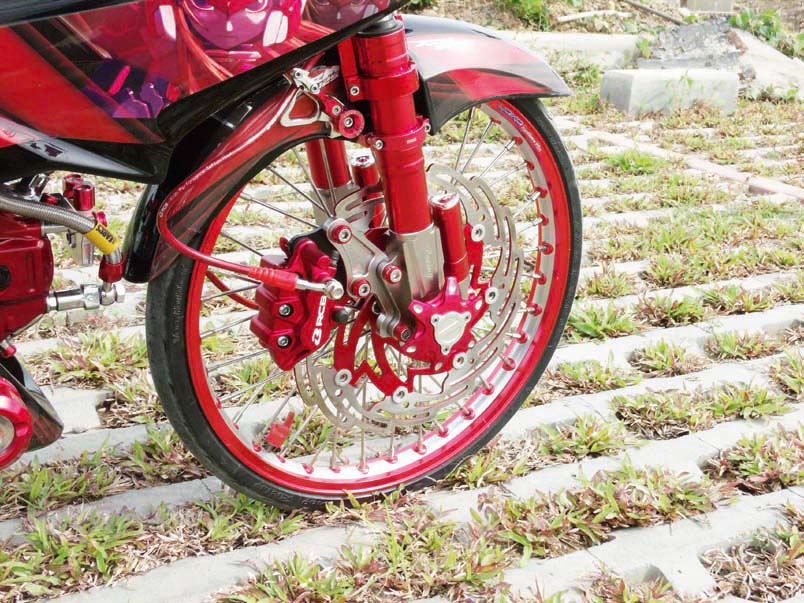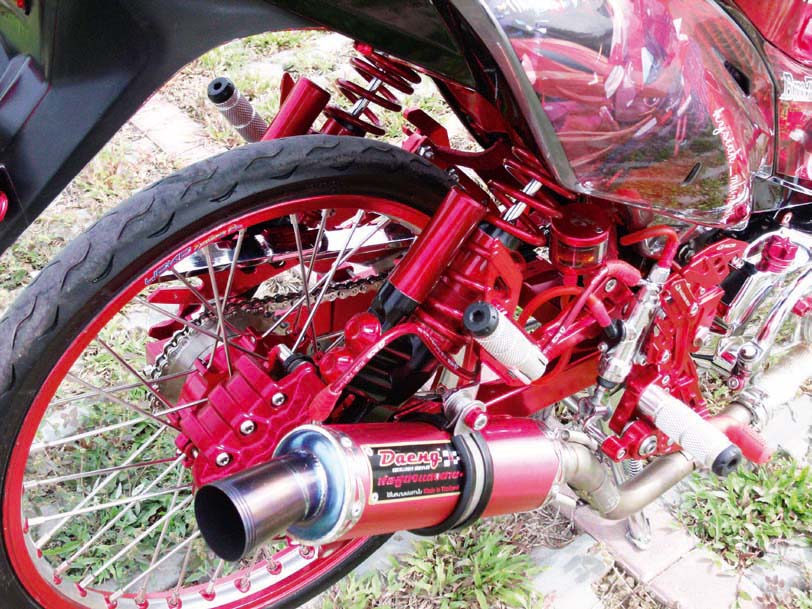 The bike sports the Megaman Zero Black Magma full body panel decals which carry the theme. It also sports a wide array of Racing Boy aftermarket parts and accessories such as the S-line handlebar, V3 rear set, frame cover, rear fluid tank, front/rear brake hose, handle grip, chain tensioner, toe guard, V2 fork stabilizer, front/rear brake caliper, brake lever, lever pad, brake switch, emblem and bar ends. They also installed a wide assortment of THDM aftermarket parts such as the Bikers fluid tank cover, Bikers oil dipstick, Bikers chain guard, Koso left handle switch, Koso digital voltmeter with clock, Koso digital thermometer, Uma quick throttle, Uma carburetor, Orbr oil coiler, Orbr swing arm, Option 1 steering damper, Option 1 center nut, Koza front/rear flower hub, Koza front/ rear disc plates, Osaki chain, Osaki sprocket set, Osaki spokes, Yoko excellence front/rear rim wrapped with Vee Rubber tires, Rizoma lever guard and Rizoma V2 side mirror. For the suspension, Isaac and Michael installed TTGR rear shock and front outer tubes.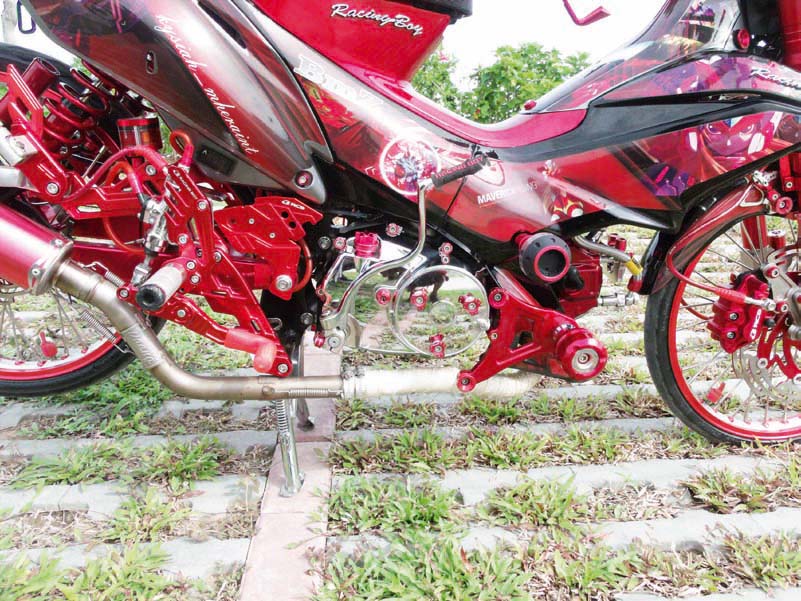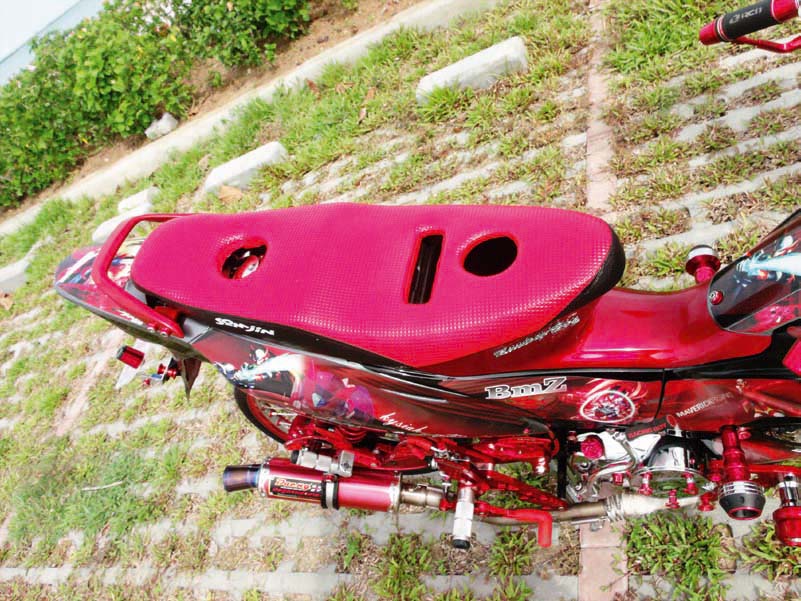 Isaac has this message to close our interview, "First, I would like to thank my cousin Michael Joseph V. Duran for being there always to help, support and assist me in modifying my bike. A large part for the success of this project is really credit to him. Thank you to Mr. Raffy A. Torres for offering your vehicle as transportation for my bike when we were joining competitions. For the great ideas of some extreme conversion, I acknowledge Mr. Ronald William Capistrano, one of our group admins, for his excellent ideas about some extreme conversion and also for his good advices and encouragement. Thanks also to my other co-admins of the group "Xrm Trinity Philippines", namely, Mr. Ralph Kirby Ricablanca, Mr. Julius Karl Liquigan, and Mr. Hector Demeterio for supporting me. Thank you for your ideas, encouragement and good advices. To some friends out there from HXGC Group, namely, Arjay, Onin, Jerwin, Binlads, Binoi, Jojo, Jesson, Ramz, Jorge etc. thank you so much for the big support. Thank you also Mr. Choy Collamat for your inspiring words and the low cost items you offered. Thank you to Mr. Renren Geray and Mr. Kevin Shino for my decals and paint. CQE for chrome parts and Mr. Jubal and Buyog from Motofix for some conversion especially bracketing with great analysis and theories applied. To my family and friends, thank you so much for the compliments and awesome words. Thank you InsideRACING magazine for this opportunity. Lastly, I would like to thank my soon to be wife Ms. Jill Vina S. Lee and my lovely daughter Kyia Mherou for supporting me and BMZ even though it is a very costly hobby. You are always there comforting me during my setbacks. Thank you for your very big understanding. Thank you for your encouragement to fill me up when I'm down. I love you both."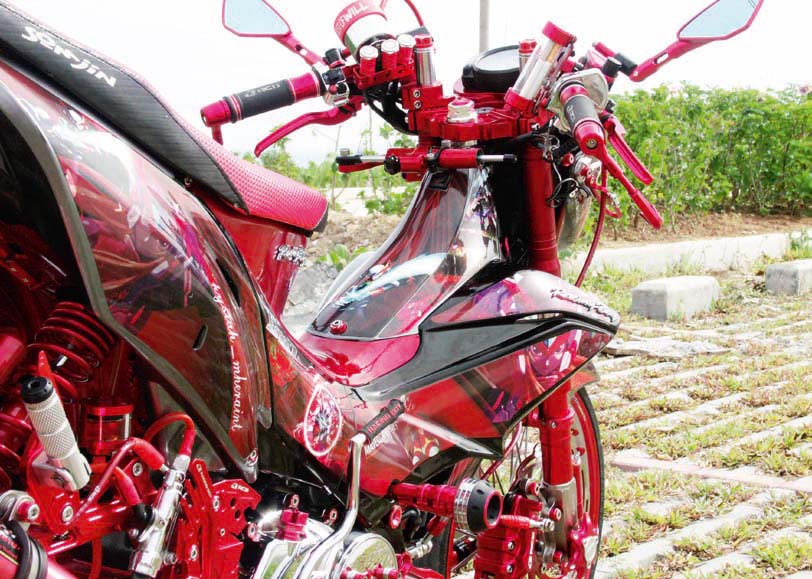 MODI FICATIO NS
honda XRM125
Parts And Accesories Used:
Racing Boy S-line handlebar
Racing Boy V3 rear set
Racing Boy frame cover
Racing Boy rear fluid tank
Racing Boy front/rear brake hose
Racing Boy handle grip
Racing Boy chain tensioner
Racing Boy toe guard
Racing Boy V2 fork stabilizer
Racing Boy front/rear brake caliper
Racing Boy brake lever
Racing Boy lever pad
Racing Boy brake switch
Racing Boy emblem
Racing Boy bar ends
Bikers fluid tank cover
Bikers oil dipstick
Bikers chain guard
Koso left handle switch
Koso digital voltmeter with clock
Koso digital thermometer
Uma quick throttle
Uma carburetor
Orbr oil coiler
Orbr swing arm
Option 1 steering damper
Option 1 Center nut
TTGR shocks
TTGR outer tubes
Koza front/rear flower hub
Koza front/rear disc plates
Osaki chain
Osaki sprocket set
Osaki spokes
Yoko excellence front/rear rim
VEE-rubber tires
Rizoma lever guard
Rizoma v2 side mirror
K-tech washers and caps
Tupaknam washers and caps
Bikers washers and caps
Stainless bolts, washers and nuts
Dual Led projector