Captain America-inspired Honda CBR150 from CDO
Date posted on February 3, 2020
Share this
This bike is inspired by one of the most iconic and beloved characters from the Marvel Universe, Captain America.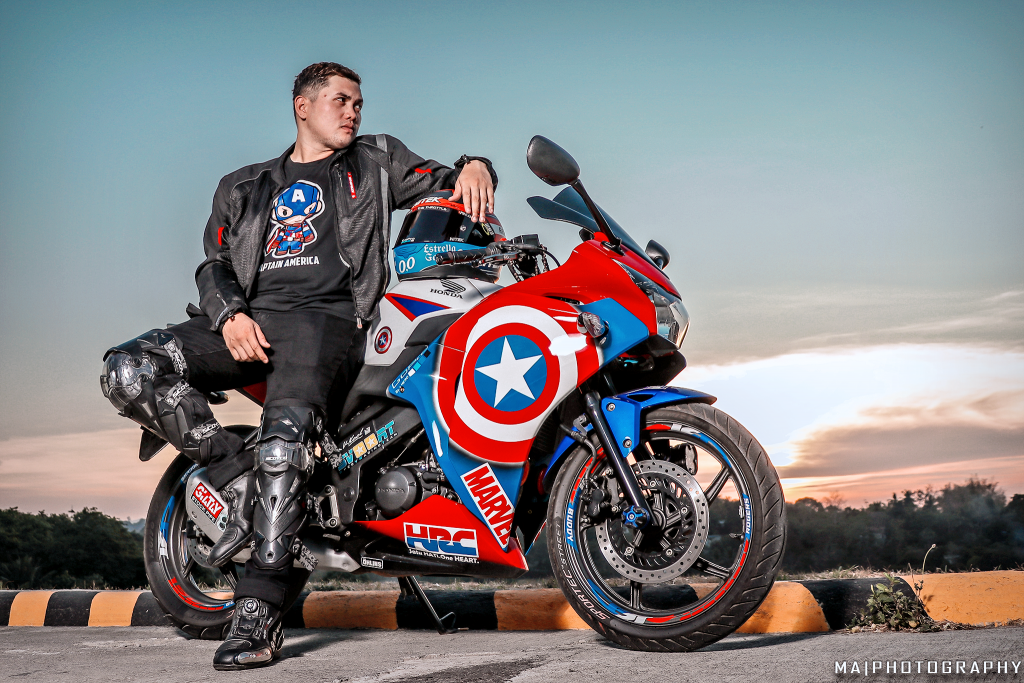 The character was created by cartoonists Joe Simon and Jack Kirby and first appeared in Captain America Comics #1 (dated March 1941) from Timely Comics, a predecessor of Marvel Comics. Captain America was designed as a patriotic supersoldier who often fought the Axis powers of World War II and was Timely Comics' most popular character during the wartime period.
The popularity of superheroes waned following the war and the Captain America comic book was discontinued in 1950, with a short-lived revival in 1953. Since Marvel Comics revived the character in 1964, Captain America has remained in publication ever since and has hit the movie screens via Marvel Cinematic Universe. This iconic character has endured since 1941 up to present times.
The bike is owned by Karlo Henri Lim, a motorcycle enthusiast based in Cagayan de Oro. He has been riding motorcycles since he was 10 years old. The base bike is a Honda CBR150. He fondly calls his bike "Captain Rogers" an ode to Steve Rogers, Captain America's alter ego. Henri is currently working in the Provincial Capitol of Misamis Oriental as a liaison officer. He started modifying bikes since he met Clint Cadiz of NuFormz Garage in 2012 and he never stopped ever since, starting with his Honda XRM110 until his present bike Honda CBR150.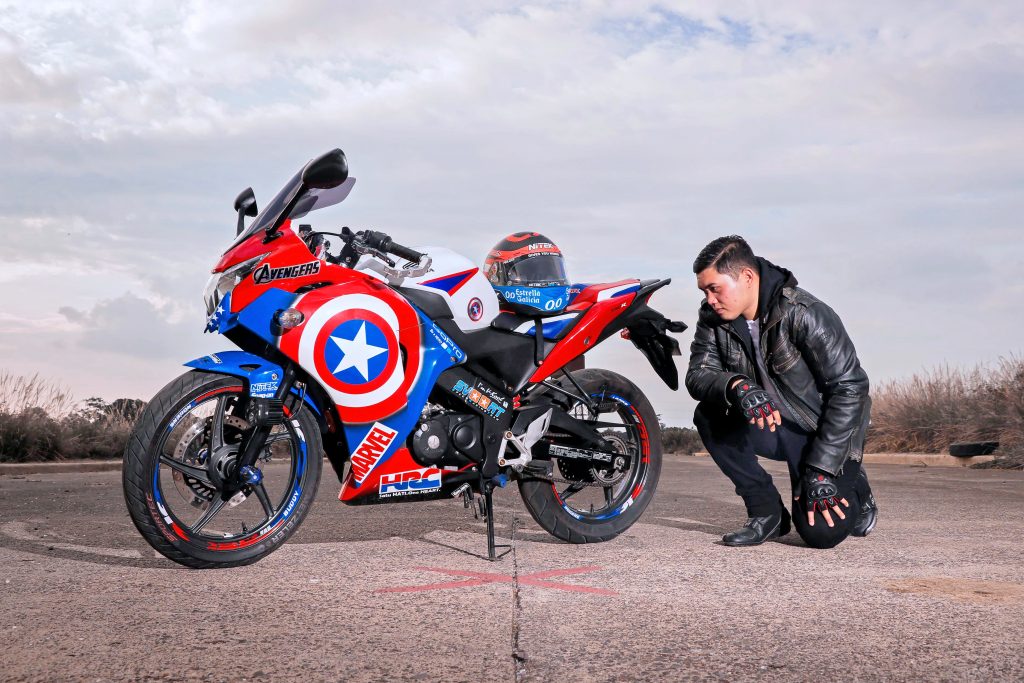 "One of the most satisfying things in riding this bike is yung nililingon ka talaga sa highway and when we are stopping below the traffic light, tinatawag ka ng nasa jeep at ibang sasakyan, kahit taxi napapabukas ng bintana. "Idol ganda ng motor mo pwede piktyuran? " Tapos yung sinasabihan ka ng "lupet ng motor mo paps, pang show yan tapos malapit mo nang matapos mag-ikot sa Mindanao". Nakakagaan sa kalooban kasi dito sa Mindanao uso ang crab mentality lalo na sa motorcycle scene. By the way, nadadala ko si CAP kahit saan ko gustong mag-travel and unwind. Isa siya sa katuwang ko sa buhay and he is my baby brother," Henri shared during our interview.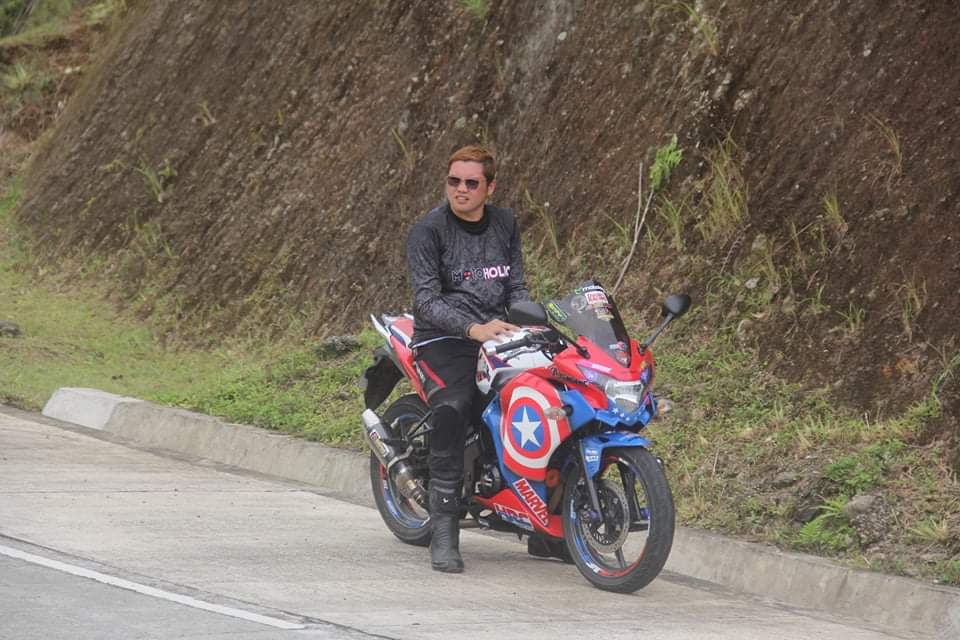 The bike is set up as a sport touring motorcycle. It features a double bubble visor, custom winglet and custom belly pan. For night riding, the bike is equipped with F2 Cree headlight laser gun. It sports touring tires and custom Captain America airbrush paint job with X3 ceramic glass coating. The bike also has Bikers axle sliders, Bikers brake and clutch levers and Bikers bar-end sliders.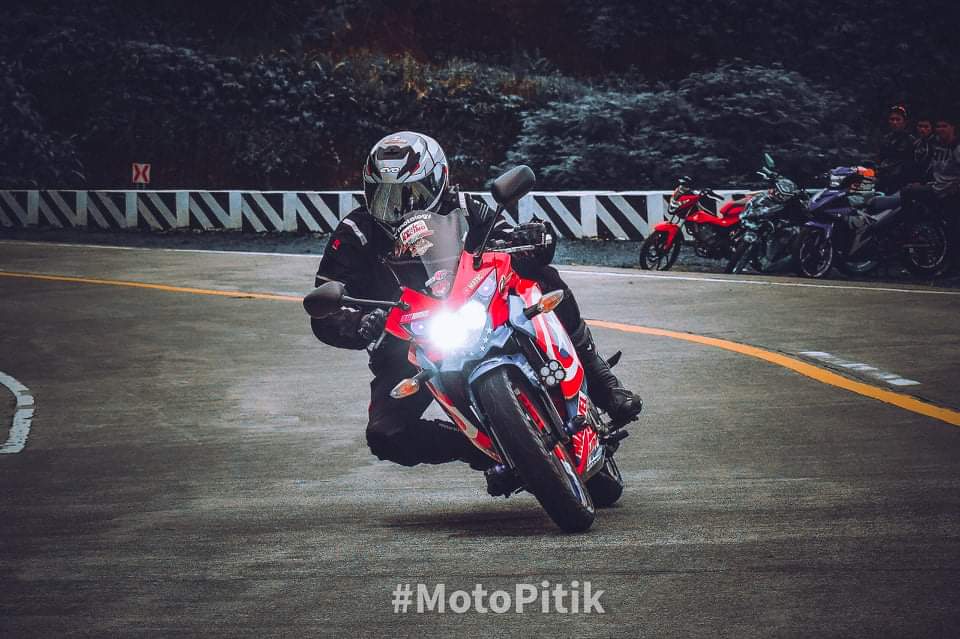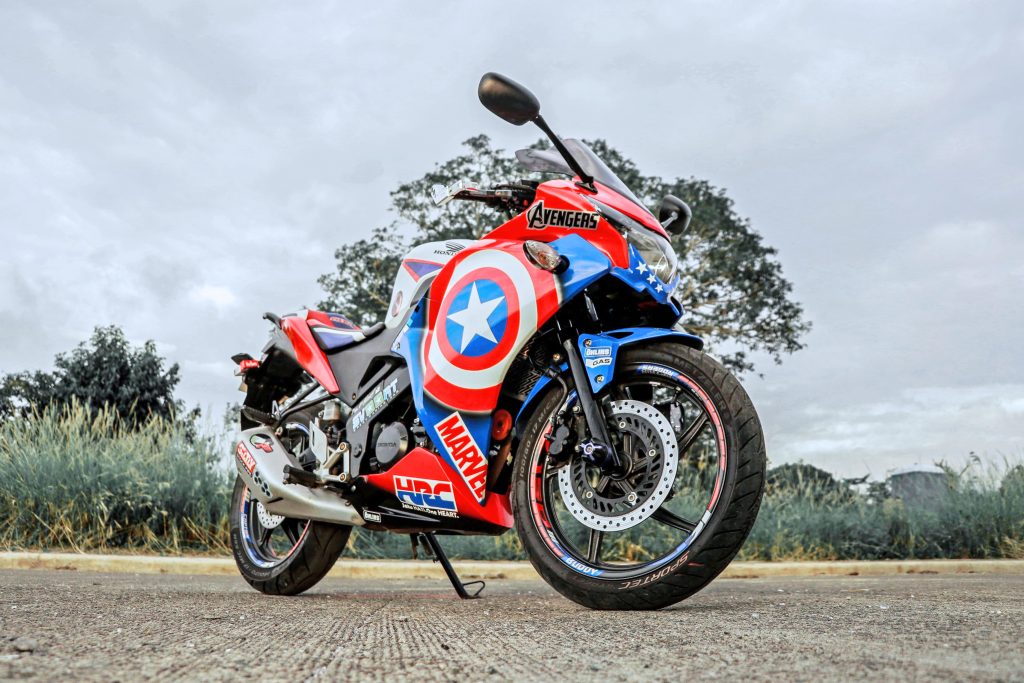 "Thank you Lord God Almighty sa lahat ng blessings na binuhos niyo sa akin. Thanks to my Mama Carol who's always been there to support me unconditionally. I love you po, maraming salamat. Thank you so much Mr. Clint Cadiz of Nuformz Garage for tuning my Bike, my mentor, best friend and brother Remy of Obsession Painthouse CDO, my one of a kind master painter and Cesar "Sarci Mr. Electric" Toledo of Motorplus for the electricity lights and wires, United Bearing and Amsoil Philippines na palaging bukas para sa akin. Shoutout to XRM Bikers Club CDO Kuyas and Ates, Honda CBR Bibiboyz Club CDO Brothers, MIXBREED PH Family, Scooters Touring Club bosses, Federation of Motorcycle Clubs in Mindanao (FMCM), NuFormz Garage Family Team, Truecycle Hub, MOTOLOGY, MotorPlus, John Meek Roquillo, Detailed Wurkz and Ceramic, AXGT Stance and Thai Shop, Cyril Caińa and the rest of Stance Cagayan-De-OLow, Michael Abogado Photography, SARA Family, and of course InsideRACING Magazine. Thank you for having me. It's my pleasure! More power sa entire InsideRACING family," Henri expressed.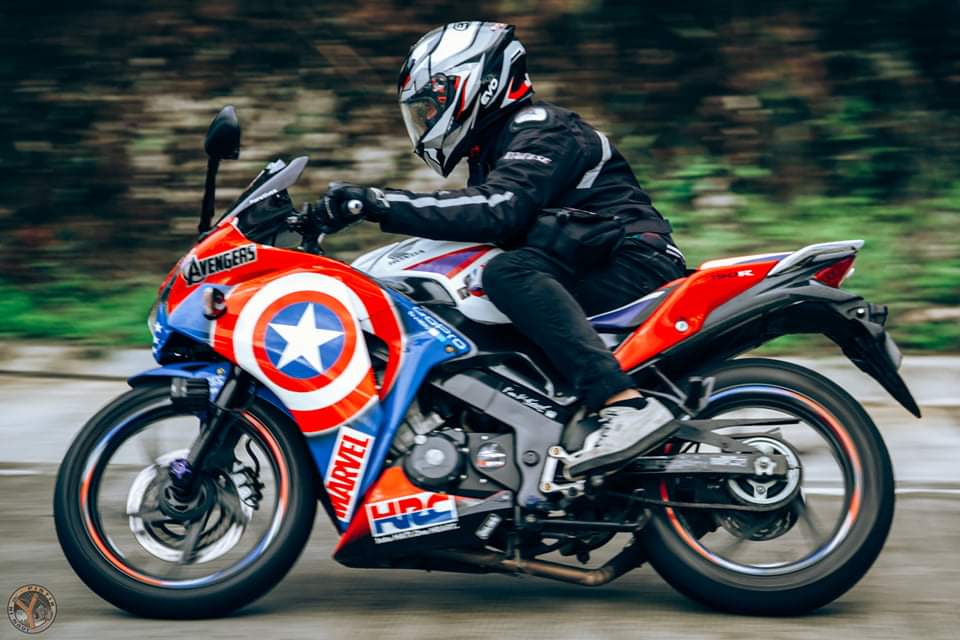 "Nadadala ko si CAP kahit saan ko gustong mag-travel and unwind. Isa siya sa katuwang ko sa buhay and he is my baby brother. " – Karlo Henri Lim
Modifications: Honda CBR150
• Double bubble visor
• Custom winglet
• Custom bellypan
• F2 Cree headlight laser gun
• Touring tires
• Custom Captain America airbrush paint job
• X3 ceramic glass coating
• Bikers axle sliders
• Bikers brake and clutch levers
• Bikers bar-end sliders
*This article was published in InsideRACING's Volume 17 Number 11 2019 issue.