Castrol Activ Underbone Grand Prix
Date posted on November 20, 2012
Share this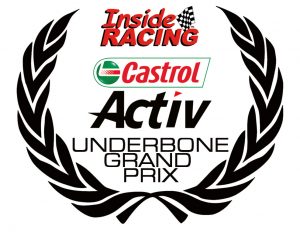 Castrol Philippines is proud to be the class title sponsor for the Underbone Grand Prix in the Sixth Annual Motolite Inside RACING Grand Prix (IRGP6) to be held on November 23-25 at the historic Carmona Circuit Philippines in Carmona Cavite.
The Castrol Activ Underbone Grand Prix will be contested by Novice and Expert riders currently competing at the highest level in local racing. Using underbone motorcycles up to 130cc displacement and with Open machine modifications based on IRGP rules, it is one of the most competitive underbone racing class in IRGP.
The "Motolite InsideRACING Grand Prix" is the biggest annual year-end tradition for the country's motorcycle road racing fans as it aims to provide a "GP" style race event to the local racers and teams. It is a prestigious annual event where top local racing teams and riders participate. It is sanctioned by the Underbone and Scooter Racing association (USRA).
The new Castrol Activ 4T with special Actibond Molecules is modern, high quality engine oil designed specifically for 4-stroke engines. It is specially formulated to protect your bike no matter what. Actibonds cling to your bike engine and provide it with maximum protection during engine start-up when maximum wear occurs. Actibonds continue to protect your engine during the ride ensuring it stays free of any carbon deposit. Lastly, Actibonds clings to your engine and does not drain off engine parts during the night when the bike is not in use thereby protecting your engine from humidity which rusts engine parts.
Castrol Activ 4T protects your bike even when the engine is off. Actibonds cling on, so you ride on! Castrol understands the role your motorcycle plays in your life. It is the vehicle that carries your family, your hopes and dreams. Your vehicle is also there to allow you to make a living, to get you to the places you need to be, and to let you escape, when you need a moment. Castrol understands your ride and that's why Castrol gives everyone more than just oil.
Provisional Entry List

	Bike #	Underbone GP		Team
1	4	Romer Corbe		Ebroc Racing
2	7	Gideon Cenina		Effa Moto Racing
3	9	Gerald Cruz		DSF
4	21	Jovane Miòano		Raul-J/Jad/Eneos
5	52	Anthony Roman		Castrol / Dudshop
6	56	Michael Altamira	KSR Perf. / RK Racing Sprockets
7	82	Gerald Jae Nuòez	Moto JT
8	99	Michael Dela Cruz	Motortrade-Eneos
9	119	Raniel Resuello		RAR / Kawasaki
10	123	John Allen Mendez	Kymco
11	190	Marcko Deliganzo	MDR
12	321	James Aldrin Mendez	Kymco
13	619	Tracy Soyangco	        Replica Pro