Celebration of a Victorious 2019 for Suzuki-VMan
Date posted on February 3, 2020
Share this
Suzuki Philippines recognized and rewarded Team Suzuki-VMan for its victorious campaign in the 2019 racing season. An intimate gathering was held at The Mills Country Club in Laguna to celebrate the success of the team.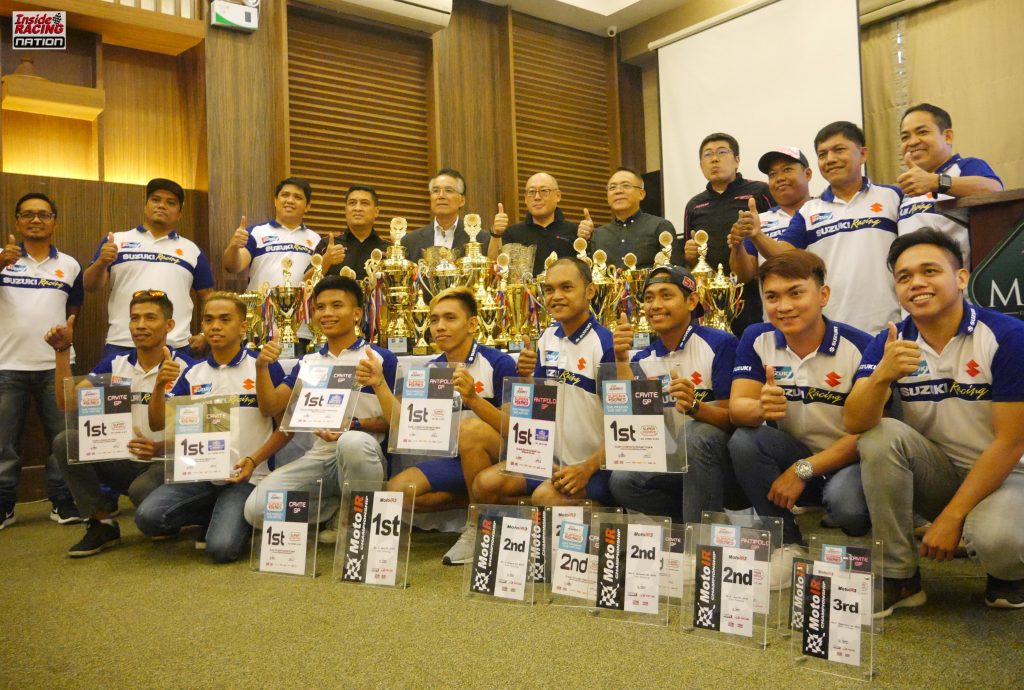 Present were Suzuki Philippines' executives led by its President Mr. Akira Utsumi together with Managing Director/Treasurer Mr. Boying Mojica, General Manager for Motorcycle Sales and Marketing Mr. Jun Bulot, Vice President/General Manager of Automobile Division Mr. Keiichi Suzuki, National Sales Manager Mr. Mitsunori Shiraishi and Motorcycle Marketing Head Mr. Monch Bontogon.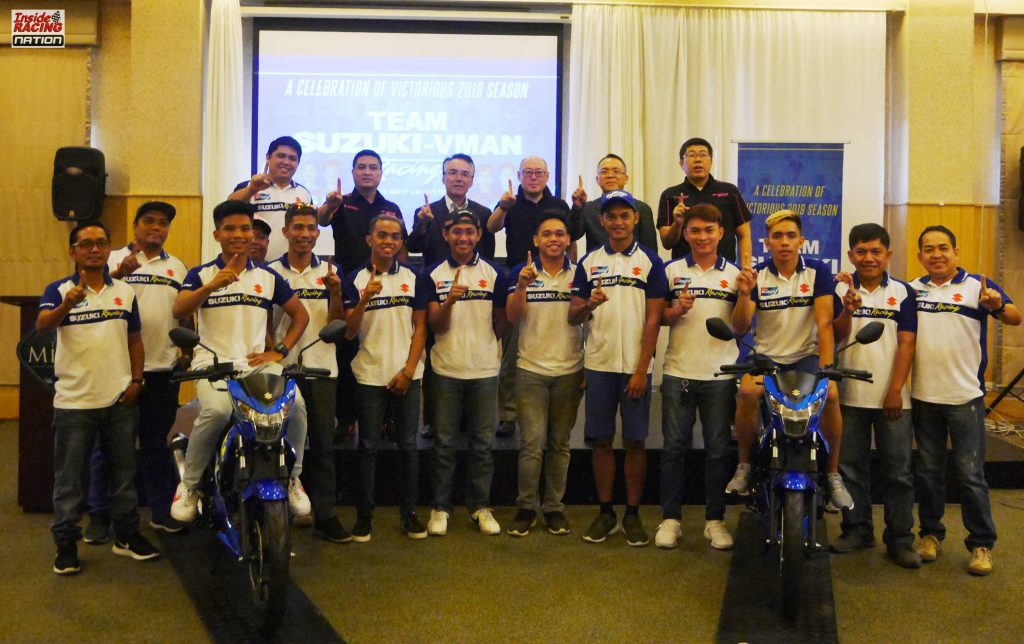 Awarded and rewarded were Team Suzuki-VMan racers April King Mascardo, Eane Jaye Sobretodo, Nikko Nambatac, Rmand Salandanan, Mark Djereck Ondillo, Roel Rubin, Mark Santos and Jaypee Obedencio. Team Suzuki-VMan's Manager Mr. Gerald Sobretodo also received the reward of the team.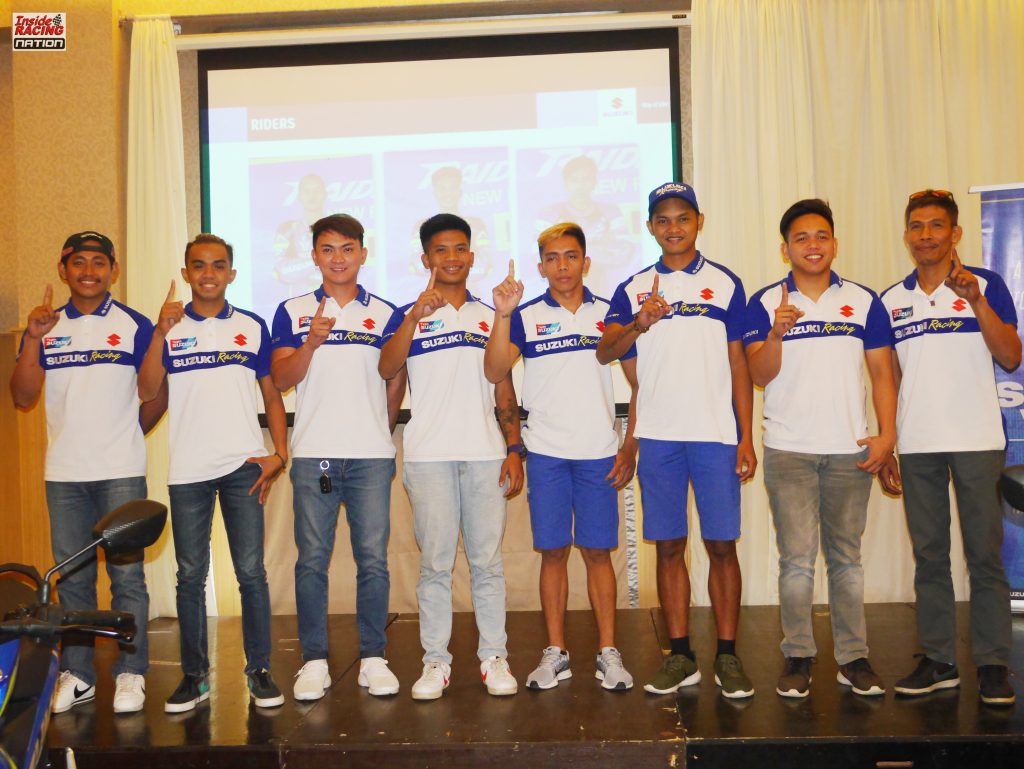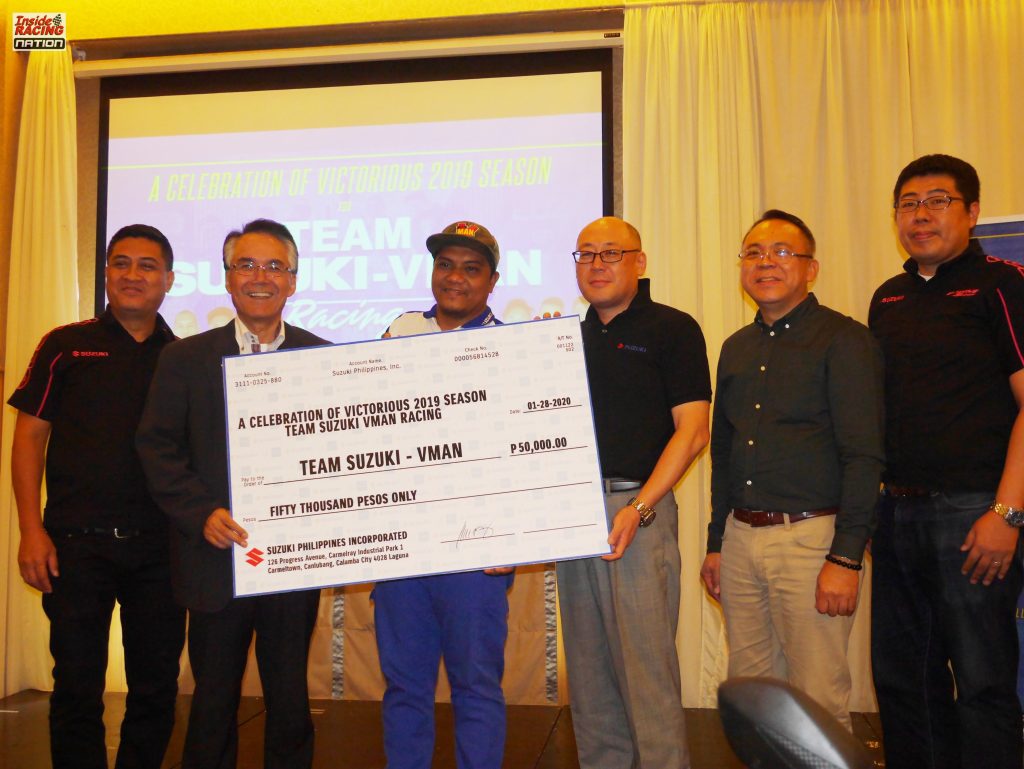 Mascardo on the Suzuki Raider R150 dominated the Super Series Nationwide Championships and won the championship titles of the Super Underbone Open and Super Underbone Sealed Engine categories. The pride of Davao also champed in the Denoo Motorcycle Oil Super Underbone Elite Trophy of the Thirteenth InsideRACING Grand Prix (IRGPXIII). Sobretodo, on the other hand, also did well in the Super Series and got a podium finish in the IRGPXIII. He also had a winning performance in the Asia Cup of Road Racing (ACRR) in India. 2019 Super Series Rookie Rider of the Year Rmand Salandanan bagged the Skydrive Sport Cup overall title in the Super Series as well as the Philippine Underbone King 115 Novice title. Salandanan also did well in the MotoIR3 class of the MotoIR Championship. Nikko Nambatac was the Super Series Suzuki Raider R150 Fi overall champion. Mark Djereck Ondillo was crowned as the Super Series Intermediate Rider of the Year. Obedencio and Rubin had podium finishes in the Super Series while Mark Santos got some trophies for Suzuki-VMan in the MotoIR3 and UBK 115 Novice classes. Mr. Rey Abat and Mr. Noel Villapando of Suzuki Philippines supported Team-Suzuki VMan in their endeavours. Suzuki Philippines has partnered with Mr. Manuel Chien of VMan racing for years now.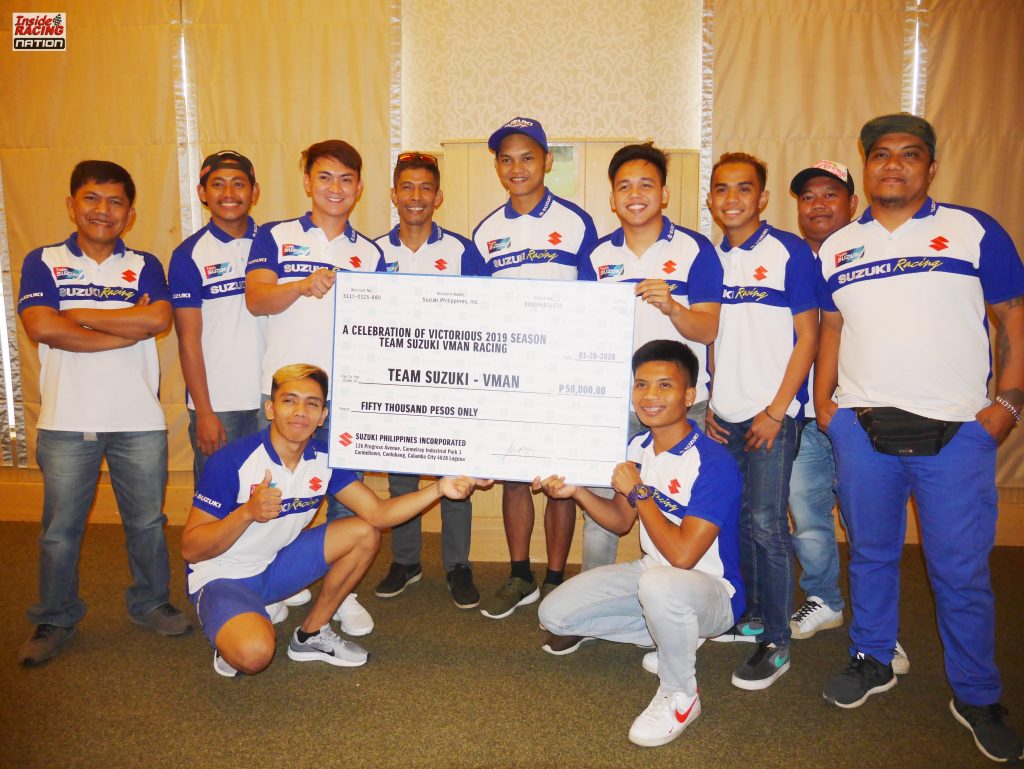 Team Suzuki-VMan racers had a victorious 2019 racing season and aside from showcasing their riding skills, they also proved the high performance of the Suzuki Raider R150 Fi, Skydrive Sport scooter and Suzuki GSX-R150 motorcycle.
Congratulations Suzuki-VMan racing team and Suzuki Philippines!
For more photos of the event, check out https://www.facebook.com/325670104142736/posts/2916988838344170/