Cookie Monster: The Yamaha Movistar MotoGP-inspired Sniper 150
Date posted on July 2, 2020
Share this
This bike is inspired by the Yamaha Movistar MotoGP team.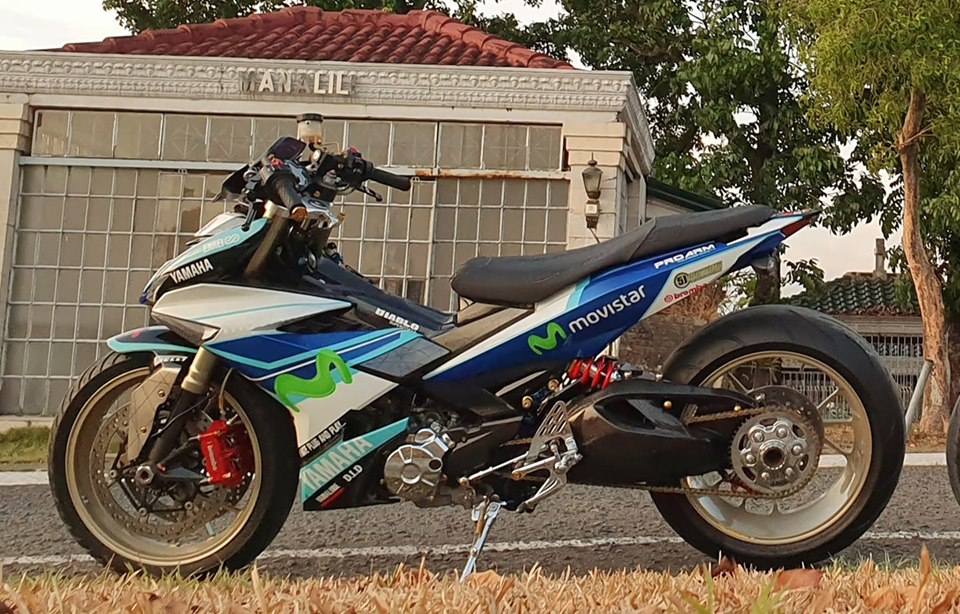 Movistar MotoGP was a Spanish television channel for subscription television, owned by Telefónica and available exclusively through Movistar and in partnership with Yamaha it became one of the iconic teams in MotoGP. The bike is owned by Cesar Caadlawon Jr. an Aircraft Mechanic working for Emirates Airlines in Dubai. The bike was built thru the collaboration of Quadro J Motoworksfrom Quezon City headed by Cesar himself and 5J Customs headed by Jerick Waje.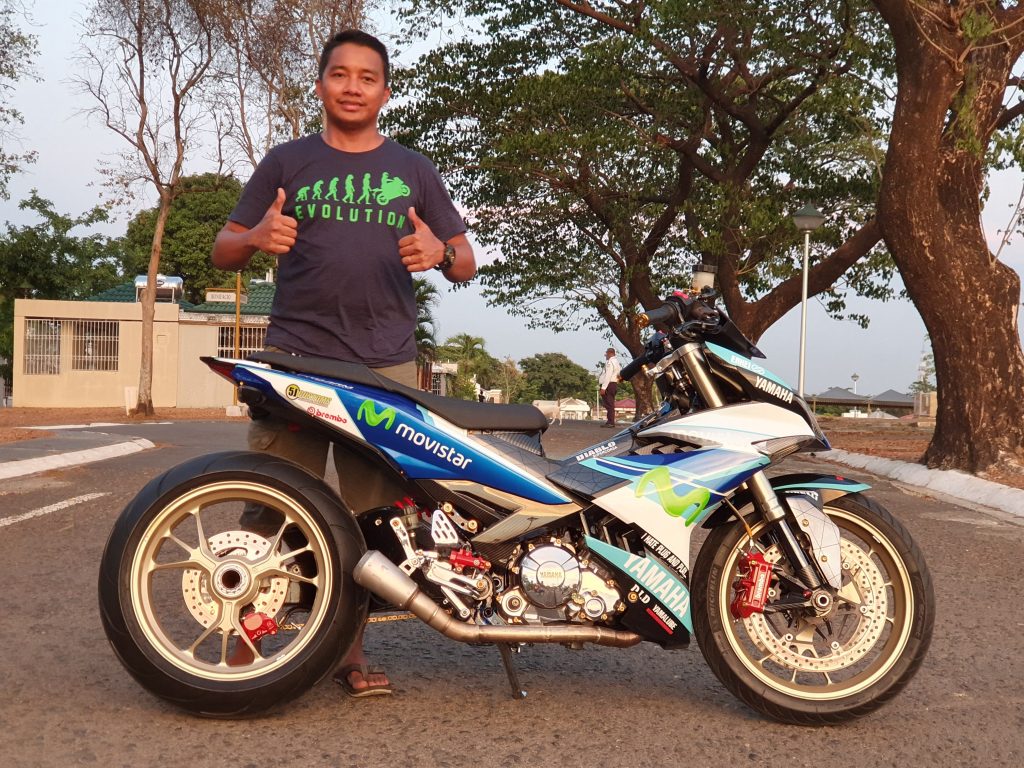 Cesar started his bike modifying hobby back in 2007. His first project bike was a Sniper 135 classic, then he restored and modified a junk Suzuki Bandit. He then started exploring the concept of combining big bike features/parts to common underbone motorcycles. It also marked the beginning of Quadro J Motorworks as he was really fascinated with collecting rare motorcycle parts and sharing it to others who also want to modify their bikes.
"Jerick Waje and I modified the bike but we guarantee that it is fully functional and safe for use for daily driving or for long rides. It looks impossible to install superbike parts to underbones but we still did it and it's a fulfillment for us. It is even more satisfying that I was able to fulfill others' dreams to modify their bikes too by helping them find and acquire hard-to-find parts especially pro arms and various big bike parts," Cesar shared.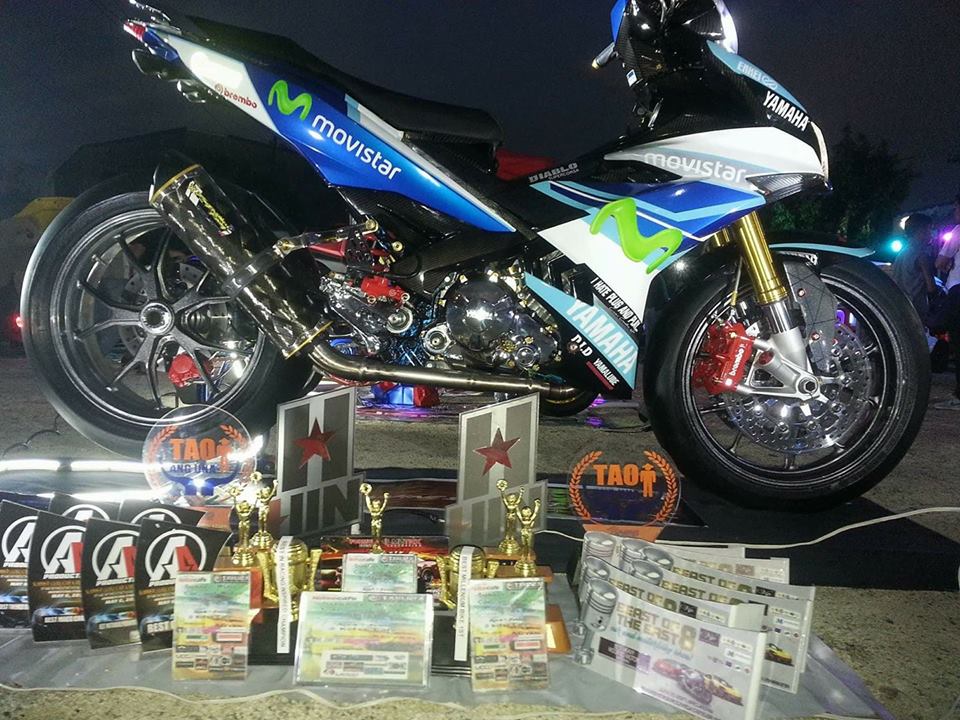 Going into the bike, its sports a wide array of OEM big bike parts from different superbikes such as the Ducati 1299R Panigale Marchesini wheels, Ducati 821 Fork full suspension, Ducati Multistrada 1200 swing arm, BMW S 1000 RR front brembo brake calipers, BMW S 1000 RR front fender, Brembo disk rotor, Brembo brake master, Yamaha R6 rear set, Akrapovic exhaust system, GSX-R1000 handlebar switches, custom-made handlebars, KOSO Rx-1N gauge, Yamaha Aerox 155 head cover, custom-made fiberglass body panels, fender and belly pan. The bike was then custom-painted to carry the Yamaha Movistar MotoGP theme. Building this bike and integrating the big bike parts into the underbone base bike is no easy feat. It requires precision machining, patience and attention to detail. This bike is a testament to the talent, prowess and craftsmanship of the team behind it. Kudos to Quadro J Motoworks and 5J Customs for such an impeccable build.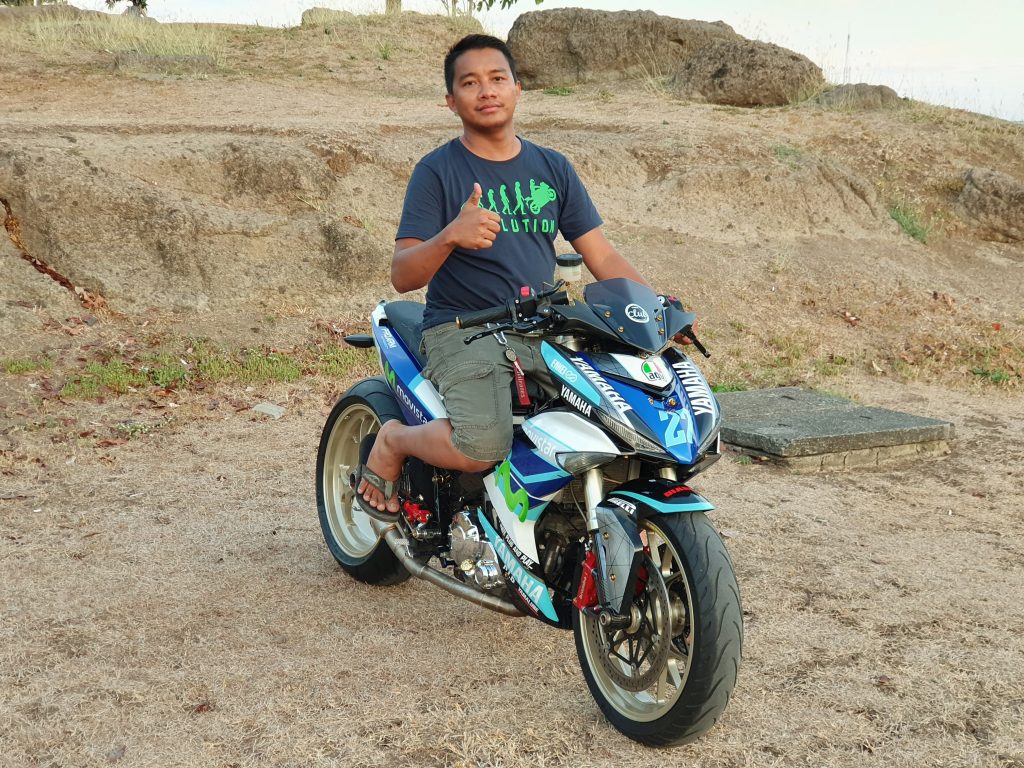 "I would like to thank JenJen and Jerick Waje of 5J customs for handling the modifications and designs. Thank you ProArm Philippines Society for all the support and brotherhood. Thank you to Nick Cruz and Emmanuel de Leon, my co-founders of ProArm Philippine Society. To all who believed and patronize 5J Customs and Quadro J Motorworks, thank you so much. Special thanks to my brother Joelsar Caadlawon for doing errands and attending all the motor shows in my behalf, my bro-in-law Lawrence Velez for assisting with the lighting work, my PMC brothers (Pantranco Moto Club), my painter Bobby Mata for doing the fiberglass works (fender, belly pan) and paints. Special thanks to my father Cesar Caadlawon Sr. for all the support in machine works and errands. Thank you Papa, and to Mama and my family and relatives. To my bro-in-law Allanz thanks for the brotherhood, I pray for your happiness wherever you are now. And of course, thank you to my wife Leah Reyes-Caadlawon for always giving me moral support especially in budgeting. Thank you so much to InsideRACING Magazine for featuring my bike. Thank you Lord for everything," expressed Cesar.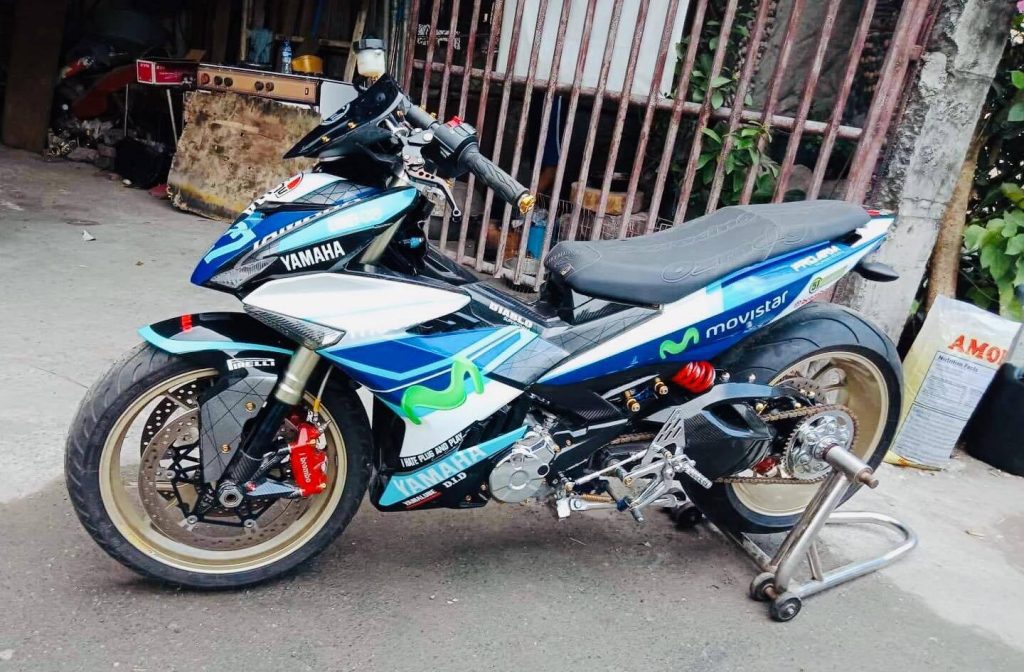 Parts and Accessories Used
– All parts are OEM from different superbikes
– Ducati 1299R panigale Marchesini wheels
– Ducati 821 Fork full suspension
– Ducati Multistrada 1200 swingarm
– BMW S 1000 RR front brembo brake calipers
– BMW S 1000 RR front fender
– Brembo rotor disk
– Brembo brake master
– Yamaha R6 rear set
– Akrapovic exhaust
– GSX-R1000 handlebar switches
– KOSO Rx-1N gauge
– Customized handlebars
– Yamaha Aerox 155 head cover
– Lent automodified body kits
– Custom-made fiberglass body panels, belly pan and fender
This was published in InsideRACING Magazine Volume 17 Number 8 issue
Thank you for visiting insideracing.com.ph. You may express your thought below through the comment section. You may also follow us on Facebook, on Instagram @Insideracingnation or you can subscribe to our YouTube channel.