Deus Sea Sider-inspired Honda C70 from Lahug, Cebu
Date posted on April 28, 2020
Share this
This Deus Sea Sider-inspired Honda C70 (Econo Power) build project is by Mr. Andrew Ford Guardo, a freelance website/graphic/UI & UX designer based in Cebu. He is also an emerging vintage/retro bike builder from Lahug.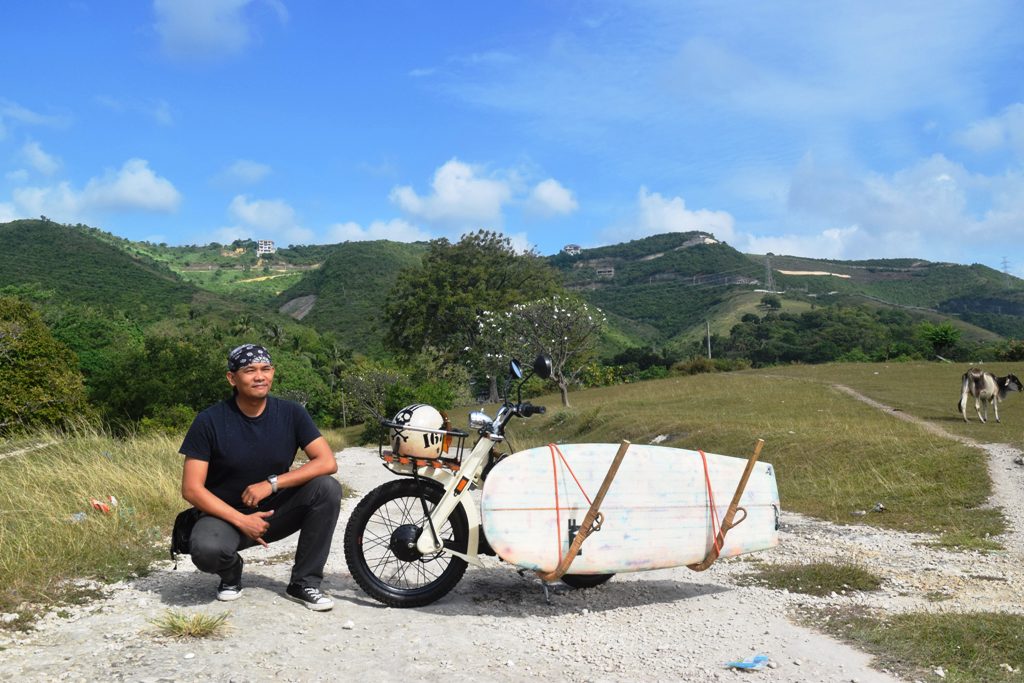 He built this cub for the owner Ms. Sheena Bombarda who is into Scuba diving, free diving and snorkeling. He offered to buy the bike from her as it was not running for 6 years already. Andrew told her that he can restore the bike and bring it back to life. She declined to sell it as it was a "family heirloom" but after a few months, she contacted him again asking about the best theme to apply to the cub. Andrew showed her the "Deus Sea Sider" cub and Sheena was really excited and enthusiastic about the project.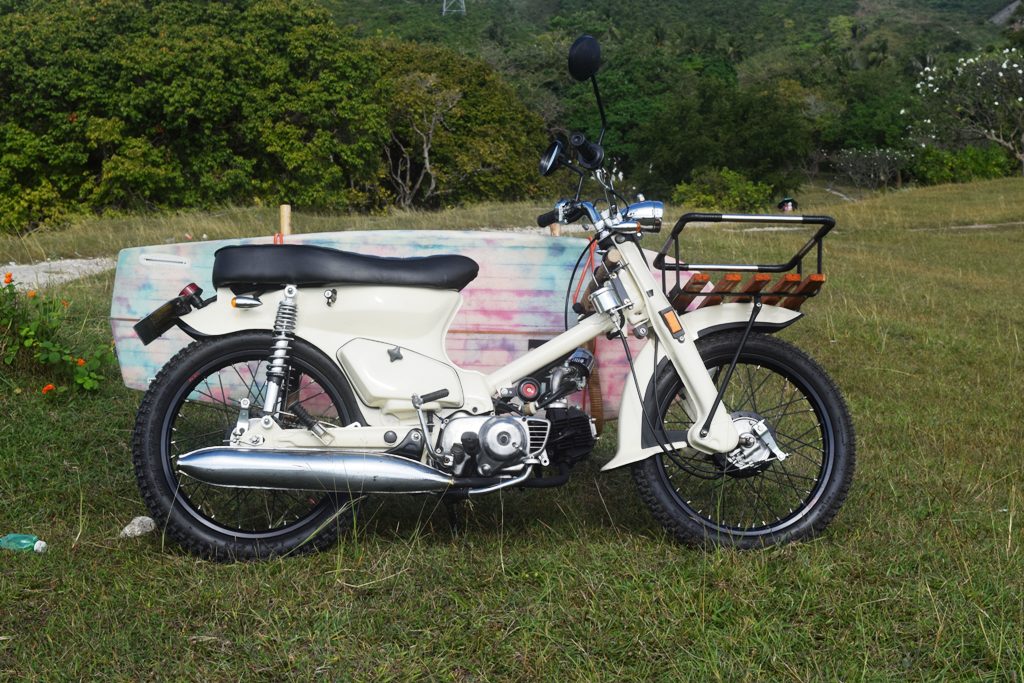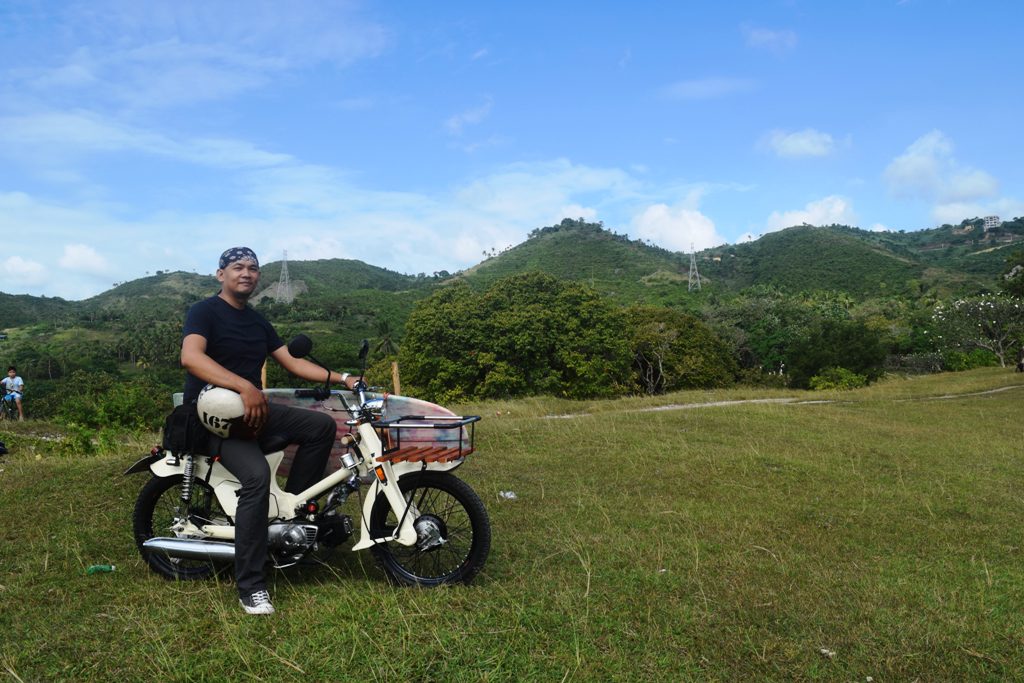 "I've been into custom bike modification since 2007 but a year earlier than that I was into skeleton custom bike setup which was so mainstream during that time. It was my elder brother Philip who introduced and influenced me on custom bike building. One time, he showed me photos of motorcycle expos in Switzerland where a replica of a motorcycle from the movie Easy Rider was exhibited. He loves the bobber kind of setup and I'm into vintage motorcycle restoration and café style," Andrew shared.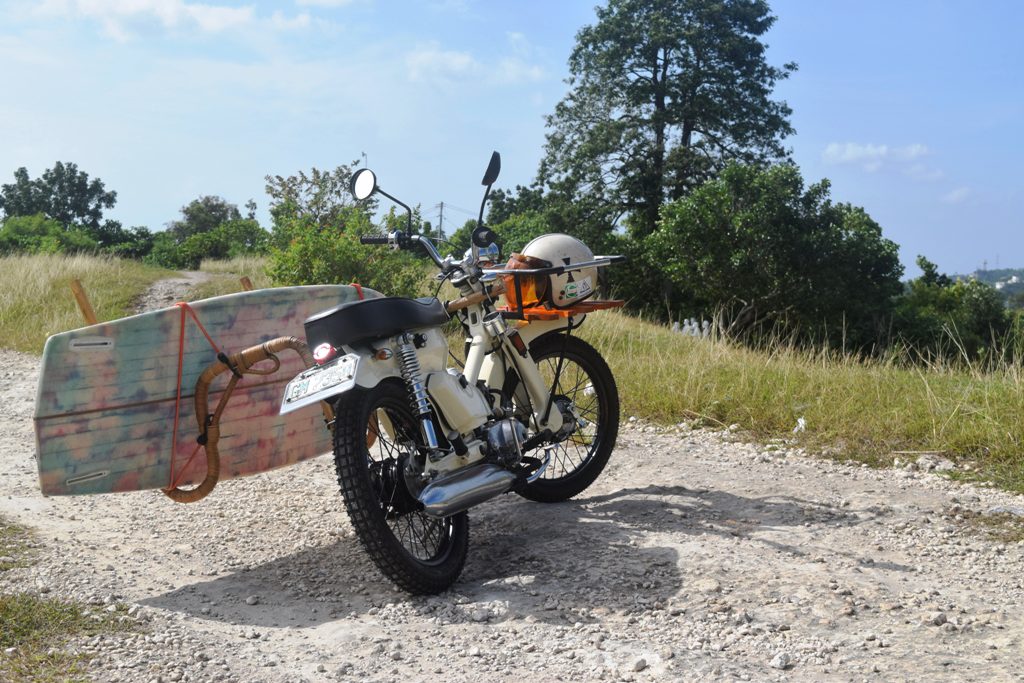 The bike was not running when Andrew started working on it. It was leaking oil, rusted and majority of the parts showed a great level of oxidation. During the strip down, Andrew noticed that the cub was a camshaft version with no side bearing. He knew that it's a bit noisy and it won't last long. He always follow his mantra to always go for the "long term" approach so he opted to replace it with a compatible head which he got from Ricardo "Titing" Tampus of TH Custom Build Cycles.
The surfboard rack is made of rattan wood. "I haven't seen anyone use this material for vintage/retro build projects. I'm sure the majority uses a GI Tube then have it padded with rubber. Though it doesn't coincide in my "long term" approach idea, it's something "new and unique" with a "traditional touch", said Andrew. The front cargo rack is made of stainless steel tube and palochina wood. The headlight is from a vintage bicycle headlight which was custom-modified with modern materials. Some other accessories used were aftermarket parts which were bought online. Some parts were hand-built like the handlebar holder which is from a 5mm aluminum plate from a junkshop and was cut manually by a guitar string (which is mind-blowing). The signal light and headlight holders were fabricated from discarded metal flat bars from the junkshop as well.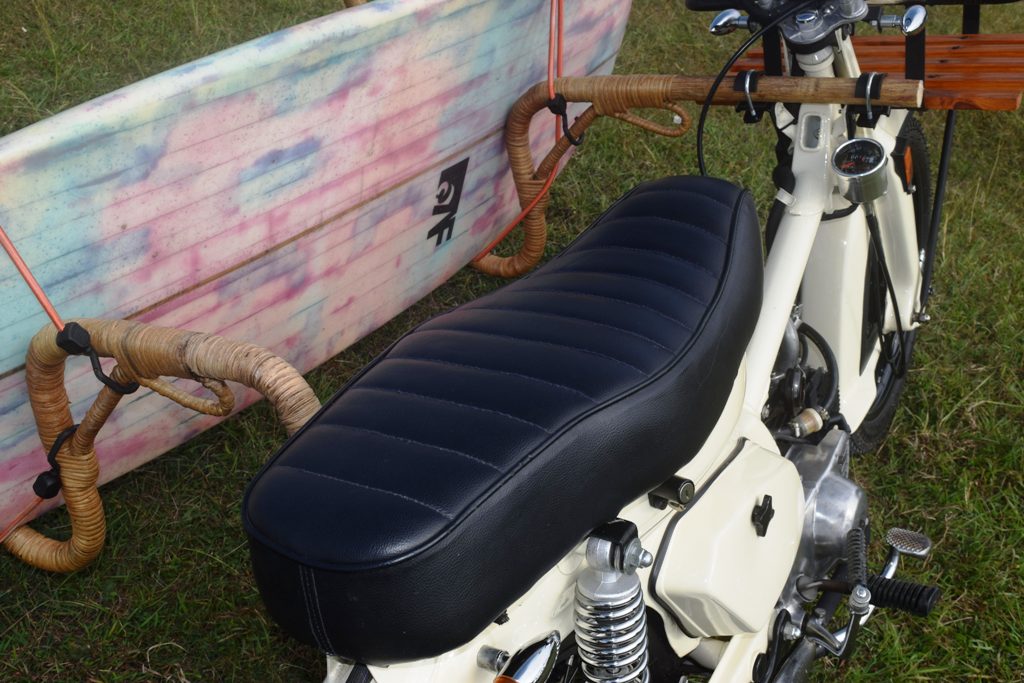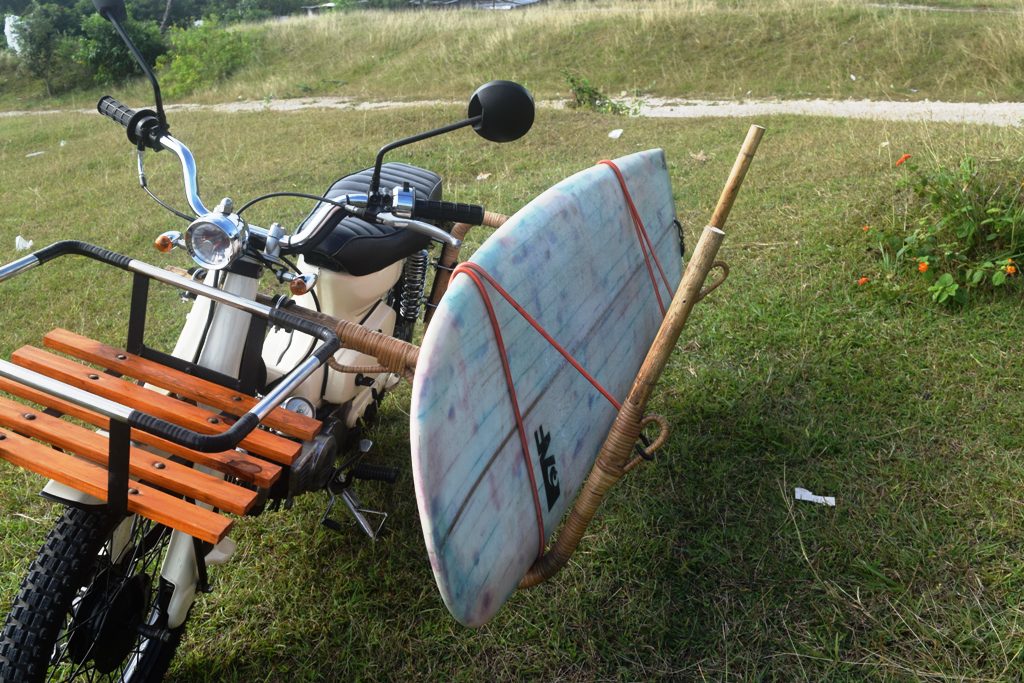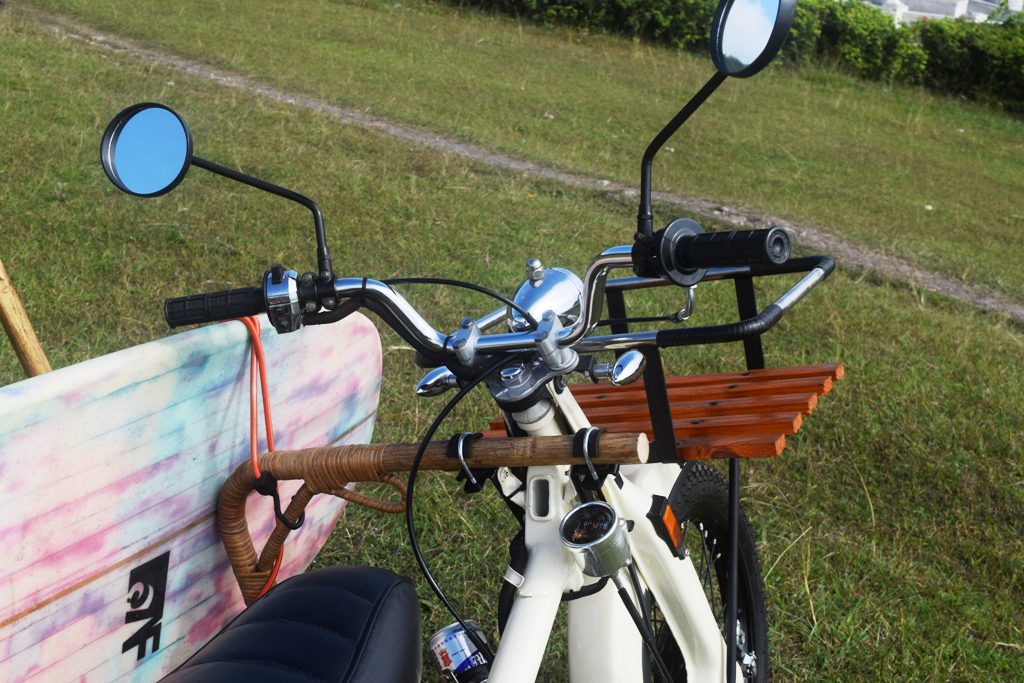 "Before I started with the engine repair, I watched plenty of tutorial videos to have a glimpse or familiarization of what's inside the engine. I downloaded a parts manual and listed down what are the common components that should be replaced from years of use. To be honest, this is my first time to open a 4-stroke engine without someone who can guide me. I just had to rely on what I saw on the tutorial videos. The project was mostly done on the weekends and I spent only 3-4 hours per day since I also have other freelance projects and a daily job during the weekdays. On the paint job that I did, it's not kind of qualified to my standards so I had it commissioned to a friend who paints with great quality and good thing he helped me on that part. The electricals were commissioned as well but I did the finishing touches, making it more organized and clean to look at. I'm kind of embarrassed to say that it took me 9 months to finish the project which is way too overdue of my target date of 3 months. Good thing the owner Ms. Sheena Bombarda is so super cool about it (whew!)," narrated Andrew.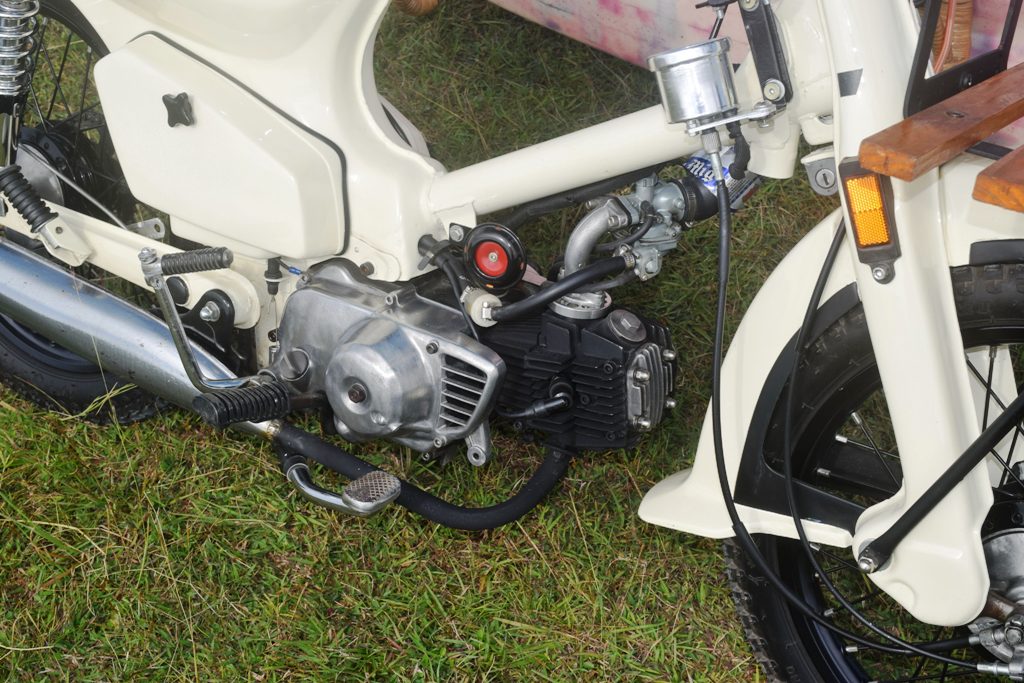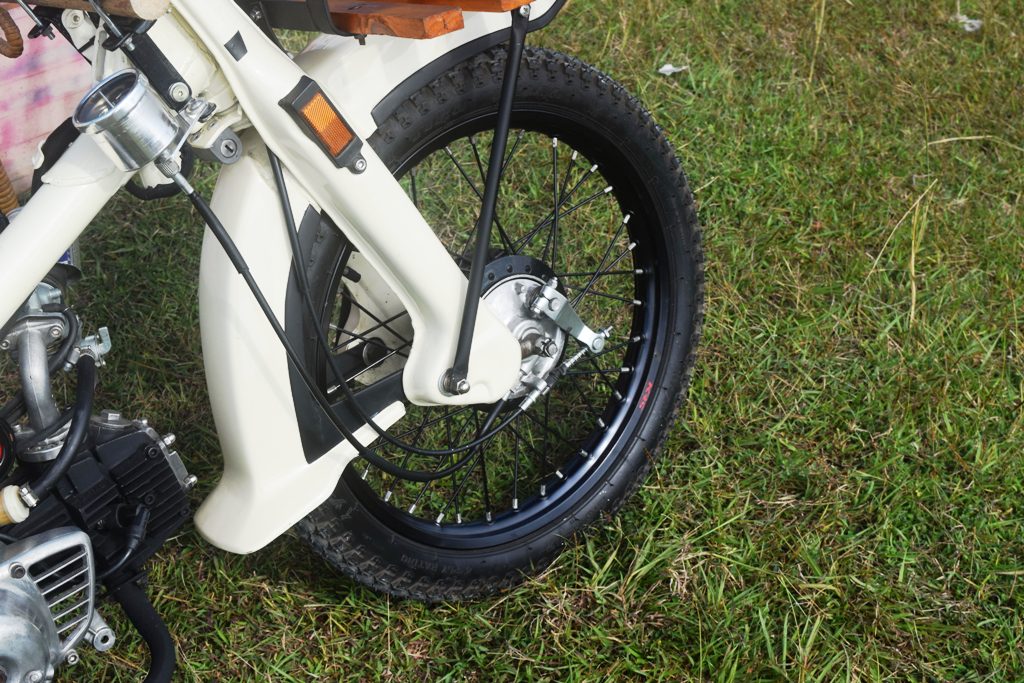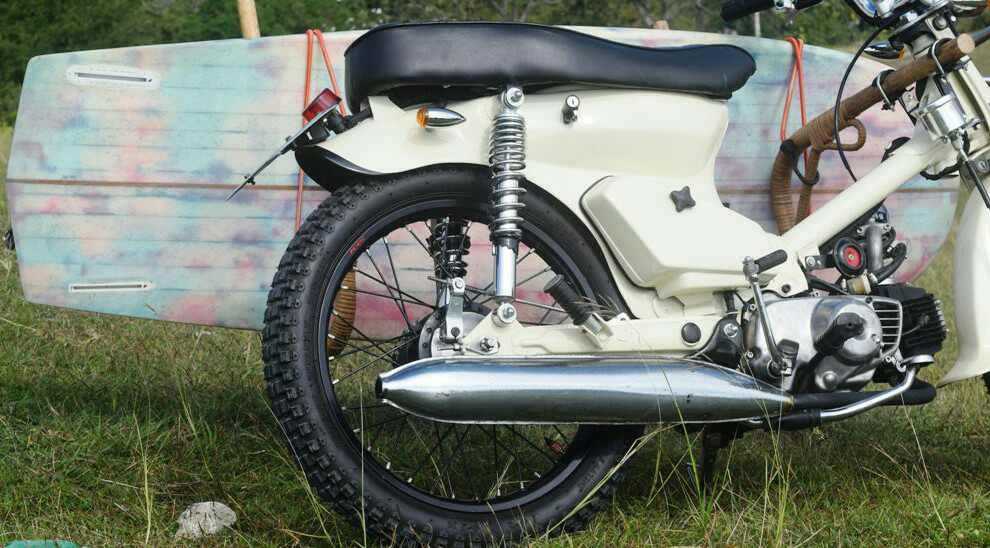 "Thank you to Juan Yu of Revolt Cycles. I might have been into a different path now, maybe into a serious coin collector or into vintage American bicycles. Juan showed me their finished build which was a Yamaha L2 and since then, I was inspired to get back into building bikes again. Thank you to my sensei Mr. Rene Mendoza for helping me a lot of times in my past motorcycle projects. He's like a scientist who knows a lot on motorcycle modifications. Thank you Litoy for the electrical works, Jerry for continuing my paint job (he also has a great touch of paint works) and lastly to Mr. Ricardo Tampus who also provided ideas and sells some motorcycle parts. What I liked about this guy is he's not rude, he is very approachable, talented and he enjoys to eat sweet jackfruits (haha!). A big special thanks to Mr. Carlobien De Asis of Aframe Surf Boards for letting me borrow his shortboard without hesitation – truly an amazing guy! – and to my elementary classmate Mr. Kirk Andan for letting me borrow his surf rack which I had copied to a rattan version. I owe a big thanks to my late Father Preciliano A. Guardo who had a great impact on my motorcycle life. He departed last 2016. He taught and told me stories of his exploits where he used to drive a Yamaha L2 and a DT100 in the remote roads of Mindanao. He served as a army finance officer during the martial law years in the 1970's. Big thanks to my lovely wife Flobelle who supports me in my endeavors. I know she's kind of annoyed and pissed when I spend much more time on the bike. Lastly, many thanks to my elder brother Philip from Vienna, Austria who provides plenty of tools which is so very important in bike building, ranging from a welding machine, cutting tools, complete set of box wrench, power drills and more. Thank you so much InsideRACING Magazine for featuring my build project," Andrew expressed.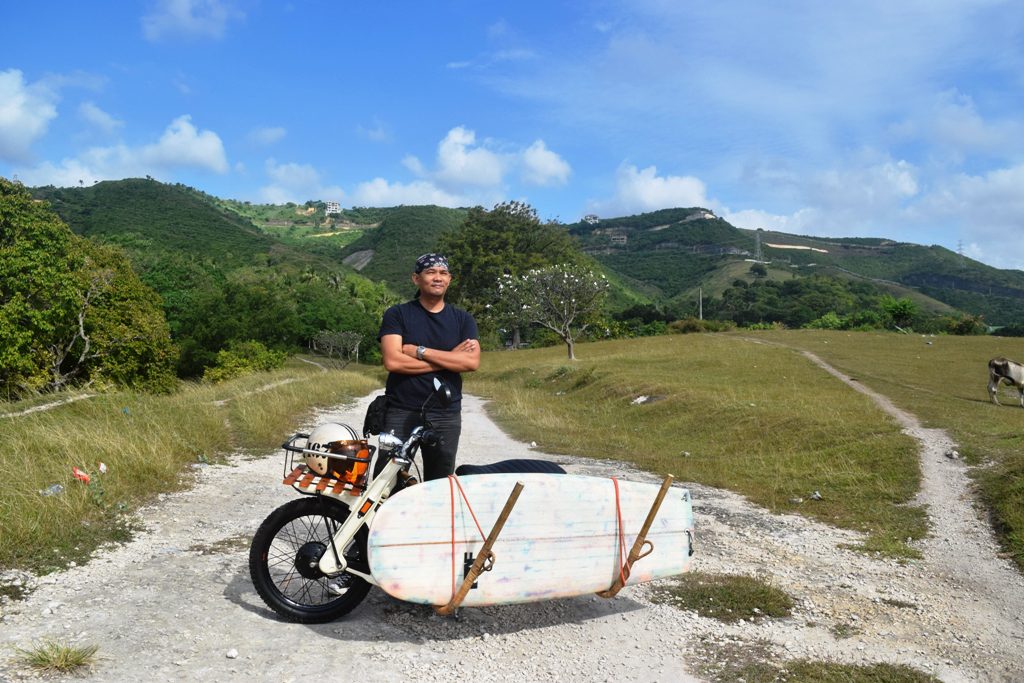 Parts and Accessories Used:
Custom-made rattan surf board rack
Custom-made handlebar clamps
Custom-made front cargo rack
Custom-made turn signal mount
Custom-made headlight mount
Izumi trial tires (front and rear)
Restored & polished OEM exhaust
KRS rims (front and rear)
Osaki black spokes
Custom paint
Blacked out OEM hubs (front and rear)
Aftermarket retro tail lights
Aftermarket retro turn signals
Takasago rear shocks
Aftermarket mid riser handlebars
Custom-made leather seat