Diamond Moto Kicks Off
Date posted on February 22, 2016
Share this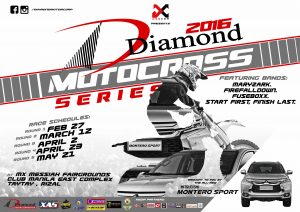 Elite motocross riders will see action in the 2016 Diamond Motocross Series on February 27 at MX Messiah Fairgrounds, Taytay, Rizal.
The much awaited battle among the country's moto legends Glenn Aguilar, Jovie Saulog, Jing Leongson, Bebet dela Cruz, Jolet Jao as well as brothers JC and Enzo Rellosa is yet to unfold in the Pro Open class with a grand prize of Php 20,000.00 while second and third placers get to bring home Php 14,000.00 and Php 10,000.00 respectively.
Fast-rising Jacob Orbe, Ralph Ramento, Mclean Aguilar and Jepoy Rellosa are set to stage and name the best in the Pro Lites division.
"We want to invest in our customers and our people. Motocross just seemed like a good step to take because of Mitsubishi's strength in the SUV sector and our relationship with the guys from MX Messiah," said John Blaylock, Head of Planning & Marketing of Diamond Motor Corporation.
"The country is currently developing at a very rapid pace and what we've seen elsewhere is that when this happens the impact is often evident in certain industries – extreme sports is definitely one of those industries," added Blaylock, also the vocalist of local band FireFallDown.
The 5-leg competition will also showcase amateur and newbie classes in the amateur open, ladies, veterans, executive open, kids 85, 65, 50 class as well as in the newbie open production, newbie local enduro, open local enduro and open local underbone.
Director Samuel Mark Tamayo of Generation Congregation believes that this is more than just a race as it will also give an opportunity to newbies as well as to aspiring motocross riders who aim to excel in the sport.
Aside from the earthshaking moto rallies, there will be music and other activities in the loop. Local Bands FireFallDown, Light of Luna, Nyctinast, Maryzark and Reborn will be gracing the event simultaneously with the big race.
The event sponsored by Diamond Motor Corporation, Wheeltek, Dunlop Tires, Coffee Grounds, Xtreme Adrenaline Sports Entertainment Co, PTT Philippines Corporation, Monster Energy and the Municipality of Taytay will have its future races on March 12, April 2, April 23 and May 21.
You can watch the official teaser for the Diamond Motocross Series at https://www.youtube.com/watch?v=m06Og4eqb0U