Doblada, Esguerra, Corbe, Alberto, Buncio, Quiambao & Paz star in the 2015 MotoIR Championships
Date posted on April 21, 2015
Share this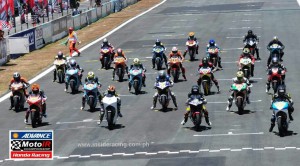 The 2015 Shell Advance MotoIR Championships Presented by Honda will officially start this Sunday at the Batangas Racing Circuit.
However, for the teams and riders, their season will start with the MotoIR Championships Launch Event on Thursday at the SMX Aura Premiere in Taguig City where the riders will be presented to the media.
Leading contenders in the main MotoIR class is 2-time MotoIRGP Champion and 2015 USRA No.1 rider Paul Mark Doblada of MTRT-KYT. His main challengers include former IRGP and IRCup champion Dustin Esguerra of Zebra-MLW-Pertua. Another strong competitor will be Marikina's  Romer Corbe of Team Gulf-Ebroc Racing.
Meanwhile, MotoIR2 class will see the first female MotoIR rider in history as Top 1 -YRS'  Jacq Buncio will make his MotoIR debut. She will be challenged by motocrosser 14-y.o. Troy Alberto of Access Plus who will be making his road racing debut in the class. They will face tough competition as current Shell ATC rider and multiple 2014 champion McKinley Kyle Paz will also race as well 2014 MotoIR2 runner up Edmar Quiambao of Replica Pro.
Buncio and Alberto will be eligible to compete for the Shell Advance Youth Cup competition wherein the top 2 after round 6 will be able to get guaranteed slots in the Shell ATC Shoot out in Sepang.
The Tire Championship will also be interesting as Pirelli joins Bridgestone for a head to head battle for he 2015 Crown. Already an estimated 10 riders will compete in the first race with a few more expected to join the series.
The 9-leg 2015 Shell Advance MotoIR Championship Presented by Honda is also supported by Racing Boy, Bridgestone and Pirelli. It is organized by InsideRACING and sanctioned by the Unified Sports and Racing Association for Motorcycles, Inc. (USRA).