Doble Plaka Might Take Long to be Implemented
Date posted on May 28, 2020
Share this
The release of the Implementing Rules and Regulations of the RA 11235 or Motorcycle Crime Prevention Act last May 21 was met with outrage and anxiety by the motorcycle riding public. The implementation of the so called "Doble Plaka" Law is a hot topic nowadays specially in social media where riders voice out their concerns.

However in a streamed interview last May 25, LTO Executive Director Atty. Romeo Vera Cruz clarified that it is not actually double number plates as the aluminum plate is only at the rear while the front is a decal plate. He also said that double number plates might not be implemented yet as the plates are not yet available. He also said law enforcers will not flag down motorcycles that are not given plates yet.
"Dumating na po yung mga blank plates. By July, completed na yung 1.7 million and shortly, thereafter, 2 millon plates na naman ang ide-deliver. But we need 10 million plates, kaya ang implementation nito matatagalan pa. Pero ang sinasabi ko sa mga kababayan natin, pag binigyan na kayo ng plaka sa motorsiklo ng LTO, ikabit nyo na," Atty. Vera Cruz said.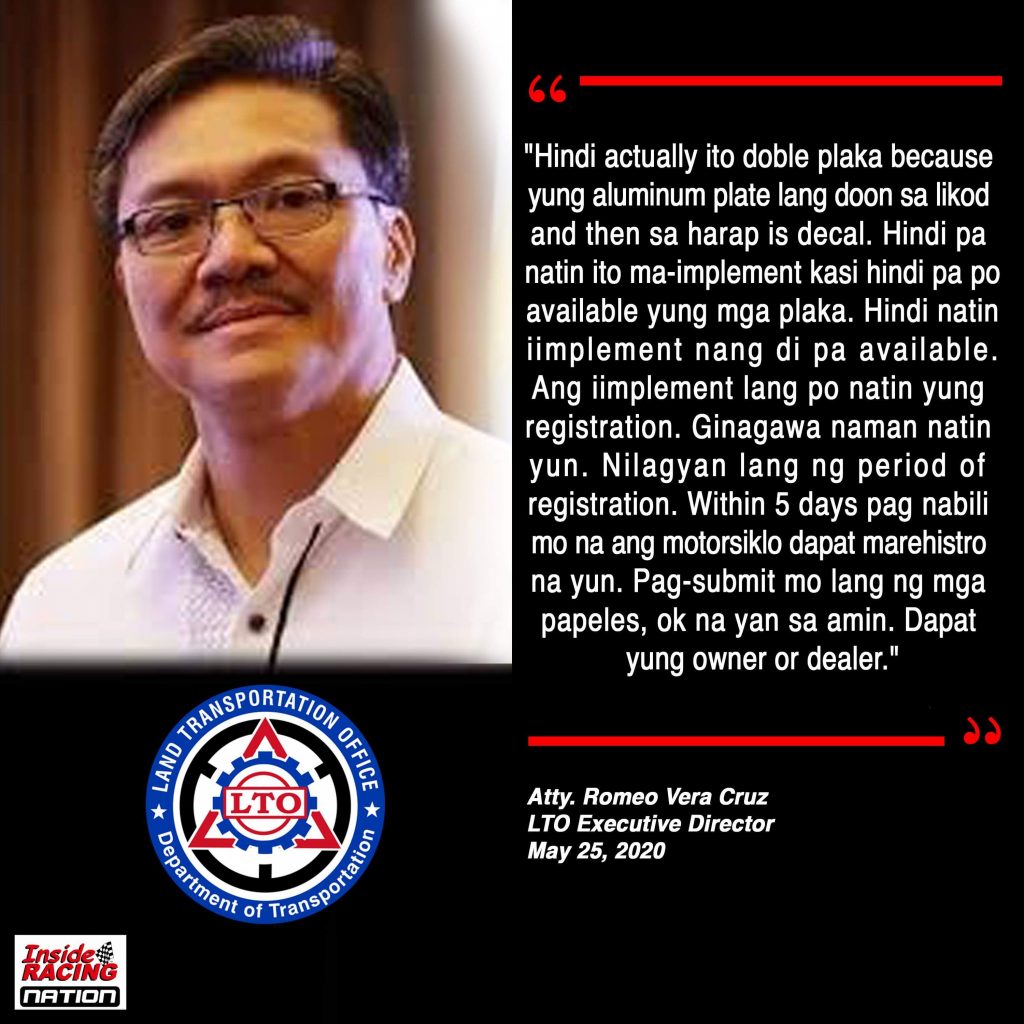 While the rear aluminum and front decal plates might not yet be implemented, what LTO is keen on now is the registration rules of RA 11235 which states that within 5 days of acquiring their motorcycle, it should be registered either by the owner or dealer. Any sale or disposition thereafter must be reported by the owner within 3 days upon notarization of the deed of sale.

It turns out this troubles the riders even more than the double plates. Those who bought secondhand motorcycles and the motorcycle buy and sell business are also affected and worried.

Another thing that worries motorcycle riders are the hefty fines ranging from P50, 000 to 100, 000 or prision correccional for violation of the double number plates. The motorcycle will also be seized by law enforcers. These fines are even more expensive than the motorcycle itself some say. For the registration rules violation, fines are from P20, 000 to P50, 000.

As the motorcycle riding public have voiced over and over again, the RA 11235 is an added burden. The intention is good, to prevent crimes using motorcycles, but there are more ways to do so such as increased police visibility and other regulations that are not discriminatory to motorcycles only.
Thank you for visiting insideracing.com.ph. You may express your thought below through the comment section. You may also follow us on Facebook, on Instagram @Insideracingnation or on our YouTube channel.