DOTr Sec. Tugade appeals to PMVICs
Date posted on February 11, 2021
Share this
From Assec Libiran:
DOTr Secretary Tugade appeals to PMVICs: Lower your inspection fees, suspend collection of re-inspection fees for at least one year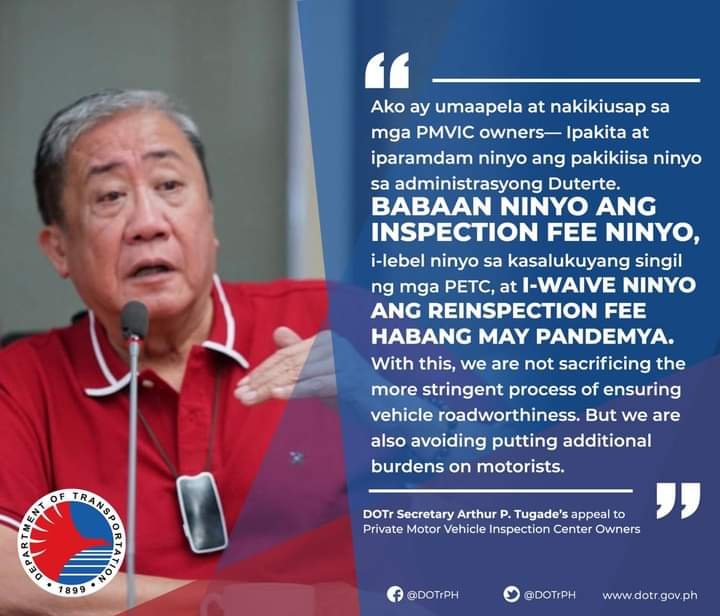 Department of Transportation (DOTr) Secretary Arthur P. Tugade has appealed to private vehicle inspections centers (PMVICs) to lower fees collected from private motorists for the inspection of their vehicles prior to registration with the Land Transportation Office (LTO), and to suspend their collection of fees for re-inspection for at least one year.
PMVICs collect P1800 for each vehicle that will undergo testing and another P900 should the vehicle fail the initial series of tests and will have to be re-tested.
In his appeal, Secretary Tugade said PMVICs should lower their fees to the same rates being offered by Private Emission Testing Centers (PETCs) which is around P500 to P800.
Secretary Tugade issued the appeal after learning of the sentiments of Senator Christopher Lawrence "Bong" Go to strike a balance between keeping the roads safe by disallowing not roadworthy vehicles from being registered with the LTO, and the financial difficulties being experienced by many vehicle owners at present due to the coronavirus pandemic.
"Ako ay umaapela at nakikiusap sa mga PMVIC owners— Ipakita at iparamdam ninyo ang pakikiisa ninyo sa administrasyong Duterte. Babaan ninyo ang inspection fee ninyo, i-lebel ninyo sa kasalukuyang singil ng mga PETC, at i-waive ninyo ang reinspection fee habang may pandemya. With this, we are not sacrificing the more stringent process of ensuring vehicles are checked for roadworthiness prior to registration. But we are also avoiding putting additional burdens on motorists," said Secretary Tugade.
"Ang sabi ng palasyo, let us strike a balance between public safety and the needs of our countrymen, especially now that we are in a pandemic. Nakikiisa ako sa layuning ito ng ating pamahalaan. I will work for and with them to achieve this purpose," Sec. Tugade added.
The concept of having a motor vehicle inspection system (MVIS) prior to a vehicle's registration with the LTO has been around for the past forty (40) years.
It is only during the present Duterte Administration that the MVIS was made operational through the assistance and in cooperation with accredited PMVICs.
The need to have proper tests to evaluate the roadworthiness of vehicles prior to registration, was highlighted by the alarming rate of registered vehicles involved in road crash incidents. Prior to the operation of PMVICs, vehicles being registered at the LTO are merely inspected for compliance with the Clean Air Act through a smoke emission test done at PETCs.
According to the Metro Manila Accident Recording and Analysis System (MMARAS), in 2019, a total of 121,771 road crashes were recorded in Metro Manila. An average of 334 road crashes were also recorded daily. Of this, 372 people have died, while 20,466 were hurt.
In addition to a smoke emission check, vehicles being inspected at a PMVIC undergo an automated three (3) stage system that check for roadworthiness in 73 inspection points.
And unlike in the old vehicle inspection done by the LTO which is visual, the inspection of vehicles at a PMVIC is automated with limited human intervention. The testing equipment even require biometric access (fingerprint of the operator) to initialize operation.
Results of the testing done at a PMVIC are sent real time to the PMVIC's local server and to the LTO's IT system.
Corruption and tampering of results at a PMVIC is also reduced, if not removed, as the entire vehicle inspection process is fully documented with the use of closed circuit television cameras (CCTvs).
Source Assec Hope Libiran
https://www.facebook.com/100572768145549/posts/254230636113094/