Dragon Bites, The IR Bike Fest Experience
Date posted on August 19, 2019
Share this
For this issue we have a special twist to our regular featured bike segment. This time around we will take you on a journey from the point of view of a bike enthusiast/builder who hails from Cagayan de Oro, Mindanao and his experience participating in the biggest bike festival in the country, the InsideRACING Bike Festival and Trade Show.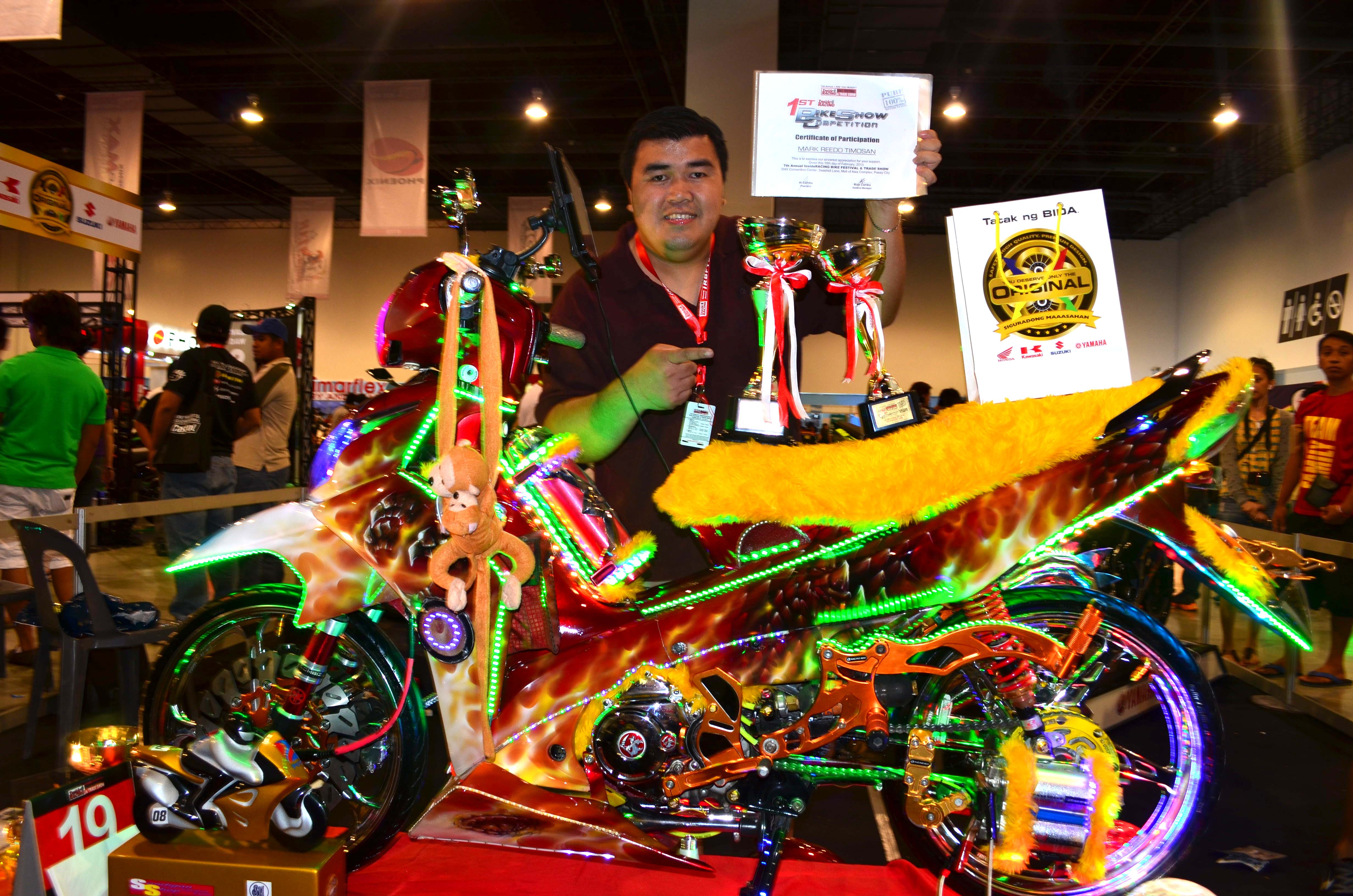 The bike is a modified Yamaha Vega Force. Work on this bike started in 2011 when its owner Reedo Mark Timosan, a businessman owner of More Bites Pizza, got hooked big time by the urge to build and modify bikes.  Back then it was just simple air brush graphics and Racing Boy aftermarket parts but after winning his first motor show there was no turning back for Reedo. He decided to do extensive modifications up to the exhaust system. He had a specially machined and fabricated canister to look like an actual dragon head. From there he pushed the paint job to another level by adapting a dragon theme. According to Reedo, he chose to go with the dragon design because for him the dragon symbolizes strength and power and it inspires him to do well on his business. Aside from that he had elaborate modifications to its on-board electronics from the flat screen to control the sound system and its led lighting which reacts to the sound or music being played. He also had an air horn system installed and custom fabricated body work.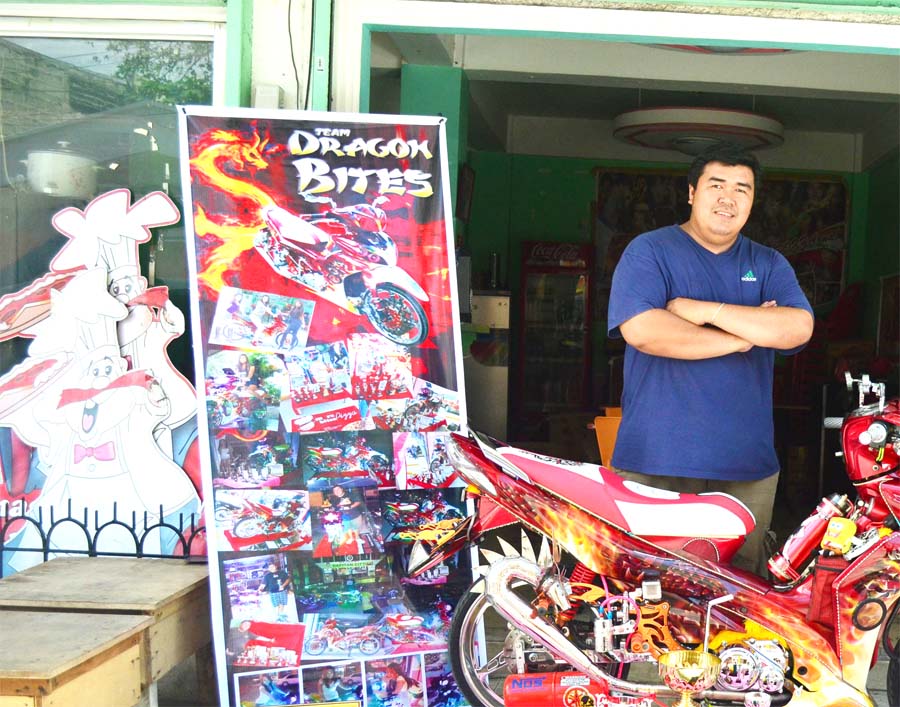 His bike has already built a reputation in Mindanao and he was known for his showmanship during the events. Reedo and his bike have joined around 43 competitions all over Mindanao and Visayas. He then made the push to go and compete at the highest level, the Nationwide Bike Show Competition at the 7th Annual InsideRacing Bike Festival and Trade Show. Going into the competition, he was really nervous and excited at the same time, but he mustered up the courage to press on because of his love for modifying bikes and exploring new grounds. Little did he know that he was en route of winning the Best Bike from Mindanao and grabbed the 1st runner-up in the Underbone Open Category. Indeed it was a proud and historic moment for the builder from CDO.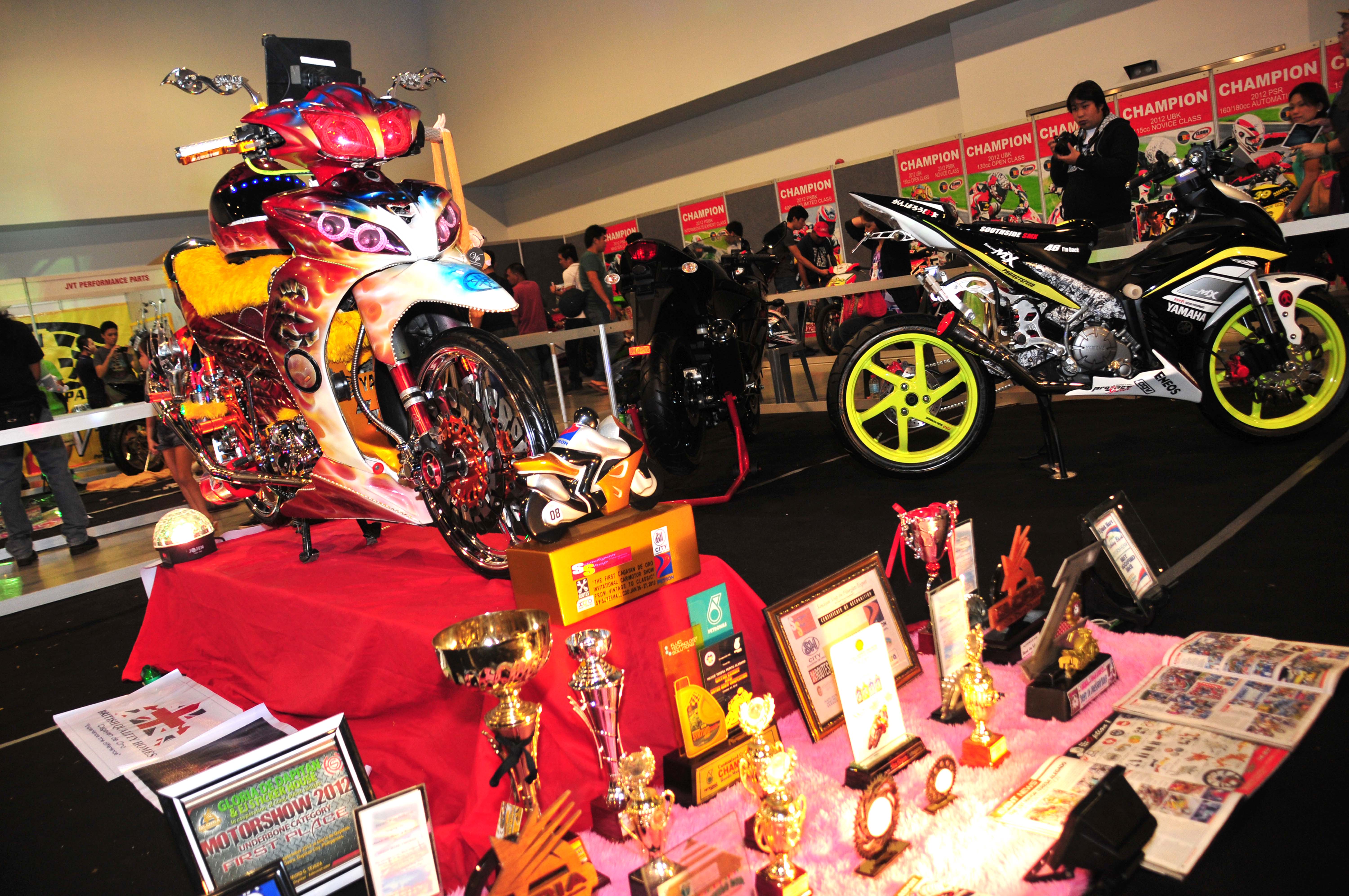 "Honestly, the feeling is so nice and great. I did not expect to win in that event because almost all champions from all over the country were there. I have so much respect for custom bike builders from Luzon because they modify their bikes really well. One more thing, it is really my dream to join a National competition because I have already joined motor shows in the Visayas and Mindanao areas. Winning in Luzon, during the IR Bikefest is unimaginable and really special."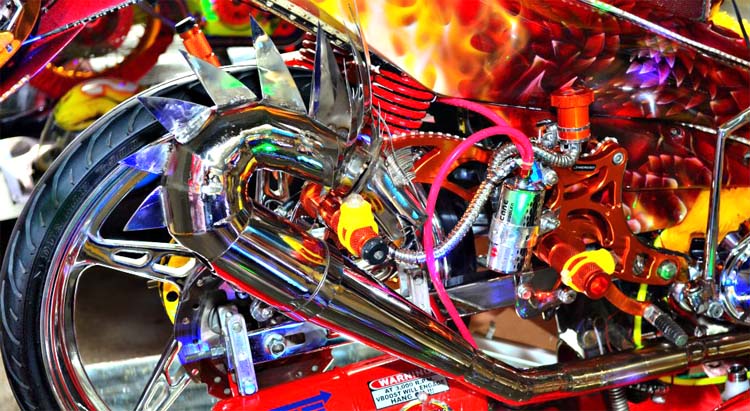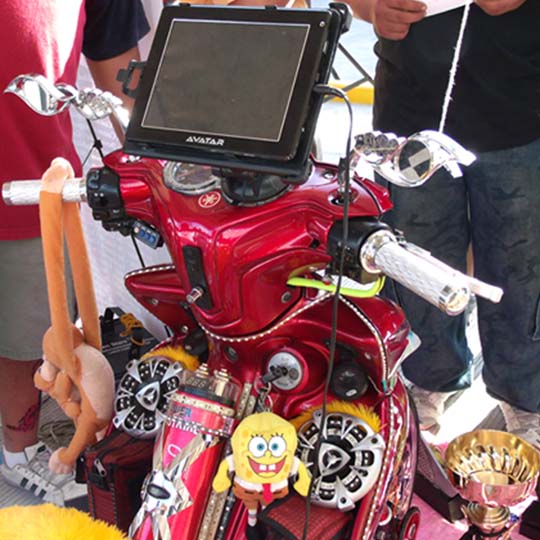 Reedo serves as an inspiration to all bike customizers/modifiers all over the country.  He chose to pursue his dream and work his way toward it and he never gave up. This is for all the bike modification enthusiasts all over the country, keep believing in yourselves and your talent to build and create magnificent bikes. Keep on doing what you love and that is building mind blowing rides, rest assured that we at InsideRacing will keep on scouring the whole country to find the best builders around, who knows it might be your bike that will next land on our pages. So without further ado, from InsideRacing, we present Dragon Bites – the modified Yamaha Vega Force from CDO Mindanao.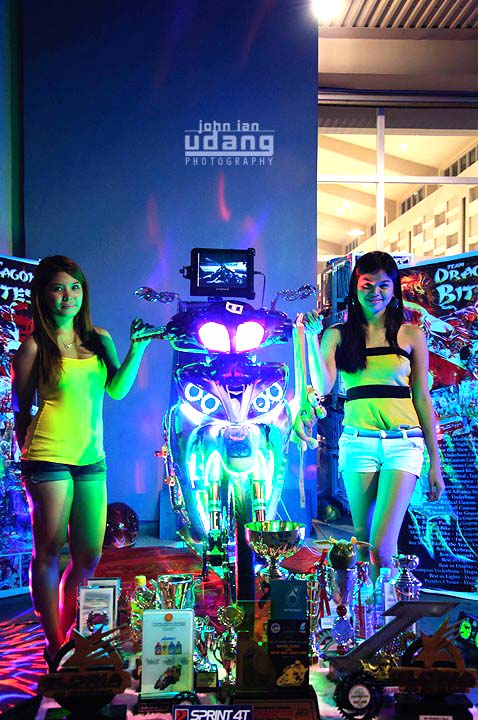 YAMAHA VEGA FORCE
Modification Details:
Customized Dragon Muffler
Dragon Concept Airbrush
Custom, Reactive LED Lighting
Air Horn
Smoke Effect (breathing dragon)
Sound System with 2 power capacitors
Customized Side Mirrors
Customized Seat Cover
Customized Belly Pan
Chromed Mags, Swing Arm and other parts
Sinnob Sprocket
Bikers Brake Lever
Racing Boy Shifter (for sniper Version 3)
Racing Boy Shocks
Racing Boy Big Disks (double disk)
Racing Boy Oil Reserve container
Racing Boy Chain Tensioner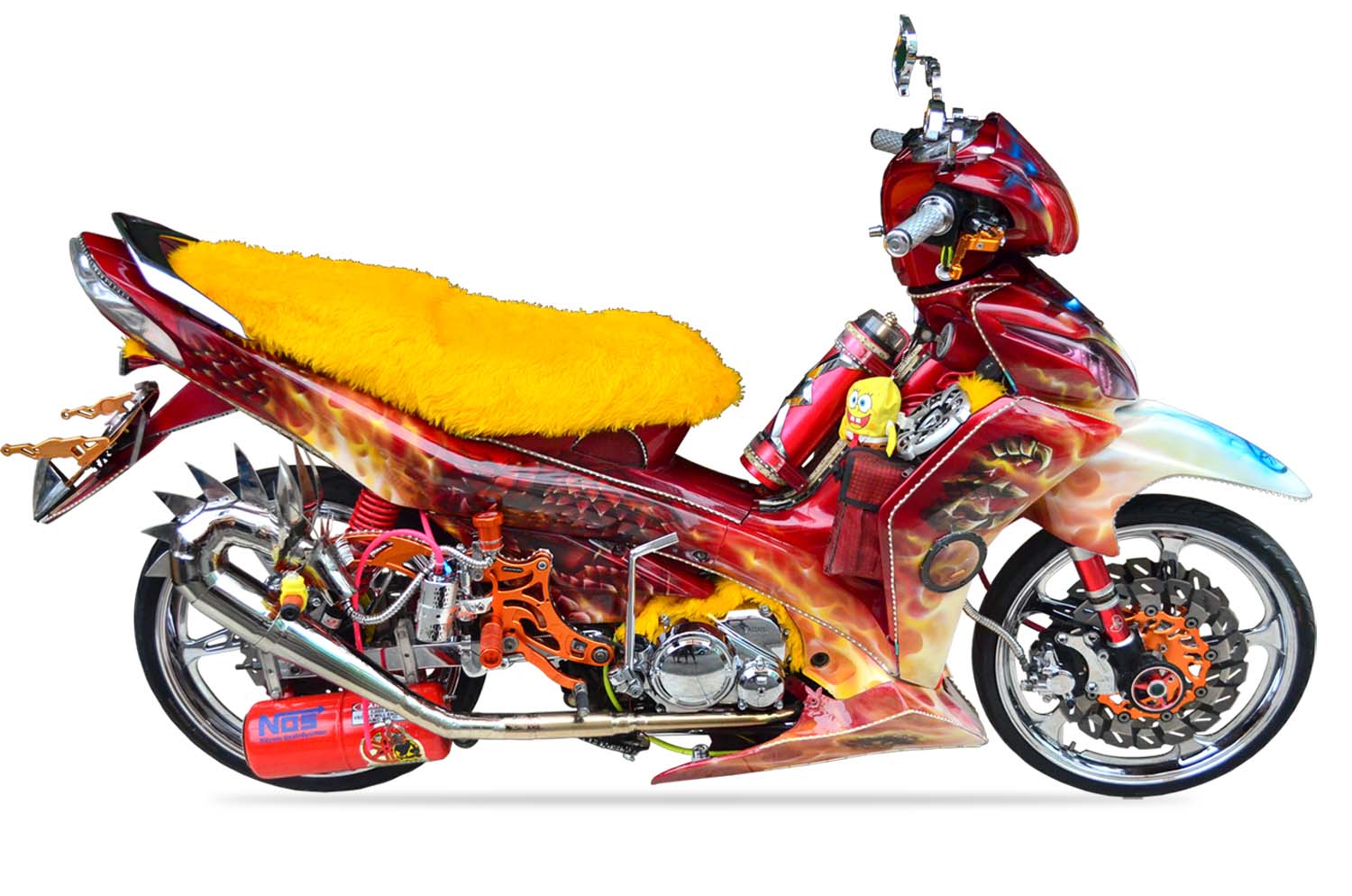 *This article was published in InsideRACING's  Volume 11 Number 4  2013 issue.