Ducati's new Panigale V4!
Date posted on November 6, 2017
Share this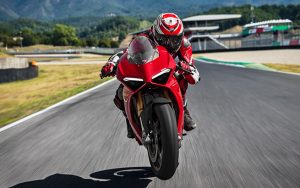 The Panigale V4 replaces the iconic 1299 at the top of the Ducati supersport range, doing so by enhancing performance and ridability so that riders of all skill levels can enjoy boundless fun and excitement. The Panigale V4 has been developed in close collaboration with Ducati Corse, drawing directly on know-how and technology from the racing world to provide a road bike that is the closest thing possible to its MotoGP counterpart.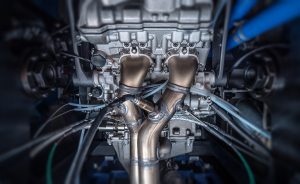 The new V4 90° engine, based on the experience gained in MotoGP where the performance of the four-cylinder Desmosedici is at the top of its class, was designed to equip future Ducati supersport models.
The new ""Front Frame"", left visible for all to see, becomes an integral part of the motorcycle giving it a tight fairing, practically custom tailored.
Simplicity and integration inspired the designers for the fairing with a "double layer" solution: a main outer part with a reduced longitudinal extension, and a secondary part that functions as an air extractor for the radiator.
The plasticity of the ""diamond"" tank, a Ducati trademark, assists the rider at all stages of track driving.
The tail guard of the single-seater version is all one piece, to emphasise the "ready-to-race" character of the bike.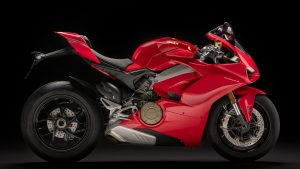 MAX POWER  : 214 hp
MAX TORQUE : 124.0 Nm (91.5 lb-ft)
DRY WEIGHT : 175 kg (386 lb)
SAFETY FEATURES:
Cornering ABS EVO, DTC EVO, DWC EVO,Cornering ABS EVO, DTC EVO, DWC EVOCornering ABS EVO, DTC EVO, DWC EVO
Credit : Ducati.com