DUCATISTI GIVE ALL OUT SUPPORT TO DUCATI CUP'S THIRD ROUND
Date posted on July 14, 2015
Share this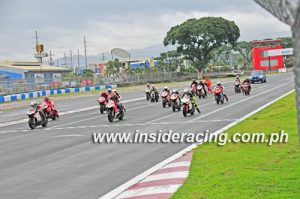 Ducati racers once again filled the grid as the third leg of the Ducati Cup Powered by Bacchus Energy Drink took place at the Clark International Speedway in Pampanga last July 5.
Despite the rainy weather, Ducati owners and racers went to Clark to support the third leg of the Ducati Cup which had one race only as Race 2 was cancelled.
Ducati Philippines' CEO, Toti Alberto, finished first among the sixteen Ducatisti who participated in Race 1. He won the Open and Master classes.
Polesitter and DDOCP Vice President Jay Carrion was second while SBRA President John Defensor was third in the Open category. Defensor was second while Alvin Dee placed third in the Master Class. Jay Carrion was also the winner in the Intermediate class.
Another rider who took double wins was Kenneth Avendaño who triumphed in the Beginner and Sub 1000 classes. Regi Ebreo and Marvin Sy Peng joined Avendaño in the podium of the Beginner group.
In the Sub 1000 class, Regi Ebreo likewise placed second while celebrity Dominic Roque placed third.
Gerald Aycardo was the victor in the Legend category while Lyle Parica ruled in the Naked B class.
Fastest lap time of the 6-lap race was 2 minutes and 33.038 seconds by TJ Alberto.