Experience the IR 2nd Mindanao Bike Fest for Free this May 26-27 in Davao!
Date posted on May 24, 2018
Share this
InsideRACING will once again bring the magic to Davao this May 26 and 27, 2018 as the second IR Mindanao Bike Fest will be held at the Davao Convention and Trade Center.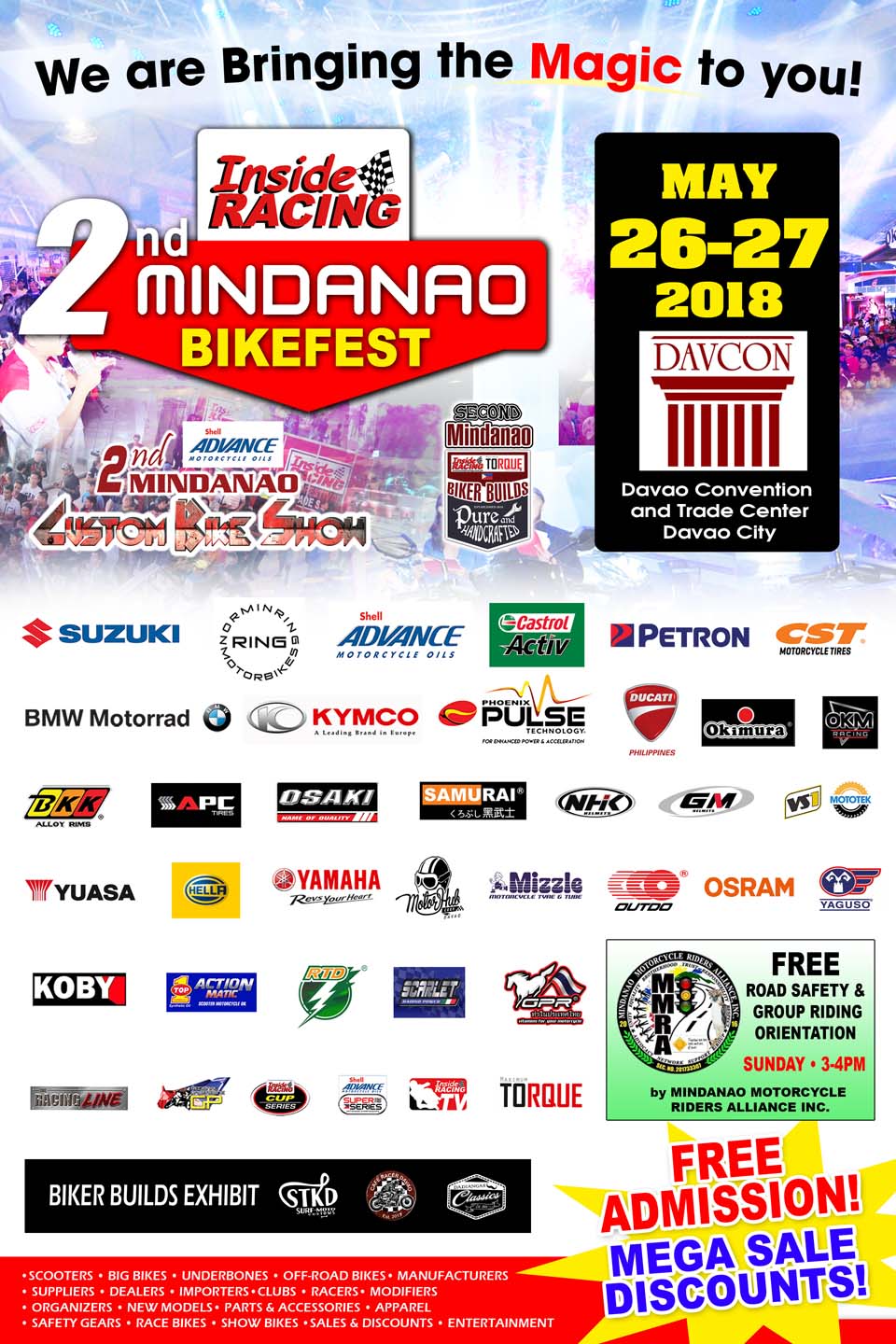 Lots of activities, discounts and giveaways will be prepared and given to those who will attend the event. Brands and companies that are participating in the 2nd IR Mindanao Bike Fest are Suzuki, Norminring Motorbikes, Shell Advance, Castrol, Petron, CST Motorcycle Tires, BMW Motorrad, KYMCO, Phoenix Petroleum, Ducati, Philippine Suntal Corporation, Okimura, OKM Racing, BKK Alloy Rims, APC Tires, OSAKI, Samurai paint, NHK Helmet, GM Helmet, Consumer Care, VS1, Mototek, Yuasa, Promax Trading, Hella, Yamaha, Motor Hub, TASCO, Mizzle, JCW Motorworld, Outdo batteries, OSRAM, YAGUSO, KOBY PH, Top 1 Oil, Speed Blazer, RTD motorcycle headlights, Scarlet and GPR Oil.
Aside from the motorcycle displays and sale of products from presenters, there will also be the 2nd InsideRACING and TORQUE Mindanao Biker Builds exhibit featuring pure and handcrafted motorcycles from builders including STKD, Café Racer Davao and Dadiangas Classics. Meanwhile, the 2nd Shell Advance Mindanao Custom Bike Show will once again showcase the talent and ingenuity of motorcycle modifiers down south.
On Saturday, May 26, is the judging of the custom bike show and Suzuki Philippines will also have a presentation. The Mindanao Motorcycle Riders Alliance (MMRA) will have a Road Safety and Group Riding Orientation on May 27, Sunday, and presentations will once again be conducted by Suzuki Philippines. Winners of the custom bike show competition and the Shell Advance Super Series Nationwide Championship will also be recognized. The Super Series is having its second round, the Davao GP, also on May 27 in Sasa, Davao.
The show opens at 1:00 p.m. on May 26. On May 27, it will start at 10:00 in the morning. Free admission at the event! Don't miss the IR 2nd Mindanao Bike Fest at the Davao Convention and Trade Center this May 26 and 27.