Extreme MotoIR Practice Day!
Date posted on December 3, 2020
Share this
The third edition of the MotoIR Practice Day organized by InsideRACING was a challenging one. It rained at the Carmona Race Track in the morning of November 29 but this did not deter the participants' riding passion.
The Underbone, Stand Up Scooter, Scooter and MotoIR group riders conquered the wet and slippery track, their riding skills tested and honed during the 5 practice sessions that day. Best lap times in each group were registered in the last session as parts of the track has dried up.


Fourteen underbone riders participated using Yamaha Sniper, Honda Supra GTR and Suzuki Raider motorcycles. These were Maiko Adapon, Christian Anderson, Wyner Blente and Leeandro Paredes of Gulf-Project Fi-Hardcore Brothers Racing Team, Kevyn Angeles of IS309/Project M, Vincent Bellen of Row1-JCS Racing Team, Lei Peeno Chang of Sumulong/99 Workshop, Reymart de Luna Lining of TSMP, Joseph Allen Magalit of Datatec Philippines, Joey Punio of Punio Racing Team, Joseph Dominique Purino of Team Purino, Ramand Salandanan and Eane Jaye Sobretodo of Suzuki-Kixx-VMan and Djereck Ondillo who used the motorcycle of IS309/Project M's Ian Samson. Fastest underbone rider of the day was Eane Jaye Sobretodo who clocked in 52.218s. Click here to see photos of the Underbone group.
It was the first time for the MotoIR Practice Day to feature a Stand Up Scooter class and it was participated well. It also garnered a positive reaction from spectators and enthusiasts. Eighteen Stand Up Scooter riders lapped the Carmona Race Track and the experience was a great one for them. Participants were Team Birador's Michael Abdulla, Nico Asis, Julius Edward Asuncion, Teng Mantilla and Jan Martin Ramos, Hil Evan Almeida, Steve Desierto, John Gonzales, Collin Paul Lachica, Neil Matias, Zenar Pagdonsolan and Reggie Sioc of Team OTB/GPN, Oliver Zara of Team Busabos, 4R-JM Motor Shop's Jeffrey Ferrer, Leonard Ray Dequino of Tondopeds, Ramon Gonzales of Ramzy Scootwerkz and Kurt Genesiz Paz and Jose Criz Paz of Mendez Peds.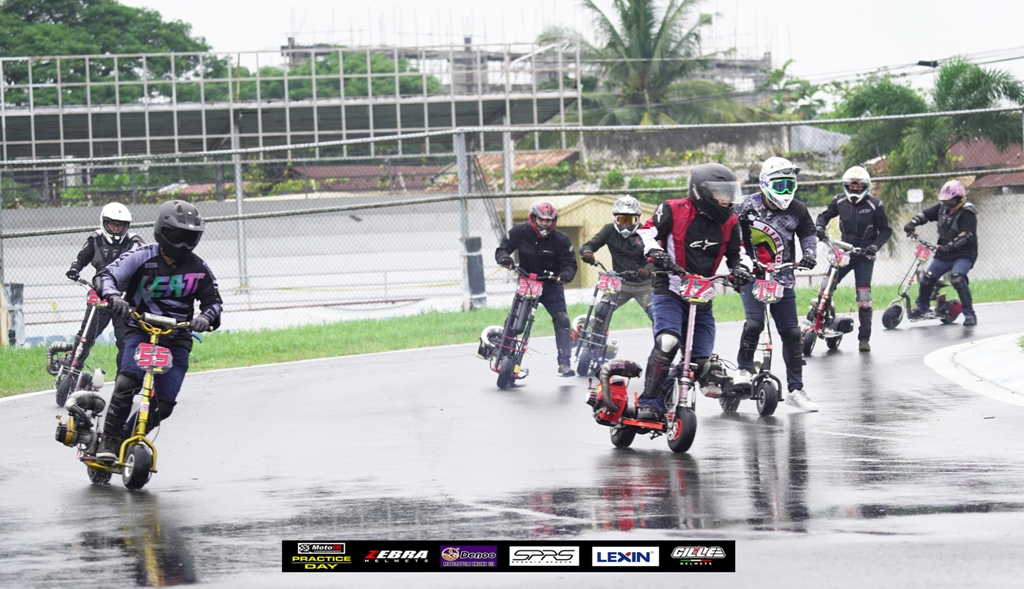 Steve Desierto registered the 56.834s best lap time for the Stand Up Scooter class that day. The said category only used a certain portion of the Carmona Race Track. It is great to see Stand Up Scooter riders lapping the track and having fun. With the positive reaction from participants and spectators, InsideRACING Nation is grateful to the Stand Up Scooter community and hopes to stage more events for them in the future. For photos of the Stand Up Scooter category, click here.
Yamaha Mio, Aerox and NMAX, Piaggio Zip 70 and Yamaha Jog 70 two-stroke models were used by Scooter group riders. There were seventeen entries in this class and these were Maiko Adapon, Wyner Blente and Leeandro Paredes of Proyekto 2-Stroke, Sean Barcial, Travis Baroja, Veah Mae Lim, Erika Ondillo and Mark Djereck Ondillo of Row1-JCS Racing Team, Cavite Racing Team's Jeraldine Pascual, Joshua Angelo Sobretodo of VMan RS8, Ivan Sherwin Bien of IS309/Project M, Team MS Racing's Allen Gonzales, Allan Joshua Mata and Rodel Flores, Lei Peeno Chang of Sumulong/99 Workshop, Ram Go of Team AJRL and Rupert Jann Canoy of Highrisk Racing Team. The 53.641s best lap time in the Scooter group was registered by Travis Baroja. Check out photos of the Scooter group here.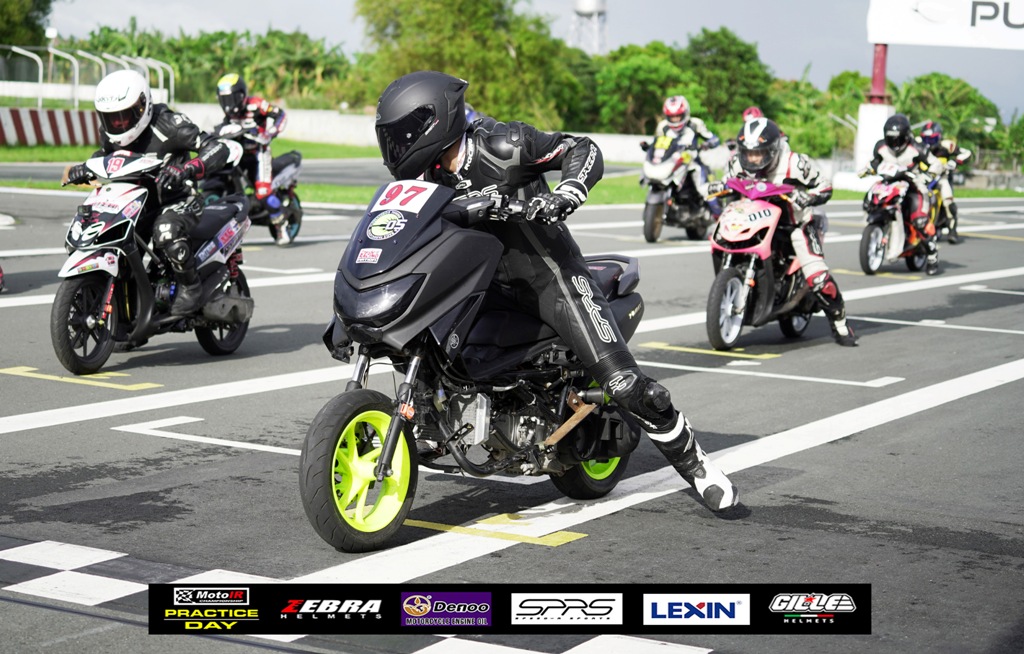 The MotoIR group had the most number of participants with twenty riders. Yamaha YZF-R15, KTM RC 200, Kawasaki Rouser 200 and Honda CBR150 sportbikes were featured in the said class. Participants were Down South Race Team's Archie Alibong, Brendel Belamide, Jan Claud Candaza, Julian Marco Diaz, Aldon Rey Dimaculangan, James Adan Sy Mendoza, Ricardo Rey Jr. and Karl Joseph Santos, John Rey Escala, Charls Jamorabon and Maverick Jezreel Salonga of ERNStuned Racing Team, NMW riders Jerome Jed Umali, Duke Montano and Adrian Barangan, Clyde Banal of Xtreme Worx-NMW, Marvin Vince Cuarte of NMW-Team Graphitee-Evo, Jhoas de Guzman of Zero One Moto-NMW, Joseph Dominique Purino of Team Purino, AJ Vioya of Team Sumulong and privateer Lawrence Valencia. Fastest time for the MotoIR group that day was young Joseph Dominique Purino's 52.853s. Click here to see photos of the MotoIR class.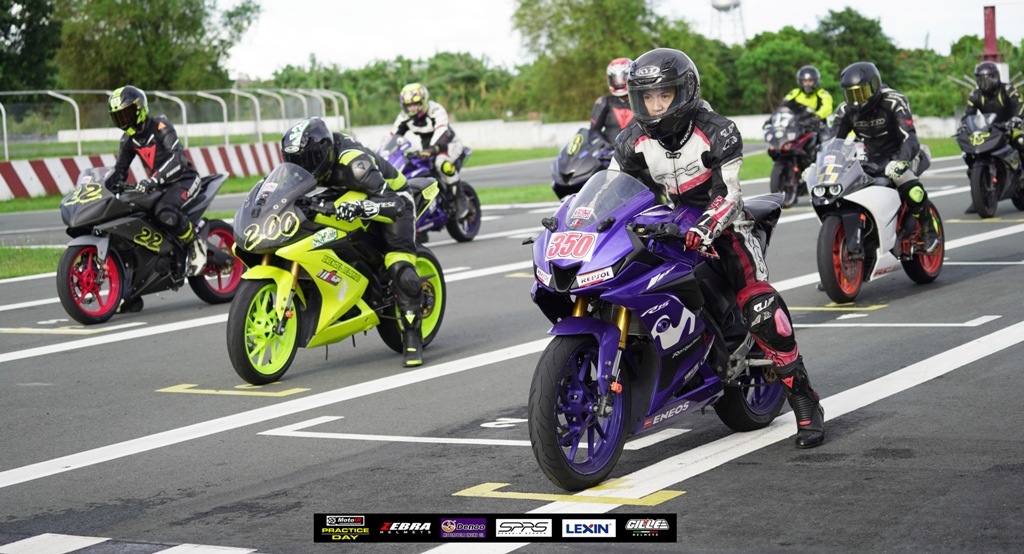 So far, the third MotoIR Practice Day has the most number of participants and InsideRACING Nation expresses its gratitude once again to event sponsors Zebra Helmets, Denoo Motorcycle Oil, SPRS Speed-R, LEXIN and Gille Helmets. Thank you to the riders and teams who participated. You can watch the live stream of the November 29 MotoIR Practice Day here. Hopefully, we will have another MotoIR Practice Day on December 13. Watch out for announcements on our facebook page and website.
The MotoIR Practice Day aims to enhance the riding skills of participants. It is not a race but a timed track day event live streamed on InsideRACING's facebook page. InsideRACING Nation encourages participants to always follow health protocols at the event.
Thank you for visiting insideracing.com.ph. You may express your thought below through the comment section. You may also follow us on Facebook, on Instagram @Insideracingnation or on our YouTube channel.