Fifth IRGP and Third Castrol 130 UB GP Title for Roman. Valencia & Altamira also on the podium
Date posted on December 11, 2014
Share this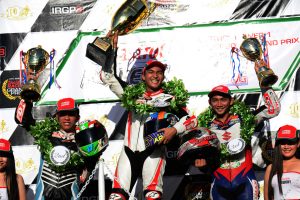 Although unlike the previous years he did not have a winning season in his underbone racing this 2014 as he decided to focus on his superbike career, Anthony Roman redeemed himself by taking the title in the Castrol Power 1 Underbone GP 130 class of the 8th Annual InsideRACING Grand Prix held Nov 16. This was the Castrol- Dudshop rider's third 130 GP crown and his fourth IRGP title. Roman was also the champion of the 130 GP class in IRGP 4 and IRGP6 and the winner of the Juniors Trophy in IRGP 1.
Spec V rider Aljon Valencia was in pole position of the 20-lap race and took the holeshot but the lead was immediately taken by Indonesian rider Owi Nurhuda of R59 Racing Team. Roman was 6th at the starting grid but had a good start and became third instantly.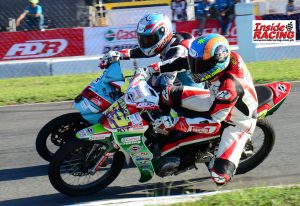 Nurhuda was plagued with bike problems causing him to slow down and eventually not finish the race. Valencia was then chased by Roman and the Castrol-Dudshop-KYT-HGM  rider successfully took the lead and never looked back until the checkered flag. Valencia settled for second place while Michael Altamira of Koso-RK-Vee-Rubber crossed the finish line third. Altamira was also an IRGP champion, winning the Juniors Trophy in IRGP3. Altamira and Suzuki's return to the IRGP victory podium was celebrated by the fans community.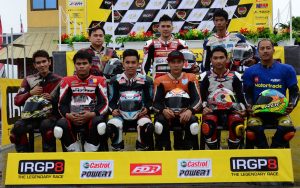 The Castrol Power 1 Underbone GP featured thirteen riders. Fastest privateer in the race class was Anthony Roman and the Castrol-Dudshop rider also submitted the 50.601s best lap time in the race. The Manufacturers Award was given to Honda Philippines.
The 8th Annual InsideRACING Grand Prix was presented by InsideRACING, FDR, Castrol Power 1, DENSO Spark Plugs, Top 1 Synthetic Motor Oil, Phoenix Cyclomax, NGK Spark Plugs, Shell Advance, Gulf Pride 4T Plus, Zebra Helmets, JVT, Motoworld and MDAP. Sponsors of the event were Triumph JT Marketing Corp., VS1 Mototek, Spyder, LS2 Helmets, Racing Boy, Koso, Motoactive, Okimura and Sum Racing while IRGP8 partners were Motorsiklo Xklusibo, Stoplight TV, MCP, The Racing Line, Unified Sports and Racing Association for Motorcycles, Inc. (USRA), Pinoy Speed, InsideRACING TV and Statmed.
Results:
Castrol Power 1 Underbone GP
1. Anthony Roman – Castrol-Dudshop
2. Aljon Valencia – Spec V
3. Michael Altamira – Koso-RK-Vee Rubber