Granstar-Aprilia's Watanabe Dominates Twice Red-Flagged Race
Date posted on September 10, 2014
Share this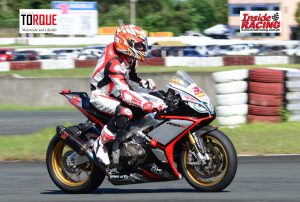 After finishing second to Marvin Mangulabnan in the fourth race held in Clark, Dashi Watanabe of Granstar-Aprilia came back strong in the fifth leg of the Pirelli Philippine Superbike Championships last September 7 at the Batangas Racing Circuit.
Watanabe convincingly topped the Open class and won the race which was red-flagged twice due to crashes of Team Kojie-San's Charles Nolasco followed by another unfortunate fall down by Mangulabnan. Ducati Philippines-Bacchus' Rainiel Resuello finished second in the 5-lap race while Castrol-Aprilia's Anthony Roman finished third. Racewell's Rizaldy Canare crossed the finished line fourth and was the highest finisher in the Intermediate class. Canare's teammate Tracy Soyangco also had a good showing and finished fifth, snagging the victory in the Novice category.
In the category of the Masters, the winner was Toti Alberto of Ducati Philippines-Bacchus. Everyone is looking forward for the final round which will be held on October 5 at the Clark International Speedway.
The 2014 Pirelli Superbike Championship is part of the BRCA Petronas Motorsports Championships and sanctioned by the Superbike Racing Association (SBRA)
More detailed reports and photos to follow in InsideRACING magazine.
See also