Great Motorcycle Experience and Family in Aprilia
Date posted on September 14, 2020
Share this
Mr. Ferdi Catabian II is an Aprilia owner who is also currently an ATAT Motorcycle Club applicant.
He works in the health and wellness sector, providing health and wellness programs to company and corporate employees as part of their employee benefits. He also coaches fitness classes and helps others achieve their goals of having a healthy lifestyle.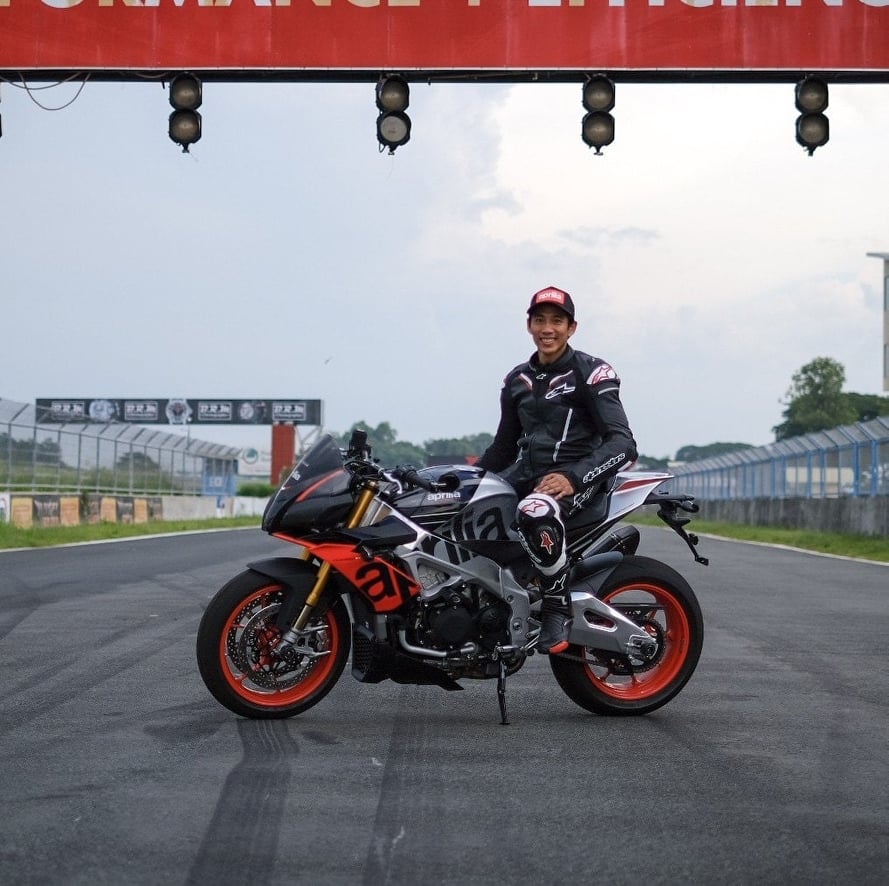 During his free time, Ferdi bonds more with close friends and family. He is a laid back person and enjoys breakfast and coffee meet-ups rather than a busy night out in town. That is why riding motorbikes fits in perfectly, as he gets to enjoy his hobby with friends who enjoy the same passion. As a rider, Ferdi has tried a lot of different bikes from café racers, to cruisers, sport touring, superbikes, and hyper nakeds. They all give that sense of satisfaction, just in a different way.
He is fairly new to riding, as he only started 2017. "A good friend of mine was the one who influenced me. I saw posts of him, his bike, and the places him and his friends go to and I was sold! I bought my first bike, a scrambler. At first it was just short rides, we would ride around town, sometimes Batangas, and take photos of our bikes with the scenery. We were mostly on café racers, scramblers, and classic bikes then, so the appeal was there. As time went by, my riding experience improved, and my interest towards performance bikes grew. Bikes that had the latest technology, more power, and a lot faster. Fast forward to 2020, I now enjoy going to the track, and the weekly trips to Sierra Madre with friends who are more experienced than me. These are the guys I continue to learn from which I think is very important for a hobby that involves risks. Now I ride an Aprilia Tuono V4 1100 Factory. My previous stable included a BMW R9T Scrambler, BMW S 1000 RR, BMW S 1000 R, BMW S 1000 XR, Triumph Thruxton R, Triumph Bobber, and a Ducati GT Classic," Ferdi narrated.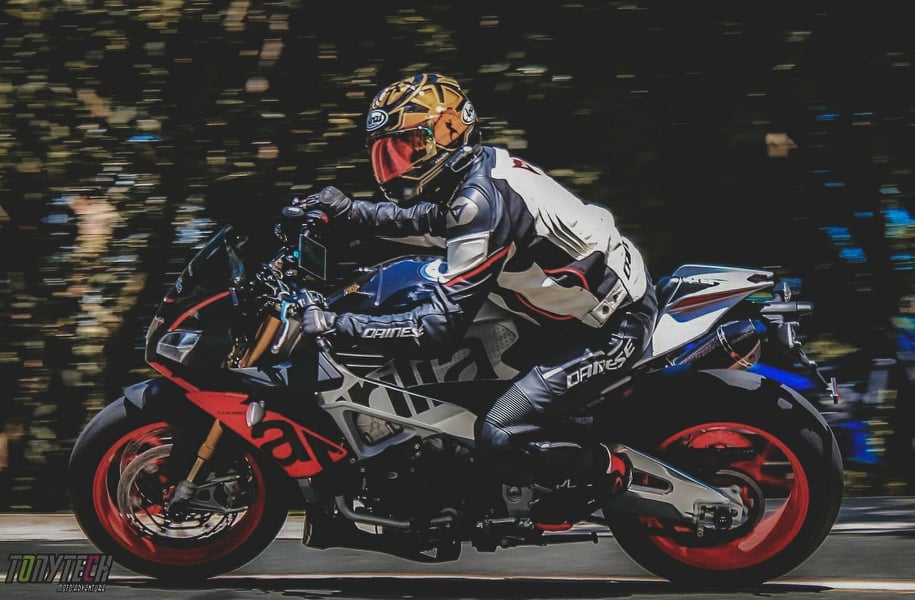 Ferdi always knew about Aprilia. For him, if you wanted an Italian bike, there were only two brands to consider. Either an Aprilia or a Ducati. According to him, if you like watching performance bike reviews, Aprilia is always in the mix, and it's always there for a reason. 
Asked what made him decide to add the Aprilia Tuono V4 1100 Factory stable, Ferdi shared,  "The Aprilia Tuono has always been in the list of bikes I wanted to own. It is king in the supernaked/hypernaked class for years, unchallenged. The brand is known for its amazing performance on and off the track, it handles corners like it's on rails, and not to mention the sound coming from that V4 engine is just music to my ears. But before, there was no official Aprilia distributor here, my concern was the after sales customer support, and bike maintenance service. Then Bikerbox officially announced its distributorship, I knew things were about to change. I called Bikerbox, and asked if they had the Tuono in their inventory. Sadly, none. The Tuono will be available in two months. So I waited, and nearly forgot about it. Two months passed, Bikerbox called me and said that the Tuono is now in the country. I went to the dealership and saw there were only 4 available. It didn't take me long to decide, 5 minutes I think, and it was sold!"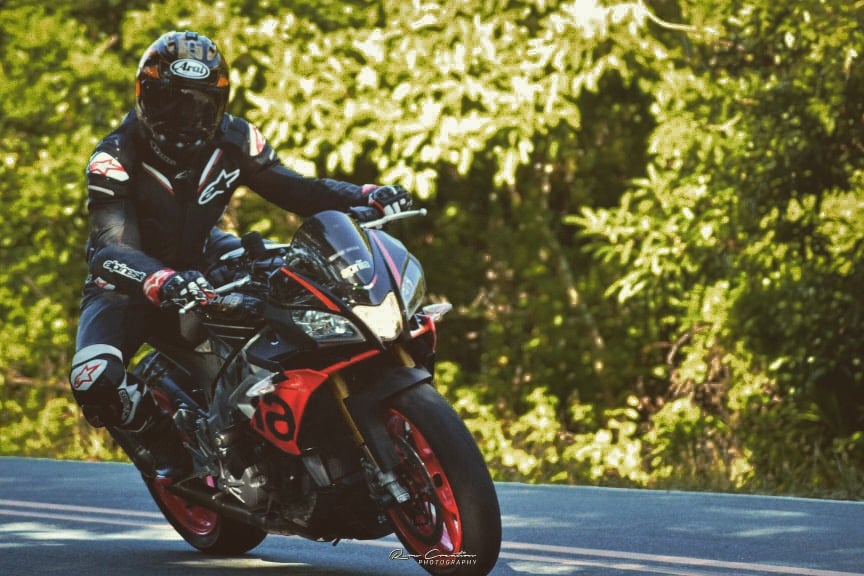 His experience with the bike has been great. He has taken it on out of town trips, speed runs, and the track a couple of times, and it's lived up to its name! The support from the brand has been amazing too. There was one morning he was about to go on a ride, and the bike didn't start. (Okay hold on, there was no problem with the bike.) It wasn't used for a time, and the battery was drained. Ferdi messaged the CEO early morning and told that his bike didn't start. He said he would handle it, and he did! The head mechanic, the sales, and service managers called Ferdi as soon as the dealership opened at 9 a.m. and told him  they are coming over to have a look at the bike. They came over, fixed the problem, reset the ECU, and made sure everything else was perfectly working! Now, if that's not top level support then we don't know what is! 
For those who are thinking about getting an Aprilia, Ferdi's message is  "Go for it! You will not regret pulling the trigger! You'll have a smile on your face whether you're on it, or just staring at that beauty!"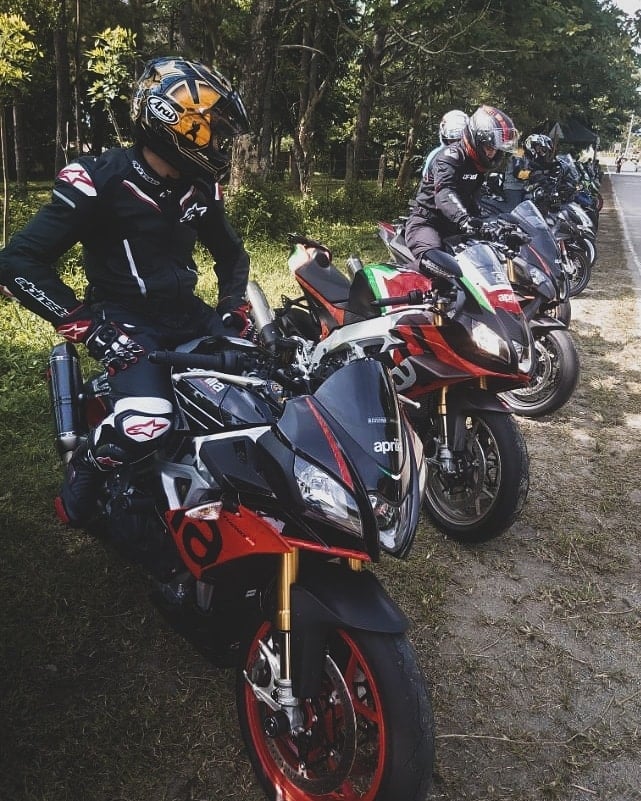 The best thing about the Aprillia brand is the way they treat you like you are family. "How many brands out there have CEO's talking to you on a first name basis, accepting calls 5 o'clock in the morning, or just having a good cup of coffee with you? As for the bike and the ride, you can't go wrong with an Aprilia. The bike inspires confidence. There's a reason why Aprilia hasn't changed its chassis in years, they've perfected it already and you'll know what I mean when you ride one," he expressed.
For more information about Aprilia, visit https://www.aprilia.com/ph_EN/.
Aprilia is officially distributed by Bikerbox Inc. in the Philippines. Dealerships are: Aprilia Manila (Bikerbox Inc.), Aprilia Pampanga and Aprilia Davao. You can also check out their social media accounts: IG: @apriliaphilippines and FB: @ApriliaPhilippines.
Words and photos provided by Bikerbox Inc.
Thank you for visiting insideracing.com.ph. You may express your thought below through the comment section. You may also follow us on Facebook, on Instagram @Insideracingnation or on our YouTube channel.