Group Ride: What Is This? A Job Interview?
Date posted on October 23, 2019
Share this
In my teens, I rode a Yamaha XZ400 to get away from the mental noise of work. Sometimes I'd zip to Batangas in the middle of the night, when the roads were mostly empty, and go for 300km rides 3-4 times a month. Since I worked 6 days a week, I couldn't go on overnight rides, mostly staying in the city, and not knowing any special places to go to. I would instead just ride to houses of family and friends, up to Antipolo, U.P., Cultural Center of the Philippines and other notable landmarks.
During one of my city rides, however, I met a man who eventually introduced me to a group that helped change my perspective to what I thought riding was all about. His name is Andy Villalon.
In the late 1980's, the toll ways were still not motorcycle-friendly, so I had to pass the West Service road of South Super Highway to get to Bicutan. Going up the Nichols Interchange, I saw this huge red, white, and blue bike that was stalled on the side of the up ramp. It was twilight, and the road was getting dark. Hey, a fellow biker in need, so I stopped to help. After a quick introduction, he said that the bike had an electrical problem, but couldn't see where it was. I whipped out a handy flashlight then we quickly attached a disconnected wire to the CDI. He thanked me and asked if I rode with anyone and then invited me to a ride on a Sunday. I reluctantly accepted, not really knowing who he was, but then again, it was an invitation to a group ride!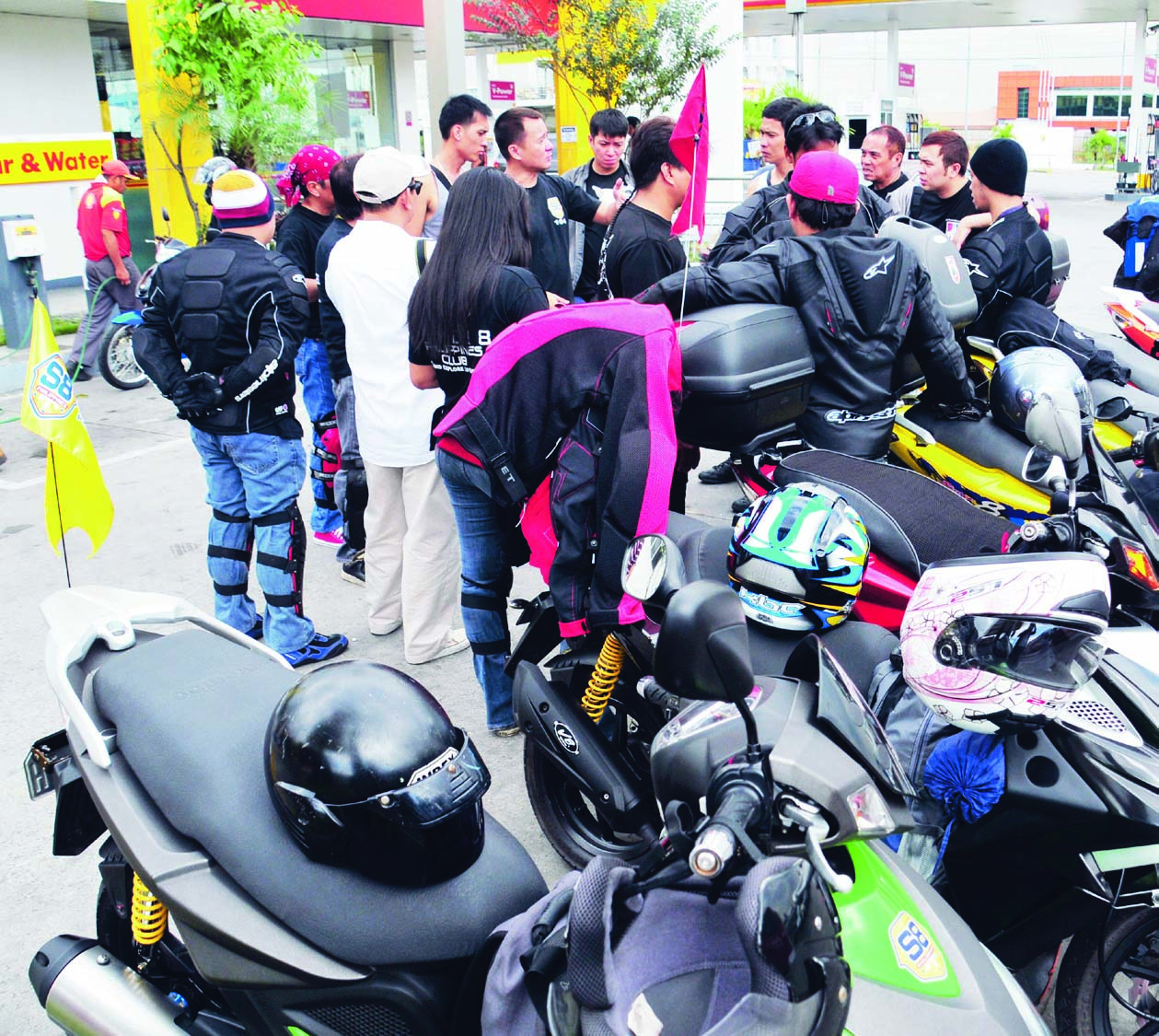 I was so excited, that not wanting to make a bad impression, I spent the night before the ride polishing my helmet and bike. Their meeting area was the old Pancake House in Magallanes Center in Makati. When I got there, there was Andy with eight other bikers. Their motorcycles were mostly FJ1100s, FJ1200s, and a Nighthawk 750. They were big machines compared to my 400, which was just basically a third of the displacement of their engines and a twin to boot, making my bike slower than 400 with an inline four.
Andy walked over with an outstretched hand and introduced me to the group. They were known as the R&R Riders, aka Rest & Recreation Riders. Most of the guys kept to themselves after seeing me arrive, while two of them moved to look at my bike. I thought they were admiring how clean it was, but little did I know that a certain process had already started.
They asked my name, who invited me, where I lived, et cetera. Most of the questions, though, focused on my riding time and experience. But what is this, a job interview? I didn't know where we were riding to, but come to think of it, I didn't really care. For me, it was all about the ride… not the destination, but just the ride.
A club member named Gardy pulled me aside and started talking. He said that before you ride with the group, they had standard practices to make the ride safer and more enjoyable.
Safety talk…great! Boring! My mind drifted off, and I started looking at everyone prepare for the ride, but then suddenly, Gardy raised his voice to get my attention and said "Hoy, bata! Pakinggan mo ako! Importante 'to!"
Oops! I said to myself, and paid close attention after that. This is what Gardy said:
1.The group's rules must be respected.
2. A group of riders must have group/club rules to establish a safe riding environment.
3. A club member intending to invite a rider for a ride must check the following items:
     a. Rider's motorcycle must be in good working order
          No bald tires /all parts all work
          Lights all work
          Bike is running properly/tuning/brakes/suspension
     b. Rider's personal gear
          Full face helmet/jacket/gloves/pants and riding boots
     c. Rider's attitude
     d. Rider's riding skills
     e. Teach the club's hand signals and riding practices
4. Expectations from a guest rider:
     a. It is the job of the club member who invited the guest rider to "baby sit" him on the ride
     b. The guest rider never becomes the point rider (lead) or the back door rider (sweep)
     c. The guest must be able to keep up with the pace of the club's ride.
     d. The guest should HAVE A PROPERLY MAINTAINED machine.
5. The atmosphere of a ride is respected by all members of a club and guest riders should not disrupt that.
6. The member who invites a guest rider takes on the following responsibilities:
     a. Brief the guest on the club's ride rules and practices
     b. Teach the guest rider the club's hand signals
     c. Discuss the route of the ride and the stops
     d. Member will baby sit the guest throughout the ride, from start to end
     e. Member will stay with guest should there be any breakdowns or incidents
     f. Share the mobile numbers of the ride director and sweeper and other emergency numbers (this is                 updated from the 1990's and up, folks!)
The reason for these quite so "stringent" and detailed rules is to ensure that outside riders are not casually invited along to group rides and that the harmony of the club is not disrupted by an unprepared or reckless rider.
The intention of inviting a guest, at the same time, however, is to either bring in new blood to the club, or the group would like to extend its hospitality to the individual. A group ride, however, is about the group, not the individual. Any rider who thinks otherwise, might be a bad risk.
I never really got to thank R&R for their concern over a fellow, albeit a new, guest rider. Their sound advice helped me survive many, many rides, and I eventually became one of the last guys to join the group before it did move on.
These are only some of them and those that I remember. Special thanks go out to Miguel Bichara for helping me jog my memory! But for those of you that are not listed here please remember and know my heartfelt thanks: Konig, Taz Diaz, Gardy, Ginder, Alex Pena, Chris Dimatulac, Sal Campos, Romy Mapalad, Nestor Carlos, Capt. Bemboy Juliano, Sammy de Leoz, Boy Tubs, Ka Buring, Willy Pangilinan and Patrick de Leon.
They didn't know a thing about me. All they knew was that I rode a motorcycle and that was enough for them to care. Thanks guys.
The More You Know, The Better It Gets.
Credit: Motorcycle Riders Course – State of the Art Rider Training
By: Jake Swann