Gulf Pride 4T Plus Masters Trophy (Open Underbone)
Date posted on November 9, 2015
Share this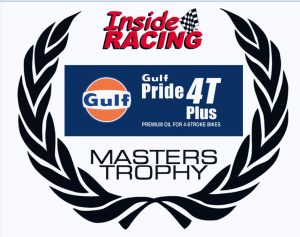 IRGP Update: Gulf Oil once again came forward to support local race events being one of the major sponsors of IRGP9. They have also sponsored the rider and IRGP champion Jeff Chan in the past years. This year, riders that are supported by Gulf Oil include Romer Corbe who races in the MotoIR Championship, Eane Jaye Sobretodo who's now one of the notable riders who started from pocketbike racing and young Amber Torres who despite his size and age is achieving a lot in his venture in motorcycle racing.
Gulf Oil will sponsor the Masters Trophy this IRGP9 in Carmona, Cavite. Gulf Pride 4T Plus Masters Trophy shall be contested by Beginner, Novice, Intermediate and Expert riders aged 18 years old and above. Using the fastest underbone models from participating teams up to 170cc (2-valves) and 150cc (4-valves) with open modifications, this class promises excitement, performance and machine preparation at the highest level. The Gulf Pride 4T Plus Masters Trophy will continue to push for the development of the fastest and technically advanced machine in local racing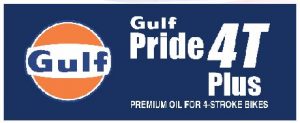 Gulf Oil was founded in 1901 at the time of the discovery of the oil well at the Gulf coast of Texas, USA. Today, Gulf Oil International (GOI), a part of the Hinduja Group, is a vibrant oil marketing company with operations worldwide.
Gulf brand lubricants is distributed by Gulf Oil Philippines, Inc. which takes great pride in its lubricant product range. Gulf has a complete range
of motorcycle oils under the brand name of Gulf Pride. All products under this brand are duly certified by JASO. Its products for the underbone and scooterriders in the Philippines are the Pride 4T Plus 20W 40 with formula 10, 000 that has oil drain intervals up to 10,000 kilometers and Gulf Pride 4T Plus 10W 30, a synthetic blend with Pentatech Technology specially developed for new age bikes to deliver smooth acceleration, gear protection, cleaner engine, longer life and fuel savings. Gulf branded oils are available nationwide. For further information, please do visit www.gulfoilltd.com or www.gulfoilphilippines.com.

IRGP9 Gulf Pride 4T Masters Trophy (Open UB) Provisional Entry List:
Romer Corbe
Depi Kurniawan
Herbert Lopez
Masato Fernando
John Lery Enriquez
John Emerson Inguito
Dan Carlos
Lorenzo Rellosa
Vingie Coloma
Jeffrey Teopengco
Niño Fabian
Tracy Soyangco
Paul Mark Doblada
Arlan Dela Cruz
Mark Indiongco
Marlo Santiago
James Mendez
Victor Laude