Honda Beat and Wave Dash Fun Cups at Carmona
Date posted on October 13, 2015
Share this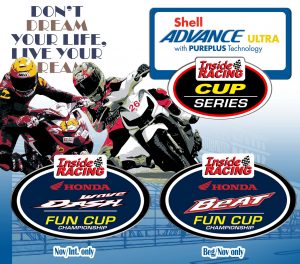 This Sunday October 18 at Carmona Race track during the Final round of the Shell Advance IR Cup Series, Honda Philippines Inc. (HPI) will also be crowning their respective Honda Beat and Honda Wave Dash Champions.
The three round Honda championships that started in June will have the Beat Fun Cup ( for Nov/Beg) and the Wave Dash ( for Nov/Int)  riders. Leading the Championships are Amber Torres for Beat and Neil Jan Centeno for Wave Dash.

There will be free use of racebikes that are equally prepared by HPI. Top three finishers will have cash prizes of 1st– P5000,2nd–  P3,000 and3rd-  P2,000. Entry Fee : P500 , USRA P100, Insurance  P400. Registration starts at 7:00 am.


The 2015 Shell Advance IR Cup Series is supported by Honda Philippines, Yamaha Philippines, KOSO, FDR, Motoworld, Racing Boy Philippines, Faito, Shield Helmets and Dunlop tires. It is sanctioned by the Unified Sport and Racing Association for Motorcycles (USRA).