Honda Scoopy – A Modern Hip Concept over a Classic Bike Platform
Date posted on September 23, 2019
Share this
Well here at InsideRACING, we go to great lengths to give our beloved readers motorcycles they will truly enjoy reading about. For this time around we traveled for 2 hours up North in Cebu to Danao City to feature a modified Honda Scoopy built by Skut Garage. IR was also given full access to the Danao City Seaside Plaza and it provided a great venue to capture images of the scoot against a breathtaking backdrop.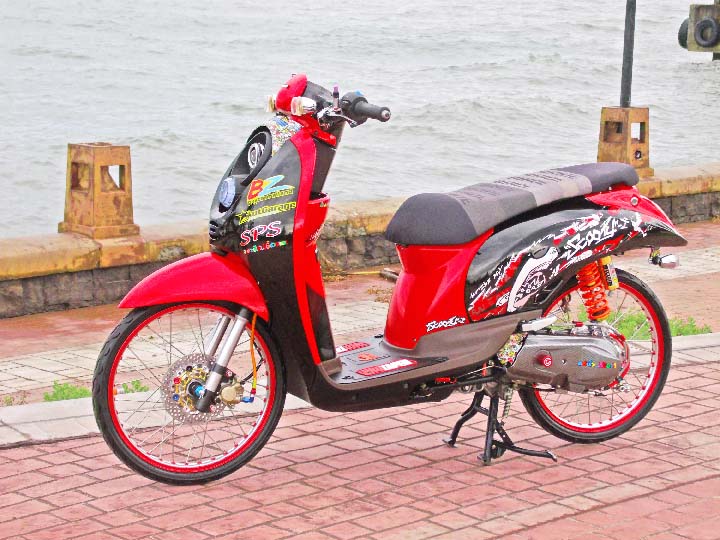 For this bike build, the crew at Skut Garage headed by Jed Kho totally went against the grain to come up with a unique, hip and modern-themed Scoopy. While everybody was going for the classic look and chromed parts, the earthy color hues and the 1950's inspired leather works of this Scoopy all embraced the classic bike platform. The team at Skut Garage decided to think out of the box. They got inspiration overseas from Thai drag scooters and fused it with their own ideas to emphasize a sleek modern and sporty look. They custom-painted the scoot with a vibrant black and red combo. From there, they accented the paint work with some Thai graffiti sticker bomb panels and custom laser cut decals up-front.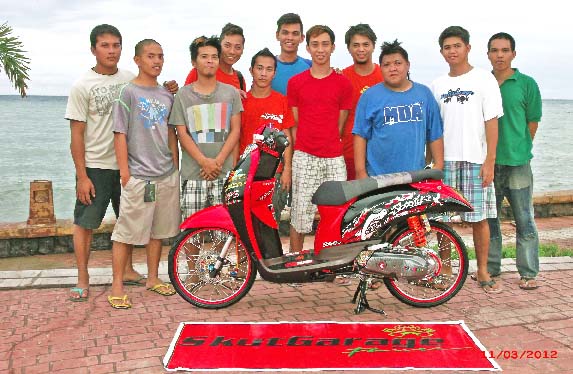 The team also made sure that the scoot was no slouch on the road by integrating SPS performance parts on the engine resulting to a rip-snorting 130cc monster that will certainly give 150 & 200cc bikes a run for their money. Handling of the scoot was further enhanced as the team used Gaz-i Hyper for the rear suspension and they lightened and re-valved the front suspension outer tubes. They also upgraded the scoot's stopping power by using Brembo brake master cylinder, Morin high flow brake hose and MTRT brake shoe. They also used the light and durable Akront rims paired with DTD lightened chrome hubs and sticky Vee Rubber tires to maximize the usage of all the engine power.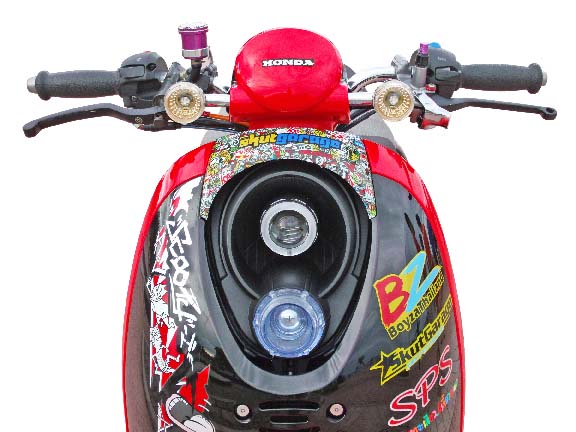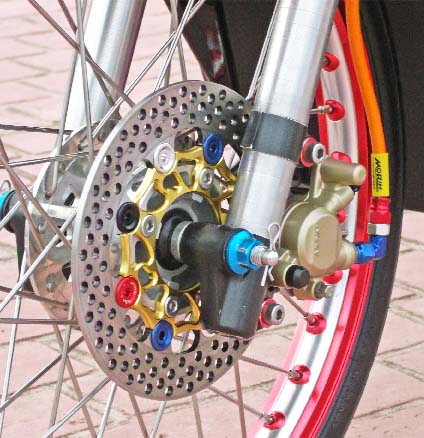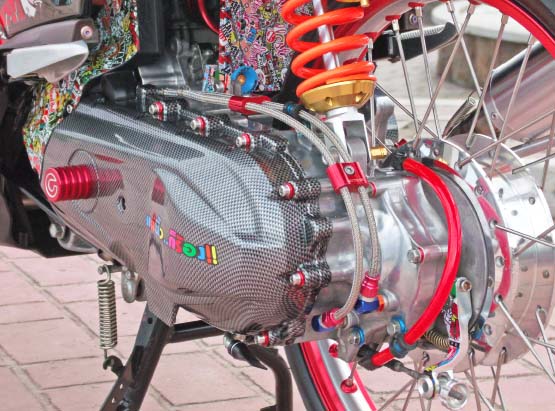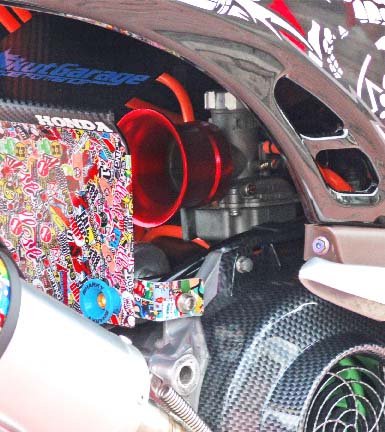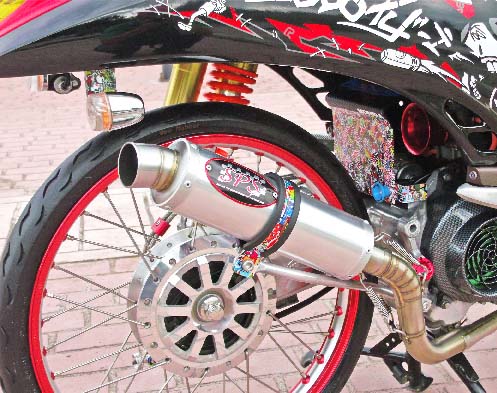 So without further ado, from InsideRACING Magazine, this is for all of you Scoopy riders and scooter enthusiasts out there. We hope you enjoy the pictures. Don't be afraid to get creative, think out of the box and keep doing what you love and that is modifying and tuning your beloved rides.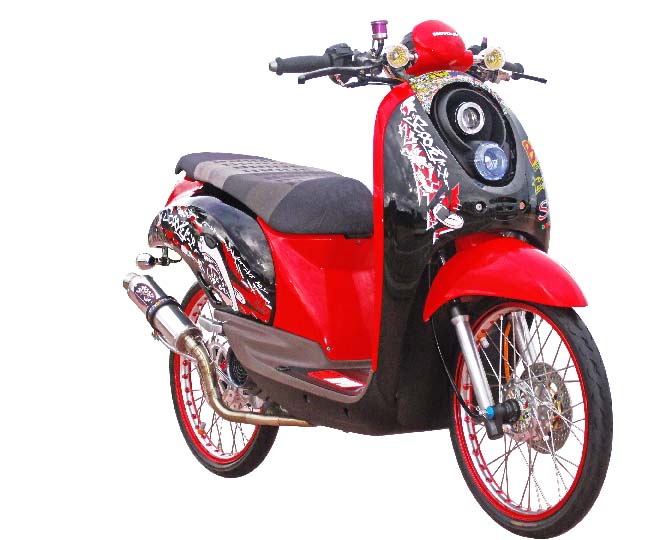 Honda Scoopy
Engine Modification
SPS 54mm bore (130cc)
SPS camshaft
SPS muffler
SPS clutch lining
SPS fly balls
Modified stock pulley by Skut Garage
Headworks, port & polished, lightened valve by Skut Garage
24mm Keihin carburetor w/ velocity stack
Suspension & Brake System
Front: lightened outer tube/re-valved
Rear: Gaz-i Hyper
Brembo brake master cylinder
Morin high flow brake hose
MTRT rear brake shoe
Parts and Accessories
Panom handle switches
2/17 Akront rims
Stainless spokes
Lightened chrome hub
50/100 Vee Rubber tires
Dragon grip
Carbon fiber fan/crankcase cover
Projector HID headlight
Aluminum brake fluid reservoir
Trusty oil bolt
Sticker bomb design air duct/dust shield/brake arm
Helmet hook
ProTaper mat
Racing fan
Stainless front axle
Aftermarket rear signal lights/taillight lens
Bride (cloth) seat cover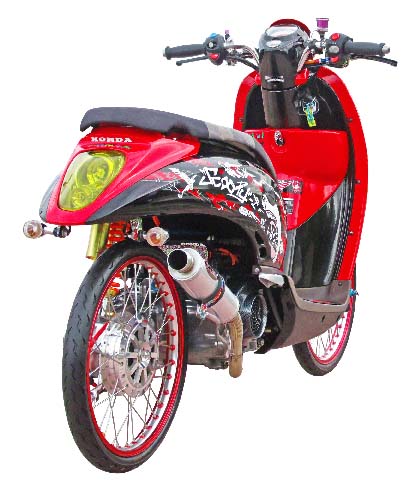 *This article was published in InsideRACING's  Volume 11 Number 1  2013 issue.